Dungeon Siege III
Between the Diablo and the deep blue sea.
Always the bridesmaid... Poor old Obsidian Entertainment seems to be fated to ride the coat-tails of others in the North American RPG scene. Born from the ashes of the famous Black Isle Studios, it made its name as a capable understudy for BioWare on Knights of the Old Republic II and Neverwinter Nights 2 - and perhaps unfortunately, that name stuck.
With its Aliens RPG lost in space and rough diamond Alpha Protocol meeting a mixed reception, things don't seem likely to change for the Californian outfit. But after last week, you have to ask if that's such a sad fate after all - because Fallout: New Vegas, in which Obsidian stands in for Bethesda, and Dungeon Siege III were easily two of the best RPGs on show at E3 2010.
Gas Powered Games is the role-model in this case, with boss Chris Taylor overseeing this third instalment in his series of straight dungeon-crawlers, to be published by Square Enix - the Japanese giant's first Western RPG. But it shouldn't be mistaken for the cut-and-shut sequels, no matter how well-welded, Obsidian's done before. It's also in a different style to the studio's previous work.
Instead of simply plugging new content into an existing framework, Dungeon Siege III is being built from the groud up in Obsidian's own engine, brought to consoles for the first time, and gently remodelled as a pretty, punchy and immediate co-operative action-RPG in the classical style.
In other words, if you're one of the many who are disappointed that there are no plans for a console version of Diablo III - or impatient for the presumably distant release of Blizzard's game - then you should be paying very close attention.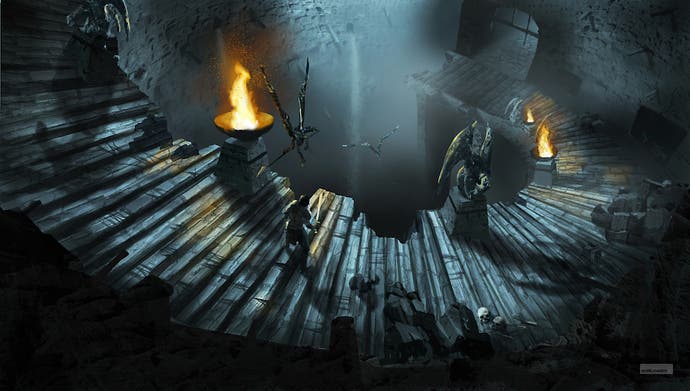 If you're no fan of fantasy cliché, however, you might want to look away (unlikely as it is that you clicked on an article about a game called Dungeon Siege III in the first place). The game's setting and art style are pretty generic. A once-great land, the kingdom of Ehb, has fallen into fractious in-fighting, and it's up to you as a member of the disgraced 10th Legion to restore order and people's faith.
Naturally, you do this by taking quests from townsfolk and bashing up skeletons and giant spiders in misty forests and dank cellars. The placeholder quest in the E3 demo of the game is called Find the Source of Evil in the Crypt. "We're trying to distil RPGs down to the very essence," says Obsidian chief executive Feargus Urquhart with a wry chuckle.
The good news is that Dungeon Siege III is a very, very attractive kind of generic. We watch Lucas, the lead character for the Guardian class of melee fighters, getting stuck in to his skittering arachnoid foes (we don't know what hardware's being used for this demo, but it's being played on an Xbox 360 controller). While he fights on his own, the game's presented from a fairly tight top-down view, a well-judged halfway house between the isometric perspective of action-RPG convention and a standard third-person action-game camera.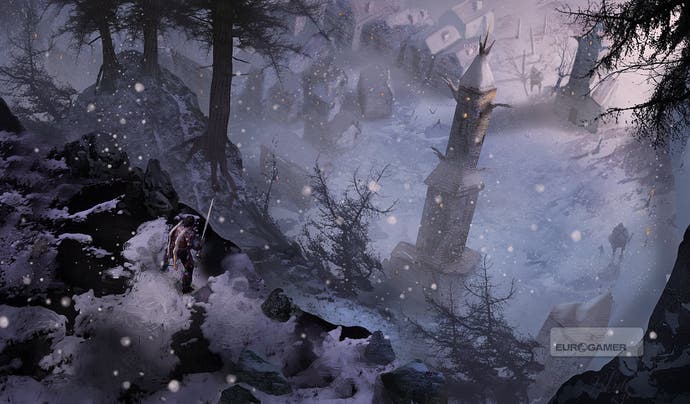 You don't see a lot of the world, then, but what you do see is lush, colourful, solid and sumptuously lit. The air sparkles with dust motes and there's a lovely, shallow-focus depth-of-field effect which, combined with a fair amount of vertiginous verticality in the level designs, makes the most of the unusual viewing angle. It's richly atmospheric and makes the environs seem very inviting to explore.
Your window onto Dungeon Siege III's world is also left pleasantly uncluttered by a very simple, clean user interface, and we're promised that you'll never encounter a loading screen once. For a game that just has a 2011 release window at present, it looks very slick, with even menus and inventories having a bold design and finished sheen worthy of Blizzard itself.
The Guardian has a few special abilities available, but he's also switching between one-handed and two-handed stances - the first dealing heavy one-on-one damage with his enormous sword, the second enabling him to cope better with large groups of enemies. By the look of his portrait in the bottom left, he's expending a fast-recharging stamina resource to fight. The action is lightly tactical, quite fast and seems to have a tactile crunch to it.