Dungeon Keeper Android's rating system filters out "1-4 star" reviews
UPDATE: EA defends practice as making it "easier" to send feedback.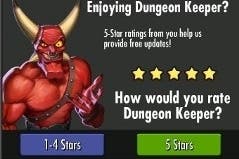 UPDATE 9.07pm: EA Mobile has responded to allegations that the publisher was up to something sneaky by filtering 1-4 star in-app reviews of Dungeon Keeper away from the Google Play Store so players could e-mail feeback instead. A spokesperson for the publisher offered the following statement:
"We're always looking at new ways to gather player feedback so that we can continue to improve our games. The 'rate this app' feature in the Google Play version of Dungeon Keeper was designed to help us collect valuable feedback from players who don't feel the game is worth a top rating. We wanted to make it easier for more players to send us feedback directly from the game if they weren't having the best experience. Players can always continue to leave any rating they want on the Google Play Store."
ORIGINAL STORY 6.03pm: Dungeon Keeper sure has a high rating on the Google Play Store for a game loathed by many. Its 4.5 star average of over 84K user reviews suggests that people are really liking EA's microtransaction-heavy affair. Only there's one thing this rating system isn't telling you: customers are only given the option to rate the game if they say they'll give it five stars.
See, on Android you're given the option to rate the Dungeon Keeper after a certain period of play. Only instead of tapping the appropriate number of stars you think it deserves, you're asked if you think it should receive "1-4 stars" or "5 stars".
As reported by PocketGamer, selecting the latter option takes you to the game's Google Play Store where you can rate it, while the former option simply takes you to a new "feedback" prompt asking "What would it take to make Dungeon Keeper a 5-star game?" Your options: "email us" or "not now."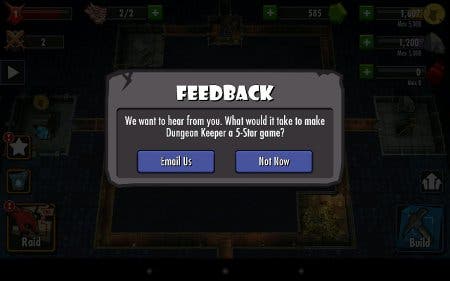 Thus the only way to give the game something other than full marks is to say you'll award it five stars, then actually rate it less when taken to the marketplace.
Of course, most people won't know this. How would they? As such, the rating system filters out all those who are wanting to give Dungeon Keeper a less desirable review. People like our Dan Whitehead who rated the app a 1/10.
We've reached out to EA to hear what it has to say about this suspicious affair and will update as we hear back.