Dubstep guns, superpowers and a playable President: Welcome to Saints Row 4
Volition's open world sequel is even more ridiculous than what's gone before.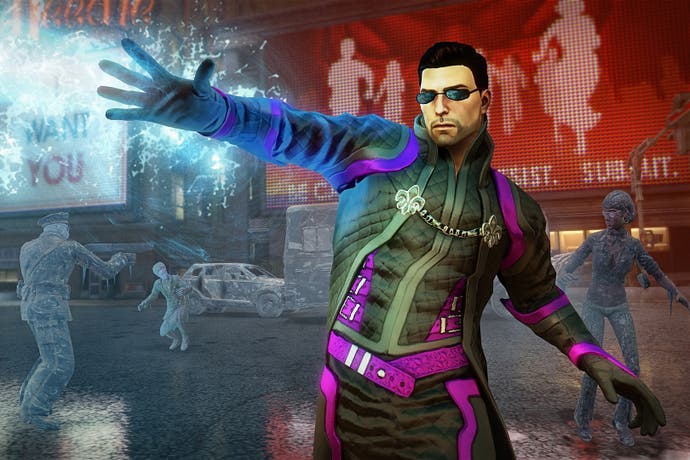 You can't keep a lid on a series as noisy as Saints Row, so the fourth instalment's first reveal proper last week came as no real shock. What is surprising, perhaps, is that the energy and boisterousness of the series remains with developer Volition, despite what must have been a turbulent few months.
"When Saints Row 3 came out it was doing phenomenally well, and everyone was really happy about it," says producer Jim Boone, leaning forward and maintaining a big and genuine smile even as he recounts the demise of Saints Row 4's previous publisher THQ. "But it was at the same time as our UDraw came out with THQ - and we lost $100 million roughly. It certainly wasn't the end, but it was the point where you started to look at it and think this might not be good for the corporation overall."
When did Volition realise that the writing was on the wall for the company that had been home to Saints Row since 2006? "THQ had been going through a lot of struggles for years. Honestly, the last day, really at the bankruptcy court, that was the first time that it was clear that THQ wasn't going to be around. When the individual bidding was finished, that was the first time everyone was like, 'Oh wow, this is actually happening.'
"Before that, THQ was like, 'Nope, we're going to be bought by Clearlake, it's going to be fine.' There were people at corporate, the day of it happening, who were like - 'We'll just get this bankruptcy behind us and then we'll just carry on.'"
Saints Row 4 doesn't bear the markings of a troubled development - which is probably because it's been worked on since just after Saints Row: The Third released in 2011, and because Volition had enough confidence in the series that it believed it would find a way out, no matter the fate of its one-time publisher.
"It was interesting - on the one hand, because we were doing Saints Row, you think of it in terms of worst case scenario and we weren't particularly worried that no-one would be interested in us, because it just felt crazy that no-one would want this franchise," says Boone, his smile unwavering. "So at least we had the comfort knowing we'd have a job, unlike the poor people at Vigil.
"So that part was comforting, but at the same time we had a lot of different publishers visiting us - so there's all the uncertainty of who was going to get us. That was the part that was disconcerting - what's the future going to be, and if there was going to be a new publisher coming in, what are they going to want to do? Will they want to change the game, will they change the way we do things? So it was definitely nerve-wracking."
Deep Silver was quick to step in, and there's a certain snug fit between the low frills, wilfully trashy and energetic publisher and a series that's never really taken itself seriously. Saints Row 4's no different, and commendably it manages to be even more over-the-top than anything that's preceded it.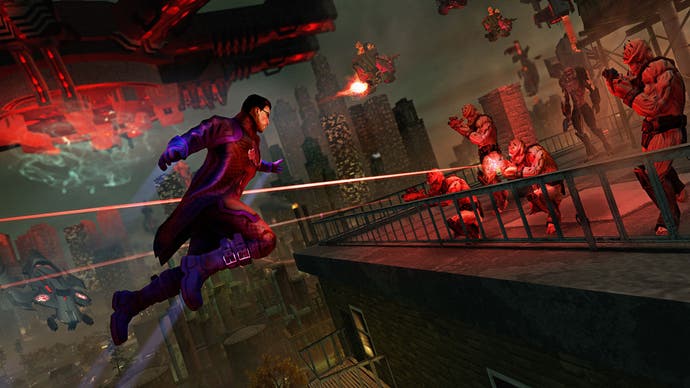 You're playing as the President of the United States of America, who's now head of the Saints as they deal with an invasion by the Zen, an alien force that's stepped straight from B-movie heaven or B-movie hell - it all depends on what side of bed you've got out of.
It only gets more ridiculous. Steelport's skies are thick with the invading forces, and you've got access to their weaponry - weaponry which can, for the first time in the series, be completely customised. There's a gun that inflates people's heads until they reach cartoon-like proportions and beyond, ending up in a sweet little pop as they explode. There's a dubstep gun that fires wobbly bass at passers by until they expire in a fit of either agony or ecstasy.
And it gets more ridiculous yet. You now have superpowers, allowing you to sprint through the world faster than a jetfighter, while you can also take to the skies and leap entire buildings. You've access to telekinesis, allowing you to hurl civilians and vehicles around like unwanted toys, and you can freeze enemies with a quick burst of your blast power. It's all a little like an unhinged version of inFamous.
In fact, it's all a little like an unhinged version of Saints Row, which is no small feat in itself. Saints Row: The Third saw the series find itself and establish itself as an unashamedly ludicrous open-world game, the perfect antidote to the more po-faced expanses built by Rockstar and Ubisoft Montreal.
Volition don't seem to be particularly concerned by Saints Row 4's proximity to that other big open world game coming out this year - Deep Silver's game will be releasing in late August, a mere matter of weeks before the launch of Grand Theft Auto 5. Catching a few minutes of Saints Row 4 in action, you can see why no-one at Volition's losing any sleep over it - they're all too busy having fun.