Drawn: Dark Flight
Decorated.
It means that Dark Flight feels like a neater, more carefully designed game than its predecessor. Simply placing these tightened mechanics into Drawn's world would have left us with a perfectly charming adventure. It's all that would really have been required to turn an atmospheric but clunky game into a properly good one. Which is why it's so astonishing to see what Big Fish has done with its world since the last visit.
Stonebriar is truly spellbinding. Drawn: The Painted Tower was restricted to a plod to the top of an enormous skyscraper, but Dark Flight sees us wandering out into the town beyond it. And what a place it is; I can't think of a time I've struggled quite so much to select just a handful of screenshots.
Its architecture is angular and wobbly, like a German expressionist film coloured in by hand. It's empty, cracked and broken. Shadowy figures block your passage, clenched fists outstretched from a cloud of darkness. Barely anyone seems to live here. That the only tangible character you meet in Stonebriar for the majority of the game is a wooden boy with dud batteries for a heart... well, it says something about the atmosphere of this town.
It's constantly, extraordinarily beautiful, even in its desolation. The technology powering this world is as simple as it gets, but so much care has gone into the art design. The music, too, swells and softens majestically, melding with the view on-screen. It's the sort of aesthetic that gives you shivers. With variety provided by the range of paintings, sketches, pop-up books and posters that you find yourself within at numerous points in the game, you're left with a truly remarkable picture.
Then, just as you think you've got Dark Flight's mood clocked, it begins to change. Your overriding goal is to light three beacons, warding off darkness and allowing Iris to be crowned queen. And as you begin to do so, a triumphant orange glow begins to emerge in the sky, life starting to return to Stonebriar.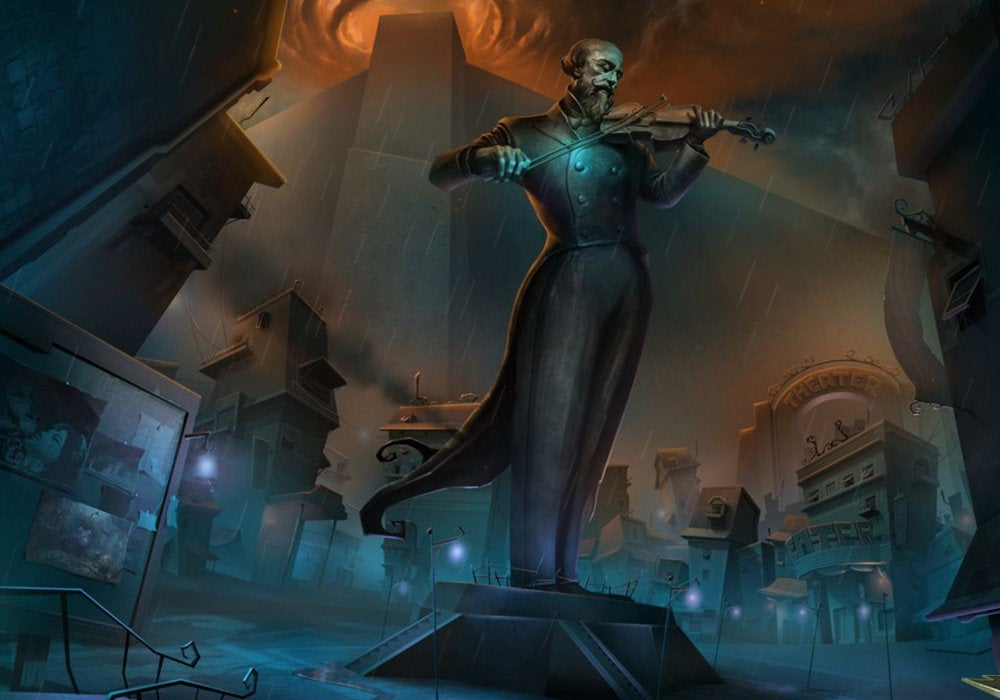 This is what I love most about Drawn: Dark Flight. There's a visually eminent sense of doing good that flows through it. Most strikingly, its themes are all tied closely to the arts. You overcome challenges not through violence, or through deviousness, but through painting, and music, and craftsmanship. This isn't just a remarkably creative game, but a game whose entire fiction is rooted in the magic of creativity.
The ending is a problem. It arrives out of nowhere, almost immediately following a delightful exposition sequence. You can't help but feel the story had so many interesting places still to go, and it's massively frustrating that these have been saved for a third Drawn game. Should you opt for the Collector's Edition, there's an additional couple of hours of playable epilogue, which manages to round off one side-plot rather nicely. But it ends too abruptly. Some games are short for a good creative reason. Dark Flight aches to be a little longer.
Also, it's unfortunately guilty of assuming you've played the first game. That's a real shame, since I expect quite a few people will arrive at the series with this second instalment. It's by no means unplayable without knowledge of prior events, but some of the fiction is left a little hazy until right near the end. Why are you trapped in the crumbled ruins of the tower at the start of the game? It's only explained in the most perfunctory manner.
Nevertheless, I don't think an adventure game has captivated me this much all year. The first Drawn's problems have been fixed so solidly, and Stonebriar overflows with character. Initially haunting and lonely, then blossoming into something joyous, Drawn: Dark Flight is a triumph of creativity and imagination.
Will you support Eurogamer?
We want to make Eurogamer better, and that means better for our readers - not for algorithms. You can help! Become a supporter of Eurogamer and you can view the site completely ad-free, as well as gaining exclusive access to articles, podcasts and conversations that will bring you closer to the team, the stories, and the games we all love. Subscriptions start at £3.99 / $4.99 per month.