Download Games Roundup
Fireball! Swing! Faery! Zen! Breed!
Zen Bound 2
PC & Mac (Steam) - £3.49
iPad & iPhone (unified binary) - £1.79
Since most games are seemingly designed to bring on an aneurysm, you have to be pretty Zen to be a game reviewer for any length of time. Either that, or a complete sucker for punishment. I therefore heartily approve of any game purporting to inspire a state of meditative bliss in its user.
Having already found an appreciative audience on iOS platforms, Zen Bound 2's arrival on PC and Mac is something of a curiosity for such a tactile game.
As ever, the idea is to wind a length of rope around a series of wooden sculptures until you've essentially 'coloured in' a minimum of 70 per cent of their surface area. Sometimes you need to make sure the rope is hooked on to certain colour points, while other times the rope itself has little paint bombs that burst onto the sculpture, so it becomes all about patient, strategic placement.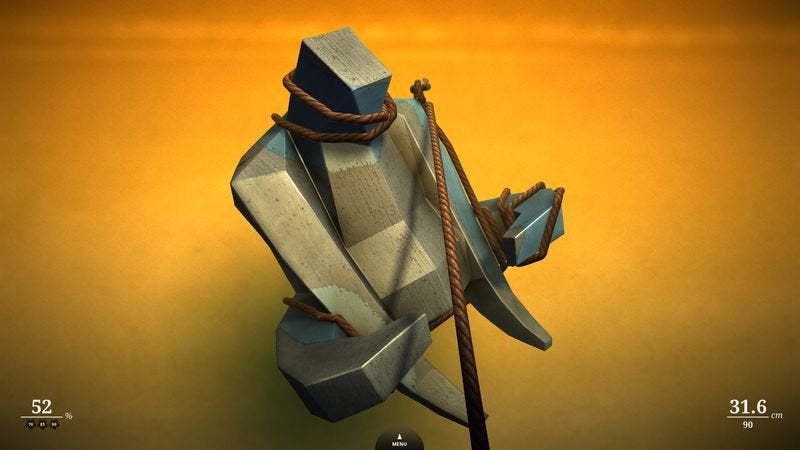 What was a wonderfully intuitive and thoroughly relaxing process on iOS (especially the iPad version) is a bit more of a challenge when you reduce it to mouse control, though. The ability to physically twist and rotate the object with instant precision becomes somewhat less instant when you're just manipulating the object via a pointer – though if you're lucky enough to own a Macbook with a multi-touch pad, it's functionally identical to the original, and therefore completely lovely (albeit at twice the price).
With 100 levels to get yourself in a knot over, Zen Bound 2 does exactly what it sets out to do: calm and soothe. Frustrations over the ongoing obsession with the royals and the X-Factor will just melt away in a pleasant haze.
8/10
Alien Breed 3: Descent
Xbox Live Arcade - 800 Microsoft Points (£6.80)
PC (Steam) - £6.99
PSN - available soon
It doesn't seem five minutes ago that the second episode was punted out the door, and yet here we are again, about to launch into why Team 17's episodic reboot hasn't quite delivered what we were after.
As with the previous two portions, it's a perfectly solid, fine-looking blast. With Unreal Engine 3 tech providing substantial grunt to another succession of atmospheric levels, it ticks all the right boxes in terms of how it's presented, but, again, doesn't stand up to extended play.
Given that a good chunk of its audience will have already sunk upwards of ten hours into the single-player portion alone, there's little on offer here that you haven't already experienced.
The team tries to freshen things up by throwing a few new weapons into the fray (notably the knowingly-named Project-X BFG gun, alongside the zappy Electro-Link gun) and, of course, the obligatory new enemy type, the Electro Shocker. It helps, but it's not really enough.
The greater focus on third-person sections is also a pleasant diversion (especially when you're outside of the ship) but, realistically, the real problems are the drudgery of constant waypoint-following and the inability to play the campaign mode with a pal.
Team 17 makes up for this in other areas, of course, with the entertaining co-op survival mode, and a three-level co-op campaign of its own. It's a question of how much the lack of co-op in the main story mode bothers you. I'm still of the opinion that it's a glaring omission of something that was fundamental to what made the originals so enjoyable in the first place.
7/10
Will you support Eurogamer?
We want to make Eurogamer better, and that means better for our readers - not for algorithms. You can help! Become a supporter of Eurogamer and you can view the site completely ad-free, as well as gaining exclusive access to articles, podcasts and conversations that will bring you closer to the team, the stories, and the games we all love. Subscriptions start at £3.99 / $4.99 per month.