Download Games Roundup
Numbas! Apples! Meerkats! Race! Feel!
Apple Jack
Xbox Live Indie / 80 Points (£0.64)
There I was, throwing washing machines at Pandas in Suffolk, wondering how it had come to this. A poor boy. A lost dog. An apple for a head. A plaintive Robert Florence ballad. What better way to spend your last 64 pence.
Like a lost 2D platformer from the Amiga era, Apple Jack is a fuzzy throwback to the days when cheerful wanton destruction of appliances and endangered animals was considered socially acceptable.
With its garish colours, hand-drawn appearance and mechanics casually half-inched from Super Mario Bros., there's an effortless knocked-up-in-my-shed charm that makes it way more fun than it has any right to be. Progress is simply a case of killing everything in the level, but how you go about that evolves My Owl's quirky effort from simple retro platform game into something approaching a puzzler.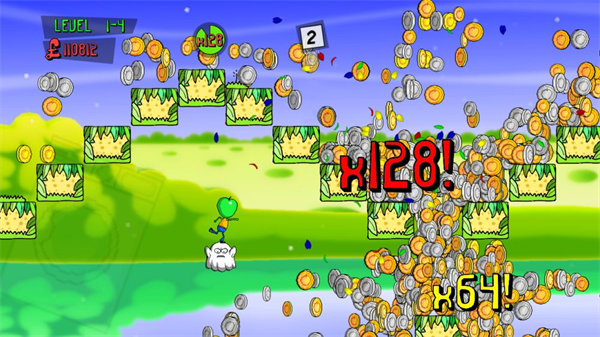 At first, merely standing on an enemy's head, picking it up and lobbing it at another enemy does the trick, but before long you're carefully plotting a path, ensuring that like-coloured objects smash into one another to open a barrier elsewhere.
If you manage to smash another object within a time limit, you set up a multiplier, adding a scoring element to proceedings.
With wistful acoustic guitar melancholy providing a pastoral innocence to the rural wildlife genocide, it's like Syd Barrett and Matthew Smith got together, dropped some tabs and fashioned this purely for our benefit.
9/10
Lead The Meerkats
WiiWare / 1000 points (£7.00)
Everyone knows how hilariously rubbish I am at games sometimes, but even I don't normally find my attention so deficient that I'm forced to go through an initial tutorial three times before I can get the faintest grasp of what the game actually wants from me. If you've got short-term memory issues, best keep a pen and paper handy for Inaria Interactive's WiiWare effort.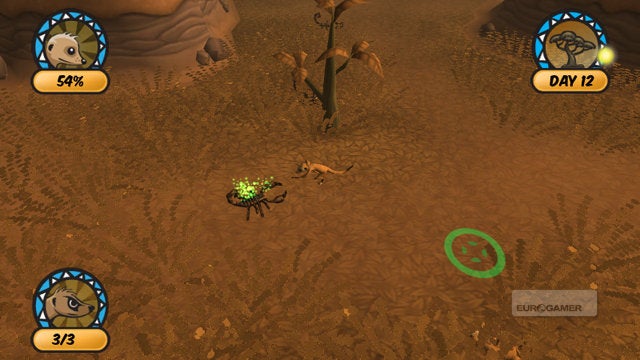 Promising a Pikmin-esque degree of console real-time strategy, Lead The Meerkats is about reuniting your lonesome mongoose with your pack after a vicious storm leaves you alone against the desert predators. But problems manifest early on, with confusing control mechanics making even the simplest tasks making you feel like a secret handshake is required.
Crazily, instructions are delivered once and once only, leaving you fumbling around trying to dig burrows and figure out what to do when you have. Through dogged persistence and blind trial and error it becomes evident that you're supposed to eat bugs and snakes in order to gather enough food to create an offspring, and eventually you find yourself with a small pack.
But even when you've slogged through the process of digging and foraging and are completely at ease with the control quirks, the rank boredom involved in growing your territory robs you of any desire to persist. Eventually you find yourself battling predators and rival packs, but with so much tedium to endure en route you either have to be blessed with improbable patience or a love of slow-paced repetitive tasks.
What looked like a peaceful riff on one of Miyamoto's finest ideas winds up a far duller prospect than it ought to have been. Shame.
4/10
Will you support Eurogamer?
We want to make Eurogamer better, and that means better for our readers - not for algorithms. You can help! Become a supporter of Eurogamer and you can view the site completely ad-free, as well as gaining exclusive access to articles, podcasts and conversations that will bring you closer to the team, the stories, and the games we all love. Subscriptions start at £3.99 / $4.99 per month.