Double Fine's heavy metal opus Brutal Legend is now backward compatible on Xbox One
And so is Greg Hastings Paintball 2!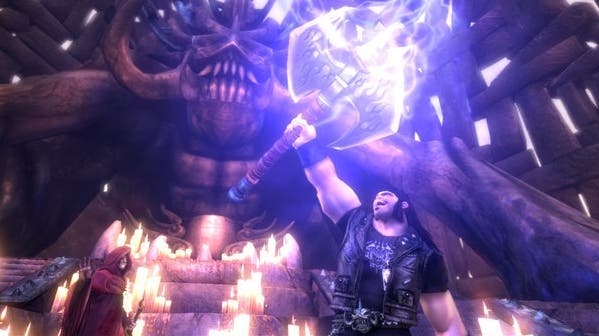 Double Fine's heavy metal action adventure Brutal Legend is the latest game to receive backward compatibility support on Xbox One, arriving alongside the perhaps marginally less well-known Greg Hastings Paintball 2.
Brutal Legend, for those unfamiliar, was Double Fine's follow-up to the cult classic brain-probing platformer Psychonauts, and launched on PS3, Xbox 360, and PC in 2009. It was pitched as an open-world action-adventure, and told the tale of Eddie Riggs (played by Jack Black), a roadie transported to a strange fantasy land where heavy metal reigned supreme.
As you might expect, the music influences run deep; not only is the entire world designed to resemble the classic rock album covers of the 70s and 80s, it features a massive soundtrack, featuring 107 songs from the likes of Judas Priest, Def Leppard, Slayer, Black Sabbath, Motley Crue, and Cradle of Filth. Furthermore, its cast list sees voice acting stalwarts such as Jennifer Hale and Tim Curry joined by rock legends including Lemmy Kilmister and Ozzy Osbourne.
Where Brutal Legend takes a funny turn, however, is in its other influence, with a surprisingly large chunk of the game taking the form of an unexpectedly involved real-time strategy game, where players must acquire "fans" in order to build and control an army of unlikely units in order to defend their stage from the forces of evil. Both halves of the game somehow work, but mileage may vary for players hoping for more of the raucous adventure brawling that defines Brutal Legend's opening few hours. Eurogamer's Christian Donlan liked the whole thing well enough on release, giving it an 8/10 in his review.
Moving on, Xbox One's other newly backward-compatible experience, Greg Hastings Paintball 2, is not a game I'm personally familiar with. However, a quick jaunt over to Wikipedia tells me that it's a first-person paintball game from back in 2010. I honestly have no idea if it's any good, and a look into Eurogamer's musty archives reveals no illuminating articles to share. However, if anyone has anything to add about its merits, please do so the comments.
If you've an original Xbox 360 disc copy of either Brutal Legend or Greg Hastings Paintball 2, you just need to pop it in your Xbox One for the console's backward-compatibility magic to unfold. Alternatively, Brutal Legend is available to purchase digitally via the Xbox Store, priced at £11.99/$14.99 USD. Greg Hastings Paintball 2, alas, is not.