Don't Starve DLC Reign of Giants out now on Steam
UPDATE: Releases outside of Early Access.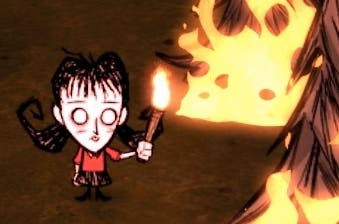 01/05/2014 UPDATE: Don't starve's Reign of Giants DLC has graduated from Steam Early Access to Steam proper.
It's currently on sale for £3.59 until 7th May, where the price will increase to £3.99.
Developer Klei Entertainment said that the "PS4 version is on the way." Here's a trailer.
03/04/2014 ORIGINAL STORY: Indie survival adventure Don't Starve has been expanded with its first DLC, Reign of Giants.
An Early Access version of the add-on is available to download today from Steam priced £3.19 (reduced from £3.99 until the end of April).
Reign of Giants adds giants, unsurprisingly, plus new playable characters, seasons, biomes and challenges.
Install the expansion and you'll find the game's harsh wilderness now hosts new creatures and a full rotation of seasons to alternately flood, roast and freeze you. On the upside, there's also a new extra save slot for when things go horribly wrong.
There's no word yet of a release for the game's PlayStation 4 version.
"While the game starts to falter in the long term, fans of hardcore roguelike adventures and uncompromising survival gameplay alike won't go hungry," Dan Whitehead wrote in Eurogamer's Don't Starve review.