What Went Wrong With The 360 Dashboard?
Digital Foundry investigates user feedback on the 'Metro' update.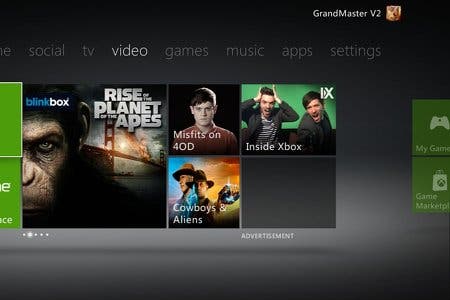 Last month's Digital Foundry article on the shortcomings of the Xbox 360's new, so-called "Metro" dashboard highlighted a bug that saw video playback washed out, emphasising compression artifacts and lowering image quality compared to the previous, perfectly serviceable video player. We also revealed that Microsoft appeared to be ignoring the feedback of its beta testers to the point of deleting reports of the issue, causing dismay from those who put their time and effort into road-testing the new update.
For reasons we'll go into later, media is primed to be a new battleground for games consoles going forward and it's no mistake that "Metro" pushes video playback as a key element. The rise of Netflix in the US has helped to define games consoles as a convenient means to stream from a massive catalogue of TV shows and movies offered by a growing range of suppliers. Support (of sorts) for the Bing search engine and YouTube also illustrates how the future focuses on accessing the internet via the TV. In effect "Metro" is positioning the Xbox 360 as a competitor against the next generation of Smart TVs we can expect to see appear this year, and, via its new Video Marketplace apps, as a one-stop shop for video content on demand.
It is a shame that such an important update for Microsoft should prove to have some very serious issues - problems that go beyond the previously reported washed-out video. It's safe to say that our initial blog caused quite a reaction, not least from other beta testers who asked us to investigate a range of issues, such as borked colour levels in gameplay and the removal of 1080p playback from the dashboard. The good news is that - as far as we have been able to discern - gameplay is unaffected by the new update, despite many reports to the contrary. We ran the Modern Warfare 3 brightness calibration tool on 360 consoles running dashboards old and new and found that the RGB levels were essentially identical when running on the same settings.
Unfortunately, reports that the dashboard video player's 1080p mode has been nerfed appear to be on the money. Video calibration tools put together by the AVSForum demonstrate conclusively that, while the Xbox 360 has no problem whatsoever decoding 1080p video, it is no longer being rendered in native resolution. To illustrate the issues, here we see the same full HD video being run on an older NXE dash at 1080p, and the new Metro offering at both 720p and 1080p. As you can see when clicking on the thumbnails, just about all the detail is being resolved on the older front end, but the Metro dash's 720p and 1080p images are effectively identical in terms of core resolution.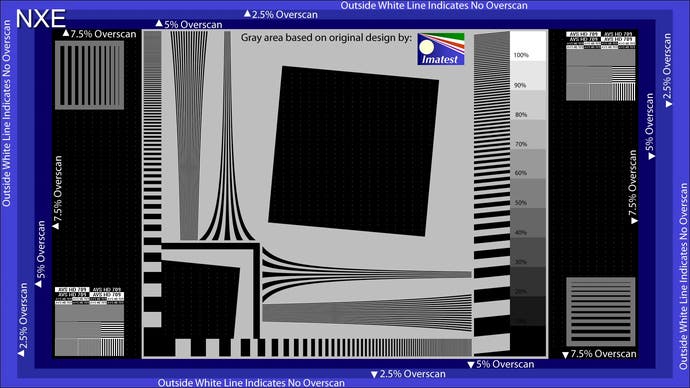 The inclusion of PlayStation 3 provides an interesting reference. We set the XMB to full-range RGB and that's exactly what was delivered at both 720p and 1080p, but the same can't be said for the Xbox 360. A couple of points of interest arise here. Firstly, histogram analysis of the Metro renderings show that while 720p shows the basic 16-235 limited-range RGB playback, capture in 1080p shows that the colour range is different again - this time information does seem to be in the 0-16 range. This explains why the histograms from our Skyrim timelapse captures in our original article weren't the same limited-range RGB as the Need for Speed movie we created for testing. In short, the problem with colour reproduction isn't as simple as first thought - it's borked to varying degrees depending on the display mode chosen, and colour reproduction changes once again depending on how reference levels are set on your console (here we are using expanded, full-range RGB to match the capabilities of our capture technology).
Secondly, the fact that Xbox 360 owners can no longer play back their 1080p videos at native resolution via the dashboard player is bit of a blow, and is clearly a real problem for a console that is looking to beef up its media credentials. The issue appears to impact the dashboard player and all of the "apps" you can download to stream video, but the legacy code from the Media Center Extender still appears to work fine. Curiously the Extender has always operated in a standalone manner - 720p60 video playback was possible at launch, for example - but it took some time for the main dashboard player to catch up. The Media Center tool's photo viewer is also enormously improved over the dashboard's built-in effort, which adds a horrible blur to all photos and only supports JPEG.
Other services appear to be artificially limited in the new video marketplace apps. For example, streaming service Vudu offers 1080p24 movies via its "HDX" service but in its FAQ it mentions that "Xbox 360 is limited to HD only (720p)."
Once again, the 720p limitation was reported during the dashboard preview programme and in common with the video levels issue we have reports that Microsoft deleted threads that referenced it.
"I reported that 1080p scaling issue as a bug on the first day of the preview program and had a pretty good number of votes behind it before Microsoft deleted it without response," beta tester and AVSForum member Jeremy Anderson tells us. "I'm assuming they know and don't want to acknowledge it, much like the video level issue. Sure seems like if they're hyping the new dashboard's video apps, 1080p video would be a focus. It's a shame that there's no objective way to test whether their own Zune marketplace is playing honest-to-God 1080p video, since it would be pretty damning if their app is the only one that does."
Ah yes, Zune. The service offers 1080p streaming downloads - something that is emphasised in the front-end of the 113MB downloadable app - and does indeed appear to resolve full resolution, so as Jeremy Anderson says it does appear to be the only outlet offering full HD movie streaming. Here are a couple of shots from Rise of the Planet of the Apes, up against digital dumps from the Blu-ray version of the same movie acquired via a retail PlayStation 3. There is a quality difference of course - and clearly the washed-out video problem is pretty horrific in these examples - but we do seem to be seeing a full HD presentation, something Microsoft is denying users with their own movie files, and seemingly its video partners too.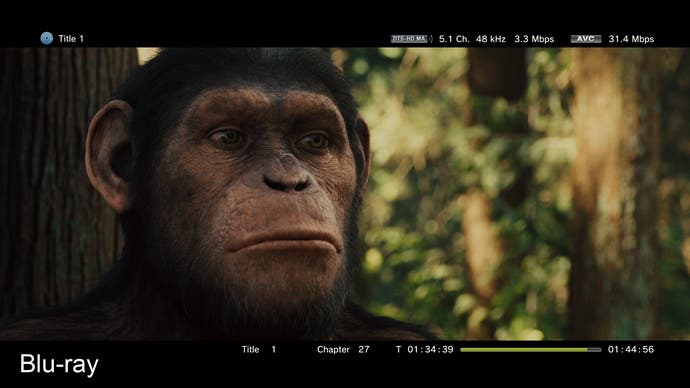 So, what's going on? The obvious conclusion is that the SDK Microsoft is believed to have supplied to third-party video partners is limited to 720p only, leaving Microsoft's host service with a clear quality advantage. The message we draw from this is that the platform holder wants to expand the take-up of the Xbox 360 as a media-streaming device, but very much on its own terms with its own content getting the best quality, and the user's "homebrew" media not being given much importance at all.
Incorrect video levels are obviously a bug, but blatantly downgrading resolution looks very much like part of a strategy. As it is, the new dashboard's preview programme ensured that the issues were brought to Microsoft's attention. Now we wait to see whether anything will actually be fixed.
"They marked the threads we had on this as fixed shortly before closing the Connect bug report site for the preview programme, though the problem is hardly fixed," Jeremy Anderson says. "I'm hoping that this means a fix is on the way, but considering they deleted or marked as fixed all of the threads on this without comment, I'm not holding my breath. Seems low on the priority list for them."
Microsoft has since acknowledged "the community's feedback" in a very short message on the website, suggesting somewhat obliquely that the points put forward will be taken under "consideration for future releases" - a somewhat half-hearted response bearing in mind that in some cases the quality of service is being significantly impacted by bugs and resolution downgrades.
While the support for more media outlets on the Xbox 360 can only be a good thing, the apparent downgrade for homegrown video is a disappointment. In this respect the PS3 is more utilitarian, allowing for AVCHD content from HD camcorders to be burned to DVD and run with no issue on the console - something Xbox 360 could readily emulate but doesn't.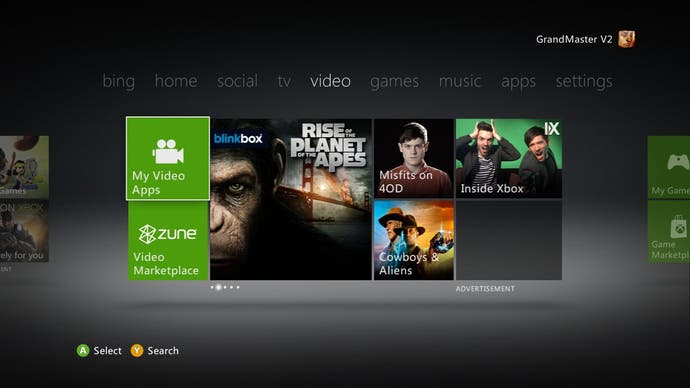 However, the acknowledged standard for homebrew HD video - h.264 video in the MKV container - remains unsupported on both consoles, despite being embraced by Smart TVs, standalone media streamers and even USB-equipped Blu-ray players. Microsoft and Sony will doubtless not wish to support pirate TV and movie downloads, but the MKV container is used by official DivX HD media precisely because it is the most versatile file format for HD video, offering support for subtitles and multiple video/audio streams; its usage for legitimate video will only grow. Its omission suggests that Microsoft would prefer to see us more as consumers of media rather than creators, and obviously it has no range of HD cameras it needs to support.
The new dashboard demonstrates that Microsoft's focus is on delivering more video content for 360 owners (apparently iPlayer is incoming at some point for UK users), while at the same time positioning Kinect as a meaningful media interface for the living room. In effect, Microsoft's strategy appears to be in repositioning the Xbox 360 to directly compete with the new wave of incoming internet-ready Smart TVs, particularly the long-awaited Apple display, apparently based on iOS with voice control powered by Siri - Steve Jobs' last great endeavor for the company before passing away last year.
We wouldn't be at all surprised to see Android make the transition across to the living room either. Perhaps next week's Consumer Electronics Show in Las Vegas will throw some more light on this, but the recent announcement that Samsung's Smart TV SDK now supports USB controllers suggests an interesting contest lies ahead: games consoles vs. games-capable, internet-ready TVs; two different delivery mechanisms each with their own strengths and weaknesses. Despite the bugs and downgrades, this is clearly a key area of focus for Microsoft, and with current-gen console prices set to fall still further, the holy grail of the 10-year life cycle may yet come to pass with the Xbox 360 and PS3 eventually transforming into set-top boxes with phenomenal games libraries.