Digital Foundry vs. PlayStation Vita
In-depth technical analysis of Sony's latest, greatest handheld.
Investigating Vita's OS and Apps
From a position of hindsight after developing the Cross Media Bar on PS3, Sony has decided to factor in trophies, cross-game party chat, custom soundtracks and multi-tasking from the very start with Vita. After a brief, wordless tutorial video that takes you through basic navigation of the OS, you're given a screen filled with floating buttons representing the various apps and games you've downloaded. Through touch controls only, you can swipe up and down between pages, and opening any one of these apps takes you to a large post-it note on the right, where you can either choose to start it by pressing centre, or close it again by making a peeling motion from the top-right corner.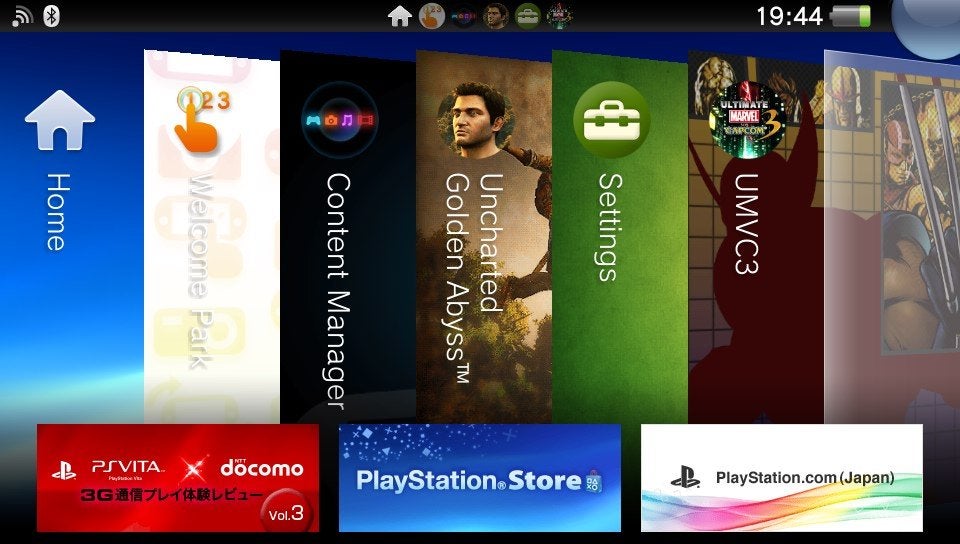 So, buttons and post-it notes: it may lack an over-arching theme, but it's all very simple and intuitive to use, with the touch-screen controls only demanding a delicate flick to shift between locations. As far as multi-tasking goes, you can have any number of the core apps open at any point, including Party, PS Store, Near, Friends, Group Messaging and Trophies, with each successive post-it note being added to the right. Surprisingly, each of these can run in the background while any game is playing, and a tap of the PlayStation button is all that's needed to takes you back to the OS. These transitions play out instantly, and without any stuttering or performance penalty whatsoever, with the one exception to the rule being some very minute slowdown with Near.
Holding down that PlayStation button for a second longer accesses the OS control screen. This reveals options for brightness, a custom soundtrack panel, and toggles for the microphone and party chat facility, all of which are natively supported across all games, and in our experience doesn't affect performance during gameplay itself.
Screenshot capture is another feature natively supported for most games, with Uncharted even actively requesting that you use it. Simply pressing the PlayStation and Start buttons at the same time causes a momentary pause while the frame is converted into a JPEG file, which can later be accessed or transferred to PC by the Content Manager app. There are some flaws to this setup that stood out, however, with the first obvious one being that the game you may be playing won't necessarily pause for you - and if it does, you run the risk of taking a screenshot of the pause menu instead. Also - annoyingly - some game developers actively disable the function, Ultimate Marvel vs. Capcom 3 being a prime example. So your mileage may vary based on each game, but it's a welcome addition nevertheless and the ability to share media from Vita directly to the internet is a nice touch.
A look into the main settings menu confirms that there's no Bluetooth tethering facility this time around. This connection allowed PSPgo users to leech off their mobile phone's 3G or HSDPA connection, and it's a shame to see the option omitted. However, many current mobile phones, such as the iPhone 4S and Samsung Galaxy S2, now permit tethering through a Wi-Fi broadcast instead. This raises an interesting point. Vita doesn't replace your mobile phone, so if your handset supports Wi-Fi tethering, it makes the added expense of the 3G Vita to be rather pointless.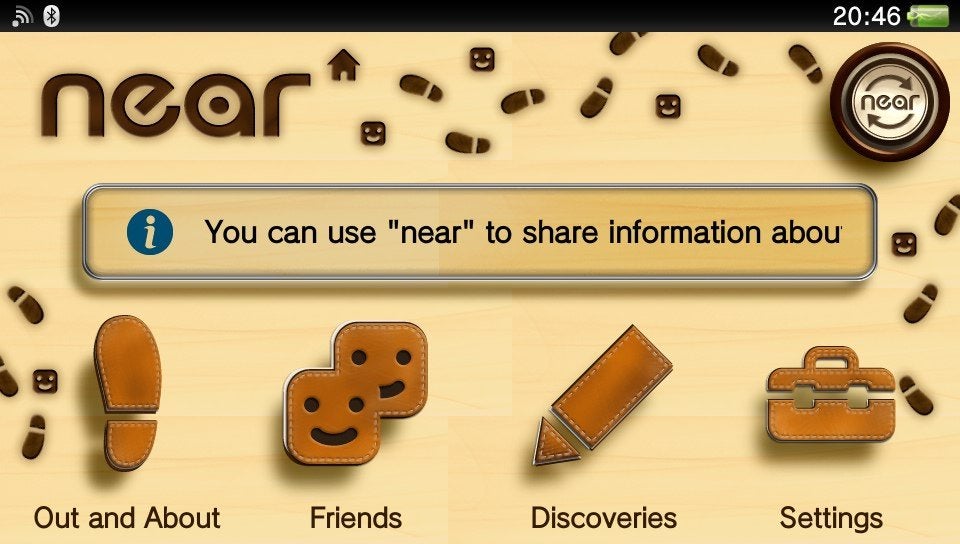 There are benefits to connecting to a 3G network, such as asynchronous multiplayer functions in games while on the go, including leaderboards, as well as giving apps like Near a means of tracking your location. Trophies can be synced this way too, with the Vita's trophy set being cumulative with those on PS3. On this note, it's worth mentioning that you can connect to the same PSN account on both PS3 and Vita simultaneously, which gives some breathing room when both might be turned on.
Near is perhaps the most unique addition to the many pre-installed apps available, and essentially serves as a log which maps three things: gaming progress, the time and distance travelled in a day, and a track record of other Vita users that have been in close proximity. It's Sony's equivalent to the 3DS SpotPass, although the potential for connection via 3G does make it a more enticing prospect for the regular commuter.
"Screenshot capture is another feature supported in most games. Simply pressing the PlayStation and Start buttons together dumps the current frame onto the memory card in the form of a JPEG file."
Looking at the other apps, we feel that a great many of them could potentially have been combined for a more streamlined user experience. In particular, the self-explanatory Party, Friends, Group Messaging and Trophies apps all hinge on interplay between users, and so for the sake of accessibility should be contained under one bracket. Instead, we're forced to open a window for each, with most apps linking to the next where necessary. This is made much less of a pain than it could have been due to how seamlessly they open via the OS, and that you can have all of them running at once during a game comes as a relief, but it's still perhaps a missed opportunity.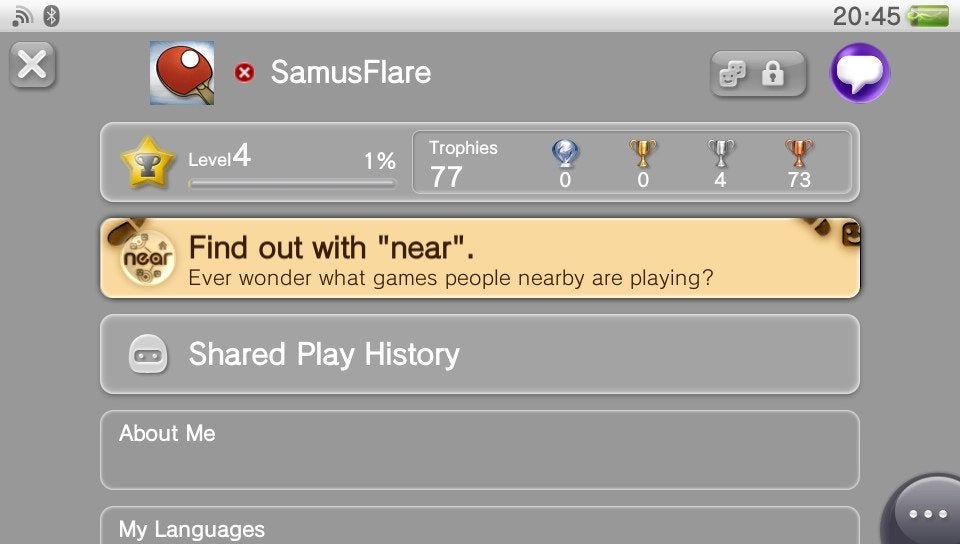 Media Playback
On the media side, there are individual apps dedicated to the playback of music, images and video, with the quality of video playback being particularly outstanding, mostly by virtue of playing on a high-quality screen. The Vita gladly decodes 720p MP4 files and downscales them to suit its resolution without any hassle or noticeable artifacting, although the once-promised 1080p resolution files remain unsupported. As far as formats go, playback is also fairly limited, with popular video containers such as AVI and MKV refusing to even transfer over to the console. A little disappointing, but this may change with future firmware updates.
Opening the photo app puts you in control of either of the Vita's 640x480 cameras, located at the back and front of the console - neither of which offer especially good image quality. As a fun bonus in games like the WarioWare-inspired Frobisher Says! they're certainly fit for purpose, with one silly mini-game encouraging you to grin for points, while games like WipEout 2048 use these cameras to take pre-race snaps of you for your avatar (if you choose to accept). The graininess of the images makes it impossible to use in darker rooms, but high fidelity cameras with quality lenses are hardly the expectation for portable games consoles - it's just a bit of fun, after all.
Any videos, photos or in-game screenshots you take can be scrolled through via the Content Manager, a central media hub which is also your link to the PC and PS3. Unfortunately, there's no way to drag and drop files directly from the PC, with Sony forcing you to install a client-side program before sync-up is possible. On the plus side, it's fairly lightweight due to the fact all of the transferring actions are conducted on the Vita alone. From this app, you can also back up any games and applications individually, or even the entire contents of the memory stick. This can be a slow process all told, and we found that 10GB's worth of data took roughly 40 minutes to make the jump.
The Web Browser
"Vita gladly decodes 720p MP4 files and downscales them to suit its resolution without any hassle or noticeable artifacting, although the once-promised 1080p resolution files remain unsupported."
Put bluntly, the browsing experience on offer here isn't where it needs to be, with Sony once again using the sub-optimal NetFront software that didn't acquit itself particularly well on PS3. Pages don't load as fast as we'd like, with a checker pattern background standing in place for a good second on the default PlayStation homepage whenever we pinch or drag the screen in the direction of new content.
To add insult to injury, Adobe appear to be reluctant to offer Flash support for the device as of yet , although Sony's Division Two software development head, Muneki Shimada, has stated that they are still pursuing a collaboration. The other spot of bad news is that this is one of the few pre-installed apps which isn't supported while a game is running, making it useless for even a quick FAQ check if you're stuck somewhere in-game - we suspect that it simply require too much RAM to operate in concert with games.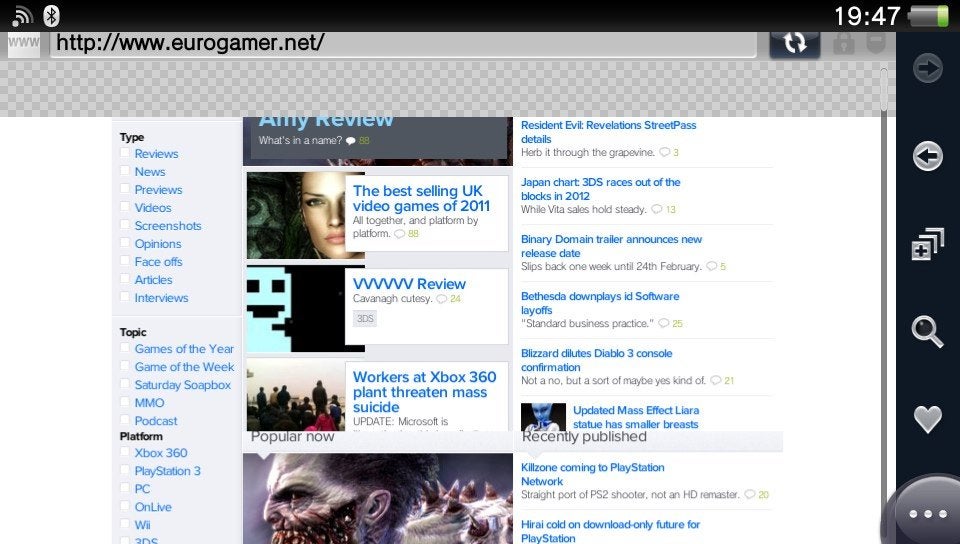 But is there potential in the app? Yes, once you get over these disappointments, everything surrounding the functionality of the browser is spot on. While most hands may stretch to get to the middle of the virtual keyboard given the sheer size of the unit, the buttons respond instantly and tapping on a link rarely results in misinterpretation. Plus, once the pages do load, the text and images look very sharp and clear. This is the area in most need of improvement, especially since it could supplement the gaming side of the Vita experience well.
However, up against the browsers found in Android and iOS devices, it's difficult to avoid the conclusion that Vita underperforms here in what is a key piece of software that perhaps should have received a bit more attention.
Will you support the Digital Foundry team?
Digital Foundry specialises in technical analysis of gaming hardware and software, using state-of-the-art capture systems and bespoke software to show you how well games and hardware run, visualising precisely what they're capable of. In order to show you what 4K gaming actually looks like we needed to build our own platform to supply high quality 4K video for offline viewing. So we did.
Our videos are multi-gigabyte files and we've chosen a high quality provider to ensure fast downloads. However, that bandwidth isn't free and so we charge a small monthly subscription fee of £4.50. We think it's a small price to pay for unlimited access to top-tier quality encodes of our content. Thank you.
Support Digital Foundry