Digital Foundry vs. PlayStation Vita
In-depth technical analysis of Sony's latest, greatest handheld.
Screen Quality
The crown jewel in the Vita's suite of input methods is undoubtedly the whopping five-inch OLED (Organic Light-Emitting Diode) screen at its centre. Complete with a capacitive multi-touch layer that picks up on even the lightest of glances from fingertips, this is no doubt Sony's sonorous response to a games industry's growing obsession with all manner of touch-screen devices.
The responsiveness of the technology is on par with the best smartphones we've tried, with each finger-stroke being recognised at the very first hint of contact, and multiple inputs picking up as they should. This bodes very well, not just for the slew of iPhone game conversions that could be heading its way, but also as an option for big budget games with no previous investment in the technology - an open door of sorts to quite a few possibilities that we hope are pursued by companies that have never tried it before.
"One of the big problems with the original PSP's screen is ghosting, defined by a trail on high-contrast moving objects, which thankfully is no longer an issue here. The Vita screen's pixel response is quick enough on grey-to-grey transitions that games run smear-free."
In terms of image quality, the screen weighs in with a quarter HD resolution of 960x544 (four times that of the PSP's pixel count) and boasts a respectable overall pixel density of 220 pixels per inch. This is lower than the iPhone 4's 326ppi retina display, but it still comes across as very crisp and clear - especially since the overall size of the Vita's screen implores you to sit back a bit further than most games consoles. Inevitably, this clarity is affected by the encouraged use of touch-screen controls, as the front panel and surrounding areas tend to smudge quite easily. On the plus side, it does seem fairly durable, and surface scratches haven't become evident anywhere during our tests.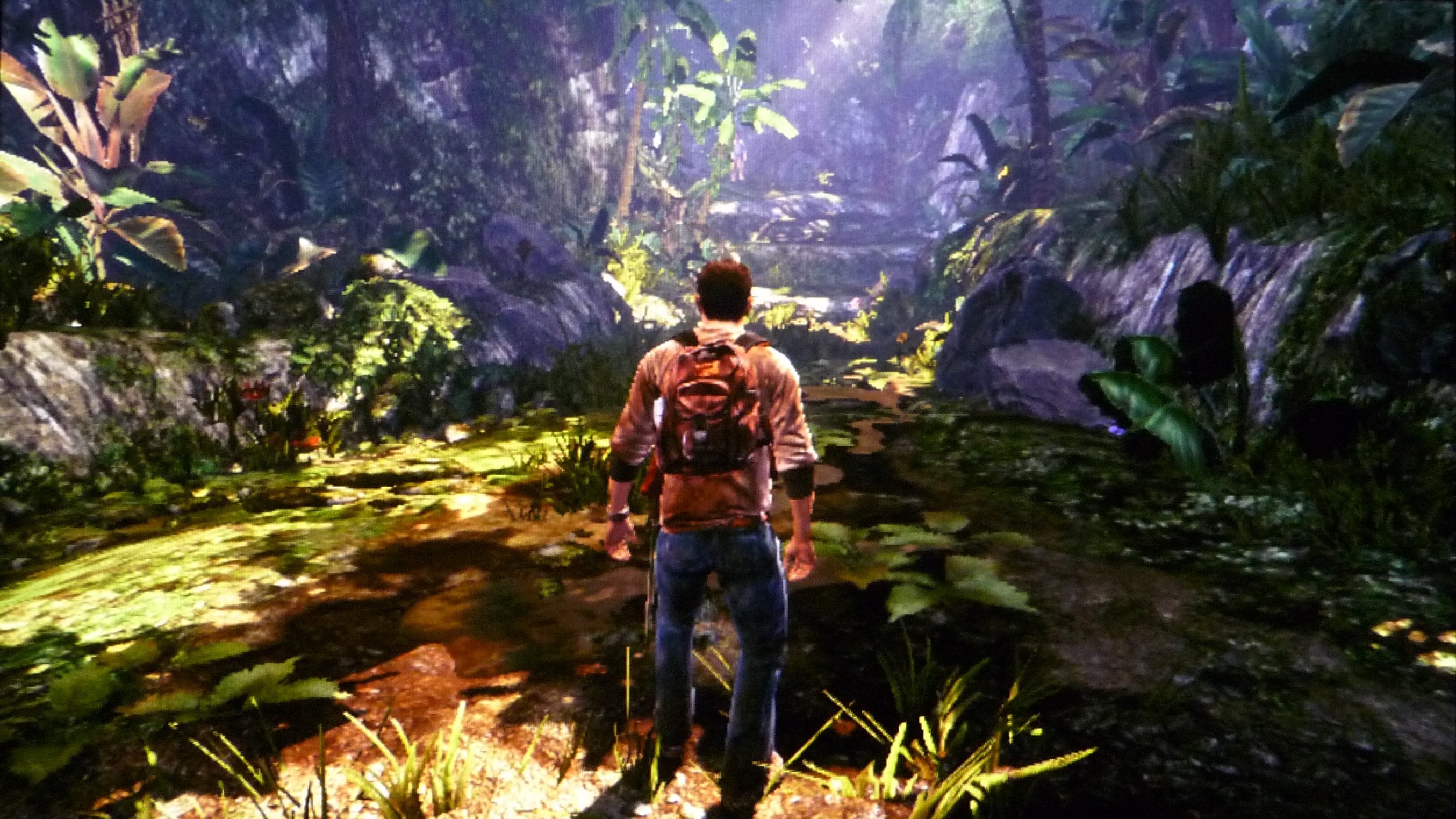 The brightness range of the OLED screen is very good for indoors use, with the maximum brightness setting matching the highest on the 3DS closely. However, both portables suffer from equally poor visibility during outdoors use as a result of their glossy screen coating - particularly in dark scenes in-game. During low-light conditions, however, the colours are vivid and bright, with some impressive black levels being possible as a result of the screen technology being used here; conventional back-lighting is no longer necessary as each diode emits light of its own accord, which in turn saves battery life.
One of the big problems with the original PSP's screen is ghosting, defined by a trail on high-contrast moving objects, which thankfully is no longer an issue here. The Vita screen's pixel response is quick enough on grey-to-grey transitions that games run smear-free, matching the best twisted nematic (TN) LCDs in this regard. Another noted problem on the original was its poor viewing angles, which again is attended to here, with only the faintest of green hues influencing the constitution of the image from extreme angles - a known characteristic of OLED displays.
So does this wonder-screen do everything perfectly? Not quite - but we have to dig deep to find the flaws. In particular, between the two Vitas we're testing we notice some subtle differences in uniformity under certain conditions, with the faint vertical lines appearing over grey screens on the lower brightness settings in different places. That said, this is really the only negative we could find. The screen has everything else going for it, and does justice to every kind of content we tried be it games, photographs or video.
Performance and Battery
So let's talk power. The Vita runs a quad-core ARM A9 CPU linked to 512MB of RAM, while also integrating a quad-core Power VR chipset (SGX543MP4+) coupled with 128MB of dedicated video RAM - all this in a single SoC (system on chip). The specifications of the original PSP raised eyebrows when they were released at first in 2003, and these feel like an equally large leap forward for the dedicated handheld scene.
The big hesitation is, of course, whether its 2210mAh battery can actually keep up with that kind of load for any reasonable length of time. The level of regularity and comfort that people will have in using portables like this is indelibly linked to how often they need to reach for the charging cable, so Sony has quoted three to five hours of gaming on medium brightness, five hours of video, and nine hours of music. These aren't bad as estimates under carefully managed test conditions, but is this actually representative of the experience for the end user?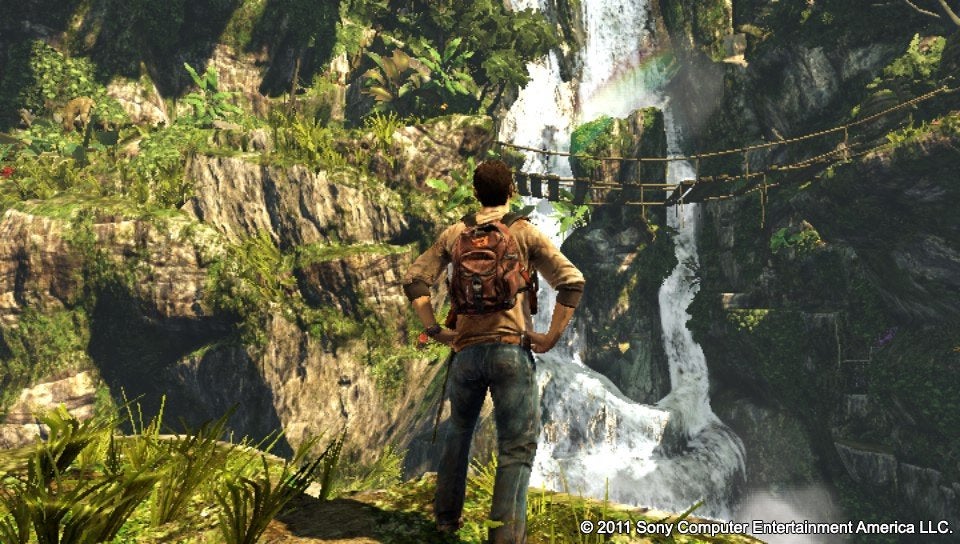 "Charging time is quite reasonable too, taking just under two hours and 35 minutes, although we noticed that charging via USB using PS3 or PC takes a little longer and the unit must be switched off."
Running several stopwatch tests on both Vitas in varying conditions gives us some surprisingly consistent results. From several different playtests, four hours and 10 minutes turns out to be the average number for general gaming use with Wi-Fi and Bluetooth enabled, and with brightness and sound levels each set to 50 per cent. This 'average use' test involves playing a sequence of technically demanding games in 30-45 minutes increments, such as Uncharted: Golden Abyss and WipEout 2048, as well as less taxing titles such as Top Darts and Escape Plan.
The worst-case scenario test gives us a total of three hours and 40 minutes of play before the Vita conks out, with test conditions in this case involving a non-stop playthrough of Uncharted's earlier levels with all wireless connections enabled, and with maximum brightness and sound set. We thought this was still impressive given the graphical output of the machine, and fits well within Sony's predictions. Next, up, the final test has us squeezing as much playtime as possible from the console using conservative settings, and results in a comfortable four hours and 50 minutes - no wireless connections, brightness at the lowest level, and sound muted entirely.
Charging times are also quite respectable too. By using the included USB cable, which links from the mains unit to a proprietary port on the Vita, an average charge takes just under two hours and 35 minutes. This is par for course given the size of the battery, although we noticed charging by USB directly from PC or PS3 takes a little longer - and is only possible when the unit is switched off.
So how is this possible? The transition away from the PSP's UMD optical disc bay, a mechanical process which took a toll on its battery life, to the Vita's solid-state game carts helps massively here. Also the energy-efficient OLED screen does its part, and so too does the removal of the PSP's many LED indicators for memory stick access, Wi-Fi, power and hold, with each being replaced by a single light behind the PlayStation button for message notifications. Relative to the standards of the moment, the battery life of the Vita is very well managed.
Will you support the Digital Foundry team?
Digital Foundry specialises in technical analysis of gaming hardware and software, using state-of-the-art capture systems and bespoke software to show you how well games and hardware run, visualising precisely what they're capable of. In order to show you what 4K gaming actually looks like we needed to build our own platform to supply high quality 4K video for offline viewing. So we did.
Our videos are multi-gigabyte files and we've chosen a high quality provider to ensure fast downloads. However, that bandwidth isn't free and so we charge a small monthly subscription fee of £4.50. We think it's a small price to pay for unlimited access to top-tier quality encodes of our content. Thank you.
Support Digital Foundry