Our recommended RTX 3070/3080 PC build: CPU, RAM and motherboard picks
Great value components to use with Ampere or Big Navi GPUs.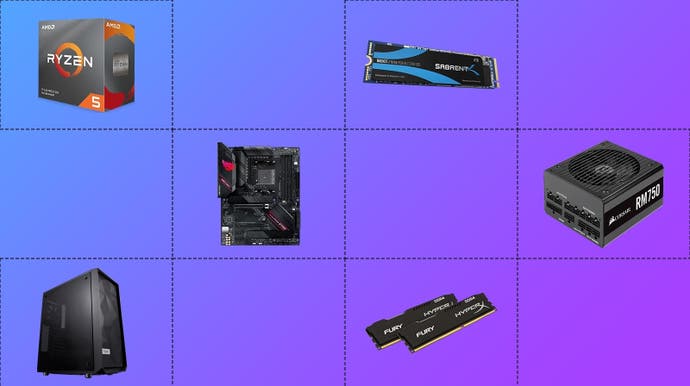 Looking to build a PC or upgrade your PC to match a shiny new RTX 3070 or RTX 3080 - or RX 6700 XT, 6800 or 6800 XT 'Big Navi' graphics card? Here's a complete Digital Foundry approved PC build.
The idea is to design a system that will give you a reasonable degree of future-proofing and the ability to handle both gaming and content creation tasks, all for a reasonable price.
For each category of components - processor, RAM, storage - we've given our top value-for-money recommendation, plus more options if you want to save money or go for higher-grade components than our suggested spec. At the end of the piece, you'll have a balanced build with components that should work together well.
We have also listed some great PC building resources at the end of the article where you can find extra information or sanity check your build, as well as answers to common questions like "what about Ryzen 5000?" and "what should I spend the most money on?".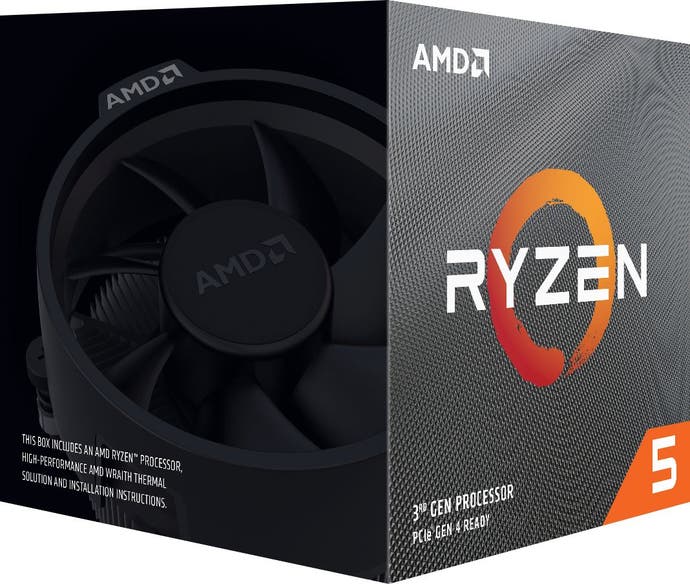 AMD vs Intel: We've chosen an AMD Ryzen CPU and a matching motherboard for our 'default' build, thanks to Ryzen's generally lower cost of entry, higher core count and PCIe 4.0 support. These characteristics make it a good choice for mixed use, where your PC is used for gaming and streaming or content creation.
However, Intel's processors tend to offer slightly better raw gaming performance, especially at lower resolutions like 1080p. Therefore, we've included an equivalent Intel build towards the end of the article which keeps the majority of our components but swaps out the processor, motherboard and cooler.
Let's take a quick look at our recommendations summarised in handy table form, then we'll move onto the reasoning behind each component choice - plus alternative picks for saving money or getting faster components as your budget allows.
| Category | Recommendation | Description | Where to buy link |
| --- | --- | --- | --- |
| CPU | AMD Ryzen 5 5600X | Best value CPU for mixed use | Amazon UK 🛒 USA |
| Motherboard | Asus Rog Strix B550-F | PCIe 4 and good features | Amazon UK 🛒 USA |
| Cooler | CM Hyper 212 Evo | Cheap upgrade over stock cooler | Amazon UK 🛒 USA |
| RAM | 16GB DDR4 RAM | 3200MHz CL16 is the sweet spot | Amazon UK 🛒 USA |
| Storage | Crucial P2 NVMe 1TB | Best value NVMe SSD drive | Amazon UK 🛒 USA |
| PSU | Corsair RM750 | A reliable 750W modular PSU | Amazon UK 🛒 USA |
| Case | Fractal Meshify C | A great high-airflow case | Amazon UK 🛒 USA |
| Fans | Corsair SP120 RGB Elite | High performance RBG fans | Amazon UK 🛒 USA |
| Intel CPU | Core i5-11600K | The best value pure gaming CPU | Amazon UK 🛒 USA |
| Intel CPU fan | Noctua NH-D15 | A legendary quiet air cooler | Amazon UK 🛒 USA |
| Intel mobo | MSI Z490 Tomahawk | A great pairing for Intel CPUs | Amazon UK 🛒 USA |
Click the links below to jump straight to the component recommendation you're interested in, or scroll on to see the whole build!
Note: Please disable ad-blockers to see our specific recommendations and live prices.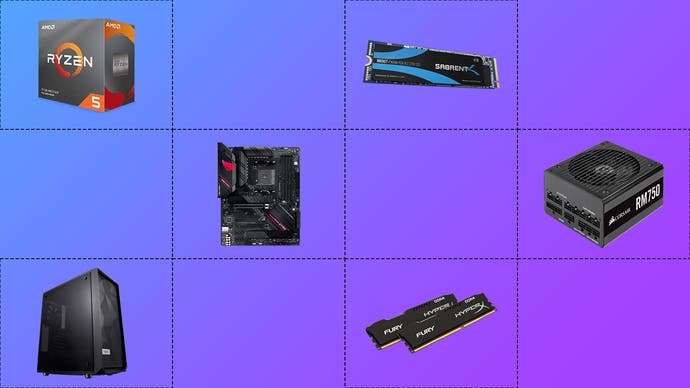 Recommended CPU: AMD Ryzen 5 5600X
This CPU provides a good overall level of performance that should hold you in good stead for a few years, especially in modern games that can take advantage of CPUs like the 5600X with high core and thread counts. Ryzen 5000 processors like the 5600X benefit from a big boost to single-core performance, making them from 15 to 20 per cent faster in some tasks than their predecessors and helping AMD cement a gaming performance lead over Intel for the first time in recent memory. Ryzen processors are also a great choice for content creation workloads, like transcoding or editing video, especially as their core counts increase.
If you want to spend less: The Ryzen 5 3600 is the standout member of AMD's 3rd-gen desktop processor lineup, with more cores than corresponding Intel parts and a very reasonable price point. It's cheap enough that you could later upgrade to a faster 3rd-gen or 4th-gen Ryzen processor, but not so cheap that you'd feel obligated to do so right away! If the 5600X is too expensive, this is the best choice.
If you can spend more: The 5800X and 5900X offer meaningful upgrades, providing more cores and faster single-core performance at justifiably higher price points. Consider these if your machine will be used for rendering videos, 3D modelling or gaming and streaming at the same time.
Recommended CPU cooler: AMD Wraith Stealth / Wraith Prism
The Wraith coolers that come with AMD's lower-tier CPUs are surprisingly decent, providing sufficient cooling performance albeit at relatively high noise levels. That means you don't need to spend any money on a custom cooler, as you would do with an Intel system. If you've opted for a higher-end AMD CPU, then the classic Hyper 212 Evo is a solid budget choice.
If you want to spend more: If you want better thermal performance at lower noise levels, it can make sense to upgrade to a AiO ('All in One') liquid cooler. These generally provide better thermal performance than the Wraith at lower noise levels, while providing better access to the area of the motherboard near the CPU socket than a typical air cooler. However, you will need to dedicate more space in your case to mounting a radiator and fans. Most cases support 120mm, 140mm or 240mm radiators without much problem, but larger 280mm, 360mm and 480mm mounting positions are less commonly available - so always check what radiator mounts your case supports.
Another option is a better air cooler. These tend to heat up more quickly than an AiO but will provide about the same overall cooling performance and noise levels. They're easier to install, but take up more space near the CPU socket which can make swapping out RAM or plugging in some fan headers more difficult. Before buying, check your case's CPU height clearance.
Recommended motherboard: A budget B550 or X570 board
While B450 boards are an even cheaper option, B550 and X570 motherboards have two major advantages: support for Ryzen 5000-series out of the box and support for PCIe Gen 4.0 storage and graphics cards. Having access to these adds a degree of future-proofing that you won't find on B450, in exchange for a slightly higher up-front cost. X570 boards tend to support a larger number of PCIe 4.0 devices simultaneously, but tend to cost more. If you plan to have a lot of fast PCIe 4.0 storage installed, then X570 makes sense; otherwise go for B550 as you'll get better value.
When choosing a motherboard, we recommend sticking to the lower end of the market unless you plan on heavy overclocking, using super-fast RAM or installing a large number of PCIe drives. Basically all of the mainstream manufacturers produce good stuff - Asus, Gigabyte, MSI - so don't worry too much about your choice if you can see it has the features you might want (Wi-Fi, enough NVMe drive slots, USB-C and so on). You can always check for reviews of your chosen motherboard as a sanity check before you buy!
If you want to spend less: Get a cheap B450 board, preferably a board with a 32MB BIOS that's confirmed to support Ryzen 5000 CPUs like MSI's B450 Max series. You'll give up PCIe 4.0 support, but save a decent amount.
If you can spend more: Get a fancier board, but be reasonable - each dollar spent here could almost be certainly used elsewhere if you can bump your graphics card or processor up a tier!
Recommended RAM: 16GB dual-channel DDR4 3200MHz CL16
As we discovered in our RAM testing on Ryzen article, 3200MHz CL16 RAM represents the best value option right now. If you can get higher frequencies (the MHz value) or lower latencies (the CL number) at a similar price then go for it, but 3200MHz CL16 is a great starting point. Don't worry about brand here - memory is largely a commodity, so you're mostly paying for a specific flash manufacturer (useful for overclocking) or the looks (nothing says bling like RGB RAM).
If you want to spend less: Slower RAM isn't any cheaper these days, so your only option here is to stick with 8GB of memory. If you think you'll be able to upgrade soon, get one 8GB stick and then get another exactly the same when you can to reach our original planned configuration. Otherwise, go for two 4GB sticks, as running only a single stick results in a noticeable performance penalty that's best avoided.
For more RAM buying advice, check out our guide to RAM speeds on Ryzen and on Intel systems, where we test RAM frequencies up to 4000MHz in games and content creation, plus the effect of latency and Infinity Fabric overclocking (on Ryzen).
If you can spend more: You could opt for 32GB if you're doing content creation, or higher frequency sticks if gaming is more the focus. Anything up to 3600MHz CL16 should be a reasonable price; beyond this the performance gains get pretty small.
Recommended storage: Crucial P2 1TB NVMe SSD
This one's pretty simple: 1TB of storage space will give you enough room to keep Windows 10 and a good amount of (non-Warzone) games installed simultaneously, while the NVMe M.2 connection means that there are no cables to plug in and game load times are short - ideal for taking advantage of future cross-generation games that should benefit from fast read and write speeds. In terms of manufacturers, we like drives from Samsung, Adata, Crucial, WD and Sabrent. We have full SSD recommendations here if you're interested!
If you want to spend less: Swap that NVMe SSD for a SATA SSD. Boot and game load times will be marginally slower, but you'll be able to get the same capacity at a much lower price. Don't go for an HDD though - come on, it's 2020.
If you can spend more: There are lots of options here. The obvious one is to add a secondary SATA SSD or spinning disk hard drive for media/game storage, but you could also opt for a larger NVMe drive to allow more games to be installed at once. Finally, you could also upgrade to a faster PCIe 4.0 drive, which is useful in the here and now for content creation like 4K video editing - and may become better utilised by games over the next few years.
Recommended PSU: 750W Gold modular/semi-modular
A 750W power supply is recommended for RTX 3080 systems, so that's what we've gone for here. If you plan to use an RTX 3070, feel free to swap in a 650W PSU instead. We like modular and semi-modular power supplies because they leave more space free in your case for building, but non-modular alternatives are fine too. Brand is important here; we recommend the likes of Corsair, Seasonic, EVGA and Be Quiet! Any mainstream brand should be fine, but you really want to avoid no-name units here as if your PSU goes, it may take every other component in your system with it. Additionally, look for at least a Gold rated power supply as this indicates a base level of efficiency.
If you want to spend less: you'd probably be able to get away with a 650W PSU here if you stick to the rest of our component recommendations, but you might have less headroom for future upgrades. Whatever you do, don't sacrifice on brand and get a no-name option - in our view, it's better to make cuts elsewhere in your build than take the risk.
If you can spend more: You can get a higher-spec power supply, but Nvidia still only recommend a 750W PSU even with a Core i9 10900K and an RTX 3090, so there's no massive need to push the boat out beyond 750W for a standard system, even if you plan to overclock. You could opt for a more premium brand, like Seasonic, or a higher efficiency rating instead.
Recommended case: Fractal Design Meshify C (or pick your own)
Cases are a very personal choice, as they're the part of your computer that you'll see the most often. Basically any ATX case on the market will suit this build as long as it can physically fit the graphics card you've chosen, so feel free to choose what appeals to you if the reviews for it are at least decent and GPU clearance figures sync up!
We like the Fractal Design Meshify C and the Lian-Li O11 Dynamic XL because they emphasise airflow; great if you've got a power-hungry GPU like the RTX 3080. However, you might prefer a quieter case like the Phanteks P400A or NZXT H510, so do a bit of research and pick the one you like best. Note that some cases won't come with all the fan slots filled (or, in the case of the O11 Dynamic XL, any fans at all!) so bake in the cost of at least a couple of fans into your calculations - see below.
Recommended fans: Corsair SP120 RGB Elite (or pick your own)
Fans are another personal choice that will depend on your case, but if you've got the hankering for RGB the best ones we've tested are Corsair's SP120 and SP140 RGB Elites. These fans are available as single fans in 120mm or 140mm sizes, or in packs of three with an RGB controller at a relatively low price. They provide good airflow at relatively low noise levels, reasonable static pressure and can be PWM-controlled - something you can't always rely on with cheaper no-brand fans, much to my chagrin.
Alternatively, if you need cheap RGB fans and don't care that they'll run at full blast the whole time, these EZDIY fans ones in the move a lot of air and look great.
Other good case fan brands to look out for are Noctua, Arctic and BeQuiet! Of course, ditching the RGB requirement makes buying fans considerably cheaper, so do consider it. You can also just stuck with the fans that come with your case and upgrade down the road if needed.
What about an Intel build?
Good question! In that case, swap out the Ryzen 5 5600X and B550/X570 motherboard for a Core i5 11400F, Core i5 11600K or Core i9 11900K - or consider 10th-gen alternatives that likely provide even better value, including the 10900K that has more cores and therefore better all-core performance for content creation than the 11900K.
The Z590 platform provides all of the features you'd want, including memory overclocking and PCIe 4.0 support with an 11th-gen Intel processor, although it does cost a fair amount. You'll also need an air cooler or AiO - we recommend something by Noctua, a classic CM Hyper 212 Evo or an AiO from the likes of Alphacool, Corsair or NZXT.
While 4K performance isn't hugely different between similarly-priced Intel and AMD systems, your processor will make more of a difference at lower resolutions (1440p and 1080p) and higher frame-rates (144, 240 or even 360Hz). This is where Intel still holds onto a small advantage in some games, so a pure gaming build designed to operate at 1080p or 1440p might be better served by choosing Intel parts.
What should I spend the most money on?
Generally, the performance-affecting components that will cost the most in a balanced build are the graphics card, processor, motherboard and RAM. Of these, the graphics card and processor are where you should probably spend any extra money you have.
Going up a 'tier' to a new model (eg RTX 3070 to RTX 3080 or Ryzen 5 5600X to Ryzen 7 5800X) will normally provide the biggest benefit, compared to getting a more expensive version of the same model (eg choosing a premium Asus ROG Strix RTX 3080 instead of a cheaper Asus Tuf 3080, or a Ryzen 3600X over a Ryzen 3600).
How do I check my build?
You could always post it in the comments below or ask us on Twitter (@wsjudd) - we'll try to be around to answer any questions! Otherwise, there are some great sites out there like PC Part Picker and Logical Increments that provide good guidance on choosing complementary components. It's also wise to check out reviews of components like PC cases and motherboards, as there are a lot of options here and the best-looking parts aren't always the easiest to work with. Gamers Nexus and Hardware Unboxed are great publications for case and motherboard reviews in particular.
Total cost
So how much do our builds come to? Component prices change all the time and graphics cards in particular are in short supply, but we can have a go of summing up our components choices at the time of writing. Our original build, focused around the Ryzen 5 3600, an X570 motherboard, 16GB of RAM and a 1TB NVMe SSD came to around £675 for all components - plus whatever you spend on your graphics card; probably around £650 for the RTX 3080 if you're lucky enough to find it at RRP. That makes for a final sum of around £1325.
If we instead opt for the Intel-based system - with Core i5 10600K, Hyper 212 Evo cooler and Z490 motherboard, but otherwise the same parts - it comes to around £775, about £100 more expensive, plus the RTX 3080's cost of around £650. That brings the Intel system's total cost to around £1425.

Neither of these are insignificant chunks of change, but you'll be left with a powerful gaming PC that should cope easily with the latest games for at least a few years, whether you're gaming at 1080p, 1440p or even 4K.
Remember that this is for a complete desktop PC, but we haven't included an operating system (as Windows 10 can be bought online for relatively cheap these days and Linux works nicely for gaming) or peripherals (so you'll need to keep your existing monitor, keyboard,mouse and headset, or buy them fresh if you don't have any!).
Can I have a table of links?
Sure, here you go. Three recommendations for each category - default, cheaper and more expensive - with a few changes from the recommendations above, due to stock considerations and the need to recommend specific products here, where earlier we went for more general advice. Note that there are separate suggestions for CPU, cooler and motherboard depending on whether you prefer AMD (lower prices, PCIe 4.0 support) or Intel (faster gaming performance, higher cost of entry). Feel free to mix and match according to your preferences between the default, budget and upgrade recommendations too!
We've only had a chance to do this for our UK (🇬🇧) picks so far, so apologies to any Americans in the audience - do let us know if you want to see an American equivalent of this table!
---
Choosing just the right build will always depend on your own circumstances, preferences and market conditions, so don't be afraid to take our recommendations with a grain of salt and forge your own path. There isn't a 100 per cent perfect build for every person at every time, but hopefully these picks will give you at least a good starting point. Of course, this is far from a definitive guide, so feel free to post your own component recommendations in the comments that would make this build even better. We'll keep things updated going forward, so check back if you're not quite ready to pull the trigger yet - we'll be waiting for you.