In Theory: Can next-gen fulfill the 1080p60 dream?
Watch Titanfall, Battlefield 4 and Killer Instinct at 60fps.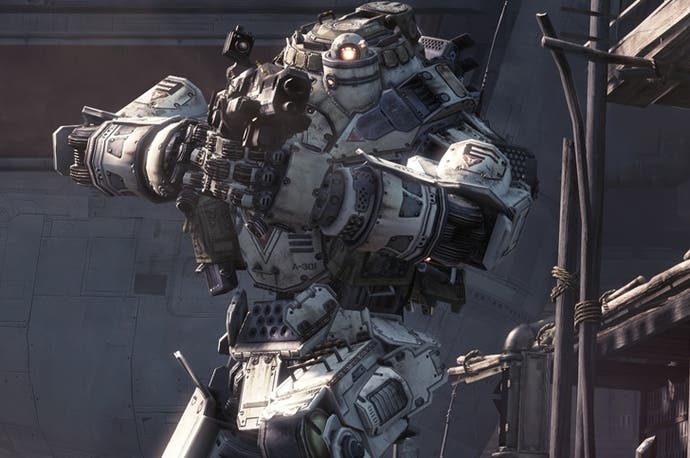 Hardcore gamers have been demanding it, and next-gen console could well deliver it: the joy of 60 frames per second gameplay, potentially at full HD 1080p resolution. The news from Microsoft's E3 press conference that Battlefield 4 runs at full frame-rate was impressive enough, but the fact that the next Halo game will also deliver 60fps action was a genuine surprise. Meanwhile, newcomer Titanfall from ex-Infinity Ward developers Respawn also appears to be aiming for the gold standard in fluidity and response in console gameplay while delivering breath-taking visuals.
After the false dawn of 1080p gameplay on current-gen console, what's becoming clear from E3 2013 is that full HD resolution on console is no longer a pipe dream, it's the expected norm for next-gen gaming - but it's the standardisation of 60fps for all of the top-tier Xbox One shooters revealed at Microsoft's E3 presser that is remarkable. The most important key competitive advantage that the Call of Duty games had over its rivals on Xbox 360 and PS3 is now a thing of the past. Rival developers have prioritised smooth gameplay and faster response over making visuals as pretty as they can be, and as a result, Activision's prize FPS franchise has never looked quite so vulnerable.
Some might suggest that it's the culmination of evolution vs. revolution. The Call of Duty engine has been improved and iterated over the years, but as Infinity Ward readily admits, the franchise's next-gen console debut rolls out utilising an enhanced version of its existing tech, with a lineage that takes us back to the days before the developer even started work on Xbox 360. Of course, the tech has advanced substantially over the years, and there are plenty of new systems incorporated into the next-gen version of the engine. We see improvements such as high-dynamic range lighting, "Sub-D" tessellation, improved animation and lavish displacement mapping - but hand on heart, we've not seen anything yet that truly blows us away in terms of a true generational leap over competing technologies.
DICE's approach for Battlefield 4 is revolutionary in comparison. Frostbite 2 and BF3 set the stage for a DirectX 11 engine that could scale across a range of PC hardware, with bespoke iterations with stripped back features for current-gen console. Its deferred lighting system, terrain streaming, realistic physics and ultra-detailed textures and modelling pushed Xbox 360 and PS3 to their limits, but truly shone on PC hardware. It was an engine built with the future in mind - and in Frostbite 3 we see the formula advanced still further with what looks like an advanced destruction model that builds upon the tech seen in the brilliant Battlefield: Bad Company 2 - hence collapsing skyscrapers in multiplayer, an element reserved for single-player set-pieces in BF3.
In short, DICE had a true next-gen DirectX 11 engine built from the ground up two years ago, and has had the luxury of time in refining it for the launch of next-gen console. While the 60fps reveal came as a genuine surprise, perhaps we should have anticipated it. Battlefield 4 still needs to deploy on Xbox 360 and PlayStation 3. It still needs to be playable on a vast range of PCs of varying power - many of which do not compare favourably with next-gen console. In the larger scheme of things, PlayStation 4 and Xbox One are just two additional SKUs that slot in to the range of hardware the game needs to support.
"Respawn knows better than anyone that the 60fps formula is about more than just frame-rate - low latency control is the key to the experience."
Alternative 720p60 version: Capable hardware required for smooth playback
Perhaps the most pleasantly surprising element from our perspective is that it casts the processing tech found in both next-gen consoles in quite a favourable light. Running an engine as advanced as Frostbite on what we would hope to be advanced settings isn't easy in terms of CPU power, and lower power PC cores have struggled in the past. The scalability of Frostbite 3 will also be key in running both next-gen consoles versions at 60fps bearing in mind the gulf of raw graphics power between them.
For its part, Titanfall developer Respawn is using an adapted version of Valve's Source Engine. It's a good choice for two key reasons: there's a development path available for current-gen console (required to make these games financially viable), but on x86 architecture - PC, Xbox One and PlayStation 4 - the engine's fast. Seriously swift in fact, to the point where you can make a good fist of running Portal 2 at something approaching a locked 720p60 on the Surface Pro. That's hardware that simply can't compare to the raw capabilities of next-gen console. Bearing in mind the Respawn tech team's experience in repurposing an existing technology into something all-new and ultra-competitive (see Call of Duty 4: Modern Warfare), it's a good place to start. The game looked seriously impressive at its E3 reveal, but there was a curious shimmer about it - perhaps suggesting that the price for all that action at the extreme frame-rate is sub-native resolution, so not true 1080p60 per se.
With regards 343 Industries and the next-gen Halo, the move to 60fps is a genuine shock bearing in mind that the series has always stood apart from the COD vs. Battlefield ruckus. In some ways, it's a genuinely limiting decision - 30fps means double the render-time, meaning that visuals can be far more ambitious, something that series custodians Bungie and 343 Industries certainly made the most of on Xbox 360. And when you consider the Halo proposition - the flexibility of its engine in handling both interior and vast exterior environments, the array of units in play at any given point and the advanced AI that drives them - support for 60fps gameplay is a statement of serious ambition from 343. Factoring in that the developer would have more experience than virtually any other in dealing with Xbox One hardware, we're hoping for big things there.
"The only thing that could have topped the BF4 60fps announcement was an actual real-time gameplay demo running on Xbox One hardware."
Alternative 720p60 version: Capable hardware required for smooth playback
However, it is important to note that the irresistible Call of Duty formula isn't just about frame-rate. The experience goes beyond super-smooth, arcade-style motion - more important is the crisp, ultra-low latency from the controls. Running the game faster marries up with faster feedback from the pad, creating a unique, intuitive interface between game and player. Infinity Ward's last game - Modern Warfare 3 - handed in a best-in-class controller latency of just 50ms. That's the Call of Duty difference, the real key to its immense playability. We ran Battlefield 3 on PC at 60fps and found response was lacking by comparison - 100ms or thereabouts from a button press on the Xbox 360 pad to the resultant action kicking off on-screen. Only by disengaging v-sync and running the game significantly beyond 60Hz did we get the latency down to levels that were competitive with the Infinity Ward offering. Clearly, fluidity from the on-screen imagery is only one element of the magic formula that has defined the success of the Call of Duty franchise.
So what to make of this sea change in the technological make-up of console shooters? Will the 60fps phenomenon strike out beyond this one genre? It's a given that Forza Motorsport 5 from Turn 10 will deliver the goods (though curiously all of its on-screen presence at the Microsoft event appeared to be running at half frame-rate - even the cockpit view footage), and perhaps not surprisingly for a one-on-one fighter, Killer Instinct also hits a locked 60fps. However, there have been other, more surprising, 60fps sightings reported from the E3 showfloor and encouraging statements of support from key developers. Perhaps most exciting of all has been the comment from Hideo Kojima that Metal Gear Solid 5: The Phantom Pain is targeting 60fps for the next-gen console versions of the game.
Elsewhere, on the E3 showfloor, Assassin's Creed 4's multiplayer mode appears to be working at something approaching 60fps (albeit with some distracting freezing) and there's even a full frame-rate Killzone: Shadow Fall trailer floating around the internet. In both cases, we wonder if the games are simply running with unlocked frame-rates. Certainly, having examined the Guerrilla asset on a frame-by-frame level, performance is highly variable and during our E3 demo session, the code even had some issues sustaining 30fps - a disappointment after the flawless presentation at the February PlayStation Meeting. As for AC4, the game appeared to be operating at a smooth 30fps when we checked out the PS4 version running the single-player demo previously seen at the Sony conference.
"Curiously, key 60fps titles like Forza Motorsport 5 and Killer Instinct were represented with 30fps trailers during the Microsoft conference."
Alternative 720p60 version: Capable hardware required for smooth playback
While we're surprised at the level of commitment to 60fps shown at E3, we are keeping our expectations in check to a certain degree. Historically, full frame-rate has often been a target or even an aspiration, as opposed to a guarantee of actual performance - virtually all of our Xbox 360 vs. PlayStation 3 Call of Duty comparisons should illustrate that. We're also concerned somewhat by the actual lack of genuine console code showing up at E3 - Microsoft and EA couldn't show us Battlefield 4 on Xbox One at the conference, even though we are mere months away from its release. This is something that's a genuine cause for concern bearing in mind the insane levels of optimisation required for a true, locked 60fps experience. 343's next-gen Halo teaser wasn't running in real-time, and it was actually running at 30fps too, despite almost certainly being an offline render. Elsewhere, Crytek's Ryse, which is running in real-time on One hardware, seems to be targeting 30fps and clearly has genuine performance issues at this time.
Secondly, we need to bear in mind that we're swiftly entering an era of cross-generational games development. Many of the games due this year apparently targeting 60fps on next-gen console will also have Xbox 360 and PS3 counterparts - a necessity in making megabucks AAA games financially viable in a period of transition. Supporting seven-year-old hardware clearly limits the scope of the game as a whole, making full frame-rate gameplay on next-gen console easier to attain. Our concern is that once the need to support weaker hardware evaporates, the drive towards more complex visuals could result in 30fps once again becoming the accepted standard for console gameplay. That seems to be the approaching we're seeing from Sony's first-party PS4 titles, based on their E3 showings.
For the major first-person shooter franchise titles at least, we remain optimistic that this is indeed a lasting shift in priorities that puts gameplay first. Once a shooter has embraced 60fps gameplay, we believe that dropping back down to half frame-rate in a potential sequel represents such a fundamental downgrade to the quality of the experience that the developers will never be able to go back. The drive towards visual accomplishment at the expense of a super-smooth refresh will simply continue elsewhere - in the likes of franchises such as Killzone and Destiny for example. For the purist looking to enjoy ultra high resolutions and sky-high performance with zero compromise, the choice remains the same as it always has been - go for PC, where the gameplay experience can be tailored to your exact specifications, and to the size of your wallet.
Do you want to watch high quality download versions of our 60fps videos? We've got you covered.