Face-Off: Blur
Here comes the fuzz.
| | Xbox 360 | PlayStation 3 |
| --- | --- | --- |
| Disc Size | 5.4GB | 6.75GB |
| Install | 5.4GB (optional) | 1217MB (mandatory) |
| Surround Support | Dolby Digital | Dolby Digital, 5.1LPCM, 7.1LPCM, DTS |
Digital Foundry hearts Blur. Eurogamer has already gone into depth about why the game is so good to play in its review, but this appreciation is only strengthened when you experience the scale of the technical achievement on offer: full 720p resolution, high levels of anti-aliasing, up to 20 cars on-screen at any point, a large, highly detailed rear-view mirror, masses of post-processing effects, no LOD popping. The list goes on.
So, PlayStation 3 or Xbox 360? The stakes are high. What we have is a title that pushes technical barriers in pursuit of an overall gameplay experience that is quite unique: tech deficiencies will impact the overall look and feel of the game. Bearing in mind the legion of technical accomplishments, surely something's got to give?
Let's get to work. It's time to wheel out the comparison assets, starting with the 720p comparison gallery, and this head-to-head movie:
Blur is a remarkable and singular technical achievement, especially in relation to what Bizarre Creations achieved with Project Gotham Racing 4 (still a great-looking game itself). The number of cars on-screen at any given point has increased, the amount of effects in play can be quite overwhelming, and overall image quality has been boosted too.
In-game, PGR4 ran at native 720p with 2x multisampling anti-aliasing. For Blur, the 360 version actually runs with 4x MSAA - the best the machine's hardware is realistically capable of delivering.
There's a definite look and feel to a Bizarre Creations driving game. Artwork has a precise, correct, technically "right" look to it. There's a huge amount of attention-to-detail in making sure that every piece of art, every visual effect, fits into a particular type of super-refined CG aesthetic. That being the case, the inclusion of the full-on 4x MSAA complements the art perfectly: it adds to the refinement. It's the icing on the cake.
This is the only major point of differentiation in terms of the look and feel of the game when comparing to the PlayStation 3 version. It's rare that we see 4x MSAA implemented on PS3 at all, and in terms of your AAA driving games, only Gran Turismo 5 Prologue possesses it. In cross-platform fare, 4x MSAA on 360 is often substituted with quincunx AA (QAA) on PS3, but for Blur Bizarre has opted for 2x MSAA with a half-pixel, bilinear-filtered edge blur.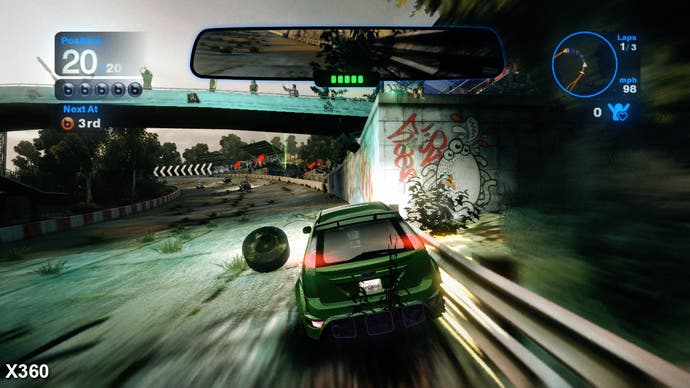 In terms of the overall look, the lack of 4x MSAA slightly diminishes that final layer of visual refinement, but it's hardly a deal-breaker, and PS3 has its own advantage: support for every surround sound format that the hardware can do. (All Xbox 360 titles are limited to 640kbps Dolby Digital 5.1.)
Onto the performance tests. As usual we've put together a series of comparison tests showing the same levels running on PS3 and 360. Usually this gives us a good perspective on how titles perform in a like-for-like scenario.
However, in the case of Blur, gameplay variation is rife - varying amounts of cars are on screen and different effects are in play at any given point, so we can only really gauge general conclusions about each platform as opposed to a more direct head-to-head. The results are quite enlightening though.
In our coverage of the Xbox 360 multiplayer beta, we were taken aback by just how solid performance was. Frame-rate was locked at 30FPS, and v-sync was doggedly maintained without exception.
In the final analysis of the full retail game, performance remains absolutely astonishing bearing in mind how rich the action can be; Blur maintains 30FPS even with masses of cars and effects on-screen. Bizarre's achievement here really has to be seen to be believed: there's no lag in the controls, no slowdown on-screen.
The sense is of a game that runs in an absolutely rock-solid manner. However, as you can see from the graphs, Blur does occasionally drop out of v-sync.
The perception on 360 is that some of the heavier post-processing effects can prove too much for the renderer in certain, rare situations. On PS3, it appears to be more the case from our testing that sometimes (rarely, as the tests show) the sheer amount of cars and effects does incur a significantly larger load that causes the tearing.