Best gaming chairs 2023
Featuring Herman Miller, Ikea, Razer, Noblechairs and Corsair.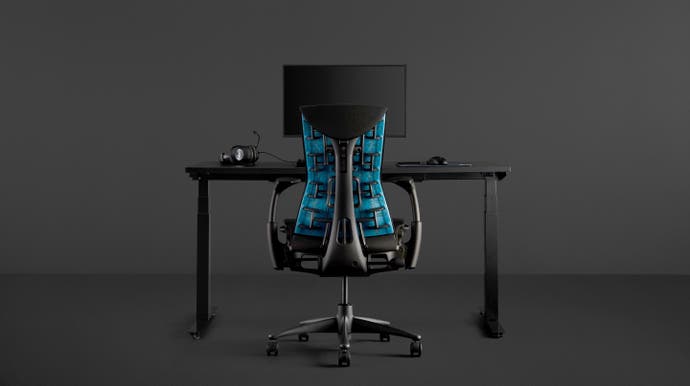 The humble gaming chair is perhaps the centrepiece of any setup - after all, it's where you'll be parking your backside when you're playing all your games and stuff. Of course, you want it to be comfortable and supportive in all the right places, and there are plenty of specialist options with racing-seat style aesthetics, as well as nice to have features such as a lot of tilt so you can lay flat, or moveable arms and seat cushions for maximum comfort.
This is a list of DF's favourite gaming chairs, and we've tested a handy few of them over the years at a wide range of price points. From ultra-premium options to value heroes, these picks include some of the biggest names in the business plus a few surprises. Let's take a look.
Best gaming chair: Herman Miller x Logitech Embody Gaming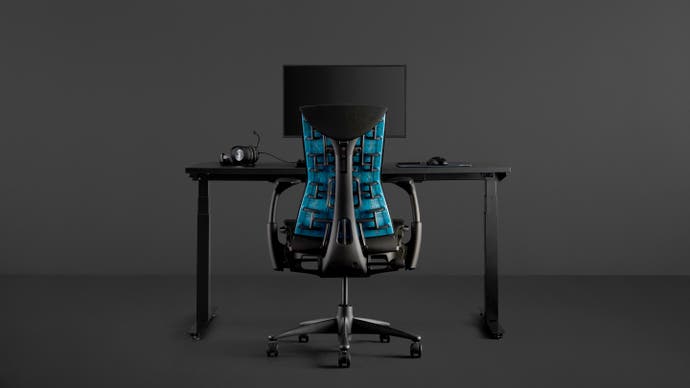 Incredibly comfortable with great adjustability
The only gaming chair I've used without taking the arms off
Very, very expensive
No headrest, can't go horizontal and doesn't roll well on carpet
See our Herman Miller Embody Gaming Chair review for more details
The Herman Miller Embody Gaming is the chair that I keep returning to, no matter how many other gaming chairs I test. Despite a shorter stature than other models and support that only reaches to the middle back, the Embody promotes excellent posture and consistently ranks as the most comfortable chair I've tried. I sometimes feel achy if I forget to take breaks and walk around from time to time, but the Embody is the most forgiving of my failings.
Adjustability is a key strength here, with the ability to increase the dimensions of the seat itself as well as independently adjust upper/lower back support. The arms are impressive too, with the ability to be pushed down super low to fit under basically all desks, be raised up high and to be splayed in or out to suit your current position. This is a very different mix to the usual gaming chair fare, and each feature is one that I've missed on other models. The material used, together with the smaller design, also makes the chair excellent for use in hot weather, as more racing-style bucket seat designs tend to trap heat around your body. It's not quite as good as a mesh chair, such as the Herman Miller Aeron or Ikea Markus, but it's still a benefit worth espousing.
The Embody Gaming Chair also looks pretty awesome from the back, with its blue-coloured membrane and 'spinal' design touches. Of course, it's pretty much invisible when you appear on a webcam, as the short back is more or less entirely eclipsed by your body, so you don't get that gamer look that might attract (positive or negative) attention during work meetings. The Embody also comes fully assembled, so you don't need to spend any time building it.
So - is it worth the steep asking price? If you're lucky enough to be able to afford it, then yes. It's super comfortable, cleverly adjustable and looks fantastic - and it should last for years and years. You could also consider the non-gaming Embody, which has a slightly thinner seat and a more pedestrian look at a lower price. Other Herman Miller and Steelcase office chairs are also worth considering, although I've not had a chance to test other units in a professional capacity just yet.
---
Best value gaming chair: Noblechairs Hero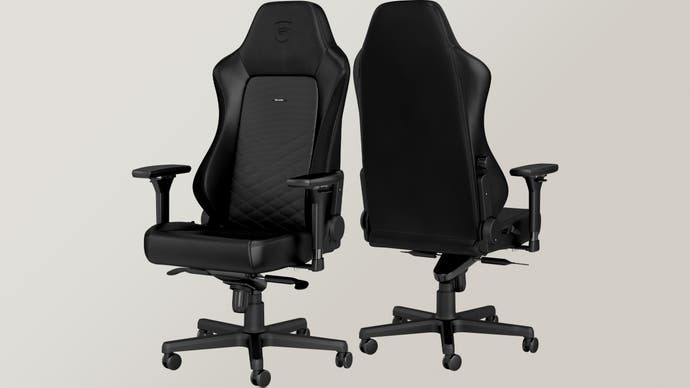 Comfortable with integrated lumbar support dial and seat base tilting
Doesn't look childish, with all-black design and strong materials
See our Noblechairs Hero Black review for more details
The Noblechairs Hero Black Edition is the first gaming chair I tested for Eurogamer, and it still holds up half a dozen more chair tests later. I appreciate its aesthetic - minimally-branded and black-on-black - which dispatches with useless racing-style elements like holes for your seatbelt to fit through. Beyond its looks, the Hero is a large chair that suits taller folk like myself well, with a choice of real or fake leather that feels great but can get a bit sweaty in England's few days of summer each year.
Adjustability is good, with the option of tilting the base of the chair, alongside of the more usual whole chair tilt and height adjustment options. The Hero also comes with an integrated lumbar support system, which can offer more or less support depending on how far you spin a plastic wheel on the side of the chair. This works much better than the cheap pillows you often see included with gaming chairs, which have a tendency of getting lost or having their straps snap. Finally, Noblechairs have been in this game longer than most, and therefore have come up with much better installation instructions which make the build process easier.
---
Best gaming chair for back support: Razer Iskur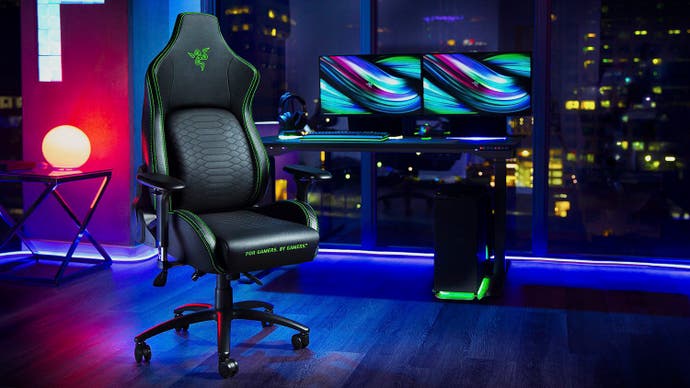 The Razer Iskur has another take on the lumbar support idea, with a moveable back section that swings out to provide more or less support. It does the job with aplomb, and also has the benefit of being a much more transparent mechanism than that integrated into the Herman Miller Embody or Noblechairs Hero - you can actually see what it's doing rather than just feeling a bit more or less support as you spin a dial. This makes it easier to set up, especially if you're sharing your chair with someone else and need to re-set it to your preferred level of support.
Apart from this innovation, the Iskur is in other respects a fairly standard gaming chair, but a well-built one with excellent instructions (which are hilariously printed on a massive sheet you can prop up next to the chair while you're working on it). It looks fairly inoffensive, especially in the black colourway, while the green accented alternative will appeal to die-hard Razer fans. The size is again one that will be most comfortable for relatively tall fellows (my colleague Katharine at RPS at found it a bit oversized), but controls for the height, arms and tilt do allow some measure of adjustability which is nice.
The Iskur is well worth considering then, and if you fancy the idea of a Razer chair without its lumbar support mechanism, the cheaper Iskur X is also available.
---
Best fabric chair: Corsair TC200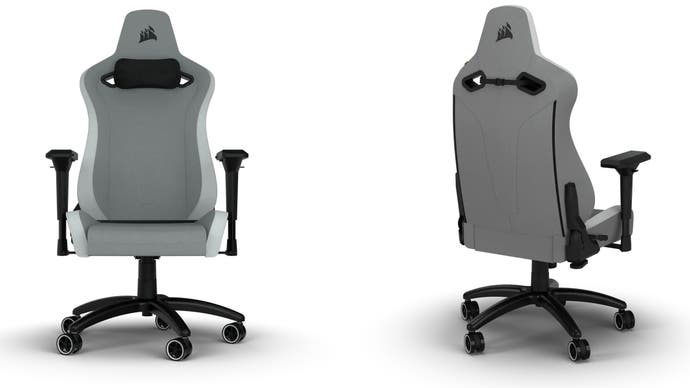 Comfortable fabric
Rolls easily in carpet
A little hot in warm weather
If you don't like the look or feel of leather, fake or real, then a fabric chair might be for you - and the Corsair TC200 is our top pick here. Its fabric cover is comfortable and looks great, whether in light grey and white or dark black. The design here definitely hews close to the racing-style bucket seat, with an enclosed design that feels comforting and warm in winter but can be a little sweaty on warm days. The chair is a tall one to suit taller folks, or just people that like crossing their legs while gaming. It's designed as a successor to the brand's popular T3 Rush, but with taller folks in mind, hence those larger dimensions.
Back support is provided via a plush cushion, while narrowly defined 'average people' can use another pillow on the head rest. I'm not the biggest fan of this approach - I prefer Logitech and Noblechairs' integrated lumbar support solutions better - but the cushion is at least comfortable. The head cushion itself feels especially plush, with a velvet-type texture, and a firmness to it that makes it especially supportive. It attaches via buckles, which ensure it also stays in place well, too. Adjustability is good, with the usual '4D' arm rests, seat tilt and height adjustment features, and the wheels here are great - easily able to roll through the carpet in our offices. Assembly of the TC200 was straighforward too, with Corsair's experience with PC cases showing through with clear instructions and well-designed accessories.
The TC200 is the best fabric chair I've tested so far, and it's also available in a more traditional leatherette if you prefer, as well as coming in either black, or a grey finish.
---
Best non-gaming chair: IKEA Markus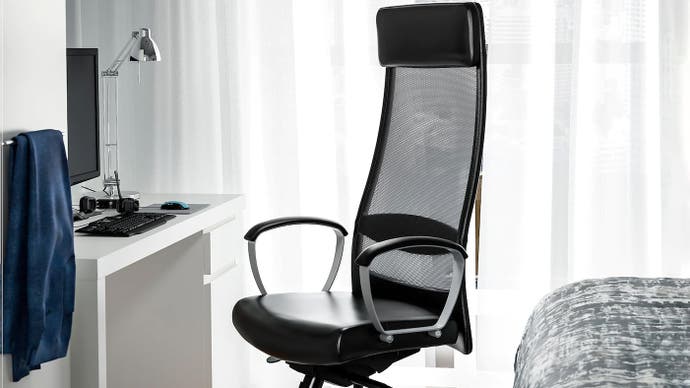 The Markus is a favourite the world over, combining an airy mesh back with a comfortable seat with heaps of traditional Ikea value. It's by far the cheapest option on this list, although it's still a significant three-figure investment. For the money, you get a seat that can accommodate folks large and small in a wide variety of colours - our fearless Rich had a blue model, I had an orange one and most sensible people go for a more neutral black or grey. In terms of adjustability, the height and lean angle can be changed; you can also lock the lean angle but that's about it. The arms are fixed in position, but can be removed if you don't fancy using them (I prefer to tuck under the desk and rest my arms there, but this does require a relatively deep desk). Assembly is also very straightforward, requiring just eleven bolts according to a review on the Ikea website. The Markus comes with a ten-year guarantee and Ikea isn't likely to disappear any time soon, so you ought to get your money's worth out of this one.
Affordable and widely available
Mesh back allows for great ventilation
Reasonable build quality and a 10 year guarantee
---
Frequently asked questions
Are gaming chairs worth the money?
Some of them are, but it depends on what you're looking for. As I get into in the first gaming chair review I did for Eurogamer back in 2020, there are a ton of overpriced gaming chairs - you'll undoubtedly be paying a premium for any chair with the word "gaming" in the title. Office chairs are a great alternative, as the best from the likes of Steelcase and Herman Miller tend to offer a focus on comfort and ergonomics without that racing bucket seat look that ultimately isn't too relevant for long-term comfort. However, there are some chairs that buck the trend and feel better value for money than others within the gaming chair category.
At the end of the day, if you value having a chair that looks like a gaming chair and serves as a visible symbol of your membership in the gaming community, then the recommendations above should help you out. If you think gaming chairs are stupid, then that's cool too and we have a couple of recommendations - right now the Ikea Markus and the Herman Miller Embody - that we've tested and can recommend for gaming.
What about chair X?
We'd like to review more chairs in future, so if you have any recommendations please get in touch via Twitter - @wsjudd.
What biases do you have?
That's a great, totally real question, and I'm glad you asked. I'm a relatively tall guy, so my picks here are based on what I've been able to test - which have primarily been gaming chairs on the larger end, as PRs are generally loath to send over chairs that they think you're too big to be comfortable in. If you're shorter in stature, then I can recommend taking a look at the thoughts of someone who shares your body type. For example, my colleague Katharine Castle over at Rock Paper Shotgun published a cracking review of the Razer Iskur, which ought to be quite helpful.
I'm also generally OK with things with a 'gamer-y' appearance, so you may find your own tastes lie closer to the office side of things. Regardless, I've tried to approach this topic with objectivity, so do share your own thoughts in the comments below so we can make this article better.