Asus FonePad review
Digital Foundry investigates the tablet that thinks it's a phone.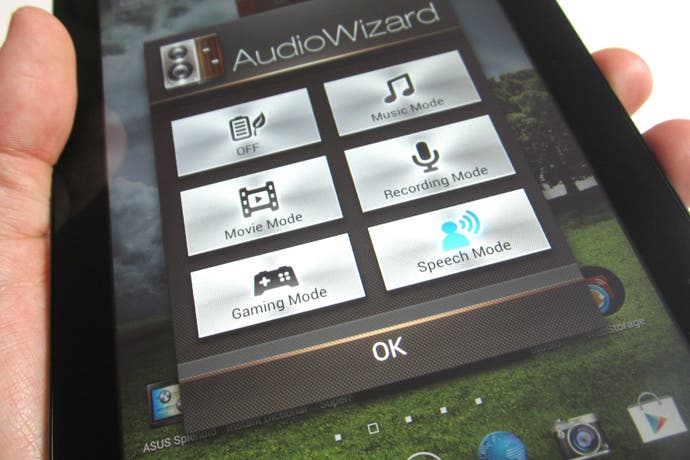 The Nexus 7 was a breakthrough product for Google. For too long Android tablets had struggled to make an impression in a market dominated by Apple's iPad, and it was Asus that stepped up to the plate and gave Google the ideal hardware platform with which to shift the balance of power. However, the Nexus 7 is now a year old and there's a fair chance that owners will be on the lookout for potential upgrades. The Asus FonePad - with its similar dimensions, low price point and familiar manufacturer - could certainly be considered one such option, but there are some pretty significant caveats present here - as well as a few major enhancements, too.
The Nexus 7 was impressive from a technical standpoint, but some owners took issue with the cheap build quality - an almost inevitable consequence of cramming what was then a cutting-edge chipset into a device with such an aggressive price-point. Asus has atoned for this shortcoming with the FonePad, granting it a robust and solid structure which showcases none of the creakiness of its Nexus-branded sibling. The back of the tablet is metal, while the bezel which runs around the tempered glass screen is glossy black. Smaller 7-inch slates rarely have the kind of visual pulling power of their larger relatives, but the FonePad certainly cannot be considered ugly. It's no heavyweight either - light enough to hold with one hand without experiencing any discomfort.
A plastic strip along the top edge of the rear of the FonePad betrays one of its most unique selling points - it has a Micro SIM slot and essentially functions as a phone with a massive screen, hence the unusual moniker. Needless to say, you should be prepared for some rather odd stares from strangers should you decide to put the FonePad to your ear and make a phone call in public; a more sensible option is to use a Bluetooth headset. The other obvious upshot of having cellular capability is 3G data, which makes the FonePad a more mobile option when compared to the entry-level WiFi-only Nexus 7.
The aforementioned removable plastic panel also contains another bonus: a Micro SD card slot for memory expansion, something which the Nexus 7 lacked. With 16GB of flash storage onboard, having the chance to add-in more space cheaply really is a boon. But what Asus giveth, Asus taketh away - the FonePad lacks NFC capability, which was present in the Nexus 7.
Thankfully, there's some parity when it comes to the tablet's screen, which is the same 1280x800 IPS panel seen on the Google slate. Viewing angles are brilliant and the display refuses to degrade in quality no matter how you twist and turn your viewpoint. The pixel density of 216ppi isn't stunning and close inspection reveals noticeable jagginess on text, but unless you're particularly picky about this kind of thing, it won't be an issue. Colour balance is something of an issue, but you can use the preinstalled (and amusingly titled) Asus Splendid application to make sure the screen is tailored exactly to your suiting.
Asus hasn't opted for Tegra tech this time around, instead choosing an Intel Atom Z2420 1.2GHz CPU and a PowerVR SGX540 graphics processor, contained within a single SoC (system on chip). Although the Atom offers impressive performance for a single-core processor, it's running at a very low clock speed and it's unquestionably a step down from the Tegra 3 seen in the Nexus 7, while the graphic tech is generations behind the latest tablets. The benchmarks table makes for sorry reading.
"The benchmarks aren't impressive - the FonePad is a generation behind the Nexus 7, in itself outdated compared to the latest Android tablets."
| | Asus FonePad | Sony Xperia Tablet Z | Samsung Galaxy Note 10.1 | Google Nexus 7 | Google Nexus 10 |
| --- | --- | --- | --- | --- | --- |
| Quadrant Standard | 2630 | 7799 | 5829 | 6110 | 4551 |
| AnTuTu Benchmark | 9227 | 20308 | 12660 | 12726 | 8912 |
| Geekbench | 583 | 2345 | 1753 | 1475 | 2475 |
| 3D Mark Ice Storm 720p/1080p | 2177/1155 | 9936/9997 | 8983/8775 | 6629/6319 | 7990/5427 |
General navigation around the Android 4.1 interface is smooth initially, but as soon as you have several applications running in tandem, performance takes a nosedive. Also, gaming on the Asus FonePad isn't as smooth as it could be. Cutting-edge 3D titles are just about playable, but slowdown is rife. Real Racing 3D - arguably the most demanding game in visual terms currently available on the Google Play market - is plagued with stutter, making it very difficult to enjoy. Visually detailed games like Dead Trigger and Shadowgun suffer from similar performance issues.
Like the Nexus 7, the Asus FonePad has a front-facing camera for video calls, but lacks a rear-facing snapper. It's not an omission you'll find yourself cursing - taking photos with a tablet is a relatively thankless experience - and has no doubt contributed to the device's low retail price. The front-facing camera is 1.2-megapixels and records video at 720p, but the results are predictably underwhelming. This is intended largely for Skype and Google Hangout calls.
A 4270mAh battery rounds off the package, which lasted for around seven hours when running our looping test video. The Atom CPU isn't as power-hungry as some quad-core chips, but if you plan on using the 3G functionality you can expect to see a significant drop in stamina.
"The PowerVR GPU is vintage 2008 tech, so not surprisingly its lack of 3D power makes the FonePad a poor choice for Android gaming."
Asus FonePad: the Digital Foundry verdict
A tablet that also doubles as a telephone isn't anything new - the Galaxy Note series has offered similar functionality for some time, albeit with a smaller display - but Asus wins the award for creating the most ludicrously-sized mobile. The ability to make and receive phone calls with this device should be considered a minor bonus; the fact that it has 3G data is far more significant, allowing you to roam with a little more freedom than was possible with the Nexus 7.
While it's tempting to compare the FonePad to Google's 7-inch slate - especially as they're both from the same hardware manufacturer - this newer model shouldn't be considered an upgrade. The single-core Atom processor is noticeably weaker, making the FonePad a much poorer option than the Tegra-powered Nexus. Therefore, gaming on this tablet isn't quite as satisfying, with intense 3D games running sluggishly. The Atom CPU also struggles when several apps are operating simultaneously. It's only a matter of time before a 7-inch tablet featuring one of the latest powerful Snapdragon processors appears, and that would represent a vast increase in gaming performance and browser fluidity compared to this somewhat lacklustre offering.
Even so, for £180 the FonePad is decent value for money when compared with other tablets available on the market. 3G connectivity usually comes at a premium on this kind of product, and the option to expand storage space via cheap MicroSD cards is another plus point. There's certainly a gap in the market for the FonePad, despite the fact that it occupies the rather unusual middle ground between a phone and a true tablet, but in many ways the cheaper 16GB Nexus 7 offers a more agreeable way to part with your cash if you're after a branded tablet on a budget.