In theory: can the full Call of Duty experience transition to a Nintendo console?
Is COD viable on Switch? It depends which one...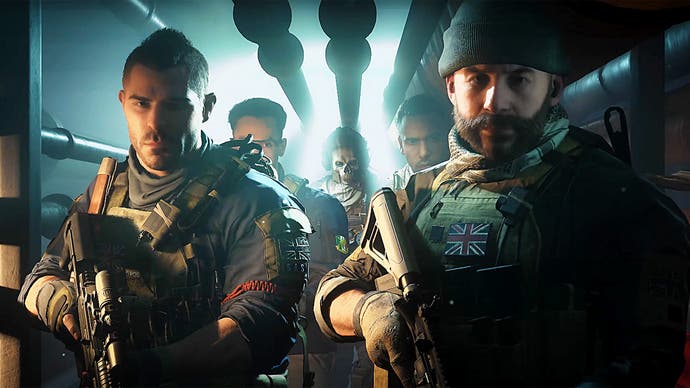 In the wake of Microsoft's press conference yesterday after crucial talks about the Activision Blizzard merger, the platform holder announced new deals that it says will bring Xbox games to more players than ever before. Ten-year deals were confirmed with two key players in the industry: Nintendo and Nvidia. This is tremendously exciting news for users of GeForce Now - point blank the best cloud streaming service available - and for Nintendo players too, who can expect fully featured versions of Call of Duty should the acquisition close. So, how significant is the Nvidia collaboration and to what extent can COD successfully transition to the Nintendo platform?
Let's tackle the Nintendo question first, where there are multiple routes forward for Microsoft in ensuring a feature-complete rendition of Call of Duty can make its way to a mobile console platform. Legitimate questions have been asked about how the Switch can operate an engine as advanced as the IW9 technology found in Modern Warfare 2 in a world where so many games struggle once ported to Nintendo's hybrid machine. The task would not be easy and if Infinity Ward were to scale its engine down to Switch in the way that Epic has with Fortnite, there are fundamental concerns that the inevitable drop to 30fps would be a step too far in compromising the core experience.
There are two potential answers to this question and the timing of Nintendo ports is crucial. Even if the deal were approved today, the fact is that the time required to refactor Activision's existing technology would effectively rule out this year's Call of Duty offering, whatever form it takes. 2024? That's more of a possibility and at that point, there's a very strong possibility that Nintendo's primary platform will have 'switched' to a next generation offering which capabilities far beyond the existing machine.
The specs of the Switch successor have not been publicly announced but all the evidence via respected leaks suggests that Nintendo will use a custom version of the Orin NX processor used by Nvidia for its Jetson hobbyist board and its automotive product line. The mooted Tegra T239 pairs ARM Cortex A78C CPU cores with an Nvidia GPU based on the RTX 3000 Ampere architecture with a likely 1536 CUDA cores. This is an exciting base point for a new mobile console, but performance has to be balanced with battery life, meaning conservative clock speeds - just as we saw with the original Switch.
Can this specification bring a fully featured Call of Duty to life? We can only make a baseline guess, obviously. However, Steam Deck running Windows 11 can run Warzone 2.0 as this video demonstrates, so it is not beyond the realms of possibility that a future handheld with a more streamlined operating system, a dedicated graphics API, and a highly focused team of engineers adapting the game specifically for that one fixed hardware platform could deliver exactly what Microsoft suggests. Perhaps helping matters is my understanding that COD's support for PS4-generation hardware isn't going away any time soon. If COD can run on Xbox One S, I'd venture to suggest that a next-gen Switch should hold up.
The concept of Call of Duty locked to the next generation Switch - and not the existing model - does put a dent in Microsoft's claims of bringing the franchise to 150m new players, of course, but there's absolutely no reason why those older systems couldn't receive a cloud version of the game. Based on our experiences with Switch cloud games, it would be a torrid experience but based on what I've played with xCloud, there should be a quality improvement using Microsoft's platform - but still nothing like as crisp and responsive the local experience. It would, however, at least meet the brief and could be easily deployed to what would then be a legacy platform.
Although not overtly announced by Microsoft, there are also strong hints that other Xbox titles will be heading to Switch too, but there's a definite lack of detail there. Overall though, it makes sense, and it would be more of an expansion on existing strategy: Xbox exclusives such as the Ori games and Hellblade have already transitioned successfully to Switch.
There's far less speculation involved with the Nvidia GeForce Now aspect of the press briefing - clearly and unambiguously, we should expect to see the full line-up of PC versions of Xbox games appear on what is essentially a rival to Microsoft's own streaming system. If we're really lucky, we'll also get some kind of implementation of Game Pass too, where I'd see few - if any - commercial complaints from Nvidia in making it happen.
GeForce Now has various tiers of access - including free accounts - but the jewel in the crown is its premium offering, based on 16-core AMD Ryzen 5000 server processors paired with hardware broadly equivalent to its RTX 4080 desktop GPU. I've been trialling this for a few weeks now and it's simply phenomenal. Even at 4K at 120Hz with HDR, image quality holds up very well. RTX 4080-level performance is far in excess of Xbox Series X, even without factoring Nvidia's ray tracing advantage or the acceleration factor of DLSS. The 4080 cloud offering even includes support for DLSS 3 frame generation, which still works well despite the latency penalty.
I'm looking to review the latest iteration of GeForce Now soon, but initial numbers are highly compelling: even at 4K at 60Hz, GeForce Now delivers comparable - sometimes even better - latency than an Xbox Series X. There are still lingering issues with cloud systems generally - not least the quality of service on mainstream connections - but as infrastructure transitions to mega-bandwidth fibre-to-the-premises technology, a lot of these issues go away. Let's put it this way: my experiences with GeForce Now and xCloud are markedly superior in consistency terms on 1Gbps FTTP now compared to how they were with SpaceX Starlink and standard UK fibre connections.
The strategy behind Microsoft's announcements is clear. The principal argument presented against the ABK acquisitions centres around decreased competition and more challenging availability for its titles and to counter this, Xbox games and Call of Duty titles specifically will now appear more prolifically on Nintendo systems where they did not before. Meanwhile, the Nvidia deal sees Xbox titles streaming not just on its own platform but on the highest quality competing system, running far more capable hardware - on its premium tier, at least. It's a significant concession but as an occasional user of GeForce Now and as a gamer, I'm excited by it.
In delivering its games to a wider audience by bringing Nintendo into the fold while emphasising that COD remains on PlayStation, Microsoft's idea is clearly to isolate its rival, while also pointing out the market advantages Sony has enjoyed via its own exclusivity strategies. However, previous investment briefings have suggested that Sony has its own plans to expand its audience beyond the console business. We're starting to see success for those previously exclusive games on PC, but streaming will also become more important in the near to medium future. And that makes me wonder whether the unlikely Microsoft/Sony cloud alliance agreed in 2019 will actually lead to anything meaningful...