Nvidia GeForce RTX 3050 review: the cheapest RTX card yet impresses
80-90% RTX 2060 performance for 75% of the price.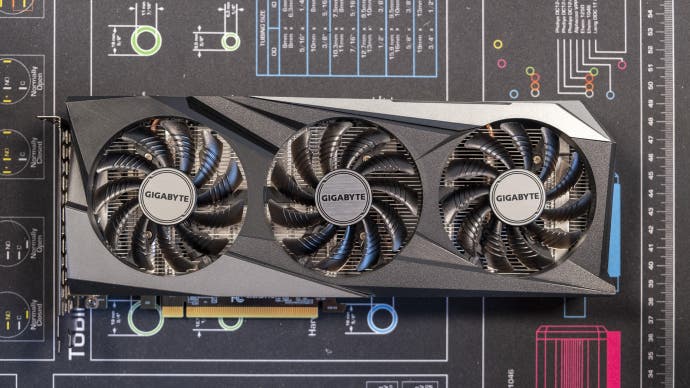 The £239/$249 Nvidia GeForce RTX 3050 is the long-awaited desktop equivalent of the RTX 3050 that debuted in laptops last year, bringing with it a massively expanded power envelope and double the VRAM of the mobile version. That ought to allow for much better performance on the desktop, but how much can Nvidia wring out of the GA106 die? To find out, we've paired the new GPU with a high-end PC system and tested it in all of our favourite games.
Normally, we'd expect a next-generation GPU to perform within the same ballpark as the previous-gen part from the same tier. So for the RTX 3050, the hope is that we see performance in line with the outgoing RTX 2060, which remains a pretty strong choice for 1080p to 1440p gaming - and has the ability to use DLSS to boost performance significantly, often compensating for the extra strain caused by enabling ray tracing. If the RTX 3050 can bring those features down to a lower price point without compromising performance, then Nvidia would be on to a winner.
The RTX 3050 slots between two members of AMD's competing Radeon GPU lineup. It's $50 more expensive than the RX 6500 XT released a few days back, and $80 cheaper than the RX 6600 released last year. That should mean we see significantly better performance than the former and worse than the latter, but it'll be interesting to keep an eye on whether the value proposition is broadly better for any of these three contenders.
Note that our GPU testing is performed with a PCIe 3.0 system, which disadvantages the 6500 XT - it comes with only a 4x PCIe link, which is fine for PCIe 4.0 boards but a bit constricting on PCIe 3.0 boards, with a corresponding performance drop-off in some games. That's something we'll have to live with, as we don't have time to re-test every GPU on a PCIe 4.0 system to alleviate an issue that primarily affects only one GPU - but it's also something that you should know about.
| Nvidia GeForce | RTX 3060 Ti | RTX 3060 | RTX 3050 | GTX 1660 Ti | GTX 1050 Ti |
| --- | --- | --- | --- | --- | --- |
| GPU | GA104 | GA106 | GA106 | TU116 | GP107 |
| CUDA cores | 4864 | 3584 | 2560 | 1536 | 768 |
| VRAM | 8GB GDDR6 | 12GB GDDR6 | 8GB GDDR6 | 6GB GDDR6 | 4GB GDDR5 |
| Memory Bus | 256-bit | 192-bit | 128-bit | 192-bit | 128-bit |
| Bandwidth | 448GB/s | 360GB/s | 224GB/s | 288GB/s | 112GB/s |
| Base Clock | 1410MHz | 1320MHz | 1552MHz | 1500MHz | 1291MHz |
| Boost Clock | 1665MHz | 1777MHz | 1777MHz | 1770MHz | 1392MHz |
| TDP | 200W | 170W | 130W | 120W | 75W |
| Die Size | 392mm2 | 276mm2 | 276mm2 | 284mm2 | 200mm2 |
| Transistors | 17.4B | 13.3B | 13.3B | 6.6B | 4.4B |
Looking at the specs, the RTX 3050 has potential. It uses the same GA106 die as the modestly powerful RTX 3060, cut down from 3584 to 2560 CUDA cores and 12GB to 8GB of GDDR6 VRAM. That's still plenty for 1080p or 1440p gaming, although the 128-bit memory bus is on the narrow side. That's good for 224GB/s of memory bandwidth, less than even the GTX 1660 Ti from last generation. Boost clocks are 1777MHz, the same as the RTX 3060, and the rated TDP is 130W - quite modest, allowing Nvidia to drop their PSU recommendation to just 550W. The cuts here all look pretty sensible, except maybe for the memory bandwidth, so it'll be fascinating to see how the RTX 3050 performs.
Our RTX 3050 graphics card is a Gigabyte Gaming OC model, with 8GB of VRAM, three Windforce fans, a back plate, copper heat pipes, a dense fin stack and RGB lighting - of course, all of these elements contribute to performance. It's a well-built card that I'd expect to retail some margin above the £239 RRP, especially in the current low-supply, high-demand market. Connectivity is strong, with two DisplayPort 1.4 ports and two HDMI 2.1 ports, all on a single row. The remainder of the card's two-slot width is dedicated to cooling. This model is clocked to 1822MHz, compared to 1777MHz for the reference design - a 45MHz increase that we don't expect to change our calculus in recommending this card or not.
Given the relatively meagre power requirements and the generous size of the card, it's perhaps no surprise that we observed cool and quiet operation. Temperatures remained in the mid sixties throughout our testing, allowing opportunistic boosts above the rated boost clock to nearly 2000MHz. Thankfully, relatively low power draw obviates the need for a high-end cooler or power delivery components, and Nvidia's opportunistic boost algorithms and/or some tweakery in Afterburner should allow base level models to reach nearly the same speeds. Be sure to take a look at a plurality of reviews to sanity-check that assumption though!
Our test rig has remained the same as it was for our RX 6500 XT review just a few days back. We use a Core i9 10900K system as this provided the best out-and-out gaming performance when current-gen GPUs launched back in 2020, backed with an Asus Maximus 13 Hero Z590 motherboard, dual-channel G.Skill Trident-Z Royal DDR4-3600 CL16 memory and a 2TB Samsung 970 Evo Plus NVMe drive from Box. To keep our CPU performance constant, we've locked it to 5GHz on all cores and kept it cool with a 240mm Eisbaer Aurora liquid cooler. Everything is powered by a reliable 1000W Corsair RM1000x PSU, supplied by Infinite Computing.
Now that you're familiar with the premise, the hardware and our testing apparatus, let's get onto the results!
Nvidia GeForce RTX 3050 analysis