Horizon Forbidden West: how a PS5 graphics showcase scales down to PS4
And why we recommend 30fps over 60fps on PlayStation 5.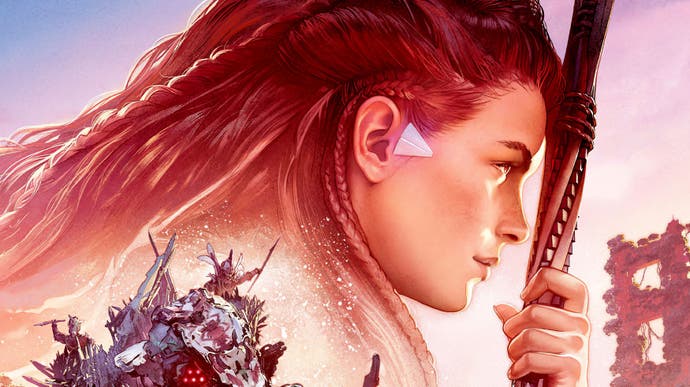 We first saw Horizon Forbidden West at the climax of the PlayStation 5 games reveal showcase, a fitting 'just one more thing' to an effectively debut for Sony's vision for the new console's launch window. It looked phenomenal, it possessed detail beyond anything we'd seen in the prior generation, but a key question had to be asked: how could Guerrilla Games deliver something this good with a title that also had to run on the standard PlayStation 4? With final code in hand, we finally have answers.
How Sony tackles the generation divide is intriguing and similar in some respects to Playground Games' approach to another cross-gen masterpiece - Forza Horizon 5. There are two distinct tiers of features, one for PS4 consoles, the other for PlayStation 5. Each of these tiers is deployed in two different scenarios: base PS4 and Pro feature a substantially pared back visual experience, running at dynamic 1080p on the standard PS4 and a dynamic 1800p checkerboard on Pro, both operating at 30fps. Meanwhile, the PS5 feature-set is run at native 4K in its 30fps favour resolution mode, dropping to checkerboarded 1800p at 60fps in the favour performance mode (DRS is also implemented on PS5, but quite difficult to pick up on).
So, we have two graphical feature sets: one for PS4 and Pro, another for PlayStation 5. Both of the last-gen machines deliver much the same visual experience, with resolution the only key difference between them. Meanwhile, for PS5, 30fps and 60fps also have the same features, with resolution and frame-rate targets dividing them. Some graphical effects may change in their rendering according to the core resolution, but ultimately, it's two tiers in total with two implementations per tier.
Performance? It's actually rather uninteresting - which is a good thing. PlayStation 4 and Pro consoles lock to 30fps more effectively than the first game did, perhaps owing to the implementation of dynamic resolution scaling. Finding frame-drops in gameplay is challenging. The same can be said for PlayStation 5 in both performance and resolution modes: 60fps and 30fps are essentially a lock (cutscenes in performance mode aren't quite so solid). The most obvious performance issue concerns cutscene transitions between camera angles. There are still some stutters from one cut to the next.
Overall, how the generational divide is handled is intriguing and while we'll be running a much more detailed video on this when the game is available (Sony embargo limitations limit us to just 30 minutes of Forbidden West footage pre-launch), we can run through the main changes today. The screenshots embedded on this page will likely generate much debate, but the bottom line is that the PS4 tier essentially cuts back almost every aspect of the presentation: the biggest differences are a massive reduction in geometric density, pared with substantial cuts in asset quality. Horizon Forbidden West on PS5 is remarkably dense to an extent where YouTube video compression actually sells the game short. The PS4 consoles reduce this density significantly, with many objects reduced or removed (an impressive moss layer completely vanishes, for example). Foliage rendering is also reduced in quality, with the PS4 consoles using software-based variable rate shading up against full resolution on PS5.
The next significant drawback is level of detail. Forbidden West on PlayStation 5 not only draws so much more, it does so further into the distance to quite a dramatic degree. PS4 is still capable of delivering its stunning vistas, and to be fair, the reduction in far-field detail isn't something you're likely to miss. However, the pushed out draw distances also mean that object pop-in during traversal is far more noticeable on PlayStation 4-class consoles. The end result? The new Sony console delivers a far richer world, but also a more visually consistent one, and that's before we talk about further reductions made to ensure that PS4-class machines can run the game smoothly.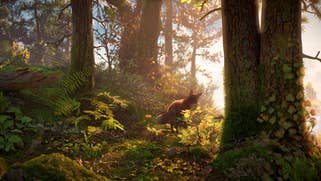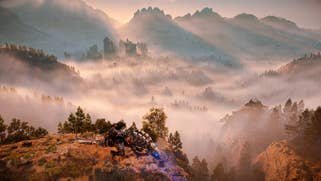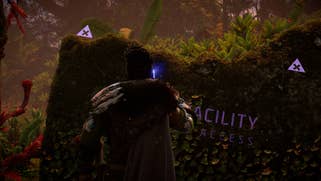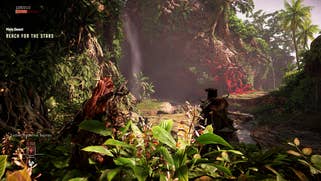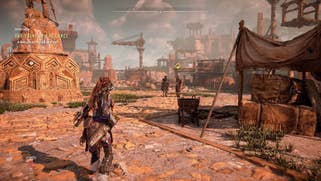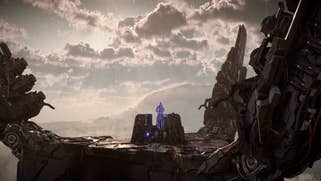 Virtually every system is touched: textures are half or even quarter-resolution, screen-space reflections are simpler and reflect less world detail. Volumetrics and particles are also of a lower resolution. PS5 gets bokeh depth of field while PS4 makes do with a guassian effect. Density of light probes is also reduced on PS4, resulting in lower fidelity lighting, while extra light rigs are deployed on PS5 (especially evident on character lighting in cutscenes). Water effects are also pared back, especially when Aloy dives beneath, where screen-space reflections are gone, along with a good chunk of the underwater plant life. Up in the skies, Guerrilla's beautiful but every expensive cloud-rendering system also sees a layer removed, with lower resolution formations.
On paper, this sounds like outright butchery but in actual gameplay, what we're actually seeing is a carefully curated equivalent to 'PC low settings' up against an all-out ultra-class experience on PlayStation 5. It's important to point out that while comparisons to PS5 show the shortcomings, head-to-heads vs the first Horizon Zero Dawn show profound improvement across a number of systems, the most striking being water rendering (a huge, huge improvement!), character rendering and crucially, animation. As a sequel then, the improvements are palpable for users of PS4 and Pro - it's just that PS5 delivers that generational leap on top. It's the complete package.
And what both PS4 and PS5 owners may appreciate is how Guerrilla has grown in terms of crafting an open world game. The original was well received but there were rough edges including somewhat fiddly traversal, poor facial animation in non-cinematic cutscenes and the typical open world quest design limitations. In playing Horizon 2, I was relieved and encouraged to see that most of these faults had been eliminated or vastly improved. Everything from its quest design and its traversal to the world itself feels more polished and refined - Guerrilla has learned a lot in the process. In some ways, thanks to its brisk pacing, it feels like an open world game designed for people that have grown weary of open worlds.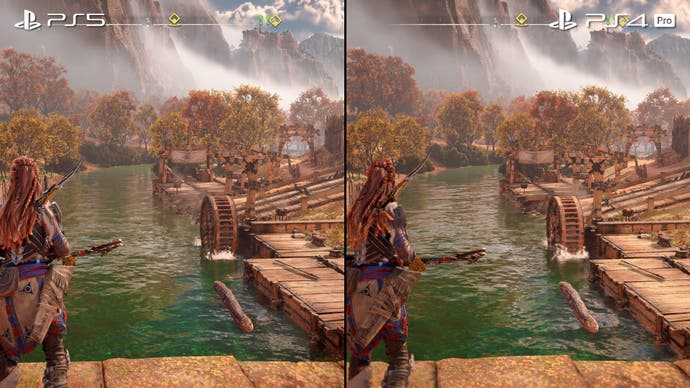 Guerrilla also deserves kudos for the sheer variety in the game, with Forbidden West featuring a wide range of biomes to explore from snowcapped mountains to thick jungles, wide-open deserts, redwood forests and more. There's a real sense that each region within this world has its own unique look and feel. Beyond the sweeping vistas, the micro-level detail is also phenomenal, right down to individual flowers. It's one thing to look closely at vegetation but it's another to interact with it. In the original game, most of the foliage fails to react to Aloy's movements - you'll clip right through it with zero animation outside of very specific plants such as the tall grass you use to hide from enemies. In the sequel, all vegetation reacts to your movement - and that of other creatures too. In fact, surface interaction is one of the biggest areas of improvement across the board - grass, snow and sand all move or deform based on both your movement and the movement of other entities in the world.
Wind and weather also enhance these elements - the intensity of the wind varies at random directly impacting the plants and trees around you. It creates a very active, lively scene in motion. When the rain picks up, everything whips around violently while a wetness shader is blended into the material surfaces. The weather varies based on the biome you're currently exploring as well - as you make your way up a mountain, rain will turn to snow, for instance. If you're caught out in the desert, you'll even encounter sandstorms.
So when we talk about density and detail in Horizon Forbidden West, it's not just about the visuals and the systems that drive them. I've already talked about the improved water rendering compared to the first game, but this deserves further focus. From streams to rivers to lakes, surface rendering is a night and day improvement as is the simulation of water movement, with the developers also vastly improving reflection and transmission of light on and underneath the surface. All of this leads up to ocean rendering - there's a proper wave system now, which also includes rendering convincing-looking foam, based on parallax occlusion mapping.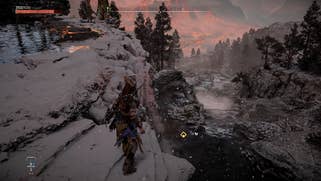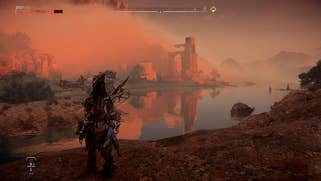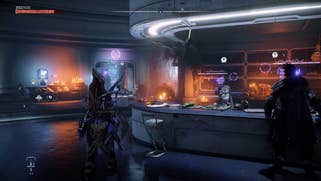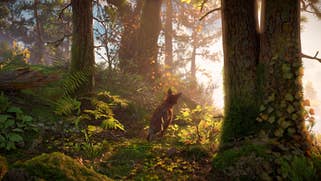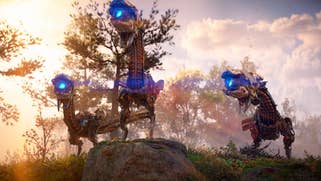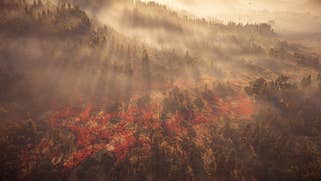 Away from water, general lighting also receives a huge upgrade. Looking at the original game, indirect lighting didn't hit the spot, resulting in building interiors glowing without any form of obvious light source, an effect made worse owing to a lack of ambient shadowing. This is a difficult problem to solve without something like ray traced global illumination (there is no hardware-accelerated RT at all in the game) but I do feel that Forbidden West II has made significant strides here.
The first big change to Forbidden West involves pre-calculated lighting. In the original, six times of day were 'baked' for the entire world, with time of day simulated by gradually transitioning between them. The sequel doubles the number of bakes to 12, increasing overall fidelity as a result. Areas like small alleys or passages around buildings now receive improved coverage as a result. In addition, probe density seems to have been increased leading to improved granularity and more subtle details being captured in the lighting. There's also an added light bounce in the global illumination system, producing results a little closer to ground truth. It's not precise enough to handle smaller objects, of course, but it does allow for bounce lighting across larger surfaces. All of this is embellished with screen-space ambient occlusion and improved shadows to add contrast and depth.
I could go on in further detail here but you should have a pretty good idea of what Horizon does well with its environments. The key here is that it's one of the most visually dense and detailed open worlds we've seen to date and many of the key visual inconsistencies in the original have been dramatically improved. The combination of this vast increase in fidelity alongside the sheer variety in biome type is remarkable. And despite a huge investment in the most varied locales I've seen in an open world title, Forbidden West doesn't linger or hold up the player - narrative progression is brisk and compelling.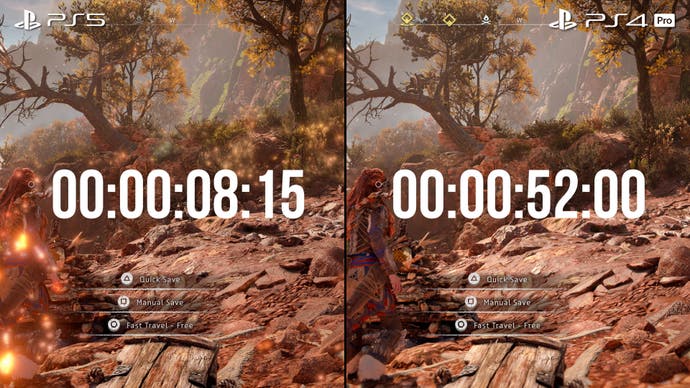 Part of the success here is down to character interactions, which are now far more accomplished than Zero Dawn, with its dead eyes and lack of movement in anything other than key cutscenes. This is one of Horizon Forbidden West's great improvements- no matter the importance of the character, the entire cast is now expressive and enjoyable to engage with. They emote, they move their hands and generally behave more like real people. I suspect that this time around, Guerrilla opted for performance capture, which may explain the leap in quality. It's another example of the sequel improving upon its predecessor
As for the game itself, I mentioned earlier that Forbidden West feels like an open world game made for people that don't love open world games. What I mean by this mostly ties into the pacing and the bespoke nature of its quests. Firstly, if you like, you can basically play the game like a story-driven linear action game - there is some light gating in terms of levelling but by and large, you can smoothly play through the story without spending much time doing side quests. However, the world and the side quests are surprisingly engaging that I was compelled to spend some time completing them.
Honestly, Forbidden West works because it lacks the tedium and 'checklist'-like design of certain other open world games. You never feel as if the story is being artificially slowed down just to extend the length of the game. Even more surprising, at several points, I thought I was coming up on the end of the game - or at least starting the final set of objectives - and then it turns everything on its head and you realise there's so much more to enjoy, without Forbidden West feeling like it has out-stayed its welcome.
And it's these crucial elements that work whether you're gaming on PlayStation 4, Pro, or their far more powerful successor. Of course, I'd recommend playing this on the new console - loading times are an order of magnitude faster, 3D audio and DualSense enhancements also work well. However, curiously, similar to Forza Horizon 5, the choice between gaming at 30fps and 60fps may not be as straightforward as it sounds. While 60fps may seem like the obvious choice bearing in mind the 2160p vs 1800p checkerboard difference, it's actually the case that the graphical quality is far richer in the 30fps mode as a result of this clarity. Both myself and Rich Leadbetter (who also played the game) opted to play at 30fps. Double the frame-rate is nice, but you're missing out on a decently-sized chunk of the next-gen (current-gen?) experience. Whichever way you choose to play, however, we highly recommend that you buy this game.