Best Amazon Prime Day 2022 PC deals
DF-approved deals on monitors, PC components and peripherals.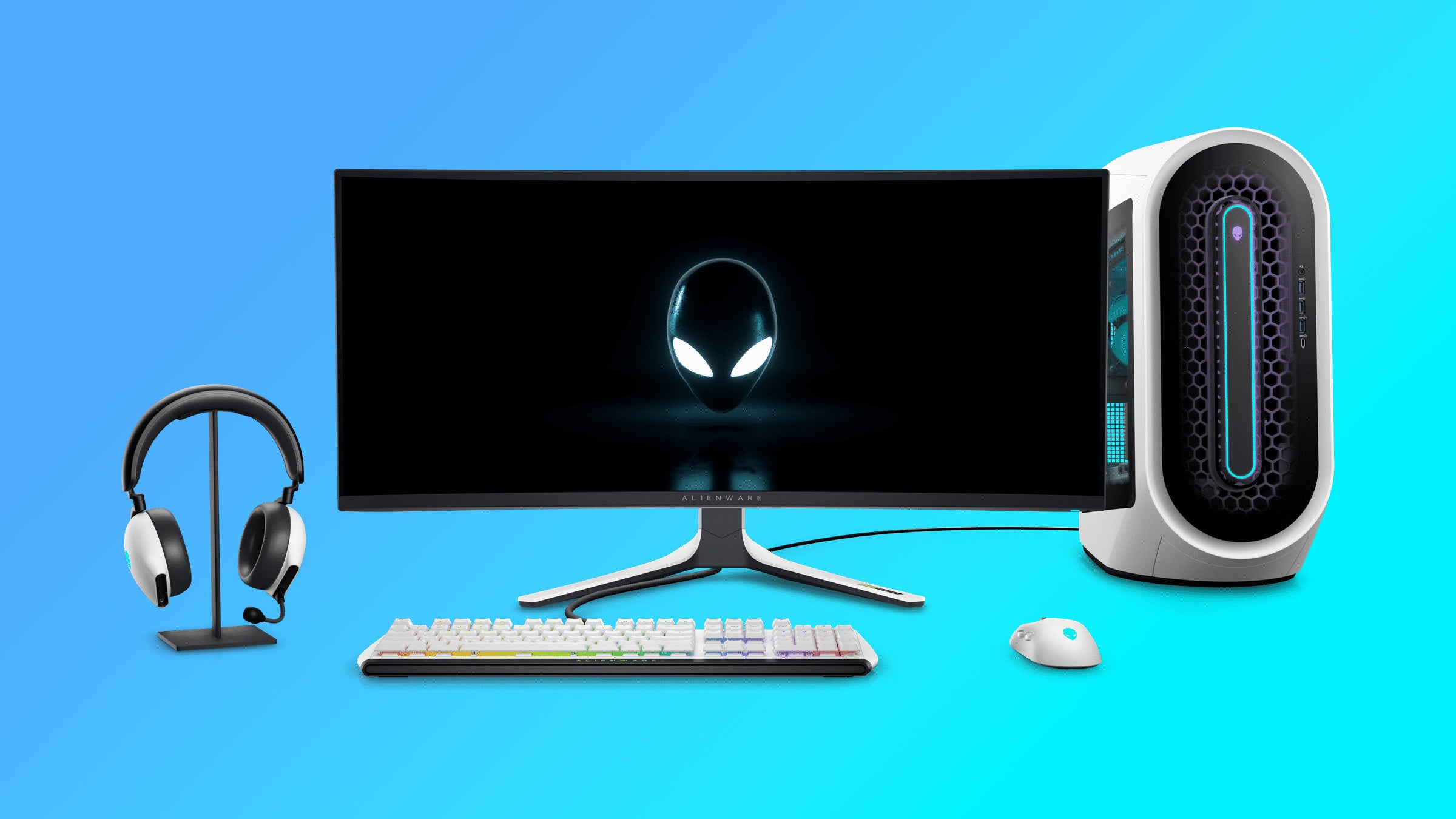 We've now entered the exhilirating second and final day of Amazon Prime Day 2022, so we've updated our collection of the best PC gaming deals. This mega-article contains our picks for PC components and peripherals, including monitors, graphics cards, SSDs and more.
You can also check out our separate recommendations and highlights from the best Prime Day 4K TV deals if you're looking to upgrade for the PS5 or Xbox Series X.
We've also included links to our round-up pages, where we have a fuller list of recommendations with more detailed information. Right, let's jump in!
---
More DF-approved Prime Day deals
In the UK, get £9 free when you top up with £80 on Amazon. Meanwhile, at Amazon US, use code EGCPRIME22 when buying $50 of credit to get an extra $12.50 for free. Code GCPRIME22 may also work.
---
DF's Amazon Prime Day 2022 PC peripheral deals
Let's begin with peripherals, the vehicle of PC gaming. This means basically anything that sits on your desk rather than in your computer, including monitors, keyboards, mice, gamepads, headsets and mouse pads. Peripherals tend to see bigger gaps between their regular and sale prices, so expect plenty of respectable deals this time around. Take a look!
Prime Day monitor deals
The hottest monitors are based around LG's Fast IPS panels, offering a good mixture of image quality and motion clarity, while Samsung's VA panels are a strong alternative option with better contrast. Mini LED and OLED monitors are also becoming more widespread, so we'll be looking out for some good deals on these premium options.
UK deals
| | |
| --- | --- |
| | This ultra-wide monitor is tested and approved by DF, offering an excellent contrast VA panel and laudable build quality. |
| | This is the cheapest we've seen a big-brand 1440p 144Hz gaming monitor, after a 43% discount. |
| | This 27-inch 1440p 144Hz monitor is a top DF pick, thanks to its surprisingly excellent motion handling for an IPS panel. |
| | This is a cheaper alternative to the 27GL83A, with a lower 1080p resolution. |
| | £229 is an excellent price for this 1440p 144Hz curved VA monitor. |
| | I use the 32-inch model of this monitor for competitive FPS, thanks to an excellent 240Hz refresh rate with the clarity of 1440p. |
| | Another strong monitor in the 1440p 144Hz sweet spot, at a competitive price. |
US deals
| | |
| --- | --- |
| | A classic 1440p 144Hz IPS monitor that still gets use at my home, and at a fraction of its original price. |
| | One of the best 4K 144Hz monitors, with DSC to allow 10-bit 4K 144Hz G-Sync over a single cable. |
| | The Odyssey G7 Neo offers 4K 165Hz with super-bright HDR highlights, but it costs as much as a good TV. |
Want more info on which monitor to choose? Check out our best gaming monitors article!
---
Prime Day headset deals
Headsets are another common sale item during Prime Day, as many manufacturers are already preparing their 2022 models to debut a few months later.
UK deals
| | |
| --- | --- |
| | A comfy Logitech headset, with 3.5mm for near-universal compatibility with consoles, PC and more. |
| | A high-end wired USB headset with two earpad materials, excellent balanced audio and a good mic. |
| | Logitech's new look wired headset, offering breathable fabric and a super lightweight design. So good. |
| | The legend returns. This headset is renowned for its comfy and durable design, balanced audio and good mic - plus 3.5mm and USB support. |
| | A more modern wireless interpretation that retains the stellar comfort and durability of the original wired model. |
| | An excellent high-end wired gaming headset... |
| | ...but it goes to the next level once you add in this version with a DAC. |
US deals
| | |
| --- | --- |
| | An incredible deal on a surprisingly-good-sounding budget headset. |
| | An excellent high-end headset for Xbox with dongle-free wireless. |
| | A comfy, lightweight and nonetheless high-end headset for PC and PlayStation. |
| | Logitech's pro-gaming oriented headset, optimised for comfort and clarity. |
| | An incredibly robust wireless headset with insane 300 hour battery life. |
| | Another EPOS tank, but this time a great wired open-back option. |
| | The legend returns - this comfy wired USB+3.5mm headset is known for its durability. |
| | This is a great price for a comfortable and popular gaming headset that was high-end a few years back. |
---
Prime Day mouse deals
There's been a surprising amount of innovation in gaming mice recently, as ultra-light models have come into vogue and manufacturers are really focusing on elements like safe shapes, high-end sensors and flexible 'shoelace' cables.
UK deals
| | |
| --- | --- |
| | A solid wireless mouse from Razer, with a similar shape to Logitech's popular G502 Hero Wireless. |
| | The most popular mouse in the world, offering an infinite scroll wheel, 11 programmable buttons and a weighty design. |
| | A more streamlined mouse with a safe shape. |
| | SteelSeries' budget mouse impresses, with build quality and components far beyond its price bracket. |
| | Logitech's budget mouse is a little less exciting, but still works well. |
| | One of my all-time favourites, this premium wireless mouse kicked off the ultra-light trend and is great for right and left-handers alike. |
| | A solid mouse for work, thanks to a powerful scroll wheel and wide, comfy chassis. |
| | A more modern Basilisk, offering a similar shape and incredible RGB lighting in a wired form factor. |
| | A cheaper and in some senses better Rival 600 replacement. |
| | A strong wireless mouse at a very low price. |
| | One of the best ultra-light mice, this one has a water-resistant coating to protect its innards. |
| | Another one of SteelSeries' latest mice, this time wireless and ultra-light - a perfect combo! |
US deals
| | |
| --- | --- |
| | The ideal mouse for competitive FPS, thanks to its ultra-light design, bulletproof wireless and high-end components throughout. |
| | A comfortable mouse for casual or competitive gaming, with plenty of buttons and some nice RGB. |
| | Razer's take on the Logitech G502 Lightspeed, this wireless mouse is comfy with a great scroll wheel. |
If none of these mice are quite doing it for you, why not look at our top gaming mouse recommendations? We also have a separate round-up for ultra-trendy, ultra-light mice too.
---
Prime Day keyboard deals
Membrane or mechanical, a great keyboard makes typing fun and can even help out in your favourite games. This year's Prime Day sale brought some deep discounts on keyboards, particularly expensive mechanicals, with most of our favourites making the list.
UK deals
US deals
Finding the right keyboard for you can take time, so do have a look at our gaming keyboard and mechanical keyboard recommendations here for more inspiration!
---
DF's Amazon Prime Day 2022 PC component deals
OK, let's switch gears here to the real nuts and bolts of the operation: the internal components that make your PC tick, from spinning disk hard drives and SSDs to graphics cards, processors and RAM. We don't normally see massive price swings on components as we do peripherals, but there were still plenty of deals to be had for Prime Day 2022.
Prime Day SSD and hard drive deals
SSDs and hard drives, whether internal drives or portable units, are some of the most commonly discounted and best selling items whenever Amazon does a big sale. That's because most drives work across a wide range of desktop PCs, and as something of a commodity, prices can be discounted pretty heavily. That made Prime Day 2022 a great time to get more storage at a bargain price, including handy external drives for console game storage and super-fast internal NVMe SSDs for desktop PCs and laptops.
UK deals
| | |
| --- | --- |
| | Only a slight discount, but for an already inexpensive SSDs and one of our picks for best SSDs for gaming. |
| | There are larger discounts on the larger sizes, but this SSD starts cheap - and it'll work with PS5, too. |
| | One of the fastest SSDs around at a great price. |
| | A great SSD, one of the best for PS5, and decent discount. |
| | You can't go too far wrong with a hard drive from Seagate. |
| | A whopping 16TB of space for storing games or backing up files, at almost half price. |
| | Comparitively small, but still a lot of space at a great price. |
US deals
| | |
| --- | --- |
| | The SN850 is regularly discounted, but this is a good price for a great SSD. |
| | This Samsung drive delivers great speeds and will work on PC or a PS5. |
| | A small discount because it starts cheap, but check below for better deals on larger sizes. |
| | A great price for one of the best SSDs. |
| | See above, only now twice the size. |
| | Another of our picks for an SSD that will also work with your PS5. |
Our favourite SSDs for gaming article has more recommendations if you need them, including some drives that don't often go on sale but still offer great value for money.
---
Prime Day graphics card (GPU) deals
Despite the massive silicon shortage and price inflation of graphics cards in 2021, 2022 is a much more promising year for cut-price GPUs thanks to burgeoning supply. Here are some of our favourite picks.
UK deals
| | |
| --- | --- |
| | A decent price on the best value high-end GPU right now, Nvidia's RTX 3080. |
| | A good price on a popular model, MSI's Gaming Z Trio. I had a 2080 of this kind, and it served me well! |
| | Yup, the RTX 2060 is still relevant, as it unlocks access to DLSS to boost frame-rates substantially in some games. |
| | Another RTX 2060, but I'd probably go with the Asus model above. |
US deals
---
Prime Day processor (CPU) deals
There have been quite a few new processors released in the couple of years, with an expanded lineup of Ryzen 5000 processors for AMD and Intel's 12th-gen Core series that includes a whole new processor architecture, split between performance and efficiency cores. If you're planning a new build, then picking up a CPU for cheap can let you spend more money elsewhere - like opting for a higher tier of graphics card or faster memory.
UK deals
US deals
---
Prime Day motherboard deals
With AMD's new Ryzen 5000 chips and Intel's 12th-gen processors, this is a good time to upgrade to a new system with a range of discounted motherboards, old and new.
UK deals
| | |
| --- | --- |
| | An inexpensive DDR4-based Z690 motherboard. |
| | A solid mid-range B550 board from Gigabyte. |
| | A mid-range X570 board with dual M.2 and 2.5-gig LAN. |
| | A good value Z690 option with DDR4. |
| | One of the best-loved B550 boards. |
| | One of the best B660 motherboards, in mATX form factor. |
US deals
| | |
| --- | --- |
| | A good value Z690 motherboard with better value DDR4 memory support. |
| | A great value board for 10th-gen Intel CPUs. |
| | A compact B550 motherboard with one PCIe 4.0 slot. |
| | A great pairing with low to mid-range Intel 12th-gen CPUs. |
| | A high-end board for Intel 11th-gen CPUs. |
| | A good mid-range board for AMD Ryzen 3000 or 5000 processors. |
| | A well-built B550 board with dual M.2 slots. |
Prime Day laptop deals
Looking for a new laptop? The discounts aren't as big for laptops as some other items during Prime Day, but any amount of money off is welcome when the prices are high to begin with.
UK deals
| | |
| --- | --- |
| | The Razer Blade 14 always impresses, and this high-end spec offers incredible performance for its size. |
| | This Blade 15 is similarly specced out, this time with a high-end Intel CPU and RTX 3070 Ti GPU. |
| | |
| | |
| | |
| | |
US deals
| | |
| --- | --- |
| | This Lenovo Legion 5 laptop is ideal for work or light gaming, with a GTX 1650 GPU and Ryzen 5600H CPU. |
| | The Razer Blade 15 comes with a powerful RTX 3080, plus a 360Hz screen ideal for FPS. |
---
Prime Day RAM deals
Faster RAM can provide a noticeable boost to frame-rates, especially on AMD Ryzen systems, so it's well worth considering if you can find a kit at a low price. Remember to stick to two or four sticks to ensure you're not sacrificing your speed and be sure to turn on XMP in your BIOS after installation! If you're not sure which DDR4 sticks are best for you, we recommend 3200MHz C16 for most people. Higher frequencies do provide a performance advantage, with 3600MHz being a good sweet spot, but there are diminishing returns from there. DDR5 is also available, but offers a relatively modest performance gain in exchange for much higher latencies and prices.
UK deals
US deals
Check out our recent DDR5 vs DDR4 RAM testing, where we examined which RAM generation is the better value right now.
Stay tuned for more deals over the coming days. You can also follow our @dealsfoundry account on Twitter or dealsfoundryusa for the PC and TV highlights as we find them.
Until then, keep your stick on the ice!
---
Discover more of the best Prime Day deals