This prebuilt RTX 3060 / Ryzen 5600X PC is a bargain at £949
Update: Now out of stock after several hours.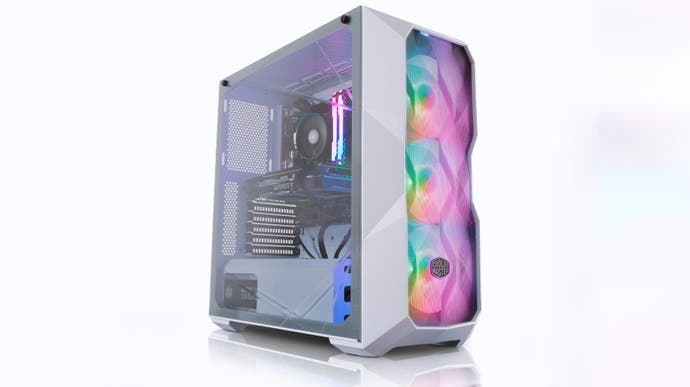 Update (3:45PM): Now out of stock! We'll keep an eye out for similar deals and tweet them on @dealsfoundry if we find any. Original article continues below:
---
Anyone who's tried to build or even upgrade a PC on a budget recently knows that it's almost impossible right now. With new AMD and Nvidia graphics cards in short supply, even old and low-end GPUs are now selling for hundreds of quid over RRP, to say nothing of the price inflation affecting other parts like processors and power supplies. Prebuilt PCs are one of the few ways of actually getting a decent deal anymore, and that's exactly what we have for you today: a £949 desktop PC with a Ryzen 5600X processor and RTX 3060 graphics card.
The PC comes from the system builders at AWD-IT, and actually represents really good value given the state of the market. We tossed the non-GPU components into PCPartPicker - 240GB SSD, 16GB RAM, MSI B550 motherboard, white CM case, RGB fans and 550W CM power supply - and came up with a total of £636 if you were to buy the same components yourself.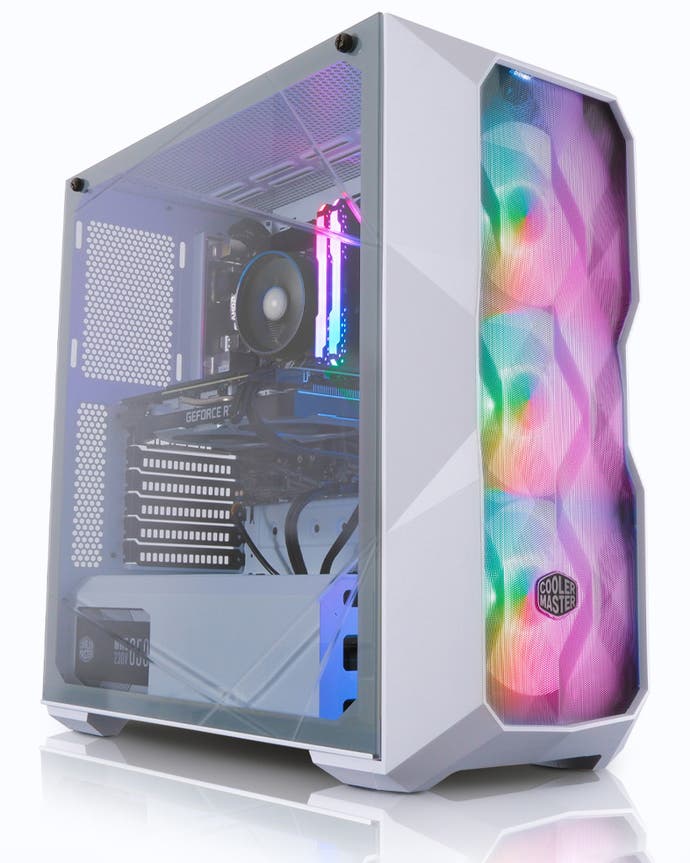 That leaves £314 for the EVGA RTX 3060 XC graphics card, which is a terrific deal, given that RTX 3060 cards have been selling for upwards of £600... despite the fact that RTX 3060 cards were originally announced with a price of around £300 for an entry-level card. This particular EVGA model is hard to find online, but costs $400 in the US and €400 in the EU, exclusive of VAT, so roughly £314 is an absolute steal.
Of course, as well as the hardware itself, you might also ascribe some value to having a legitimate copy of Windows 10, and having the computer assembled and shipped to you, in which case the £950 asking price becomes even more of a bargain. It's worth noting that all of the secondary components are branded parts available at retail, so you're not getting a dodgy no-name power supply, a useless low-tier motherboard or anything like that. In fact, the motherboard here is a B550 unit from MSI, so you'd be able to use this PC with high-speed PCIe 4.0 NVMe SSDs - a nice future-proofing measure.
Finally, I'm actually quite fond of the look of this case. I realise that white isn't for everyone, and you may well wish to turn the RGB fans off or to a solid colour of your choosing, but I think it looks pretty good and you can expect excellent airflow thanks to the case's mesh front and three 120mm fans. As the PC uses all standard components, upgrades down the line will be easy - so, for example, you could add in a larger SSD or add in your existing hard drives without any difficulties.
In fact, you could conceivably even sell all the other components in this PC and just keep the graphics card, if you wanted to build entirely your own system - and of course AWD-IT are happy for you to customise the PC they ship out via the product page too, if you wanted more storage or a different motherboard or something.
Either way, I hope you'll agree that this £949 RTX 3060 / Ryzen 5600X PC is a good deal worth knowing about. Let me know your thoughts in the comments below.