We're not kidding: Tony Hawk's Pro Skater 1+2 is one of the best games of the generation
Classic titles shine brighter than ever on modern hardware.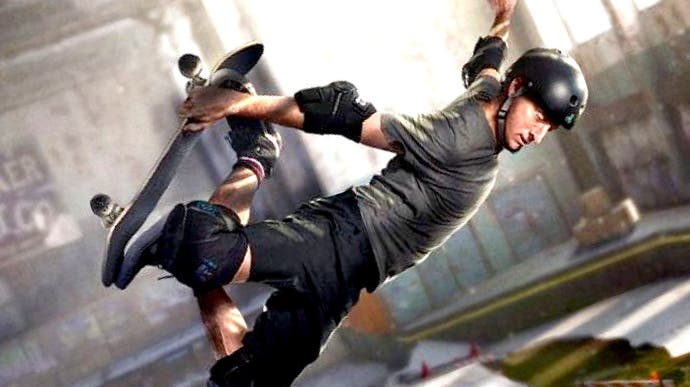 A franchise icon that fell on hard times, Tony Hawk's Pro Skater had a huge impact on gaming across the generations until somehow, it lost its edge - and its relevance, with the abysmal THPS5 in particular hammering the final nails into the coffin. However, while the original game is over 20 years old now, there's still magic there and I'm astonished by what developer Vicarious Visions has delivered with its remake of the first two series entries. I'll put it quite plainly: for my money, Tony Hawk's Pro Skater 1+2 is one of the best games of the year and it's my personal favourite release from Activision across the entire console generation. It really is that good.
You can play it on any platform too. Yes, it's a touch blurry on the vanilla Xbox One, but frame-rate is still solid - just as it is across the other systems. The original games ran at 320x240 on PlayStation 1, and not surprisingly, the situation is somewhat improved on today's hardware. Xbox One X sits at the top of the pile running at 1440p, as does PS4 Pro - though the Sony console leans on dynamic resolution and can drop to near 1080p. PS4 Amateur runs between 864p and 1080p, while Xbox One seems to vary between 720p and 900p. The pixel counts don't quite tell the full story though: Unreal Engine 4's excellent TAA upscaling ensures that image quality punches above its weight. There's also a superb HDR implementation backed by excellent calibration options.
Technically sound then - but what's important here is that this remake feels almost perfect. The team worked from Neversoft's original codebase to nail the handling, while very carefully designing the remade maps to perfectly replicate the original skating lines. As a result, it feels remarkably authentic while rivaling any other modern 2020 game in terms of visual quality. No matter which console you choose, the boost in detail is unmistakable. Remaking classic maps is no easy task but the developers have managed to perfectly capture the atmosphere and feeling of the original levels while massively boosting overall detail, making the game look great for today's hardware.
UE4 does do much of the heavy lifting - particularly in terms of its pitch-perfect lighting, the use of physically-based materials and lavish reflections work. They're instantly recognisable to series veterans, yet somehow feel more like real places as a result of the boost in quality. I'm equally impressed by the reworking of the characters. The proportions now feel more natural, animation is more realistic and the camera work really opens up the map, giving you increased awareness of everything around you in a way that makes it easier to plan and execute combos as you traverse the map.
There are some really nice quality of life improvements as well. For instance, when you fall, the game uses a digital glitch effect to reset your character and get you back on your board very quickly. The way the momentum is maintained after bailing really helps keep you going, giving even more of an arcade edge to the experience. The lack of overall friction in the experience is also impressive: loading times are also quick - at least as fast as the original - which is very important for a game like this where you'll be retrying regularly.
Where this scores over the original, however, is in how the soundtrack plays continuously even when restarting a map. It's a small point, but an important one. In the originals, pausing and restarting would switch to a new song each time which was frustrating as sometimes you'd only hear the first few seconds of a track before retrying due to an early mistake. Here, the music keeps playing for a more consistent experience. You can also now switch tracks by clicking R3 at any point while also being able to customise your playlist.
In a more controversial move, the game includes the revert from Tony Hawk 3 - an addition that allows you to chain verts into combos. This is enabled by default and this does impact scoring but for purists, it's also possible to limit your move-set to either the Pro Skater 1 or 2 styles as well. And this sums up just one of the reasons I love the game: it's all about the attention to detail and the intimate knowledge the developer has for the original series.
In fact, the entire user experience is just so well thought out: it's exactly what a Tony Hawk game should be in 2020. I love the clean design, the fast loading and all of those quality of life changes, stacked on top of what I consider to be gameplay perfection. I'm not joking when I say that this game moved me at an emotional level. Experiencing this gameplay again on these classic maps, reborn at this excellent quality: it's a magical thing. Performance is also top notch. After the PS2 era, the latter-day Hawk games all started exhibiting lower frame-rates and much less of a lock on the overall target performance. Tony Hawk's Pro Skater 1+2 brings us back to a full 60fps on every single machine. Yes, whether you're on a basic Xbox One or using a PS4 Pro, Xbox One X or high-end PC, the frame-rate is nigh-on perfect, short of the occasional hiccup. This aids tremendously in terms of presentation and crucially, in gameplay.
I think it's pretty clear then that I'm very happy with this new version of the game and it's precisely why I spent most of last week making the DF Retro EX video embedded on this page, where I revisit pretty much every version of both Tony Hawk's Pro Skater 1 and indeed 2. Putting this content together was a labour of love and really, it was a genuine joy to revisit these amazing games. However, to get to play them again, enhanced in so many ways for today's hardware was the icing on the cake. It's rare for a remake to nail the overall feeling of the original so well while improving on virtually every element of the original experience but that's exactly what we've got here - and as I said, I genuinely believe this is Activision's best title of the entire console generation and one of the best games ever made. That's testament to the work Vicarious Visions put into this beautiful remake, but also to the quality of the original Neversoft titles.