AMD Ryzen 9 3900XT and Ryzen 7 3800XT: the Digital Foundry verdict
A modest upgrade that'll drive sales - of cheaper 'X' CPUs.
While we had hopes that these 'XT' processors would offer noticeably better gaming performance than their 'X' counterparts, this hasn't been shown in our testing, with most games showing extremely similar results and only a few games reliant on single-threaded performance showing a significant difference. Similarly, while Cinebench shows a good single-threaded performance advantage for the new chips, multi-threaded gains remain relatively low and our transcoding benchmark also showed very minimal performance gains. It's possible that future BIOS updates will allow these chips to perform better, as we saw some instances where our 'X' chips outperformed our 'XT' models, and we'll update the review if this does occur.
For now though, the status quo remains intact. For 1080p gaming, Intel remains the obvious choice thanks to its all-around better performance - if you can overlook the restrictions on memory overclocking on non-Z boards, the lack of decent bundled air coolers, missing PCIe 4.0 connectivity with current-gen Intel processors and other not-insignificant ecosystem factors. At higher resolutions, particularly 4K, the performance differences between different processors become less severe, so you're free to choose from the best of either team.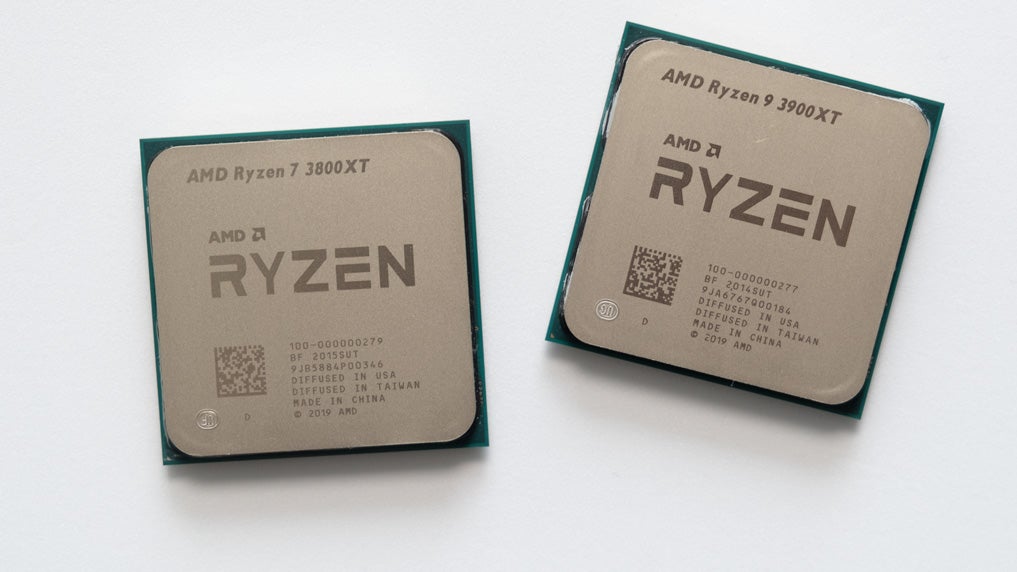 AMD's position here is improved by the recent release of the B550 platform, including two premium motherboards we tested during the course of this review: the Asus ROG Strix B550-F Gaming Wi-Fi ATX (£190) and TUF B550M-Plus Wi-Fi Micro ATX (£180). Both models performed well, are built with beefy power delivery systems and come with support for future Ryzen 4000 processors and PCIe 4.0 SSDs - key ingredients for building a relatively future-proof PC.
Pair them with high-speed RAM - up to 5100MHz is supported on the ROG Strix B550-F and 4600MHz on the TUF B550M-Plus - and you'll be onto a winner. We'd also recommend a graphics card capable of ray-tracing given that both next-consoles will support the technology, a list that includes current Nvidia GeForce RTX models as well as future AMD and Nvidia graphics cards.
If you do decide to go for an AMD-based rig, then these XT processors offer the best out-and-out performance for their core count and are worth considering if money isn't a significant factor or if you're particularly interested in overclocking, as the better silicon here should be able to hit higher frequencies at lower voltages - potentially giving it more headroom. However, for anyone who is operating on a budget, the performance advantage you get from these chips is quite minor, so we would recommend sticking with popular models like the Ryzen 5 3600, Ryzen 7 3700X and Ryzen 9 3900X which operate at slower clock speeds than their XT counterparts but boast the same numbers of cores and threads. Thankfully, both new and old chips from the 3700X and up are eligible for AMD's latest bundled game promotion, which includes Assassin's Creed Valhalla and runs until October 3rd.
While these new processors don't deliver the sizeable performance advantage we hoped for, their existence may still help AMD in the long run. It's likely that retailers will discount the slightly older third-gen Ryzen models in their inventories, particularly the 3600X, 3800X and 3900X, thus making these parts a better value for customers. And if the XT models ever supplant their predecessors, then you'll be getting slightly better performance and better power efficiency for around the same cost, which sounds like a pretty good deal too.
AMD Ryzen 9 3900XT and Ryzen 7 3800XT analysis
Will you support the Digital Foundry team?
Digital Foundry specialises in technical analysis of gaming hardware and software, using state-of-the-art capture systems and bespoke software to show you how well games and hardware run, visualising precisely what they're capable of. In order to show you what 4K gaming actually looks like we needed to build our own platform to supply high quality 4K video for offline viewing. So we did.
Our videos are multi-gigabyte files and we've chosen a high quality provider to ensure fast downloads. However, that bandwidth isn't free and so we charge a small monthly subscription fee of £4.50. We think it's a small price to pay for unlimited access to top-tier quality encodes of our content. Thank you.
Support Digital Foundry