Nvidia's RTX 3090, 3080 and 3070 graphics cards are official
The biggest generational leap in Nvidia's history.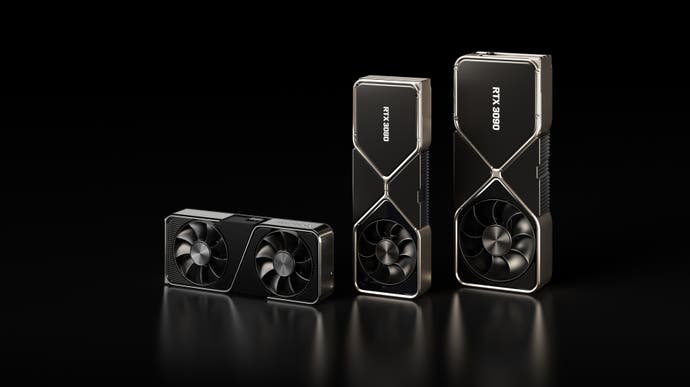 Nvidia officially unveiled its latest graphics cards tonight, the RTX 30-series based around its new Ampere architecture. The new cards are the RTX 3090, RTX 3080 and RTX 3070, and all will be available in a Founders Edition configuration - some with a radical new dual-sided fan design. Nvidia claims that the new architecture is up to 2x as performant and 1.9x as energy-efficient as its predecessor, Turing, as the result of the new 8nm process. Here's what you need to know about Ampere, the three new graphics cards and everything else Nvidia announced today - including pricing.
Update: Our hands-on RTX 3080 benchmarks are live here!
While all three of the graphics cards sound like powerhouses, the Titan-grade RTX 3090 looks set to be particularly insane. The card is capable of running games at 8K resolution - which has four times the pixel count of 4K - and at 60 frames per second with the help of DLSS. 4K is already hard enough to run for most PCs - even the RTX 2080 Ti manages only 69fps at 4K in our average of nine recent games - so a card that can actually grapple with 8K is unheard-of.
The 3090 is assisted by 24GB of GDDR6X memory and a beefy three-slot "flow-through" cooler, which the company claim keeps the card up to 30°C colder than the Titan RTX while delivering 50 per cent more performance. Pricing for this card has been set at a whopping $1500/£1400/€1500 - firmly out of "consumer-grade" territory.
The RTX 3080 takes the place of the RTX 2080 and RTX 2080 Super as the high-end card that enthusiasts might actually buy, with a price point of $700/£650/€700 - lower than some rumours suggested. It uses GDDR6X memory rated at 19Gbps and Nvidia claim it performs up to twice as fast as the outgoing RTX 2080 Ti - a $1200 card. Faster ray tracing performance means that it can hit 4K 60fps in most titles with ray tracing engaged, although it's not clear whether that's with performance-boosting DLSS enabled also. It'll debut on September 17th, so we don't have too long to wait!
The RTX 3070 should be the most popular model of the three, offering what Nvidia claim is better than RTX 2080 Ti performance and 8GB of GDDR6 memory at a $500/£470/€500 price point. Compared to the previous RTX 2070 (non-Super), you're getting 60 per cent higher frame-rates on average. That means it should be a good choice for resolutions up to 4K. However, it lacks the dual-sided fan design of the RTX 3080 and RTX 3090, going back to the standard one-sided design of the RTX 20-series cards. Still, if performance is up to par, I don't think too many people will mind. This card will be available in October.
Nvidia's press release provides more architectural details that shed more light on how the new cards are able to deliver on their performance claims. New streaming multiprocessors, second-gen RT cores and third-gen Tensor cores are all bullet-pointed, but RTX IO sounds among the most interesting at first glance. Working alongside the DirectStorage API built into the upcoming Xbox Series X, RTX IO "enables rapid GPU-based loading and game asset decompression, accelerating input/out performance by up to 100x compared with hard drives and traditional storage APIs." That should allow for higher frame-rates as well as "near-instantaneous game loading" - not bad if it lives up to that description!
For anyone eyeing up a next-gen monitor or current high-end TV like LG's 2019/2020 OLEDs, you'll be pleased to know that all three cards support HDMI 2.1, allowing for 4K 120fps HDR using a single cable (or 8K 60fps). The AV1 codec is also supported, allowing 8K video to be streamed while using up to 50 per cent less bandwidth.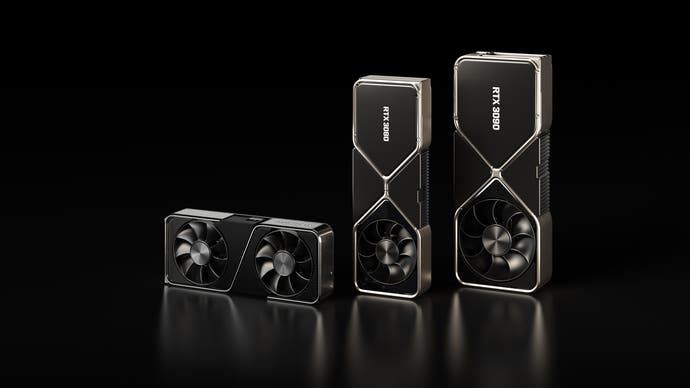 | GeForce Model | US price | UK price | EU price |
| --- | --- | --- | --- |
| RTX 3090 | $1500 | £1400 | €1500 |
| RTX 3080 | $700 | £650 | €700 |
| RTX 3070 | $500 | £470 | €500 |
As well as detailing the new Ampere architecture and the first three cards, Nvidia also announced some pretty neat new features. Nvidia Reflex "optimises the rendering pipeline across CPU and GPU" to reduce latency by up to 50ms, which should help in fast-paced games like Counter-Strike: Global Offensive and Valorant. Meanwhile, Nvidia Broadcast combines RTX Voice, RTX Broadcast Engine and other effects for an all-in-one package for streamers. It includes noise reduction, virtual backgrounds and automatic webcam framing. There's also Nvidia Omniverse Machinima, a series of tools for animating characters and adding physics or materials to digital scenes. This all sounds pretty neat, and we'll aim to take a closer look at each once we have a chance.
Finally, Nvidia announced new ray tracing support for a popular game: Fortnite. The supremely scalable title supports ray-traced reflections, shadows, global illumination and ambient occlusion - basically the whole toolkit! DLSS will also be added, perhaps to offset the extra expense ray tracing normally incurs. There's a whole new Creative mode called 'RTX Treasure Run', a small treasure hunt mode to show off the features, but RTX and DLSS will be available to anyone with a compatible card across all modes. The Reflex feature we mentioned earlier is also included, which might combine nicely to DLSS even for competitive-minded players that opt to leave ray tracing disabled.
Black Ops Cold War, the next Call of Duty, was also announced to have ray tracing and DLSS features during the Nvidia presentation. The previous title, Modern Warfare (2019), also had RTX but lacked DLSS, so running the game with all the bells and whistles turned on should become a lot more viable!
This is all very exciting stuff, and no doubt we'll have more coverage to share in the coming hours, days and weeks as we get a chance to go hands on. It'll also be fascinating to see how AMD respond, with Big Navi still expected to debut before the end of the year.