Digital Foundry's best gaming monitor is 10 per cent off on Ebay UK today
Update: now available at Overclockers for £380.
Update (June 22nd): The Ebay sale has finished, but the 27GL850 is now in stock at Overclockers for £380! Original article continues:
Our #1 pick for the best gaming monitor, the LG 27GL850, is finally back in stock - and even available at a discount today on Ebay UK. With code PANORAMA, you can pick up this £399 monitor for £40 off, a ten per cent discount that brings the price down to a historic low of £359.
The 27GL850 impressed us when we reviewed it earlier this year, thanks to its advanced Nano IPS panel which combines the traditional strengths of IPS with the fast motion handling that you'd normally associate with a high-spec TN panel. The 27GL850 has a GtG pixel response time of 1ms, which is far below the 4ms to 8ms that you'd normally expect from an IPS monitor. That means you get a display that looks excellent for videos and cinematic games, with great colour reproduction and wide viewing angles, but also one that performs extremely well in fast-paced games like Call of Duty Warzone, CSGO or Valorant.
This monitor sits right in the current gaming sweet spot too, with a resolution of 2560x1440 (1440p) and a refresh rate of 144Hz. That means you get an upgrade over the standard 1080p 60Hz monitor in two dimensions, translating into enhanced visual quality and improved responsiveness without becoming too difficult to drive with a mid-range gaming PC. Other essential features, like FreeSync and G-Sync Compatible support, make this an extremely strong all-rounder.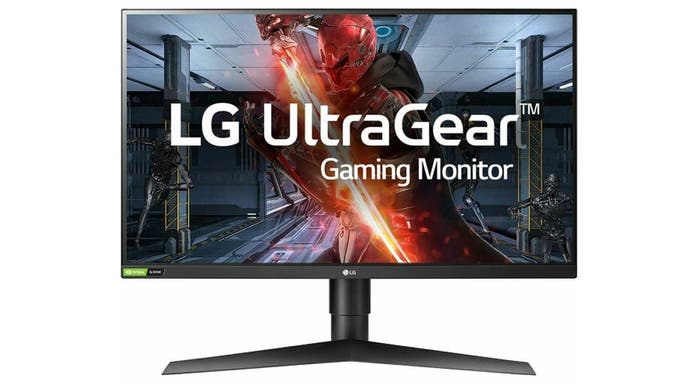 While gaming is the focus of this monitor, it's also a great choice for anyone doing colour-sensitive creative work like video rendering or photo editing. The nanoparticle coating provides coverage of 98 per cent of the DCI P3 colour space, equivalent to around 135 per cent of the less demanding sRGB gamut, which is insanely good for a gaming monitor. HDR inputs are also supported, although the relatively low contrast ratio of this monitor (around 1000:1) means that HDR content doesn't pop quite as much as it does on monitors built around VA or OLED panels.
There are other great features on this monitor too - including an ergonomic stand, a solid OSD with plenty of gaming-specific features and an integrated USB hub - but we'll leave them for the full review.
What we really want to emphasise here is that the 27GL850 is a great monitor for PC gaming, it's been hard to find due to the ongoing human malware situation, but now it's available and it's on sale for the first time ever. If you're interested, pick one up for £359 using code PANORAMA before the offer expires on June 18th - you won't regret it.
For more monitor recommendations, check out our video round-up above or check the full best gaming monitors article! This includes models from 1080p to 4K. For monitors suitable for next-gen consoles, we'd recommend waiting a little longer, as the first HDMI 2.1 gaming monitors are still a few months away.