Save 15% off the best value VR headset for Half-Life Alyx
The critically acclaimed Oculus Rift S is £339 with this Ebay code.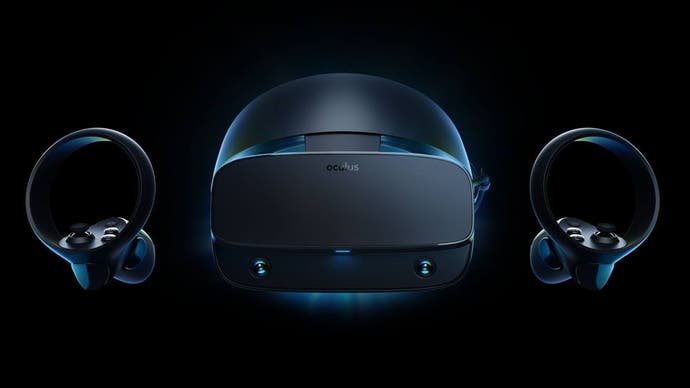 The Oculus Rift S is the best VR headset in terms of value for money, offering a high-fidelity experience at a price point that's less than half of premium options like the (out of stock) Valve Index or (unpopular) HTC Vive Cosmos. Today, the Rift S is an even better deal than normal, with a 15 per cent off Ebay code that brings the price down from £400 to £339. If you want to play Half Life Alyx next week before the spoilers get too bad, this is the way to do it!
To get the Rift S at that price, you'll need to head over to the Currys PC World store on Ebay. Add the Rift S to your cart at its listed price of £399, then use code PRESSPLAY at the checkout to bring the total down to £339.15. Economy postage is free, but there's also an option for DPD Next Day delivery if you want the headset to arrive a little sooner. Note that while early birds may be able to get the headset by Monday for Half-Life Alyx's release, you may need to wait until later that week if you're one of the later orders. Still, given how hard to find this headset is, waiting a few extra days isn't too much to ask!

Once you get the headset, you should be impressed. Visual fidelity is decent, with a 2560x1440 screen updating at 80Hz, and the advanced inside-out tracking used here doesn't require any base stations to be installed but still works well. (For an example of inside-out tracking that doesn't work so well, see the reviews of the HTC Vive Cosmos.) As well as the headset, you'll also get the two touch controllers you need to play the game, making this a complete package.
You can actually use the same PRESSPLAY Ebay code to get other items from Currys at a lower price than usual too. We spotted a sim-free Galaxy S20 128GB for £740, 2nd-gen Apple Airpods for £116 and a Samsung RU7020 65-inch 4K HDR TV for £539. You can see the full assortment - plus the full terms and conditions of the promotion - at the Currys storefront on Ebay.
Update: The HTC Vive Pro and Vive Cosmos are also on sale at 15 per cent off with the same PRESSPLAY code. The Vive Pro is £1059 and the Vive Cosmos is £639 after the discount.
We really think the Oculus Rift S at £339 is a standout deal, so hopefully you find this post useful! Stay tuned for more tech deals as we find them, and consider following @dealsfoundry on Twitter for instant notifications of the latest discoveries. See you next time!