AMD board leak hints at next-gen 'Navi' graphics tech
Our first look at the next Radeon mainstream contender?
Little is known about AMD's upcoming graphics hardware based on the new Navi architecture, but a number of leaks and driver releases are starting to bring the project into focus. Navi is the codename for new Radeon video cards based on the new 7nm process technology, allowing for more rendering power and higher efficiency - and it's also the architecture confirmed for use in Sony's upcoming PlayStation 5 GPU.
Beyond that, official details on the tech are somewhat thin on the ground. All that we really know is that like Vega before it, the new architecture is arriving late to market, while AMD roadmaps refer only to support for 'next generation memory' as a defining feature. Beyond AMD's next GPU releases, the next phase of development refers to a next generation architecture, suggesting that Navi is based on the same Graphics Core Next (GCN) foundations as hardware going all the way back to 2011's Radeon HD 7970. This has been confirmed by Linux drivers released this week, explicitly tying the Navi codename to the GCN architecture, according to this Phoronix report.
How the core has been enhanced over Vega and its prior GCN stablemates remains to be seen, but a PCB leak from Komachi Ensaka via a now-deleted post on a Chinese forum reveals an all-new board design we've not seen before, marked with AMD branding. The boards seen in the photos are not populated with any silicon, but a lot of information can be gleaned from them. First of all, the pin configuration on the memory side of things confirms that the new AMD GPU will be paired with GDDR6 modules. 16GB - or more likely 8GB - of memory will be paired with the new core, and based on established memory speeds, a total of 348GB/s or 448GB/s of bandwidth seems likely, operating over a 256-bit interface. Which speed we get depends on which spec of GDDR6 AMD eventually settles upon.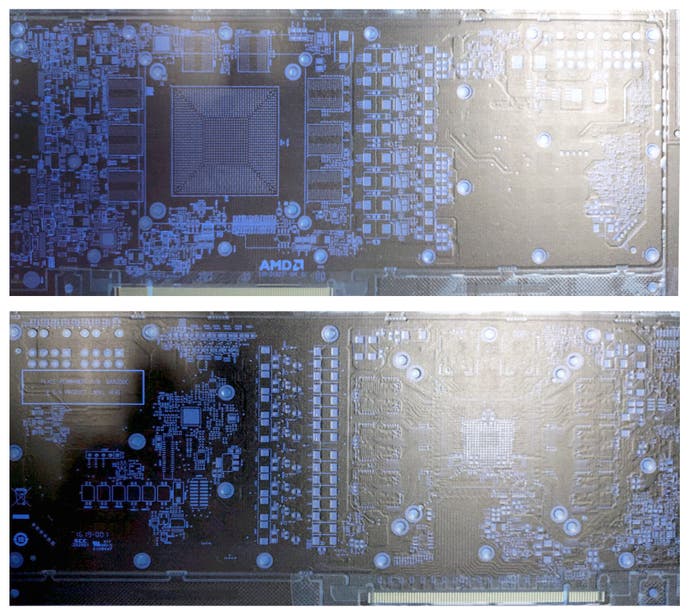 Other notable aspects of the board are a meaty eight-phase VRM set-up and two eight-pin power inputs. If this is an engineering sample board, a potent power delivery set-up like this may simply be in place to put the new silicon through its paces. However, it is a touch concerning if this is an AMD reference board aimed at the consumer - as the configuration suggests that a standard 'blower' design with a single fan may be in place as a cooling solution, something that rarely works out well for Radeon hardware. IO-wise, AMD looks to the future with this new board, with support for dual DisplayPorts, HDMI, and a USB-C VirtualLink for VR headsets, though if the Nvidia RTX cards are any indication, this port may also double up as a standard USB-C port for other peripherals.
As the board itself is bare, there's little more to glean - though Komachi Ensaka guestimates from the area plus knowledge of AMD's existing 7nm Radeon 7 that the new silicon could be in the region of 200-230mm2 in size, extrapolating out a ballpark of 3072 shaders, or 48 compute units. Fundamentally, beyond that, gaming performance will come down to factors such as core clock frequencies and driver efficiency, but for a long time now, AMD's first Navi release has been mooted as a replacement for the Polaris silicon found in Radeon RX 480/580/590, with the notion of Navi delivering a price/performance winner before a more capable 'big chip' variant arrives later on.
Navi is an important piece of technology for 2019 and one we'll be following closely. It forms the basis of AMD's fightback against Nvidia in the core gamer space, while the same architecture - in a custom guise - is set for integration into PlayStation 5. However, despite the latest information, the actual nature of its feature set beyond Vega still remains a mystery. We'll report back as soon as more details emerge.