AMD Radeon RX Vega 56 benchmarks: the better first-gen Vega GPU
The Red Team's Vega 64 is faster, but comes with compromises.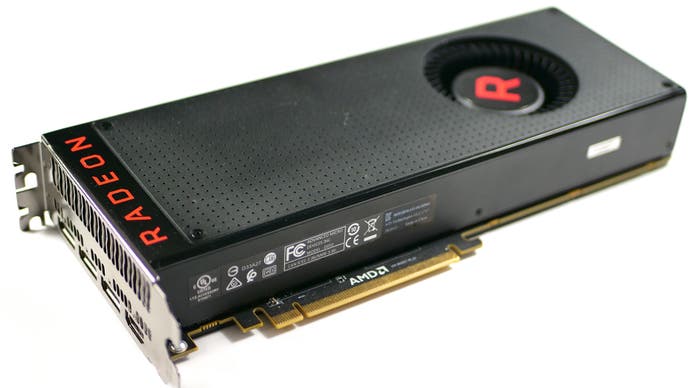 The AMD Radeon RX Vega 56 is an upper mid-range graphics card, intended to beat Nvidia's GeForce GTX 1070 at a similar price point - a job it performs admirably as the benchmarks on this page demonstrate. Its performance level was enough to push Nvidia into creating an entirely new SKU, the GTX 1070 Ti, which slots into place between 1070 and 1080 and in turn outperforms the Vega 56.
The Vega 56 is also the most popular of AMD's three Vega models thus far, as it's able to provide almost all of the high-end tech that makes the Vega 64 desirable with a few clever cutbacks to ensure a more competitive price point. It also has a slim advantage against the Vega 64 when it comes to power usage and thermal performance, although AMD's new Radeon 7 - not to mention Nvidia's Pascal and Turing lineups - outperform it in both respects. However, with the Radeon 7 card being offered at a price point of £600/$700, the 56 compute unit model is the obvious Vega value champ.
The Vega 56 generally provides good performance at 1080p and 1440p, but struggles when stretching to 4K resolution unless paired with a FreeSync display, where variations in frame-rate can be smoothed out somewhat. Provided you have a fast processor (we'd recommend forgoing AMD and picking up a seventh generation or later Core i7), the Vega 56 can also work well in concert with high refresh rate 1080p monitors - though owing to high driver overhead under DX11, we'd probably still an RTX 2060 or GTX 1070 Ti for that task over AMD's offering. Regardless, thanks to the Vega 56's strong performance offering for the price, it is still the best mid-range AMD graphics card on the market right now.
Which GPUs are worth buying? We've made our picks for the best graphics cards available, updated with the latest graphics cards as they're released. As well as an overall performance champ, we name the best value graphics card and best cheap graphics card to guide your next upgrade.
In order to give you a good idea of what frame-rates you can expect in the latest and most popular games, we're going to show you benchmarks from nine different titles at 1080p, 1440p and 4K, all with very high or ultra graphical settings enabled.
We're including five cards in total in our comparison: the Vega 56 and Vega 64, plus an Nvidia trio: the last-generation GTX 1070, GTX 1070 Ti and the new RTX 2060. If you're interested to see how the Vega 56 stacks up against the new Radeon 7, we have a separate article dedicated to answering that exact question: Radeon 7 vs Vega 56 benchmarks.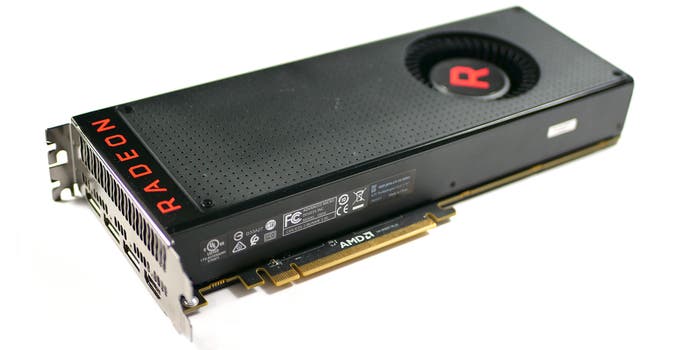 | | GPU cores | Boost clock | TFLOPS | Memory | Memory Bandwidth |
| --- | --- | --- | --- | --- | --- |
| Vega 56 | 3584 | 1471MHz | 10.5 | 8GB | 410GB/s |
| Vega 64 | 4096 | 1546MHz | 12.7 | 8GB | 484GB/s |
| GTX 1070 | 1920 | 1683MHz | 6.4 | 8GB | 192GB/s |
| GTX 1070 Ti | 2432 | 1683MHz | 8.9 | 8GB | 256GB/s |
| RTX 2060 | 1920 | 1680MHz | 6.5 | 6GB | 336GB/s |
Rather than using the traditional benchmark graphs or videos with permanently "burnt in" performance data, we've taken a different approach. If you're viewing this page on desktop rather than mobile, you'll see that each benchmark is comprised of an embedded YouTube video with live data shown below. You can jump around the video, and the data will remain synchronised. More importantly, you can also use the controls to the right of the video to add or remove different graphics cards at different resolutions. This makes it easy to see just the data you're interested in.
There'a also a handy graph below the live data, which shows average and best or worst case results from the entire run. You can mouse over the graph to see different metrics, and you can click on the barchart to toggle between real frame-rates and percentage-based values. For more information on the benchmarking system, check out our guide to how the Digital Foundry benchmarking system works right here.
Assassin's Creed Odyssey
Assassin's Creed Odyssey is a new addition to these benchmarks, allowing us a chance to see how the Vega 56 performs in a very recent title at demanding ultra high settings. The Vega 56 manages to acquit itself reasonably well in the test, delivering a playable average frame-rate of 48fps at 1080p. That's four per cent behind the more expensive Vega 64 and only three per cent behind the GTX 1070. However, the GTX 1070 Ti and RTX 2060 open up a significant lead, with the Vega 56 falling 18 per cent behind Nvidia's first mainstream RTX card. 1440p results for the Vega 56 remain playable at 41fps average, although we'd recommend users stick with a lower quality graphics preset to hit 60fps. Even 4K could work on this card, if you're willing to deal with a console-quality frame-rate and/or some significant settings tweakery.
Assassin's Creed Odyssey: Ultra High, TAA
Assassin's Creed Unity
Next up is the 2014 release in Ubisoft's long-running Assassin's Creed series, AC Unity. The game is set on the soon-to-be blood-slick streets of Paris on the cusp of revolution, providing opportunities to render fancy dresses and shiny guillotines in equal measure. At 1440p, the Vega 56's performance is 8 per cent behind the Vega 64 and dead level with the GTX 1070 - although the AMD card shows a much bigger gap between its highest and lowest frame-rates. Meanwhile, the RTX 2060 claims the fastest averages. The Vega 56 does a little better at 4K though, claiming a tenuous lead over the Nvidia card. However, the actual frame-rate of 26fps is hardly playable. AMD cards suffer here as performance drops significantly whenever the depth of field effect kicks in.
Assassin's Creed Unity: Ultra High, FXAA
Battlefield 1
2016 release Battlefield 1 and the killing fields of the Great War are where we're headed next, as we follow a British tank making the journey through no man's land. The Vega 56 is at its best in this DX12 title, outperforming both the GTX 1070 and GTX 1070 Ti by a margin of 17 per cent and eight per cent, respectively, at 1080p. The trend continues at each higher resolution, with the Vega 56 proving that AMD has a significant architectural advantage in some titles.
Battlefield 1: Ultra, TAA
Crysis 3
Remarkably, Crysis 3 remains a challenge for modern graphics cards six years after its debut in 2013. The Vega 56 is on a level pegging with the GTX 1070 here, sitting just a frame per second ahead at 1440p and dead even at 4K. The 1440p result of 69 frames per second is outstanding, while the 4K result of 33 frames per second is perhaps a little more 'cinematic' but still quite playable. However, Nvidia's RTX 2060 and GTX 1070 Ti cards remain the top dogs, with the RTX card showing slightly worse performance of the two in older titles like this one.
Crysis 3: Very High, SMAA T2X
Far Cry 5
2018 release Far Cry 5 has one of the most calming benchmarks we use, with periodic gunfire and swooping planes hardly distracting from the scenic Montana lake and relaxing soundtrack. All five cards are outstanding at 1080p, with all but the GTX 1070 above 100 frames per second average, so let's look at the 1440p results. The Vega 56 sits between the GTX 1070 and GTX 1070 here, while the RTX 2060 is outperformed by the Vega 64 (a rarity). The Vega 56 does better at 4K, fighting the GTX 1070 Ti and RTX 2060 to a standstill while remaining 14 per cent ahead of the GTX 1070.
Ghost Recon Wildlands
Our most recent and most demanding title is Ghost Recon Wildlands, released in 2017. On the challenging ultra preset, none of our cards manage to average above 60 frames per second, even at 1080p, with the Vega 56 at 54fps. At 1440p, the popular AMD card manages a score of 43fps, in between the GTX 1070 (40fps) and GTX 1070 Ti (44.5fps). Once again, moving to 4K seems to improve conditions for the AMD cards, with the Vega 56 managing to tie the RTX 2060 and GTX 1070 Ti at the higher resolution. To be honest though, the high or very high presets are recommended for essentially all cards targeting 4K.
Ghost Recon Wildlands: Ultra, TAA
Rise of the Tomb Raider
2016 saw the return of born survivor Lara Croft in Rise of the Tomb Raider. The three-part benchmark is tested under the DX12 render path. The Vega 56 boasts a 10 per cent lead over the GTX 1070 at 1440p, and sits close to the GTX 1070 Ti once again with a deficit of just four per cent. The game is also playable at 4K based on these results, with a frame-rate of 42fps, 13 per cent better than the GTX 1070 can manage. What we will say is that this benchmark flatters to deceive - in actual gameplay, careful settings management is required to get decent performance.
Rise of the Tomb Raider: Very High, SMAA
Shadow of the Tomb Raider
In the more recent 2018 Tomb Raider title, the Vega 56 does even better against its Nvidia opposition. The card manages a 12 per cent lead at 1080p over the GTX 1070, rising to 14 and then 17 per cent at 1440p and 4K. More excitingly, the Vega 56 also wins the fight against the GTX 1070 Ti that was created to defeat it, with narrow leads at all resolutions. However, it's the Vega 64 that leads the pack with nearly a 10 percent lead over its little brother.
Shadow of the Tomb Raider: Highest, TAA
The Witcher 3
2015 classic The Witcher 3 is another challenging title at its ultra preset, particularly at 4K. The Vega 56 easily exceeds the 60 frames per second we'd want to see at 1440p, but only manages to deliver 40 frames at 4K. However, that 4K result is still a comfortable 7.5 per cent ahead of its GTX 1070 competition, and just a few frames per second behind that of the GTX 1070 Ti.
Witcher 3: Ultra, Post-AA, No Hairworks
Cross-generational comparison
We'll conclude with a look at how the Vega 56 and Vega 56 compare to their predecessors in Assassin's Creed Unity. Going up against the Vega cards in this unfair fight are the cheaper RX 570, RX 580 and RX 590, plus AMD's previous-gen high-end card, the R9 Fury X. You can see that the R9 Fury X is 12 per cent behind the Vega 56, while the RX 580 is considerably slower with a frame-rate that's 23 per cent behind the Vega 56. Meanwhile, the Radeon 7 sets new performance records for a red team GPU.
Assassin's Creed Unity: Ultra High, FXAA
With that, our look at the benchmarks of the Vega 56 are finally complete. We encourage you to check out our full review of the Vega 56.
---
Now that you've seen the benchmarks for one card, why not check out see which PC hardware we recommend to our friends and family? Here are the DF picks for the overall best graphics cards and for the best gaming monitors on the market.
---