Hands-on with the deluxe PS4 Pro 500 Million Limited Edition
Plus: are new Pros quieter than launch consoles?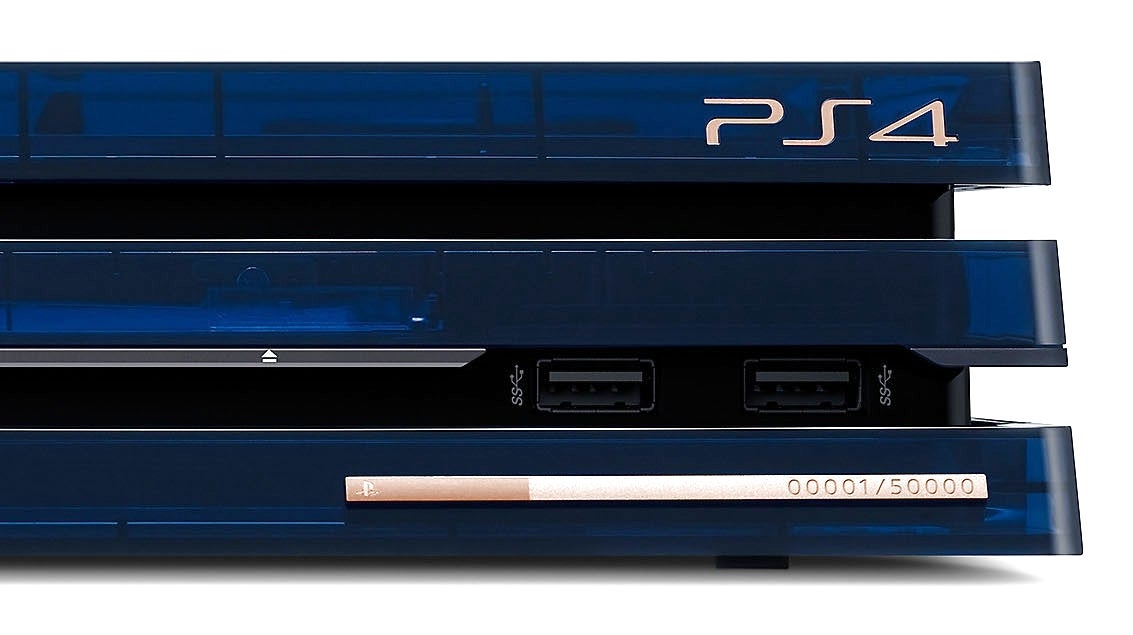 As a piece of hardware designed for the core gamer and die-hard fan, it's been a little surprising how little Sony has leveraged PlayStation 4 Pro in terms of ultra-desirable, collector-centric special release consoles - a situation it aims to put right with the imminent release of the 500 Million Limited Edition, a £450 offering that combines a super-deluxe translucent machine with a range of upgrades and bespoke peripherals, including a 2TB hard drive, matching Dual Shock 4 and PlayStation Camera, plus vertical stand. Having received a unit on loan for a short time last week, it's a seriously desirable piece of hardware.
Its arrival was also a great excuse for us to revisit the PlayStation 4 Pro in a little more detail, two years on from launch. Sony has a habit of releasing new hardware revisions and with this revised CUH-7100 series release, the 500 Million Limited Edition Pro contains a number of modifications compared to the launch unit - changes that should be reflected across all examples of the hardware on the shelves right now. A detailed breakdown has been researched here, which suggests that the CUH-7100 runs hotter, but with less noise than the original. It sounds rather like the base PS4's C-Chassis revision back in the day, something I was keen to check out.
But returning to the 500 Million Limited Edition console itself, it's something of a treat. It's not just the console itself that's translucent, but the packaging too, with a matte plastic finish that hints at the internal content, teased with an indistinct bronze PlayStation logo. The plastics peel back to give you access to a nicely presented interior: on one side sits the console, wrapped in blue cloth with that front-facing logo. To the side is a box with the matching translucent controller, blue camera, cables, manuals and the two-piece vertical stand.
Liberating the console from the packaging, it's wrapped in protective plastic - and this presents your first dilemma: are you going to actually use this machine or will you safely store it with your other collectors' edition hardware and boxed console rarities?
This new Pro really is a beautiful piece of kit and the plastic will keep it like that. Take it off and it'll never quite be the same. As any PSP owner will know, shiny plastic is a massive magnet for fingerprints - and although stacked with bonus extras, what you don't get is the softest of microfibre cloths you're going to need to keep this console looking at its best Within seconds of removing the protective layer and handling the unit, the pristine finish is sullied with fingerprints that prove difficult to shift.
Also, the shiny plastic is likely to attract the finest of hairline scratches. It's a world apart from the tough matte finish of the more usual Pro and really needs to be handled with the utmost care. For a general day-to-day console subject to standard wear and tear, the standard Pro is the machine to get - for a prized showpiece that looks stunning and will be treated with kid gloves, the 500 Million LE unit is the one to have.
But I was eager to find out more about the machine, starting with its 2TB hard drive. My launch unit shipped with a 1TB HGST 5400rpm hard drive, and this special edition's 2TB unit comes equipped with a Seagate ST2000LM007 - an evolution of the excellent drives we've been recommending for years now for internal PS4 HDD upgrades. It's common for Sony to swap between hard drive suppliers depending on the deals it can cut, but it's good to know that the increase in storage is delivered via a quality drive. In common with every PlayStation 4, this unit is upgradable but owing to the less robust plastics on the hard drive bay cover, it's best to leave this drive in situ and opt for external storage if you need extra space.
Beyond the hard drive and translucent casing (revealing the cooler, internal chassis and a little wiring) any differences over the Pro you might already own will come from the CUH-7100 revisions Sony has made to the hardware. Prior research points to higher temperatures from the unit but a slower fan, resulting in reduced noise. The report also says that the processor's serial number has changed - suggesting some kind of slightly upgraded design - better cooling on the GDDR5 memory, and a new HDMI controller. There's also the suggestion of more noticeable coil whine on the CUH-7100, but this was not the case on the special edition unit I tested.
Breaking out God of War for testing on my launch unit and the new console, I noticed that at the beginning of the game, power consumption and fan noise spiked when Kratos or Atreus loomed large on-screen, so I chose an arbitrary cutscene close-up, engaged photo mode and let each console sit there for an hour. The launch Pro hit 170W, before mysteriously jumping to around 177W after around 15 minutes (repeating the test saw the same jump). The new model sat around the 167W mark throughout - somewhat curious.
What's immediately clear is that the new model is indeed quieter. I measured noise at the top of the unit and round the back (where it is louder) and saw a 50 decibel reading on the former, rising to 55dB on the latter. In contrast, the new Pro measured 46-47dB on top, and 50 at the back. Yes, its quieter but it's the pitch of the fan that is more noticeable - it's lower on the new model and far less grating. Mileage will vary in these comparisons: for starters, fan bearings wear with use and coolers may well get louder over time. Secondly, while my launch Pro is loud with God of War, my colleague John Linneman has no complaints with his unit. Meanwhile, Eurogamer's office Pro is so loud, IT came over to see if something was wrong with it while Christian Donlan reviewed God of War! The bottom line: mileage may vary as noise levels can change from console to console.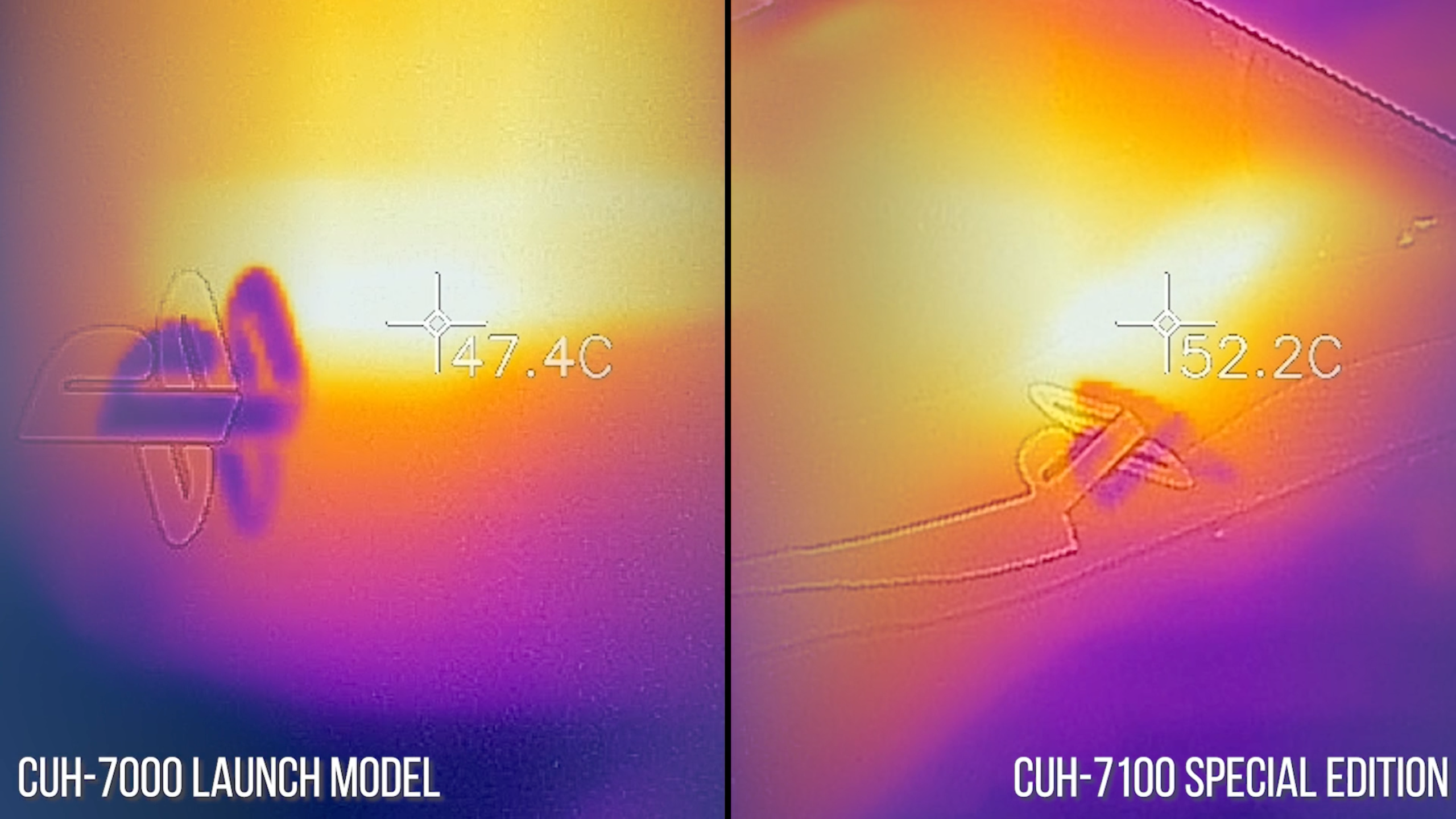 | God of War Analysis | CUH-7000 Launch | CUH-7100 Revision |
| --- | --- | --- |
| Noise (Top/Rear) | 50dB/55dB | 47dB/50dB |
| Peak Temps (Top/Rear) | 48c/60c | 53c/62c |
| Peak Power Draw | 170W (spike to 177W) | 167W |
In common with the C-Chassis PS4 revision, the new model definitely runs hotter though. Breaking out the thermal camera, again, I measured the top and rear of each unit. Looking at the CUH-7000 launch model, the top of the casing came in at 47 to 48 Celsius at its hottest. Moving to the exhaust at the rear where you'd expect it to be hottest, the air was around 60 Celsius. The new model peaked at around 52-53 Celsius above the processor - five degrees hotter than the launch model. The exhaust also saw an increase in temps to around 62 Celsius.
In the current-gen era, ensuring your console has good airflow is essential, so by and large, I'd take the quality of life improvements from the less annoying fan noise, though it's difficult to say what kind of impact the higher temperatures may have for any given gamer. We only had limited time with the special edition PlayStation 4 Pro but the temperatures remained constant across an hour of God of War testing, so the heat increase didn't continue to escalate.
Overall, the new 500 Million Limited Edition console really is something quite special in the flesh. In fact, I'd say that it's just as cool - if not more so - than the promotional photography suggests. From the translucent casing to the limited edition numbering to the matching Dual Shock 4, it's a beautiful piece of kit and as a sucker for shiny things, I can't help but want one - though with pre-orders snapped up immediately on release last week, actually getting one is going to be a challenge. As collector editions go, this one is seriously desirable, but if you're looking for a day-to-day console that is a little more durable and definitely more child-proof, the standard model is the one to have.
Will you support the Digital Foundry team?
Digital Foundry specialises in technical analysis of gaming hardware and software, using state-of-the-art capture systems and bespoke software to show you how well games and hardware run, visualising precisely what they're capable of. In order to show you what 4K gaming actually looks like we needed to build our own platform to supply high quality 4K video for offline viewing. So we did.
Our videos are multi-gigabyte files and we've chosen a high quality provider to ensure fast downloads. However, that bandwidth isn't free and so we charge a small monthly subscription fee of £4.50. We think it's a small price to pay for unlimited access to top-tier quality encodes of our content. Thank you.
Support Digital Foundry