The jury's still out on Metal Gear Survive
MGS5 was a technical masterpiece - Survive's beta shows that work still needs to be done.
There's a lot riding on Metal Gear Survive in Konami's post-Kojima era, and it's fair to say that reaction has been mixed so far. In a nutshell, this is a wave-based survival off-shoot to the series, set just after the finale of Ground Zeroes. Right off the bat, you're hunting animals and stockpiling water, just to keep your hunger and thirst levels at bay. And similar to the classic Metal Gear Solid 3, you even heal wounds using supplies found on the field. That's the survival bit - once you have your feet on the ground, the focus shifts to scavenging for resource to build weapons, tools and even structures to fend off oncoming hordes of enemies.
It's an unusual twist on the standard Metal Gear formula, though the technical groundwork is a familiar one. Metal Gear Survive brings back the Fox Engine of Metal Gear Solid 5, where the emphasis is still on open-world 60fps gameplay. You start off at a customisable central base with everything you need, and then venture out towards objectives - beacons and distress calls - with barely a loading screen in sight. It's often a seamless playing field, and the only aspect that's lacking - at least so far from what we've played - is the series' usual focus on narrative and cut-scenes. On the gameplay front however, the fact we're already familiar with the engine technology, and indeed controls, makes it surprisingly easy to jump into.
The inherent strengths of the engine are still in effect too: Survive uses post-process anti-aliasing, plus cinematic effects like depth of field and motion blur that fall in line with the last Metal Gear. Once again, open environments are wide sprawls of mountainous terrain and trees, where pop-in is also barely noticeable - in part helped by a pervasive dust mechanic in Survive. Add to that the dynamic time of day cycles and weather, and Survive is feature complete next to MGS5.
However, there have been some key changes to the make-up of the game that cause concern. Native resolution on all systems has been downgraded compared to MGS5, bar Xbox One X (which hasn't received an upgrade). The standard PlayStation 4 drops to 1600x1080 resolution, Pro runs at 2134x1440 in its 4K mode (dropping to 1600x1080p if the console is set to 1080p) while Xbox One X only manages 2560x1440 regardless of the display connected. Most concerning of all is the base Xbox, which goes down from MGS5's 900p to Ground Zeroes' very rough-looking 720p. Last week we asked Konami for comment on whether these metrics will persist into final code, but so far, no response has been forthcoming. It's difficult not to get the sense that the Fox Engine has actually taken a step backwards here - especially as performance is currently not up to standard.
Clearly we are in beta territory, and while Survive is slated for release just mere weeks from now, there is the chance that the builds available here do not represent the quality of the final game. This is perhaps borne out by the fact that we have already seen some evidence of an optimisation push - on one platform at least. Before Metal Gear Survive's public beta, Konami hosted a press event that allowed us to get hands-on with the PS4 Pro version in campaign mode. Here, frame-rates in the 4K output mode struggled significantly, with 1080p offering a much closer (though still not flawless) lock to 60fps. However, the multiplayer-focused public beta - which features a very similar visual feature set - runs much smoother in both output modes.
And certainly based on the beta experience we've sampled so far, PlayStation 4 Pro offers the smoothest, most optimal performance level - in fact, we logged just one drop to 50fps in our session. This represents a significant improvement over the campaign demo we had, so we hope that if this is a genuine result of optimisation as the game closes in on its release, it'll roll out to the other systems too. Improved performance is certainly required - while the Pro beta ran nicely, the base PlayStation 4 and the mighty Xbox One X could only deliver 50-60fps gameplay (with slightly superior consistency on the Microsoft platform). And despite the resolution drop to 720p on the standard Xbox, our performance metrics reveal a sub-par 40-60fps experience overall.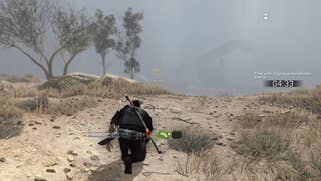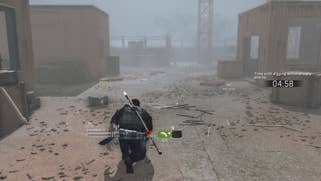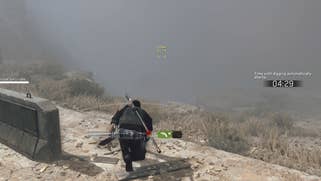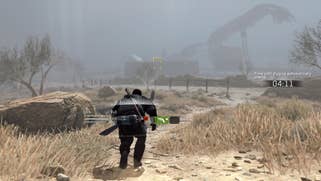 The beta also revealed other issues that require addressing. For example, the Xbox One X beta had anything up to five minute loading times going into a lobby or match. Worse than that, the netcode struggled to keep invited players in our squad - and often booted them out before the match began.
Meanwhile, the PS4 consoles generally launched into multiplayer games within a matter of 30 seconds, and the experience generally seemed more polished at this beta stage. We came away with the definite impression that each version is in a different stage of progress and hope that the disparities we've seen in the beta can be tightened up, into closer alignment when the game ships at the end of February.
From a technical perspective, there's the argument here that the Metal Gear Survive beta is doing exactly what was required - to stress-test a game nearing the end of its development cycle, to zero in on potential issues and to get them resolved before the title launches. But on the flip-side, beta releases are the modern day equivalent to the playable demo - possibly more about marketing the game to the audience and giving them a time-limited taste of the final experience before it ships. In this sense, Survive's gameplay clearly has merit - and while not achieving the dizzying standards set by prior series entries, it's still fun. When it comes to the technical points though, there's a big question mark over what we'll end up getting.
Metal Gear Solid 5 and the Fox Engine set a clear, enviable technical standard. It delivered a nigh-on locked 60 frames per second, and it did so with a very similar open world to that found in Survive, while running at a higher resolution. The beta suggests that only the PlayStation 4 Pro version of Survive gets close to matching the performance level set by MGS5. The base PS4 should run better, while the standard Xbox One really feels sub-par by comparison. Meanwhile, we can't help but have expected more from the Xbox One X - even its HDR implementation comes across as rather flat in the here and now.
For a game that has everything to prove in the wake of Kojima's departure, questions remain over Metal Gear Survive in the wake of this beta. We've some signs that the title may be in the midst of the optimisation push it clearly needs, but only a look at final code will confirm whether Konami can match the standards set by Metal Gear Solid 5 - a game that's still a superb piece of work, regardless of the system you play it on.