Final Fantasy 15 Windows Edition looks beautiful but at what cost?
Square-Enix's PC benchmark preview challenges even the most powerful hardware.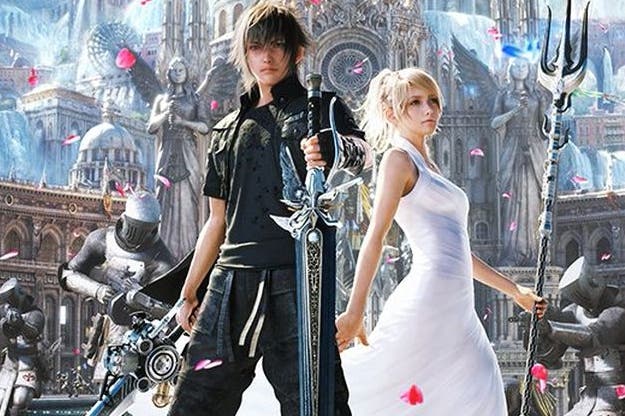 We've been eagerly awaiting the PC version of Final Fantasy 15 for some time. It's the chance to see Square-Enix's stunning Luminous Studio engine freed from the constraints of console hardware. Enhanced versions of those visuals running at 4K resolution or a locked 60fps? The potential here is mouthwatering, but the question is just what hardware will be required to push beyond the standards set by PS4 Pro and Xbox One X - and how optimal the PC port is. A PC benchmarking tool was released at the beginning of the month, and first impressions based on mainstream hardware are sobering.
We always expected the PC 'Windows Edition' to be challenging, but the benchmark is already causing controversy owing to its heavy integration of Nvidia's GameWorks libraries - bespoke 'black box' technology created by the Green Team's engineers, and integrated by Square-Enix. There's enhanced foliage via TurfWorks, beefed up fluid, fire and smoke simulation courtesy of Nvidia Flow, plus more realistic follicle rendering via the notorious HairWorks. Augmented terrain tessellation, shadow technology and the beautiful-but-taxing VXAO are also set for inclusion. To illustrate how taxing all of those technologies working together can be, our tests with an overclocked GTX 1080 Ti suggest Final Fantasy 15 cannot sustain a 60fps lock here, even at 1080p resolution.
Clearly, GameWorks incurs a substantial hit on performance, adding a further load onto what is already a demanding engine, which begs a number of questions. First of all, based on this benchmark preview, can you run this game at anything like a locked 60fps - and what hardware is required to get the job done? What visual benefits does GameWorks bring to the table and what's the impact on both Nvidia and AMD hardware?
Before we go on, it's worth pointing out that the benchmark issued by Square-Enix has issues that the firm says will be addressed in final code. First of all, there's the complete lack of configurability. Lite, standard and high settings are included, which select arbitrary presets from a menu of options that will be available in the final game. The high setting appears to max everything, and adds all the GameWorks effects (bar shadows and VXAO, which won't work on AMD cards). Then there's the standard setting, which turns off GameWorks, pulls back level of detail, drops texture filtering from 8x to 4x and drops shadow quality and distance. As you might expect, lite strips back everything to the minimum and is designed for low-end systems. We'll be giving that a pass for our testing.
For those looking to tune the game to their hardware right now, these three settings aren't good enough - and it's taken the release of a custom launcher by Reddit user DrDaxxy to expose everything the engine currently has to offer. The benchmark also locks to the borderless fullscreen window mode while leaving the game simulation unlocked, meaning that there's no way to easily synchronise game output with your display, producing ugly judder. Once again, the custom launcher can invoke the standard exclusive full-screen modes with v-sync on/off which helps a great deal, but even then the benchmark suffers from arbitrary stutter that randomly crops up from run to run.
Again, messaging from Square-Enix suggests that this will be addressed, but in the here and now, one thing's for certain - this unpleasant artefact crops up far more frequently on AMD graphics hardware compared to Nvidia, but when it kicks in on either Radeon or GeForce graphics, it sticks out like a sore thumb. Square-Enix says that the benchmark may not be representative of final performance, and we're certainly hoping for substantial improvements from final code.
In analysing the benchmark, we settled on measuring 1080p performance from mainstream graphics hardware - Nvidia's GeForce GTX 1060 and AMD's Radeon RX 580, cards typically capable of running console-level experiences at twice the frame-rate, usually with further enhancements. We used the custom launcher to test the game in v-sync off mode using FCAT - the gold standard in PC performance, based entirely on the actual output of the GPU as opposed to internal metrics. High and standard settings were our primary focus but thanks to the ability to tweak the in-game presets via the DrDaxxy launcher, we could add a further option to our testing, and a significant one at that: the high preset with all Nvidia GameWorks tech stripped out.
The comparison gallery on this page reveals how our chosen presets scale. At the bottom end, the standard setting visibly reduces texture quality and anisotropic filtering drops from 8x to 4x. This preset also reduces shadow detail and distance while pulling back LODs, especially evident in foliage density. But it's the comparison between our two high settings variants that is enlightening. It's TurfWorks that provides the lion's share of the improvement, with ground tessellation also visible but dropping back into the background once motion blur kicks in. Nvidia's HairWorks only appears on one creature, yet incurs a big, big hit to performance.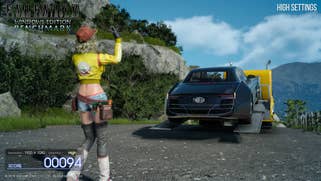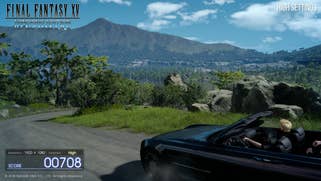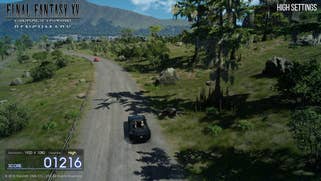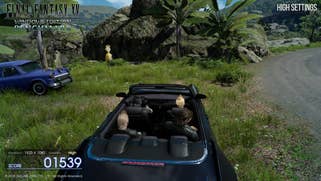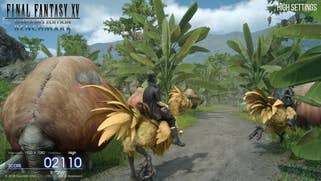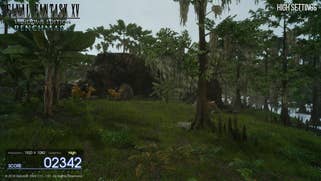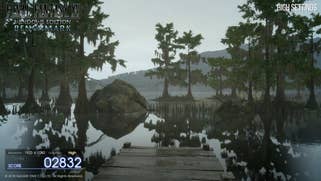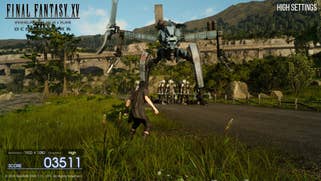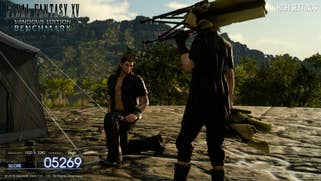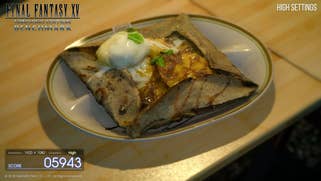 In terms of overall performance, the highest preset delivers a 45.9fps average on GTX 1060, dropping like a stone to 33.2fps on RX 580 - that's a huge 38.3 per cent advantage for Nvidia. Stripping out GameWorks sees the delta drop: 56.8fps vs 52.7fps - a mere 7.8 per cent lead for the Green Team, which drops again to just 5.5fps on the standard setting. However, frame-rate averages do not tell the whole story. As we look at averages of the lowest frame-times, Nvidia's lead is significant. When AMD performance is hit, it's hit harder - but the GeForce experience is still far from ideal.
Collating the lowest five per cent, one per cent and 0.1 per cent of frame-times (converted into frame-rate in the table below to make things a little easier to understand), it's clear that the averages aren't representative of consistency across the experience, and GameWorks has a big impact on the fluidity: it's clearly noticeable on Nvidia and sometimes disastrous for AMD. However, looking at the percentiles without Nvidia's proprietary tech in play, it's clear that AMD performance still has a long way to go. This is perhaps to be expected bearing in mind Square-Enix's Nvidia collaboration and the fact that we have no idea how much time, if any, AMD's driver team has had with the game.
Now, assuming that Square-Enix makes good on its claims in addressing the stutter, the percentiles should improve, but there's still a significant gap between the average frame-rate and the lowest five per cent. In terms of optimising the experience, the figures we have right now suggest that tweaking the standard mode is the way forward for getting a more consistent, smooth experience on mainstream hardware. In terms of GameWorks, screenshot comparisons suggests that TurfWorks is the option worth holding onto more than any other, though that may change bearing in mind just how vast Final Fantasy 15 is and how Square-Enix may have deployed the Nvidia technologies elsewhere within the game.
| | GTX 1060 High/GW | RX 580 High/GW | GTX 1060 High/No GW | RX 580 High/No GW | GTX 1060 Standard | RX 580 Standard |
| --- | --- | --- | --- | --- | --- | --- |
| Average Frame-Rate | 45.9 | 33.2 | 56.8 | 52.7 | 65.4 | 62.0 |
| Lowest 5% | 33.8 | 13.1 | 44.3 | 38.0 | 51.8 | 46.3 |
| Lowest 1% | 30.3 | 8.4 | 39.5 | 27.0 | 43.3 | 31.4 |
| Lowest .01% | 20.4 | 4.9 | 34.3 | 9.3 | 18.5 | 10.2 |
However, with the game less than a month away from release, the benchmark suggests that there's still plenty of optimisation work that needs to be done and there are obviously big question marks surrounding the GameWorks implementation. First of all, AMD performance here can be really, really bad, to the point where the RX 580 can dip to sub-20fps territory for little apparent reason. Optimised Radeon drivers could obviously help, but the extent to which AMD can work with Nvidia's proprietary code remains to be seen. And even with Nvidia cards, it's clear that there's scope for significant improvement. Square-Enix has said that it's aware of a level of detail issue in the benchmark that will be fixed in final code, which may refer to the remarkable discovery unearthed by Gamers Nexus, which shows that Nvidia HairWorks has a big impact on game performance even when there are no HairWorks objects on-screen. It's a remarkable revelation we were able to confirm with testing of our own.
Using the custom launcher, we tested the first two minutes, 20 seconds of the benchmark using three high settings variants: first of all with no GameWorks, then with TurfWorks only, followed by a final run with just TurfWorks and HairWorks enabled. The hit incurred by HairWorks even when there are no on-screen instances of it is clearly measurable and it is significant. You lose about nine per cent of performance with TurfWorks engaged - and that's fine, you are getting a visual return. However, this rises to a remarkable 21 per cent with HairWorks active too - even though the buffalo-like creatures using the effect are only in view for around 15 per cent of the duration of those first two minutes, 20 seconds.
As things stand, if GameWorks is trying to sell Radeon users on how cool Nvidia software is, the terrible performance is only going to leave a negative impression. And while much improved, factoring in GameWorks on a GeForce card imposes a big hit to performance that isn't in line with the visual return seen here. We're reminded of The Witcher 3 here, where the HairWorks implementation hit performance badly, with the increased fidelity provided by the simulation simply not worth the substantial hit to frame-rate.
One of the joys of PC gaming is the ability to tailor the game experience to your own liking, to strike the best balance between visual features and performance - and that leads us on to what's most exciting us about this PC release. Every console version has its own range of compromises and issues and we've yet to experience the definitive Final Fantasy 15 experience. The best of the bunch is Xbox One X, but even this has some minor frame-rate issues, dynamic scaling that affects image quality and a performance mode that gets nowhere near to a locked 60 frames per second. If you want native 4K, or if you'd prefer 60fps (yes we managed it as the video on this page proves - albeit with monster hardware in play) the PC version offers the best route forward.
Add on top enhanced quality presets that should, in theory, show Square-Enix's Luminous Studio engine at its absolute best, and we're still hugely enthusiastic about this release. Clearly, optimisation is the key concern at the moment and while there may be limited time until release, at least there's a wealth of data out there for the developers to work with in streamlining the game. We'll be reporting back on the final release as soon as it's available.