Upgrade your gaming PC with Amazon.com's one-day sale
Highlights include Samsung 960 Pro NVMe SSDs and peripherals from Corsair and HyperX.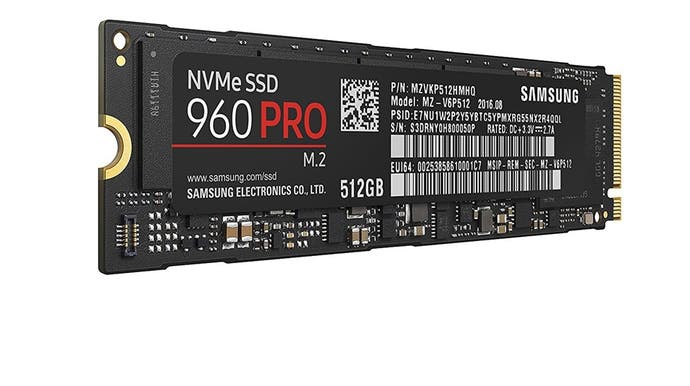 Amazon.com is running a small one-day sale for PC components today and there are some definite highlights in there that you should know about - including peripherals from Corsair and HyperX, Samsung NVMe SSDs and a few other interesting bits and bobs at their lowest historical prices. Here are our recommendations from Amazon.com's August 28th PC components sale.
Let's start with the peripherals. We've got essentially an entire HyperX lineup here with a mechanical keyboard, mouse, wireless headset and mousepad.
The mechanical keyboard is the HyperX Alloy FPS Pro, a red-backlit affair with a compact layout and soft linear Cherry MX Red mechanical switches. The name pegs it as a good choice for FPS but many game genres and even typing will be improved by going mechanical. We shortlisted this keyboard for our article on why mechanical keyboards are good for gaming, and at $49.99 it's one of the best value mechanical keyboards available - at least for today.

The remainder of the HyperX peripherals are in a bundle, which includes the Cloud Flight wireless headset, Pulsefire FPS gaming mouse and the Fury S medium-size mousepad. The Cloud Flight is one of the most recent HyperX releases and goes for $159.99 on Amazon by itself, so the bundle price of $149.99 basically means you're getting the headset for $10 off, plus a solid $30 optical gaming mouse and a highly-rated $20 mousepad for free - not bad.
Corsair is also involved in the sale, albeit only with one model: the Corsair Glaive, an RGB-encrusted mouse released last year. It's attracted good reviews, thanks to an aluminium build and optical sensor, and getting it for $25 off its usual price of $69.99 makes it even better value.
Now that we have the peripherals out of the way, let's take a look at some of the components. The big highlight for me is the Samsung 960 Pro NVMe SSD, which absolutely dominated storage benchmarks when it was released in 2016 and still offers extremely good performance. You can get 512GB and 1TB flavours of the 960 Pro right now for $199.99 and $399.99, respectively. That's the cheapest these drives have ever been on Amazon, by a margin of $60 for the 512GB drive and more than $100 for the 1TB drive.

Another good shout is a Toshiba N300 8TB HDD. It's intended for use in a NAS, which means that it's designed for constant use while sipping power. Surprisingly, it's also a 7200rpm drive, indicating that its transfer and access speeds may be better than more common 5400rpm alternatives. The deal knocks $40 off its usual price, bringing it to $179.99.
The Acer G247HYL 1080p IPS monitor at $99.99 could also be worth a look. We didn't choose it in our round-up of the best gaming monitors, but at $50 off its list price it could be a good choice for PC gaming on a budget, particularly for fans of slower-paced games that don't require a high refresh rate display.
Other deal items include networking equipment, such as switches and routers, a 1000W Corsair modular power supply, an ASUS ROG Crosshair VI Hero Ryzen motherboard and plenty more. You can check out the full selection of deals right here.