Samsung Galaxy Note 8 review
Hitting the right note?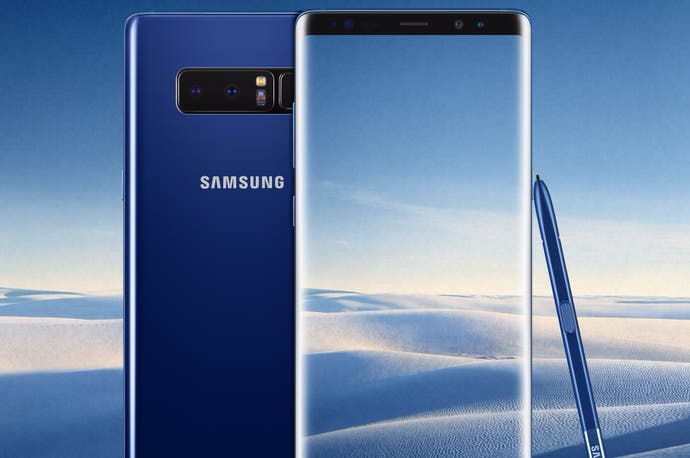 The Samsung Galaxy Note 7 was, by all accounts, a brilliant smartphone. It offered significant hardware and software benefits over the competition as well as a roomy Super AMOLED display and S-Pen functionality. Sadly, a few exploding units forced Samsung to issue a recall and halt production altogether and the Note 7 became a footnote in mobile phone history; a hiccup which cost the South Korean company millions. Samsung has bounced back with the impressive Galaxy S8, but the Note 8 was always going to be a hard sell given the intense publicity which surrounded the fiery fate of its forerunner.
Even without the exploding battery debacle, Samsung has its work cut out trying to promote the Note 8 this year, as the S8 Plus arguably offers many of the same features; a massive, market-leading display, a powerful processor and almost identical Samsung-skinned Android software. With the S8 Plus already available and costing less (the Note 8 retails for a whopping £869 SIM-free and direct from Samsung), is there any genuine reason to give it a second glance? The answer is perhaps down to personal preference, but we'd argue that the S-Pen just about makes the difference.
Capable of sensing 4,096 levels of pressure, the revised S-Pen also sports IP68 certification for water and dust resistance. It allows you to write notes on your phone's display even when it's asleep, and share these notes with other apps or simply store them on the lock screen for future use. Pulling the S-Pen out of its slot on the bottom edge of the Note 8 automatically opens a dedicated menu from which you can doodle images, select and crop parts of the display, create animated GIFs based on moving images (such as YouTube videos), translate text (full sentences this time, not just individual words) and compose "live" messages. Many of these elements are accessible without using the pen, but interacting with a stylus-like tool is often a more accurate way of doing things. Like the Apple Pencil, the S-Pen allows for some stunning artistic endeavours, if you have the talent and patience.
Alongside the S-Pen, the Note 8's other party trick is its dual camera setup, with a wide angle and 2x zoom telephoto lens working together to create some unique images, similar to the configuration on Apple's iPhone 7 Plus. Both lens are aided by optical image stabilization - a first for a dual-camera phone, apparently - and the results are pretty special, but we've come to expect nothing less from the South Korean company. The most interesting new feature is Samsung's take on Apple's Portrait shooting mode, dubbed "Live Focus". It uses both lenses to blur out the background for a fancy "bokeh" effect.
What makes this really interesting is that you can fiddle around with the blur effect both before and after you've taken the snap, as the phone actually takes two shots - one using both lenses with the Live Focus enabled and another using the standard main lens; this means you don't have to keep switching between modes to get the shots you want. Needless to say, standard photography is a joy on the Note 8, with stunning picture quality and lightning-fast focus time. Samsung continues to lead the way in the realm of Android smartphone image capture, although it seems that Google is catching up with its recently-released Pixel 2 device.
We've spoken a lot about what makes the Note 8 so special but haven't addressed its physical attributes yet. That's not because it's an ugly phone - far from it - but more because it doesn't deviate all that much from the template laid down by the S8. The key difference is that the rounded corners are now more squared-off, but ultimately much of the same design language is present here; the metal edges, the glossy back panel (still a fingerprint magnet) and the oh-so-awkward fingerprint scanner, which sits next to the dual camera setup on the back. The placement of this sensor was the single biggest problem we had with the S8, and while Samsung has made efforts to reduce the number of times you smudge the camera lens accidentally (the flash and heart-rate sensor now sit between the fingerprint scanner and the cameras) the increased size of the Note 8 means you have to reach your digit even further up the back of the phone, something that will prove to be uncomfortable for anyone with average-sized paws.
Despite the massive 6.3-inch screen - which comes with welcome HDR support - the Note 8 doesn't feel as big as it possibly should. While it's not bezel-less in the same way that the forthcoming iPhone X promises to be, those present at the top and bottom of the display are small and the screen fills the body of the phone neatly enough.
Like the S8, the Note 8 feels long (thanks to that 18.5:9 aspect ratio screen) and thin so it's easy to hold - but you may need to use both hands to interact with it fully. A case is a must as the phone is not only quite slippery, but it will prevent those finger marks from appearing - even if it does mean you're covering up that lovely design.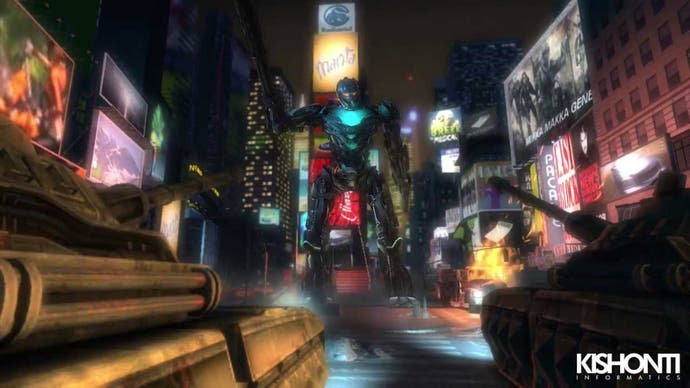 | | Galaxy Note 8 | Galaxy S8 | Galaxy S7 | Google Pixel | Google Nexus 5X | Google Nexus 6 | iPhone 7 |
| --- | --- | --- | --- | --- | --- | --- | --- |
| Geekbench Single-Core | 1867 | 1993 | 1801 | 1687 | 1263 | 1053 | 3300 |
| Geekbench Multi-Core | 6663 | 6665 | 5278 | 4187 | 3436 | 3081 | 5330 |
| 3DMark IceStorm Unlimited | 38960 | 31661 | 27370 | 27468 | 18934 | 23205 | 37352 |
| GFXBench T-Rex | 116.0 | 120.0 | 87.0 | 93.0 | 38.0 | 37.0 | 120.0 |
| GFXBench Manhattan | 61.0 | 64.0 | 29.0 | 49.0 | 16.2 | 18.0 | 62.3 |
Samsung's AI assistant Bixby gets its own dedicated hardware button - just like it did on the S8 - but since we reviewed that phone it has become moderately more useful. Performing phone-related tasks like playing music, setting an alarm and all that good stuff is a breeze, but Bixby is still noticeably lagging behind the likes of Siri and Google Assistant when it comes to making sense of more complex demands and web-related searches, often returning borderline useless info when you ask basic questions.
The decision to gamify the Bixby experience by awarding you XP for each interaction is neat, but when you have the far superior Google Assistant on the same handset, there's little reason to accept second best. Samsung may even be aware of this, as a recent Bixby update offers the option to disable the Bixby button entirely.
On the audio side of things, Samsung has bucked the trend by retaining the 3.5mm headphone socket despite the fact that both Apple and Google have cut their ties with the connection in their most recent smartphone offerings. Output via the jack is impressive, but using the handset's built-in speaker isn't quite as impressive. Samsung has included just one speaker, unlike many other flagship phones which now mount them in pairs for stereo sound. Because the speaker is located on the bottom edge, it's annoyingly easy to cover it with your hand accidentally during use, especially when holding the Note 8 in landscape mode during gaming and movie-watching.
Elsewhere, the Note 8 ticks various other boxes: it has IP68 certification so it can survive falling into water, there's plenty of storage (64GB on the base model) and a MicroSD card slot should you fancy adding more. The phone's USB Type-C allows for fast-charging and wireless charging is also supported. Speaking of USB Type-C, it's worth noting that as a Samsung phone the Note 8 is also fully compatible with Hyperkin's Smart Boy attachment, which allows you to play Game Boy and Game Boy Color cartridges on the phone via emulation. While it might seem odd to mention this point, Hyperkin's product is one of the few third-party accessories that has been awarded the coveted "Made for Samsung" badge, although it can be used with a handful of other Android phones, too.
With the cosmetic side of things covered, we can move onto the internal tech, which is as robust as you'd expect from a flagship Samsung device. A Qualcomm Snapdragon 835 is running things here (we're reviewing the US / Chinese model - in Europe, the Note 8 features the similarly specced, Samsung-made Exynos 8895) with a massive 6GB of RAM assisting it. It goes without saying that performance is silky-smooth and multi-tasking is a breeze; coming from the iPhone 7 - our daily driver - it's refreshing to find apps don't get shut down constantly as you move between them. In the realm of gaming, the Note 8's processing muscle allows for a pleasant experience overall, but the usual issues with sloppy optimisation on Google's OS means that things rarely feel as smooth as they do on top-line iOS devices.
Last year's Note model was infamous for its battery issues, and Samsung later claimed that the problem was the result of trying to extract more capacity out of smaller power cells. Unsurprisingly, the manufacturer has decided to play it safe with the Note 8, which comes with a 3,300 mAh battery - smaller in capacity than the one 3,500mAh one that caused so many headaches in the Note 7, and only 10 per cent larger than the standard Galaxy S8's. As expected, the strain of powering not just a cutting-edge phone but also that gigantic 6.3-inch QHD+ screen take their toll on the cell, and we found it struggled to make it through a day of intense usage.
A gentler usage pattern is required to reach the end of the day with an active phone, but what's the point of having such a potent handset when you're constantly worrying about it dying before you reach the comfort of home? While the Note 8 is by no means the only guilty party in this respect, the lack of stamina will worry power-users who spend the day surfing the web, checking emails, playing games, listening to music and watching movies. Oh, and yes - actually making phone calls, too, something the Note 8 excels at with clear audio and good reception.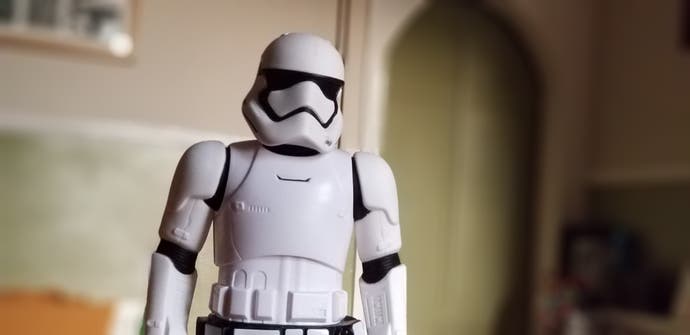 Samsung Galaxy Note 8: the Digital Foundry verdict
The Note range introduced the wider world to the term "phablet" and has a special place in Samsung's lineup - a place which was put in serious jeopardy after the Note 7 battery disaster and a global recall which left a considerable dent in Samsung's yearly financial report. The Note 8 does enough to atone for the sins of its predecessor, packing in an industry-leading screen, a brilliant dual-camera setup, a genuinely useful companion S-Pen and blisteringly fast performance, all wrapped up in an appealing design which allows that largely bezel-free AMOLED panel to really take center stage.
However, for a phone which, when purchased SIM-free, costs almost a grand, the Note 8 makes a few too many annoying blunders. The fingerprint scanner is simply in the wrong place and is difficult to reach with normal-sized hands, while the battery life is a long way off being good enough to get power users through an entire day. The traditional battle between Samsung's software and Google's continues for another year, too - Bixby isn't a match for Google Assistant and there's needless duplication of services once more, with Samsung once again including its own app store.
These are irksome issues but they're by no means deal-breakers, and if you're keen on big-screen experiences in your pocket - and love the additional functionality the S-Pen delivers - there's no real competition for the Note range. If you're not all that fussed about these additional trappings, you might be better off getting the Galaxy S8 or the S8 Plus, the latter of which has a similar-sized display to the Note 8 but costs less.
Samsung Galaxy Note 8 review unit kindly provided by Mobile Fun.