AMD returns to the high-end: Radeon RX Vega unveiled
Two cards to challenge GTX 1070/1080 - and a liquid cooled GPU too.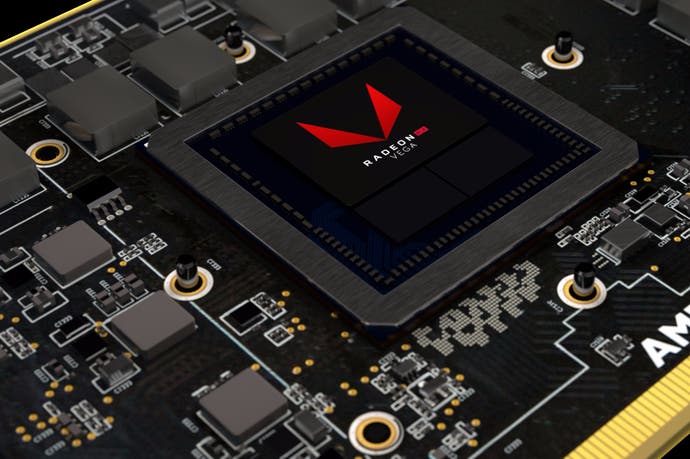 AMD has finally announced details specifications for its next-generation line of RX Vega graphics cards, due for release in August. Two versions of the flagship RX Vega 64 will be available - one with an air-cooler and another with a liquid-cooling solution - while a less expensive, lower performance RX Vega 56 is also set for an August release. The three offerings cover a spectrum of compute power starting at 10.5 teraflops, scaling up to 13.7 teraflops, and all cards utilise 8GB of HBM2 memory.
UK pricing is not available yet, but the RX Vega 56 ships at $399, while the RX Vega 64 costs $499. These prices place the lower-end card directly in competition with Nvidia's GTX 1070, while the Vega 64 is set to challenge the GTX 1080. Meanwhile, the water-cooled Vega 64 is only available as a $699 option in a series of value packs, designed to offer a range of discounts around a complete system upgrade.
Put simply, for the Vega 56 and 64, paying $100 more over the base price gives users a $200 discount on a 34-inch Samsung CF791 curved ultrawide FreeSync monitor, $100 off a purchase of a Ryzen 7/motherboard combo, plus two free Bethesda games with a $120 value. The discounts are immediate, applied to the basket when you buy from selected e-tailers. Again, US pricing has taken point here but we are assured that the deals will extend to the UK and most of Europe, using a similarly immediate 'in the basket' discount.
Adding further spice, two different versions of the air-cooled version of the RX Vega 64 are set for launch - a standard black reference version and a rather swish solid metal limited edition model. We're assured that both have the same vapour chamber thermal solution and performance (we're told that temperatures top out at 75c, an excellent turnout if this is maintained under sustained load) but the more desirable LE card is only available via one of the Radeon value packs. Standalone RX Vega purchases will all be based on the standard 'black' reference card. So, let's take a look at final specs of the consumer cards.

| | Radeon RX Vega 56 | Radeon RX Vega 64 | Radeon RX Vega 64 Watercooled |
| --- | --- | --- | --- |
| Compute Units | 56 | 64 | 64 |
| Stream Processors | 3584 | 4096 | 4096 |
| Base Clock | 1156MHz | 1247MHz | 1406MHz |
| Boost Clock | 1471MHz | 1547MHz | 1677MHz |
| HBM2 Memory | 8GB | 8GB | 8GB |
| Memory Bandwidth | 410GB/s | 484GB/s | 484GB/s |
| Peak FP32 Performance | 10.5TF | 12.66TF | 13.7TF |
| Board Power | 210W | 295W | 345W |
All of the new products are based on the Vega 10 processor, featuring 64 New Compute Units (NCUs), and although key numbers in the specs sheet look rather similar to a much more highly-clocked Fury X, AMD says that every part of the architecture has been refined. Key improvements include the support for double-rate FP16 'half floats' - a feature that is already present in PlayStation 4 Pro, brought forward for the console space from the Vega architecture.
A high bandwidth cache controller also seeks to allow the GPU fast, low latency access to memory beyond the 8GB of onboard HBM2 RAM, while the architecture itself has been tuned for much faster frequencies. Fury X effectively topped out at 1050MHz, RX 580 doesn't push much beyond 1450MHz, while Vega is said to max out at 1700MHz or higher - possibly in the water-cooled version of the card.
AMD talked performance on the air-cooled RX Vega 64, saying that the minimum reported frame-rates are generally higher on their card compared to Nvidia's GTX 1080 (53fps vs 45fps) when benchmarked across nine titles at ultra-wide 1440p resolution (3440x1440). Obviously, vendor-supplied metrics need to be taken with a massive pinch of salt, but AMD is promising big improvements to the variable gaming performance reported from the existing Radeon Vega Frontier Edition, a prosumer version of the card available now. The boosts to performance come from significantly improved drivers and a revision to power delivery, even though consumer card frequencies are mildly downclocked compared to the Frontier Edition.
The watercooled version of the card is also intriguing, adding 131MHz to the maximum boost clock. This may only be part of the story, however. The speed of the existing Vega Frontier Edition card can vary under different workloads at any given point, and with superior thermals, there's the possibility that the watercooled version could sustain higher boost clocks generally, as well as pushing the absolute maximum. However, for now, the air-cooled card is the focus of AMD's marketing efforts.
Meanwhile, at the other end of the spectrum, the cheaper RX Vega 56 loses eight compute units (384 shaders) and clocks are dialled back by around 75MHz. On top of that, the HBM2 memory speed gets a downgrade in the region of 15 per cent, giving us an estimated bandwidth in the region of 410GB/s compared to the 64's 484GB/s.
Overclocking may make up much of the difference, and AMD has mentioned that the cut-down model's core clock can be pushed significantly - though the possibility remains that it'll require more robust third-party thermal solutions to get the best out of the lower-priced offering. We're told that aftermarket versions of the three RX Vega variants are expected in Q4 this year - until then, the only cards available will be the reference versions pictured on this page. In addition to that trio, we should also expect a 150W TDP version of RX Vega, similar to 2015's R9 Nano.
We'll be reviewing the RX Vega products soon, but there are two key takeaways here. First of all, this is AMD's return to the higher-end enthusiast market and if its claims stack up, the competition vs GTX 1070 and GTX 1080 should be fascinating. However, AMD is making no comparisons at all with GTX 1080 Ti, so Nvidia's flagship remains at the top of the stack.
Secondly, the red team is leveraging the launch of Ryzen and the undoubted appeal of variable display refresh technology to put together an overall proposition here that is about more than just the standard 'frames per second' numbers - it's about upgrading in general and getting the most out of the new GPU paired with a massive improvement in the display experience. How this all translates in terms of high-end PC gameplay is something we're looking forward to share with you as soon as we can.
We learned about Radeon RX Vega at a media briefing in Los Angeles. AMD paid for travel and accommodation.