In Theory: How AMD's Ryzen will disrupt the gaming CPU market
UPDATED: It's official. Eight-core Ryzen 7 chips will start at just $329.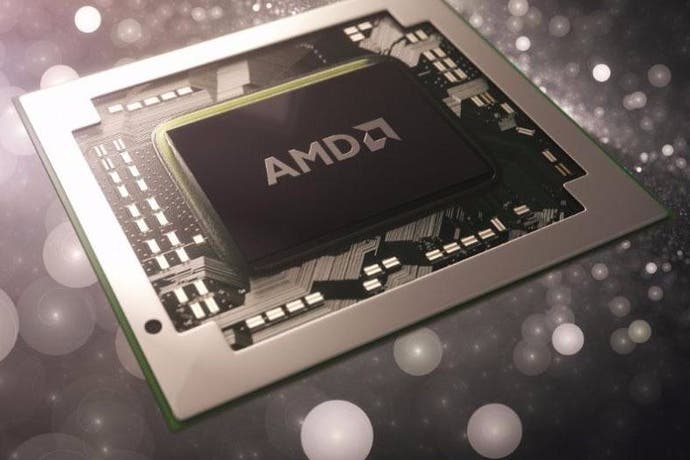 UPDATE 22/2/17 2:50pm: AMD has officially revealed Ryzen 7 - three eight-core/16-thread processors - effectively confirming the leaks discussed below, though prices have shifted slightly. The top-tier Ryzen 7 1800X costs $499, Ryzen 7 1700X is $399, while Ryzen 7 1700 costs just $329. As expected though, AMD is significantly under-cutting Intel's Core i7 6900K with similar performance, while putting serious pressure on the i7 7700K and i7 6800K.
AMD has also revealed that further optimisations have resulted in a chip that outperforms its predecessor to an even greater degree. Previously, an IPC (instructions per clock) boost of 40 per cent was mooted - an increase of 52 per cent is delivered in the final product. AMD has also released more of its own internal benchmarks, showing the top-tier Ryzen 7 1800X matching the single-core performance of Intel's $1000 Core i7 6900K, with multi-core performance pulling ahead by nine per cent. Meanwhile, the cheaper Ryzen 7 1700X beats the Core i7 6800K by 39 per cent in the Cinebench multi-core benchmark, pulling ahead of the 6900K by four per cent.
Ryzen 7 1800X and 1700X feature a 95W TDP, while the lower clocked Ryzen 7 1700 is remarkably frugal for an eight-core chip at just 65W (again verifying previously leaks). Pre-orders start today, and the processor will be available to buy from March 2nd. Reviews for Ryzen 7 will be published on the same day. In amongst the press materials, AMD also provided a die-shot of the full, eight-core processor, which we've reproduced below - click on the thumbnail for a higher resolution image. Expect to hear more about Ryzen 5 and Ryzen 3 soon.

Original story: It's been 11 years since Intel released its first Core 2 Duo processors and a decade since the arrival of the epoch-making Core 2 Quad. It's been a period of complete domination, with multiple AMD architectures failing to break Intel's monopoly on the x86 market. But within weeks, the red team's Ryzen line will be with us, new leaks are arriving by the day and they all tell us the same thing - the price to performance ratio looks astonishing.
Recently, we ran an article on the immediate future of CPU technology - and the prognosis wasn't hugely optimistic. Intel's Kaby Lake saw frequencies pushed to their limits, with no new fabrication node to move onto and no changes to the core architecture whatsoever. The products remain excellent in performance terms, but innovation is stagnant. We wondered how Ryzen could shake things up, bearing in mind that the only processor we'd seen appeared to be targeting Intel's octo-core i7 6900K - a $1000 CPU. It seemed reasonable to assume that AMD would target this premium market first before moving onto mainstream processors, but the reality is now clear: Ryzen is set to be a major disruptive force with highly aggressive pricing across the entire stack. Multiple leaks are suggesting that AMD's top-tier Ryzen processors start at $320 - in the same price range as the Core i7 7700K.
AMD isn't stopping there, as the entire product stack has leaked, from the top-tier Ryzen 7 1800X, right down to the Ryzen 3 1100. The naming convention is clearly intentional; the stack is designed to line up with and compete against Core i3, i5 and i7 mainstream Intel processors. We expect a launch soon based on the top-end Ryzen 7 octo-core parts, but when the full stack is on the market, we should see AMD offering more cores, more threads and more power - assuming that the red team's claims and demos are borne out in real-world testing. Leaked benchmarks certainly look promising.
Starting at the top-end, Ryzen 7 offers twice the number of cores and threads as the Core i7 7700K, with prices in the same ballpark. AMD's more budget-orientated Ryzen i3 faces off against Core i3, offering a pure quad-core part, apparently with prices starting at just $129, if the leaks are to be believed. But it's Ryzen 5 where things get interesting for gamers - there we see a mixture of six-core/12-thread and four-core/eight-thread processors for Core i5 money. This is the gamer's heartland, and the arrival of a well-priced six-core CPU that can compete with Intel is significant for reasons we'll go into shortly.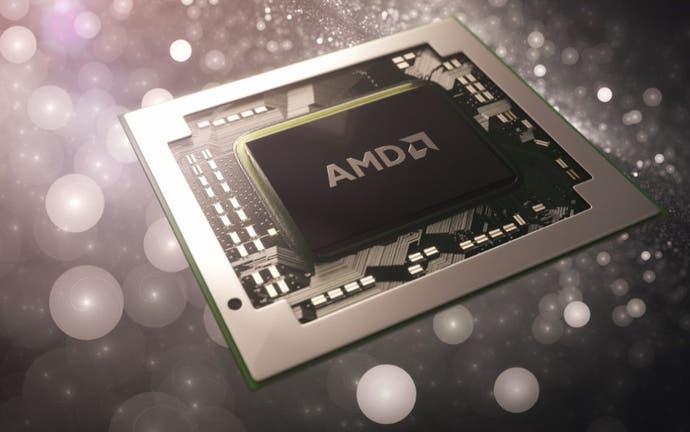 | CPU | Cores/Threads | Base Clock | Boost Clock | XFR Clock | Price |
| --- | --- | --- | --- | --- | --- |
| Ryzen 7 1800X | 8/16 | 3.6GHz | 4.0GHz | 4.0GHz+ | $495 |
| Ryzen 7 1700X | 8/16 | 3.4GHz | 3.8GHz | 3.8GHz+ | $389 |
| Ryzen 7 1700 | 8/16 | 3.0GHz | 3.7GHz | - | $319 |
| Ryzen 5 1600X | 6/12 | 3.3GHz | 3.7GHz | 3.7GHz+ | $259 |
| Ryzen 5 1500 | 6/12 | 3.2GHz | 3.5GHz | - | $229 |
| Ryzen 5 1400X | 4/8 | 3.5GHz | 3.9GHz | 3.9GHz+ | $199 |
| Ryzen 5 1300 | 4/8 | 3.2GHz | 3.5GHz | - | $175 |
| Ryzen 3 1200X | 4/4 | 3.4GHz | 3.8GHz | 3.8GHz+ | $149 |
| Ryzen 3 1100 | 4/4 | 3.2GHz | 3.5GHz | - | $129 |
Looking at the leaked stack, there are some interesting stats to assess. We have base frequencies for each processor, along with turbo clock (an auto-overclock designed to operate within TDP - Intel has something very similar) plus a new variable: XFR clock. The idea with XFR is that attaching a custom cooling solution gives the processor further auto-overclocking headroom, and that's intriguing, because AMD has confirmed that all Ryzen processors can be overclocked - there are no K chips or equivalent here, which begs the question of what the difference is between X and non-X processors. Not included in the table is a further line of 'Pro' chips - and quite what sets them apart isn't clear, though support for enterprise features seems like a reasonable guess.
So on paper at least, Ryzen is looking sensational in terms of price vs performance, and various leaked synthetic benchmarks have appeared showing the architecture competitive with Intel's eight-core behemoths, such as the Core i7 5960X, based on the Haswell architecture - and its Broadwell-based successor, the Core i7 6900K. Which leads us onto two questions: firstly, how will gaming performance pan out, and secondly - just how is a much smaller company able to undercut Intel so massively? Has Intel really been ripping us off over the last decade?
To address gaming performance first, two variables are at play - IPC (instructions per clock) and frequency. Having fast single-thread performance compared with high clock speeds tends to be vey important for gaming, which explains why the Core i7 6700K managed to narrowly beat out both the six-core i7 5820K and the eight-core 5960X in our gaming CPU face-off last year. Two generations of IPC improvements along with higher clocks - remarkably - proved to be far more beneficial than more cores. Based on AMD's own tests, still to be confirmed outside of controlled conditions, Ryzen has single-thread performance on par with Intel's older Broadwell architecture and the stated clocks are lower than the new i7 7700K.
| Titan X OC (Average FPS) | i7 6700K/ 3000MHz DDR4 | i7 6700K 4.6GHz/ 3000MHz DDR4 | i7 5820K/ 3200MHz DDR4 | i7 5820K 4.6GHz/ 3200MHz DDR4 | i7 5960X/ 3200MHz DDR4 | i7 5960X 4.4GHz/ 3200MHz DDR4 |
| --- | --- | --- | --- | --- | --- | --- |
| Assassin's Creed Unity, Ultra High, FXAA | 88.4 | 89.3 | 84.2 | 84.6 | 84.4 | 84.6 |
| Crysis 3, Very High, SMAA | 124.4 | 124.7 | 119.4 | 120.8 | 124.4 | 125.5 |
| Grand Theft Auto 5, Ultra, no MSAA | 89.4 | 92.7 | 79.0 | 86.7 | 81.9 | 90.3 |
| Far Cry 4, Ultra, SMAA | 120.4 | 125.9 | 92.0 | 104.5 | 84.8 | 95.4 |
| Shadow of Mordor, Ultra, FXAA | 141.0 | 142.9 | 139.6 | 139.5 | 139.9 | 139.9 |
| The Witcher 3, Ultra, HairWorks Off, Custom AA | 105.8 | 106.4 | 103.4 | 103.4 | 103.5 | 103.8 |
It's only a supposition for now of course, but if the top-tier Ryzen chip behaves like an Intel octo-core chip as AMD suggests, the chances are that the Core i7 7700K will remain the overall fastest gaming CPU on the market through sheer frequency, if nothing else. However, if we look at our results overall, the lack of variation between the six-core and eight-core Intel chips is telling - and the 6700K's lead is hardly earth-shattering. Very, very little divides them and it may suggest that those six core/12 thread Ryzen 5 chips could offer monstrous value, particularly if clocks can be pushed beyond 4GHz. Kaby Lake can hit 4.8GHz easily via overclocking - right now we just don't know how far Ryzen can be pushed. Being fast is important of course, but offering enhanced value is where AMD could really make a difference here.
In all areas, Ryzen is looking highly promising - TDP is looking extremely promising suggesting excellent power efficiency, while AMD's core is actually 10 per cent smaller than Intel's. The question is, are there any chinks in the armour? Can a company with an R&D budget a fraction of Intel's really compete? Well, we do know that there are some compromises in the Ryzen design. For example, Ryzen's support for AVX instructions is 128-bit in nature, meaning two cycles are required to achieve what an Intel core does in one. However, Intel's bargain basement Pentium G4560 has no AVX2 support, and this appears to have little impact on gaming performance.
Ryzen also compromises in another area, which leads us on to the second point we previously raised - has Intel been ripping us off, safe in the knowledge that until this point it has had no competition? It's fair to say that the firm has leveraged its position (particularly on the six, eight and ten-core enthusiast CPUs) but it would be remiss of us not to point out a key difference between Ryzen and Intel's mainstream Core processors: the presence of an integrated GPU. Take a look at an Intel die-shot and you can see that the graphics component takes up a huge amount of space that adds to the cost of production, whether you use it or not. Ryzen has no dedicated on-die GPU, as you can see in the image below, meaning that the same space can be used for more cores and cache.
For producers of low-end, non-gaming PCs, Ryzen may not prove so attractive as they will need to add bespoke graphics hardware to their builds - at least until AMD's new wave of APUs appear. However, it's happy days for the players: the integrated graphics chip is rarely used on a PC build dedicated to gaming - effectively making it dead silicon - so why not beef up CPU power instead? And let's not forget that even if gaming doesn't fully utilise those additional cores, that's not to say that they won't be used at all. Streamers often prefer the quality found from software video encoding, and dedicating a couple of spare cores to h.264 encoding without impacting gameplay performance can be very useful. On top of that, a PC has many uses outside of gaming too - it's hard to believe that Ryzen won't be highly attractive to video content creators, for example.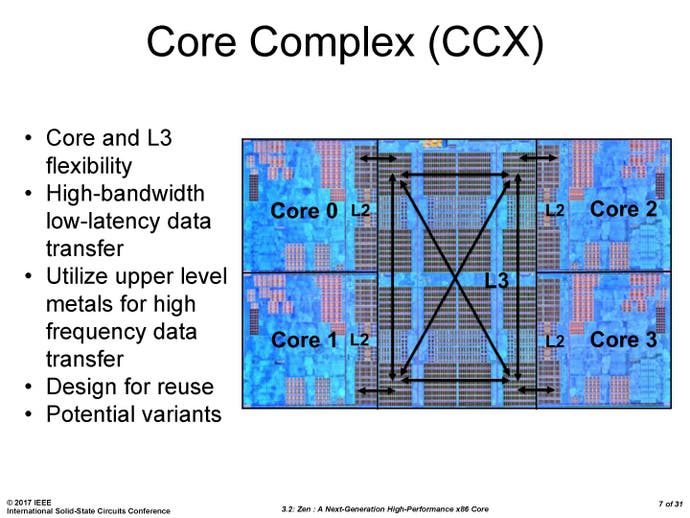 Potentially, there's much to get excited about here in just how much performance we're getting for the money here - even for the budget gaming PC builder. At the absolute bottom end, the Pentium G4560 still looks unassailable, but assuming Ryzen can indeed match up to an Intel Broadwell processor, the entry-level Ryzen 3 1100 should offer superb gaming performance up there with a modern i5, even before we factor in the overclocking potential of the chip.
There are also other factors to consider too - such as AMD's track record in providing gamer-friendly features on entry-level motherboards. We recently benchmarked an Athlon X4 860K on a bargain basement FM2+ board as part of our Pentium G4560 review. CPU performance wasn't exactly great, but the board itself allowed for easy multiplier overclocking and supported fast RAM - two elements reserved only for the most expensive chipsets on Intel boards. We really hope to see these aspects continue onto the next generation of cheaper AMD platforms. Of course, the limitation of all of AMD's prior platforms has been lack of upgradability - but that's a thing of the past with the new AM4 boards, which should allow for easy upgrading between all Ryzen parts and the upcoming APUs too.
New processors, new architecture, new platforms, DDR4 support - Ryzen potentially catapults AMD back into contention in the x86 space for PC gaming and more. Assuming the pricing and configuration details we've seen pan out - and there is close convergence in all of the recent leaks - Ryzen could have a profound impact on the price of a highly creditable gaming PC. And for those still holding on to their 2500Ks and 3570Ks, perhaps this potential leap in price vs performance might finally convince those users to upgrade.