PC's Resident Evil Zero HD remaster shows us how the original game was made
Plus, our full triple-format Face-Off.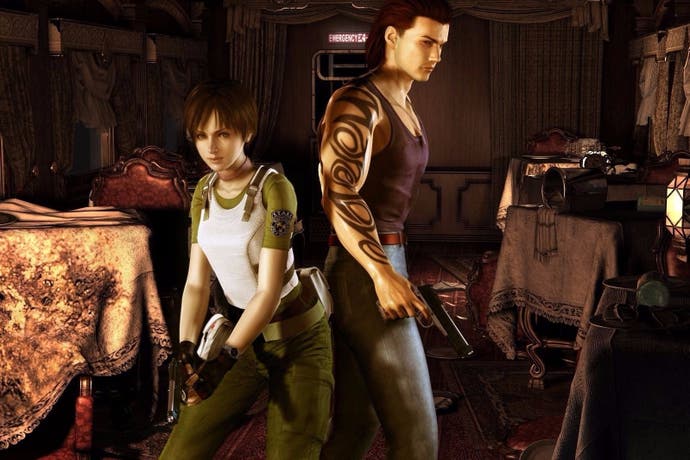 On the face of it, the PC version of the Resident Evil Zero HD remaster offers only an incremental upgrade over its companion console releases. The full HD presentation, improved lighting and effects, upgraded character models and optional widescreen mode are joined by a new 60fps mode, plus improved anti-aliasing - but not a whole lot more. But what's fascinating about this release is the contents of its install directory: Resident Evil Zero HD on PC actually give us some idea about how the original game was put together.
However, booting it up for the first time, PC's unique 60fps setting is the most immediate difference to console (though there's an option to match this 30fps experience, plus support for higher values). A game in this style doesn't demand rapid reflexes to succeed; it's Resident Evil in the classic mould, where solving puzzles takes precedent over the action. But even with its fixed camera angles, there's no doubt that Rebecca's motions are smoother at 60fps compared to the locked 30fps on PS4 and Xbox One - a doubling in refresh that's easier on the eye overall.
The exception to this are the backgrounds - and that's where the PC version's install directory is so illuminating in that it shows how the original game worked, and also how Capcom has increased fidelity for the remaster. Divided by folder for each area (such as the Train sequence, Arklay Mountains, or the Chemical Plant) all of the backdrops in the game are actually 30fps video files, available for viewing as an individual MP4s you can watch on any media player. It's here where certain details are gleaned: firstly, that every pre-rendered backdrops animates to one or two second loop. Secondly, that despite the game being output at 1080p on our machine, the actual backdrops are rendered at an entirely different resolution.
The properties of each file shows that most of the backgrounds (particularly on the train sequence) are stored at an unusual resolution of 1588x1392 - while later spots decode at 1536x1344. Essentially, both values are lower than the 1920x1080 on the horizontal axis - for those playing in 4:3, this means you'll be getting a near 1:1 pixel match on the horizontal scale (with the side portions of the screen boxed out, and the active pixels matching the output resolution). Meanwhile the vertical axis is downscaled from 1392 lines to 1080, which ultimately does the image no harm, and in theory gives a slight super-sampling effect on this axis.
There's a small downside to this: those playing with the new 16:9 mode are filling the width of their 1920-pixel wide screen with a 1588 render. Clarity holds up nicely still in this aspect ratio, but it means that details aren't delivered at a precise match for the full HD standard. As for the extended vertical resolution, the 16:9 mode is designed to pan up and down this space when set to widescreen mode. In practise, with PC running at 1080p, this scrolling effect mitigates the issue when it comes to the unusual vertical resolution.
With this video file as a base, embellishments are added on top in order to bring each scene to life. Backgrounds are 2D by nature but on top of this, Capcom adds polygon-based geometry, such as character models and zombies. Additionally, the remaster's new transparency effects, such as fire and rain, are layered in a separate pass to the foreground or background. As a final composite of all these elements the scene is complete, and in the case of the walk across the train carriage roof, add a great degree of atmosphere to a shot.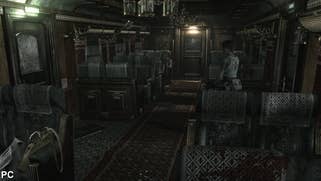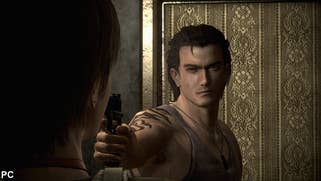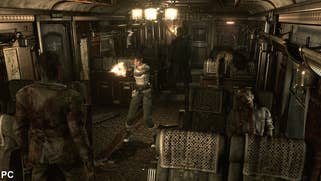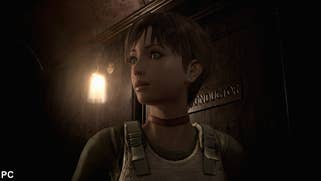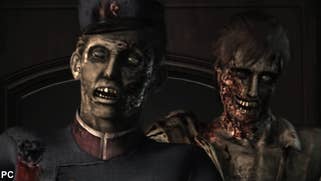 In effect, Resident Evil Zero HD on PC runs at two different frame-rates then - the user-definable value set in the options, plus the hard-locked 30fps of the base background files. In the end, having the game animate at two separate rates doesn't distract (the backgrounds are mostly static, after all) but it is a curious hold-over from a different era in game design.
A look at the PC's graphics menu is also insightful. Texture and shadow quality settings are found here (going from low to high) where ultimately PS4 matches both at maximum settings as you'd expect. In direct comparison, both consoles use the exact same background assets as PC, and in every other facet the three versions are identical. Each outputs at 1080p, feature new lighting effects such as bloom, matching shadows resolution, textures, and even the quality of alpha effects in certain scenes.
It's the full deal on console then, though there are some shortfalls. For example, PS4 and Xbox One miss out on PC's superior anti-aliasing modes. There are three on offer in its menu, going from standard FXAA as used on console, to superior FXAA3 and HQ variants - the latter of which deals with the stair-steps on geometric elements, without producing the slight softening effect we see on consoles. PC's presentation of each area is often noticeably sharper as a result, though in effect, it takes side-by-side-comparison to spot.
Alternative comparison: Resident Evil Zero HD Remaster: PS4 vs Xbox One real-time comparison
Also on level terms are the video cut-scenes. In last year's Resident Evil remaster, PC reserved higher quality encodes of each pre-rendered video sequence - reducing the level of compression during fast motion. Unfortunately, the macro-blocking we see in the PS4 and Xbox One assets make their way to PC this time, and there's no higher quality option. The install directory only shows 1080p and 720p encoded instances of each, and in either case the results are softer than we'd expect. It's perhaps the least flattering aspect of this remaster, where the in-game backdrops are treated more care.
Elsewhere, a few other differences are worth mentioning. For one, our SSD-equipped PC regularly showed fewer issues with stuttering in between camera changes. Consoles running on stock 5400rpm HDDs can noticeably hitch as characters meet the edge of a screen, but the issue is evidently minimised on hardware with faster seek times.
Another unusual point is the absence of one specific post-processing effect on PC. In real-time cut-scenes, the maxed-out PC version lacks a depth of field pass on foreground characters, notably on Rebecca as she meets Billy for the first time. It's a simple implementation, and it's surprising to see it missing on any one format, as we do here. It's possible this is an oversight that simply hadn't been corrected by Capcom by release.
Complaints are otherwise few and far between though, and we're pleased with the bonus extras PC owners are privy to - even if they're not complete game changers. It's smoother at 60fps, looks clearer with its better anti-aliasing - though somewhat arbitrarily misses out on one small effect. Taken as a whole, the project is a success on all three formats and PS4, Xbox One, and PC owners can all enjoy a remaster that's high on respect for the design choices of the GameCube original.