DF Retro: How Shadow of the Colossus pushed PS2 to its limits
In-depth analysis of the Team Ico classic rounds off Digital Foundry's 2016 retro collection.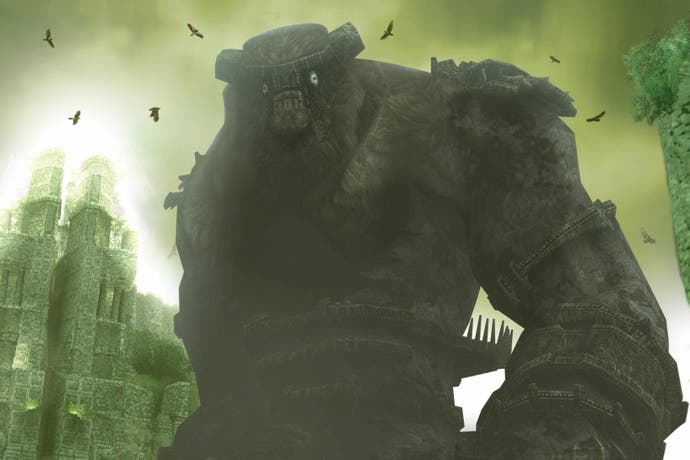 Welcome to the world of Digital Foundry Retro. Every weekend - or as frequently as we can schedule it - DF Retro brings us a new story based on a significant release in gaming history, backed by exemplary, clean capture taken using original console hardware. It's a great way to revisit the classics while reflecting on what made each game so special in its day. Check back often for brand new episodes as we update this article with the latest videos.
This week, John Linneman rounds off the Digital Foundry 2016 retro collection with an in-depth retrospective on the second of Fumito Ueda's PS2 classics - Shadow of the Colossus. You'll get to see pristine footage of the game's early concept work, analysis on how the title used new techniques to create its world and characters. And yes, via new captures taken using original PS2 hardware, you'll get to see just how 'cinematic' the frame-rate actually was.
And on top of all this, we check out the best way to play the title today on more modern hardware. Can emulation do a reasonable job of tackling one of PS2's most challenging titles? Alternatively, just how well did Bluepoint Games manage to remaster the Team Ico masterpiece on PlayStation 3? All this - and more - is addressed in this 19 minute special.
But of course, Shadow of the Colossus wasn't Fumito Ueda's first PS2 outing. Next up, we journey back to 2001 to revisit the classic Ico for PlayStation 2 - the first Ueda classic. John Linneman is your guide as Digital Foundry assesses Ico's beautiful technology, charting its journey from the original PlayStation across to PS2, as well as covering Bluepoint's excellent last-gen remaster.
As usual, there's plenty of behind-the-scenes footage and rare curios - if you want to see Ico running on original PS2 hardware at 60 frames per second (double its usual output), along with a host of debug options, John's got you covered. There's also in-depth analysis on the special techniques used in creating this title's unique presentation.
This one is a very special episode - an extended 33 minute analysis of AM2's classic Shenmue 2. John Linneman covers off the game's notable technological achievements, the changes made from the first game along with deep dive comparisons stacking up the original Dreamcast version with the Xbox port that arrived a year later.
On top of that, we discuss the options available for playing the game today, whether it's running the original Xbox release under backward compatibility on Xbox 360, or exploring emulation. A lot of love was poured into this episode of DF Retro - we hope you enjoy it.
We actually published our original Shenmue retrospective back in June, but it works best as a companion piece to the sequel analysis, so we've bumped it up to sit alongside its stablemate. It was one of John's very first retro projects, weeks (indeed months) in the making, so we're happy to repromote it today.
What is it that made this turn of the century videogame so special? What are the technological aspects of this Yu Suzuki/AM2 masterpiece that truly make it a game ahead of its time? Back in the day, just how well did it perform on original Dreamcast hardware (spoilers: surprisingly well, bearing in mind the scale and scope of the game!). And in the here and now, with Shenmue 3 in development, what's the best way to revisit the first game? Emulation or original hardware?
In this DF Retro episode, John celebrates the 20th anniversary of Tomb Raider with an in-depth analysis of the first Lara Croft adventure - from a look at the technical innards of the game through to the long awaited and much requested PlayStation vs Saturn platform comparison. Plus of course, there's a look at the PC version too, plus the later remake.
And of course, as is par for the course with DF Retro, John suggests the best way for playing the game using today's hardware and as is perhaps to be expected, it's a modified PC version that retains the spirit and gameplay of the original but cleans up some of the issues in the original release.
Next up, John examines Nintendo's phenomenal Metroid Prime. With the series originally designed as a 2D platformer, the Metroid titles enjoyed huge success on NES, Game Boy and SNES - but there was no Metroid title for Nintendo's first true 3D console, the N64. In truth, it seemed that the platform holder just didn't know how to evolve the franchise.
A collaboration between Nintendo and the then newly formed Retro Studios, Metroid Prime is a technical masterpiece for the GameCube - a 60fps mostly first-person adventure that sees the platform holder dare to radically evolve the franchise to make the best of new technology. It's a fascinating story and one we're happy to share with you.
This instalment focuses on Origin Systems and the Crusader series. As one of the most prolific PC developers during the 80s and 90s, Origin was known for producing high-end games which pushed the PC platform to its limits. Crusader: No Remorse is one such game which offered high resolution SVGA graphics and fully destructible environments back in 1995.
We also take a look at its pseudo-sequel, Crusader: No Regret, along with the two console conversions of No Remorse on the PlayStation and Saturn. While the series was a success at the time, a proper sequel was never produced despite many attempts. These days, a number of key Origin staff including Crusader creator Tony Zurovec, reside at Roberts Space Industries working on Star Citizen.
The next episode takes us back to the PS2 era, where John analyses what made Silent Hill 2 such a technologically progressive game, from the stunning use of real-time lighting, shadow and atmospheric rendering through to the breathtaking art direction and the state-of-the-art audio.
Unfortunately, beyond that, it's a story of disappointment and compromise as each subsequent port of the game - first on Xbox, then on PC - gradually chipped away at the technological brilliant of the original, culminating in a new, unintended horror in the form of the awful PS3 and Xbox 360 'HD collection' release. Silent Hill 2 deserves better. Right now, it's best played on original hardware but perhaps this is one for Sony's PS2 Classics emulator for PlayStation 4?
In this segment, John revisits one of the most important arcade releases of the 90s - Sega's epoch-making Daytona USA. Built on Model 2 hardware, Daytona is a shining example of an age where arcade gaming technology was generations beyond what the home consoles could offer.
Daytona also highlights that the importance of frame-rate isn't necessarily an issue just for modern gaming - Sega's iconic racer played host to a range of home conversions across the years that simply couldn't match the original, and poor frame-rate was the key reason why the original Sega Saturn port just couldn't capture the experience of the classic arcade title. John's analysis doesn't just cover the Saturn conversion though - every single port and sequel is covered.
In this episode of DF Retro, Shiny Entertainment's brilliant MDK takes centre stage. John goes into depth on the origins of the studio, the beginnings of the game itself and takes apart one of the best software-based 3D renderers of its time - a title that pushed asset quality so high, the fledgling 3D accelerator boards of the time actually presented a downgrade in visual quality in some respects.
It's a title we really enjoyed revisiting - and it still holds up pretty well 19 years on from its launch - so in common with our other DF Retro stories, we also look into the best way to play the game on today's hardware.
The Activision of yesteryear was a very different entity to the blockbuster franchise behemoth we have today, specialising more in top-tier PC gaming entertainment. It published a host of classic titles, but arguably, it is Mechwarrior 2 that was the jewel in its crown. A sequel to the 1989 Mechwarrior original, the game excelled owing to its innovative gameplay that encompassed custom load-outs and - yes - heat management. The title proved so popular, it continued to be upgraded and re-published over the years, resulting in 38 different releases.
The release of Windows 95 and the emergence of a range of 3D accelerator cards for PC ups the version count significantly, but it's interesting to note that the various 3D upgrades didn't always have a positive impact on the quality of the game. In this video, we take a look at all the major releases, weighing up the pros and cons - plus we examine the Sega Saturn and Sony PlayStation console versions too.
Next up, a title that may well be one of our very favourite games. Ridge Racer 5 was the very first game to 'go gold' on Sony's fledgling PlayStation 2. It's an iconic release in many ways, not least for its approach to 60fps rendering and its astonishing, fully real-time intro sequence. And for our money, it's the pinnacle of Ridge playability - the best iteration of its insane drifting model. Oh, and a console first for in-game depth of field? Perhaps.
However, as much as we love Ridge Racer 5, it's Type 4 on the original PlayStation that may well be the most beloved of the old-school Ridge titles, so we also return to that title too, concentrating on its superb art direction, its beautiful lighting, plus the techniques Namco used to sidestep some of the original PlayStation's most glaring deficiencies in 3D rendering. Oh, and remember the old 60fps Ridge Racer Turbo edition included with Type 4? We've got that covered too. We loved putting this video together - not just for the gameplay but for revisiting some of gaming's best soundtracks.
In the wake of Deus Ex Mankind Divided's release, we're going all the way back to the original Deus Ex. This classic game helped redefine what we expect from PC gaming and cemented Warren Spector as one of the greatest creators in gaming. We start with a quick refresher on Spector's previous works before diving into Deus Ex itself and the engine powering the game.
Then we fire up the PlayStation 2 version of Deus Ex and discover a remarkable port which manages to translate the PC-focused original to a gamepad. The port was handled by members of the original development team and includes a surprising number of visual improvements which we compare with the PC original. Finishing up, we talk about the best way to play the original game today.
Following on from that, we explore two classic Nintendo 64 shooters from Rare - GoldenEye 007 and Perfect Dark. We kick off with GoldenEye, exploring the game's accomplishments and its performance on a real Nintendo 64. We also demonstrate how the game looks and runs with the N64's anti-aliasing feature disabled - and the results are surprising. We also consider what could have been with the cancelled Xbox 360 release of GoldenEye while taking a look at other GoldenEye-themed releases.
Then we jump over to Perfect Dark, one of the most technically accomplished games for Nintendo's 64-bit system. With a renewed focus on lighting, shadow, and animation, Perfect Dark pushed the console to the breaking point. We see how the game's frame-rate stacks up in both high and low resolution modes as well as in four player split-screen. Just how low can the frame-rate go? We aim to find out. As a bonus, we take a look at 4J's excellent Xbox 360 port, which sees the visuals boosted to full 1080p with new textures and models.
In our next episode of DF Retro, John returns to the world of Half-Life for a look at its sequel - Half-Life 2. We kick off with a look at the game's E3 2003 tech demo and its eventual leak with an interesting look at a game in development. Even in its incomplete state, there is a lot of interesting information to glean from this version of the title.
We then revisit Half-Life 2 across every major platform from its original PC release running on vintage hardware to the Japanese exclusive arcade game and, the various console ports including the original Xbox version. We even take the time to install the launch day version of Half-Life 2 from its original DVD on a Pentium 4 PC from that era with interesting results. We finish up by checking out a couple of mods, including the Cinematic Mod and Half-Life 2: Update both of which change the game in interesting ways.
In our next episode, we look back wistfully on Nintendo launches of the past. John dives into the most impressive and influential games available at launch for each of Nintendo's major consoles. We start with a look at 1985's Super Mario Brothers, the classic 2D platformer which changed the gaming landscape followed by its 16-bit follow-up Super Mario World.
Then it's off to the land of Project Reality with a look at Nintendo 64's premiere launch title - Super Mario 64 and the not-quite-launch but similarly impressive Wave Race 64. As we move into the next century, Nintendo launches the GameCube with a number of games including Luigi's Mansion and the beautiful Star Wars Rogue Squadron 2: Rogue Leader. But that's not all, we finish up with a look at the Nintendo Wii and its ground breaking pack-in game Wii Sports.
In this next episode, John takes a close look at classic action adventure, Castlevania: Symphony of the Night. How did the game function on Sony's PlayStation and what went wrong with the Sega Saturn port? By delving deeply into how each system functions, we're able to gain new insight and better understand why this version failed to deliver. We also take a look at the Xbox Live Arcade release of the game and the re-translated version included in the PSP release of Castlevania: The Dracula X Chronicles.
Next up, John tackles one of gaming's most celebrated games: Half-Life. Before developing its Source technology, Valve stuck doggedly with the original Quake engine. We take a look at how Valve utilised idTech initially, with a look at the 1997 alpha code - which the developer canned, rebooting the project almost from scratch. And after that, we take a look at the quality of the console ports: the PlayStation 2 release and the cancelled Dreamcast version. Comparisons, performance metrics - you name it, we've got it. But that isn't the end of the Half-Life story: we finish up by checking out Half-Life Source and Black Mesa, the most modern ways available to experience the original game.
OK, so this one's very close to my heart. 20 years ago, I was the editor of the UK Official Sega Saturn Magazine, and one of my favourite games back then was Lobotomy Software's Exhumed (aka PowerSlave). It was a state of the art FPS backed by terrific engine technology - which made Lobotomy the perfect choice to handle the only console conversion of the original Quake [UPDATE: My mistake here - there was an N64 version too]. It shouldn't have been possible, but somehow this immensely talented developer pulled it off. In this video, John takes a look at how Lobotomy achieved this impossible port.
And contemporary with Quake, battling for the hearts and minds of 20th century PC gamers, we have 3D Realms' Duke Nukem 3D. In this DF Retro episode, John stacks up virtually every console conversion of the port available, concentrating on the N64, Saturn (via Lobotomy Software - again!) and the PlayStation 1 versions. The Sony code in particular is fascinating - it seems to mostly ignore the console's custom hardware and instead ports the PC's software renderer, with startlingly poor results. But there's more Duke awaiting you at the end of this one - including a quick look at the Mega Drive version (!).
And finally, the current DF Retro library concludes with a look at Unreal Engine's console debut. These days, Unreal technology is synonymous with multi-platform development, with UE3 in particular providing the technical foundation for many of last-gen's most successful franchises. John takes a look at the original Unreal on PC, then we fast-forward to Unreal Tournament - the first time that we got to see Epic's engine technology deployed on console. So, which version of UT was most impressive - Dreamcast or PlayStation 2? We stack them up, using today's analysis techniques and performance testing technology to see which version best captured the original PC experience. Plus: enjoy some bonus 'young Cliffy B' footage.
So this is Digital Foundry Retro. It started as something of an experiment - a passion project for John, really - but it's quickly found a strong following on YouTube and we wanted to share our work with you here on Eurogamer. If you have any suggestions for titles you'd like us to take a look at, or for more retro Face-Offs, do let us know.
So that's the retro pitch. If you like the content, do check out the Digital Foundry YouTube channel, and if you like what you see, do subscribe to ensure you don't miss a thing.