Blackmagic Video Assist review
£350 buys you a broadcast quality 1080p60 mobile capture device that works beautifully with gaming hardware.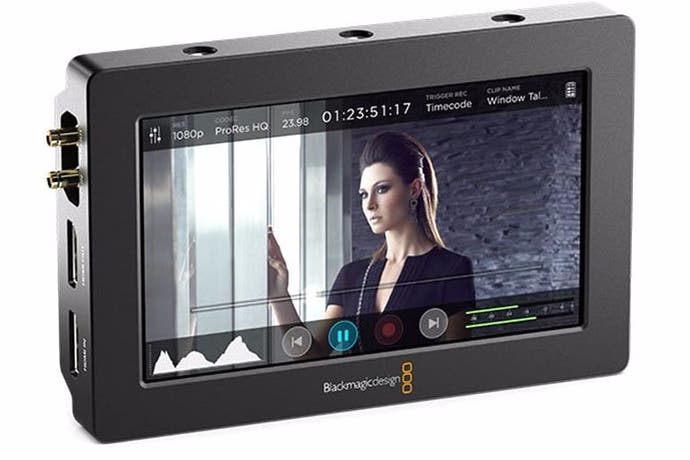 Video capture is a key component in virtually every Digital Foundry article we produce. Since 2007, our mantra has been to grab every last pixel pumped out by console HDMI port in order to produce evidence-driven analysis - and back in the day that involved working with companies specialising in medical and military imaging in order to create bespoke capture solutions that simply didn't exist at the time. But things have changed: PCs that used to cost us thousands to build back in the day have been replaced by commodity devices offering excellent quality at a very low cost - which sums up Blackmagic's new £350/$499 Video Assist quite succinctly.
In essence, it is capable of grabbing virtually any HDMI signal up to 1080p at 60Hz, compressing video on the fly using Apple's broadcast quality ProRes codec. It's battery-driven with a five-inch 1080p touchscreen, and as long as there's no HDCP content protection encryption on the signal, everything records effortlessly onto high-speed SD cards. Mainstream capture devices like Elgato's creditable HD60 cost £120/$180 but require you to attach a moderately powerful PC. The Video Assist blows it out of the water quality-wise, it's entirely self-contained, and also supports broadcast standard SDI - that's a stunning spec at this price-point.
Of course, this device isn't aimed at gamers - the fact it supports gaming consoles at all is actually quite fortunate, bearing in mind the lacklustre support for RGB HDMI found in most of Blackmagic's other budget-orientated capture products. The target market for this machine is actually professional videographers using DLSRs - the idea is to circumvent sub-optimal out-of-the-camera h.264 compression and use the HDMI/SDI outputs to acquire superior quality video. Base image quality jumps from the camera standard 8-bit YUV 4:2:0 used in h.264 to 10-bit 4:2:2 - on top of the vastly improved compression ProRes offers.
The five-inch touchscreen also doubles up as a monitor, a marked improvement over the tiny LCDs and viewfinders you get with a typical DSLR - plus a recent firmware update has added focus peaking: this adds a green highlight to the areas of the image in focus. Again, this makes life significantly easier when preparing your shots. For owners of some DSLRs - such as the Canon 7D Mark 1 - there's also the annoyance of shots being time-limited before the capture cuts off. This is not an issue with the Video Assist.
In terms of its physical form factor, the device itself is small and light, with mounts top and bottom for attaching to a camera rail or tripod. The underside features a kickstand while the left accommodates both HDMI and SDI inputs and outputs (yes, there's a passthrough - useful for gamers). The device can also be used as a converter box to switch between the two formats. On the right we have the power button, power input, 3.5mm stereo jack for headphones plus the SD card slot.
Utilising SD cards for storage is both a good and a bad thing. Ideally, we would have preferred SSDs for storage - cost per gig is actually lower compared to the high-end SD cards you'll need to run the Video Assist at its best. You'll need to cough up £68 for the recommended Samsung Extreme Pro cards required to sustain the write speeds required to capture the top-end ProRes HQ at 1080p60. Even standard ProRes requires a similarly meaty card.
However, you can get by using cheaper SD cards with the two lower-end compression options: ProRes PR and ProRes LT. While we can't really recommend ProRes PR, we were really surprised at just how well ProRes LT held up - bandwidth consumption is reasonable at 26MB/s (though this figure alters depending on complexity of content - ProRes is a variable bit-rate codec) and the quality is still a massive leap ahead of h.264. We can also assume that for 720p60 last-gen capture, or other camera-orientated formats such as 1080i30 or 1080p24, bandwidth requirements also lower accordingly, allowing for cheaper cards.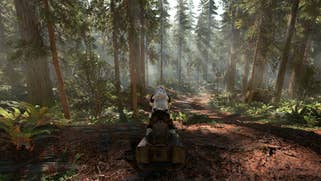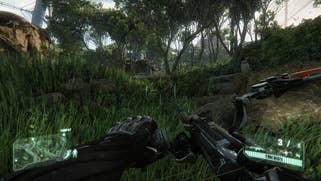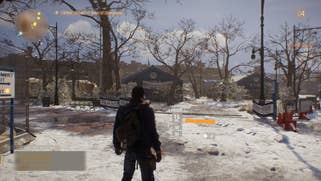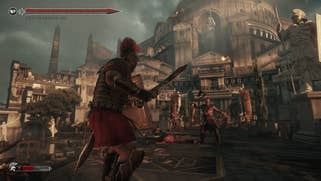 There are other smart design choices too - on the rear of the device there are two battery bays for powering the device, with Blackmagic choosing to utilise Canon's LP-E6 format batteries used on virtually all of its DSLRs. The market is awash with cheap clones that run just fine, meaning you can stack up with supplies without breaking the bank. The device drains one battery before drawing on the other, meaning you can jockey them to maintain continuous capture. However, when plugged into the mains, the Video Assist charges both in parallel. Battery life adjusts depending on compression and image formats, but at 1080p60, you can burn through a battery pack in less than half an hour. The rear of the device also has a vent, behind which is a fan - it's quiet enough, but illustrates that there's actually a fair amount of processing power required here to get the job done.
In terms of convenience and quality, there's nothing quite like the Video Assist in this price bracket, whether you're using it for game footage acquisition, or as it was intended - as a monitor/enhanced capture option for DSLR image capture. Blackmagic Design products do have a nasty habit of launching in something very much like a beta state (the amazing value of its Intensity Pro 4K capture card was for nought when RGB HDMI sources were not working properly for months after launch) and true to form, the Video Assist did have some problems before its recent firmware update. To this day there still seem to be connectivity issues with some cameras - but we had no issue testing PlayStation 4, or hooking up the Canon 7D Mark 2 we use for filming.
If you are interested in using this for camera work, our advice would be to check the Blackmagic Support forums to see if other users are having problems with your kit. Right now, the only real issue we have is that its advertised support for Avid's DNxHD codec still seems to be missing. This shouldn't be a big deal in the great scheme of things though: ProRes may be an Apple codec, but it still works fine on PC just as long as Quicktime is installed. Also bear in mind that Blackmagic's mini-SDI cable format is utilised here, as opposed to the standard BNC type cables, meaning you'll need to shell out for the adapters required if you are using the SDI format (we typically require this for plumbing into video outputs at events like E3).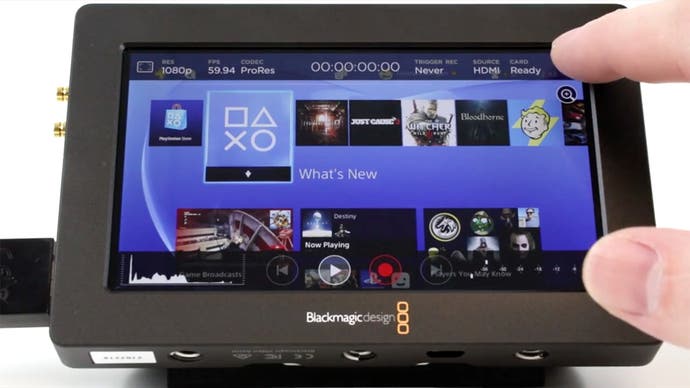 Blackmagic Video Assist - the Digital Foundry verdict
So why did we buy this device? ProRes quality is all and good, but it lacks the mathematically lossless precision we prefer to plug into our analysis tools. For capture on the go, we have our own USB 3.0 solution, connected to an ultrabook for press trips requiring mobile capture, but it's always good to have a backup solution just in case, plus the SDI support is invaluable for plumbing into broadcast outputs at events. As an all-in-one package that's so small and so light, it's irresistible. And if - like most video content producers - you don't require lossless video, ProRes works beautifully.
There are other considerations too - all of which go back to the complete integration the product offers. Typically, capturing on PC or exporting a video sucks up system resources to the detriment of everything else running on the system. Unless you're running a six or eight-core processor, these computationally intensive tasks can't be run simultaneously without dropping frames while grabbing video. There's a workflow advantage here in being able to hive off the capture work to an entirely dedicated device - just make sure you have a fast SD card reader for moving the data across to your workstation.
There are other devices out there that comprehensively address the weaknesses of the Video Assist (the Atomos Shogun for example, with a larger screen, SSD support plus 4K30 capture) but none of them are this cheap with a feature set this comprehensive. At £350/$499, the value proposition here is immense - to the point where it becomes a great option even for more casual video producers.