Alienware Alpha R2 review
The ultra-compact gaming PC gets a big graphics upgrade.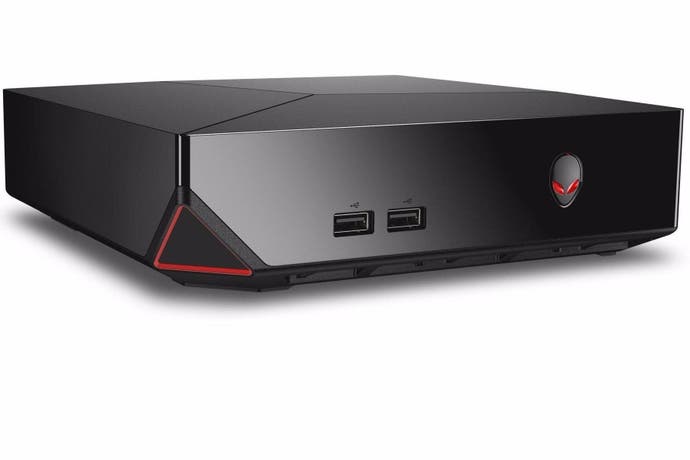 Three years into their respective lifecycles, Xbox One and PlayStation 4 have relaunched in smaller, slimmer incarnations - but neither of them holds a candle to the Alienware Alpha's form-factor. It remains an absolutely tiny, ultra-cute piece of PC technology - and this new R2 incarnation is now a whole lot more powerful, having swapped out its Nvidia GTX 860M for a new range of GPU options, the flagship model boasting a GeForce GTX 960.
And that's the version of the hardware we're reviewing here today. The Alpha shifts from Intel's Haswell to Skylake CPU architecture so Alienware has crafted a new mainboard for the R2 Alpha, and this new model also moves from DDR3 to higher bandwidth DDR4 - with a single 8GB module of Hynix laptop-format SODIMM RAM included as standard. This seemingly limits the Alpha to single-channel bandwidth. CPU resources are limited as it is, and hobbling memory bandwidth with a single SODIMM won't help matters there [UPDATE: Corrected error on RAM slot configuration].
The Alpha supplied by Alienware comes equipped with a Skylake Core i5 6400T running at a mere 2.2GHz, but it's really the GTX 960 that is the star of the show, offering up a good 50 per cent of additional performance over the old GTX 860M. Although it's a seemingly bespoke part - it's soldered on directly to the motherboard - it works just like a standard GTX 960, meaning that no custom drivers are required, and you can access all of Nvidia's downloads, driver updates and GeForce Experience features. And yes, you can overclock it too.
In terms of upgradeability, it's pretty good overall. The Skylake processor is in a standard socket and you can swap in a more capable part (though full desktop parts are likely to be downclocked owing to the tight power envelope), while a standard 2.5-inch laptop drive resides on the bottom of the board. It's a straight SATA 3 Western Digital Black unit, with 500GB of storage and running at 7200rpm. That's not bad, but we'd recommend upgrading to an SSD. The new Alpha features an M.2 slot, so you can actually retain the original drive and incorporate an SSD too.
First impressions are very much that this is a straight evolution of the unit we reviewed - and rather liked - last year. It's difficult to imagine that the form factor of a gaming PC could be made much smaller, certainly not without sacrificing upgradeability. Dismantling the machine, we were struck by how close it looks compared to the older model - there's a very similar heat sink and fan set-up on the CPU, but there are changes to the GPU cooler. There's a small block of aluminium there that's significantly larger and more robust than the more slight heat sink used on the R1's GTX 860M.
However, the GTX 960 is a 120W TDP GPU, and it's remarkable to see that level of peak power consumption managed in so small a chassis with such a small fan - especially as you can overclock it too. On stock frequencies, the GTX 960 peaks at 1250-1275MHz and hands in identical performance to an MSI desktop card we have here (once downclocked to operate at stock clocks). Every Nvidia Maxwell-class card we tested on reference clock speeds could operate with rock-solid stability with an extra 200MHz added to the core and 400MHz on the GDDR5. Remarkably, this applies to the Alienware Alpha R2 as well, even though you cannot increase power delivery to the GPU.
As you can see from the benchmark table below, overclocking the GTX 960 essentially offers up around 12 to 14 per cent of 'free' performance. The only cost actually comes in terms of heat generation and acoustics - in moving from GTX 860M to GTX 960, the new Alpha is louder than its predecessor. The fans need to spin faster to expel higher amounts of heat produced by the more capable GPU, and this becomes even more pronounced with the overclock in place. The OC may also be compromised depending on the CPU you have fitted. Our review featured features a frugal Core i5 6400T, but the top-end option - a Core i7 6700T - is faster, hotter and will demand more of the tight power budget. Regardless, the fact that such a tiny machine can overclock at all is remarkable.
Another new feature in the R2 is a connection port for the Alienware Graphics Amplifer - an external chassis that can house any graphics card you care to integrate into it. In our review package, Alienware supplied the Amplifier with a GTX 980 onboard. It's an interesting - and fortuitous - GPU choice for a couple of reasons. Not only does it offer up a huge increase in power over the GTX 960, it's also pretty much on par in performance terms with the new GTX 1060, the GPU we would have really to have seen integrated into the Alpha.
| 1920x1080 (1080p) | Core i5 6400T/GTX 960 | Core i5 6400T/GTX 960 OC | Core i5 6400T/GTX 980 |
| --- | --- | --- | --- |
| Assassin's Creed Unity, Ultra High, FXAA | 31.6 | 36.4 | 64.8 |
| Ashes of the Singularity, Extreme, 0x MSAA, DX12 | 27.4 | 31.1 | 42.5 |
| Crysis 3, Very High, SMAA T2x | 42.0 | 47.4 | 70.5 |
| The Division, Ultra, SMAA | 30.8 | 35.1 | 56.1 |
| Far Cry Primal, Ultra, SMAA | 32.8 | 37.3 | 57.4 |
| Hitman, Ultra, SMAA, DX12 | 34.0 | 38.4 | 56.1 |
| Rise of the Tomb Raider, Very High, High Textures, SMAA, DX12 | 43.0 | 50.1 | 81.5 |
| The Witcher 3, Ultra, Post AA, No HairWorks | 34.2 | 38.5 | 46.6 |
GTX 1060 is the successor to the GTX 960 and operates within the same power envelope, so in theory it could have been integrated into the Alpha's diminutive chassis. In effect, it essentially offers up a kind of 'preview' of what a potential Alienware Alpha R3 could offer up with out of the box performance. Suffice to say, the increase in performance is colossal in most scenarios, but it needs a CPU to match.
Our Assassin's Creed Unity benchmark is highly GPU-centric, and the machine doubles its performance level with the GTX 980 attached. However, we quickly found that the Core i5 6400T CPU is a profound limiting factor to getting the most out of a more capable GPU - our Witcher 3 benchmarking sequence only sees a 36 per cent increase to performance, with the CPU completely maxed out throughout the entirety of the benchmark. The Crysis 3 benchmark we use has stutter issues, but they are far more pronounced in gameplay.
Our feeling here is that the Core i5 6400T is actually fairly well-matched with the integrated GTX 960, but if you do harbour ambitions of hooking up the Graphics Amplifier for a more powerful GPU, the Core i7 6700T - which should offer a baseline 2.8GHz across four cores and eight threads - would be the preferable option. And it goes without saying that the same applies should Alienware indeed release an R3 model next year with the GTX 1060, or whatever its successor may be.
Of course, the question is whether it's worthwhile attaching the Graphics Amplifier at all. It was designed primarily for attaching laptops with less capable GPUs - where it does a great job - and at around £200/$200, it's actually a lot cheaper than a lot of external GPU expansion units out there. To be honest though, it's not a great fit with the Alpha. It's a huge piece of kit, to the point where you could probably build your own mini-ITX computer that's smaller and indeed quieter. The Graphics Amplifier has its own loud fans, in addition whatever cooling arrangement the internal GPU itself has. The Alienware Alpha R3 excels in its small form factor and easy portability. It's a machine designed for the living room and the Graphics Amplifier effectively nullifies everything that makes it such a neat little box - but as a niche option for those that want it? Why not.
Alienware Alpha R2 - the Digital Foundry verdict
We love the Alpha as an ultra-miniature PC that uses smart design to hand in more power than PS4 and Xbox One, in a chassis that's significantly smaller than the console competition. The fact that it's so small but still rich with upgrade potential is quite an achievement. However, it's not cheap (an i7 model with GTX 960 costs £900 and even base models cost twice as much as a PS4) and we can't shake the feeling that Alienware opted for the wrong Nvidia integrated GPU here. To launch with GTX 960 as the flagship graphics core in a world that's moved on to the much more capable GTX 1060 feels like a misstep.
In terms of console comparisons, GTX 960 should easily push you beyond base PS4 performance, but it will struggle to match or exceed console settings while targeting a consistent 60 frames per second at 1080p. And that's really the premium that gamers are paying for in choosing a gaming PC - our experience with GTX 960 generally involves matching frame-rate targets with PS4, while dialling up image quality or resolution settings where the console equivalents are running with sub-1080p framebuffers. The Alpha is an upgrade for sure, but not quite the one we'd prefer when it comes to PC gameplay.
Even so, reacquainting ourselves with the Alienware Alpha has reminded us of so much it does right. You really can't appreciate its charms until you see it in person, until you realise just how small, compact and portable it is - and when you do, it's quite an irresistible package. Its upgradeability is also highly commendable, but just like last year's model, its longevity is defined by the integrated graphics tech. GTX 1060 would've made this a no-brainer, but last year's GTX 960 is more limiting. Our advice? Research the limitations of the GTX 960 and be very careful with your CPU choice if you're considering a purchase.