Performance Analysis: Star Wars Battlefront beta on PS4
Digital Foundry presents initial impressions and metrics.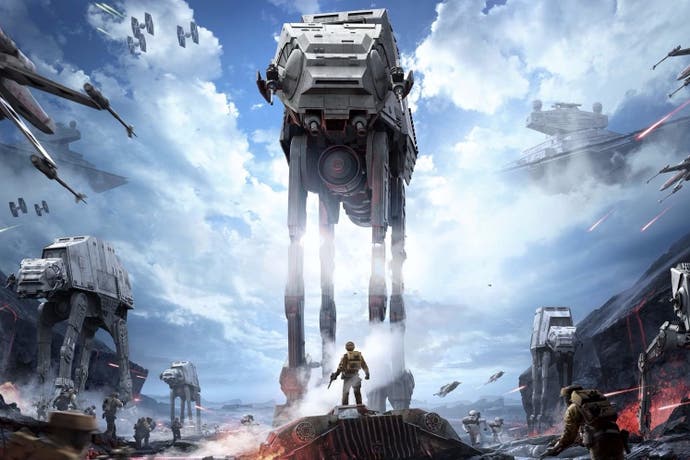 UPDATE 10/10/15 11:37am: Rounding off our console coverage of the Star Wars: Battlefront beta, we thought we'd take a look at the survival mode two-player split-screen on both PlayStation 4 and Xbox One. In this mode, DICE drops frame-rate to 30fps, with pretty decent results. The action is still plenty of fun, although we did notice that fluidity is compromised owing to some frame-pacing issues. We noticed something similar in Need for Speed: Rivals a couple of years back and it was fixed via a patch, so fingers crossed DICE can do the same here. One thing we can confirm after further testing is that both Xbox One and PlayStation 4 versions do run the split-screen component at full 1080p, with DICE effectively trading frame-rate for resolution - so a 1920x540 resolution per player window is confirmed.
Original Story: Along with a select few, we've managed to acquire early access to the Star Wars: Battlefront PS4 beta ahead of its official release on October 8th. With several gameplay sessions captured, we're now able to compare the console version's performance and visual make-up against the PC build we played a couple of weeks back in Stockholm. To cut to the chase, the PS4 game runs at a 1600x900 native resolution, falling into line with DICE's previous work on the console. It means there is an upscale on the image, but for the most part its post-process anti-aliasing does a decent enough job in keeping the image clean.
As for performance, the game targets 60fps and hits this number for the most part. Running across the tundra of the Assault Walker stage, it feels buttery smooth at this refresh, with no noticeable drops. However, the PS4 beta starts to struggle once we get into the final third of this match-up, with the encroaching AT-AT vehicles forcing rebels into an interior base. Alpha effects-work cranks up a gear as the two sides clash around this spot, and we get repeated 50fps drops as grenades or missile strikes crash down too.
On a positive note, this interior area also struggled in Star Wars Battlefront's pre-alpha build, as shown at E3 earlier this year. The good news is that where we once saw regular drops to 40fps and below, the worst we see in this latest beta build is a more solid 50fps. Even in controlling giant AT-AT vehicles with the full chaos of the map in view, gameplay sticks between 50-60fps in this latest beta build.
It's fair to say these fluctuations to 50fps are felt when they kick in - a stutter sensation that's a real distraction as the Walker Assault map reaches its climax. However, outside of these stress points the game holds up well on PS4. We should expect some degree of optimisation ahead of its final release, and hopefully we'll see some improvement. Added to that, the Hoth map is very much the worst case scenario of the three included in the PS4 beta.
Indeed, for the smaller, 16-player games on Sullust, or the solo survival mission on Tatooine, performance is much better rounded. The 60fps refresh is far more consistent on these smaller stages, where player and vehicle counts aren't prevalent enough to produce the same extent of stress seen in Hoth's 40-strong clashes. Outside of one triggered missile strike on the Sullust map, which again pushes the reading down to 50fps, the tighter design of this map helps to keep its frame-rate in check.
But how does the PS4's visual presentation compare to the PC code we tested a couple of weeks back in Stockholm? We've pitted the console against all four presets available, from low to ultra, and the returns are somewhat surprising. As a general rule of thumb, the PS4 version runs at the equivalent to the high quality preset on PC - including settings for textures, ambient occlusion, post-processing, meshes, and 'terrain groundcover'.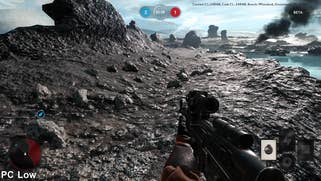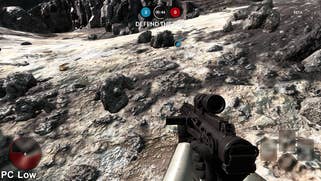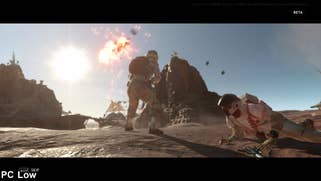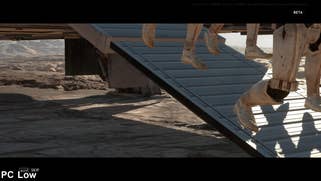 In direct comparison, PS4's beta retains the parallax occlusion mapping around Sullust's floors - something not seen on the PC's medium or low settings. Alas, the draw distance for rubble does fall short of the ultra preset's far reach, but this area is a direct match for the high setting. Even texture filtering can be placed at the high preset, with PS4's floor details staying clear as we look into the distance, putting it a grade above a matching medium preset shot.
All told, the one aspect that grates on PS4 is the pop-in evident at close range on minor objects strewn across the ground. Level of detail switches over noticeably on the Hoth stage's intro camera-pans, with urns and boxes popping into view. Fortunately, crucial geometry (such as mountainsides, huts and walls) is far more consistent at range, and in matching shots this aspect actually falls closest to the PC's ultra preset.
Overall, first impressions suggest a solid turnout for the PS4 beta build. Outside of issues with matchmaking when using the partner system (as noted during a live-stream, where Eurogamer colleague Ian Higton faced an unending loading screen), the state of its visuals and frame-rate are promising. How it compares to the unseen Xbox One version will be interesting as well - something we intend to pursue once the beta launches publicly.