Nvidia Shield Android TV review
The next generation set-top box?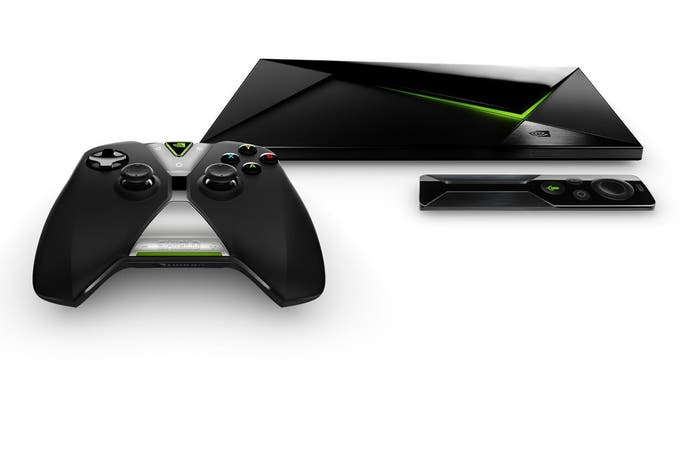 Nvidia, Apple and Amazon share a common vision for a new type of media streaming set-top box that lives in the lounge, providing a state-of-the-art media interface - and powering a new range of mainstream-friendly games. The Cupertino super-power has already shared its plans for its new 2015 revision of the Apple TV, while Amazon has upped the ante with a 4K-capable revision of its Fire TV. Beating both of them to the market is Nvidia with its new Shield Android TV micro-console, by far and away the most technologically advanced device of the bunch.
At the heart of the box is Nvidia's bespoke Tegra X1, featuring a 20nm SoC with unrivalled specs in this space: CPU-wise, the firm has opted for an octo-core configuration, with four of ARM's cutting-edge A57s paired with four lower-power A53s. Combined with this is a range of technology derived from the same second-gen Maxwell architecture that powers desktop graphics cards like the recent GTX 950 - we have 256 CUDA cores here (vs the 768 in the 950), combined with the exact same media capabilities, including full 4K support and the ability to decode next-gen compression technologies including Google's VP9 and HEVC.
Physically, the Shield console is a curious mixture of matte and shiny plastics, blended together via a collection of non-symmetrical harsh edges that it make it look very different from any angle you care to view it from. In combination with its best-in-class processor, the device has an enviable range of IO ports too: microSD, microUSB, gigabit Ethernet and two full-size, full-speed USB 3.0 ports. Star of the show is the HDMI 2.0 port, with full HDCP 2.2 support, future-proofing it for next-gen 4K content delivery. This makes it the only premium media streamer with full 60Hz support at ultra-HD resolutions.
Software-wise, Nvidia is building upon the Android-based platform it started with the original Shield portable and evolved still further with the still-excellent Tegra K1-powered Shield Tablet. But this time, there's a twist - the firm is utilising Google's Android TV OS, which has its good and its bad points. The idea is certainly compelling though: just like the new Apple TV, voice control is at the heart of the interface, the idea being that we can navigate through the wealth of content available simply by asking for it.
Ask for the best action movies of 2010 and up they pop on-screen. Who won the best actor Academy Award in 2015? Eddie Redmayne's bio appears on-screen, followed by his filmography. In theory, this interface should effortlessly plumb you into the media libraries you subscribe to, so if you have a Netflix subscription, you should be able to say, "watch The Theory of Everything on Netflix" and away you go. Unfortunately, we found that the global voice search only seemed to work for us with Google Play and YouTube. Other services may well be supported, but in terms of the big ones relevant to the UK audience - Netflix, BBC iPlayer - the lack of support is palpable. And without that support, a potential revolution in the way we watch TV becomes more of a cute demo we quickly stopped using.
It is difficult to avoid the sense that Android TV is an incredibly powerful platform that simply doesn't have much buy-in from the biggest players in the market. Netflix's app is pretty decent actually, and utilises the 4K decoding capabilities within the Shield device. However, there's no voice search within the app, and no way that we could find to search for Netflix content from the front-end.
Meanwhile, there's no Amazon Instant Video support (perhaps not so surprising), while BBC iPlayer is supplied pre-installed - but it's a basic port with no support for any of Android TV's killer features. On top of that, there's a lack of HD iPlayer functionality - a remarkable omission, bearing in mind that it's present on much cheaper Roku and NowTV boxes and part and parcel of a great many Smart TV apps [UPDATE 4/11/15 3:28pm: We've re-tested iPlayer on the product and can now confirm full HD playback]. And finally, iPlayer is the only UK catch-up service we could find support for on the Google Play store: none of the ITV, Channel Four or Channel Five offerings are available, and there's no sign of any of Sky's apps either.
From a media perspective then, the next generation in set-top box feels lacking in key content, and whether it's Shield, Apple TV or Fire TV, we would urge you to look into the support for your favoured media services before you take the plunge. However, what's clear is that those who roll their own media are well taken care of. Kodi is available on the app store, while a full version of Plex is included in the box. This allows for the ability to stream virtually any kind of media from local or remote servers, or to share your content with others. The Plex app itself is also fully optimised for voice search - though unfortunately, nothing we could do allowed us to locate Plex content from the main Android TV front-end, another factor that made us stop using the voice interface pretty quickly.
That said, once we start to access our own media content - including high-end encodes we specifically put together to test the Shield's decoding abilities to their fullest extent, the technological prowess of the hardware becomes evident. Recent OTA updates ensure that the full hardware decode functionality of the second-gen Maxwell block are fully exploited, meaning full support for all current-gen codecs, including MPEG2, VC-1 and h.264 along with passthrough support for top-tier audio formats. Meanwhile, we captured some full 4K, 60Hz gaming video from an eight-core Intel system sporting two Fury X GPUs in Crossfire and encoded it as a 50mbps HEVC file (you can download our Crysis 3 test clip here) and ran it on the Shield with no problem at all. Without hardware acceleration, running those clips on a Core i7 4790K PC required 70 to 80 per cent CPU utilisation.
Indeed, in terms of the hardware capabilities of the Shield Android TV console, the untouchable media playback credentials really are just the tip of the iceberg - we're looking at GPU performance that (in theory at least) outstrips the fastest Surface Pro, and lays waste to the A8 and A8X chips found in the iPhone 6 Plus and the iPad Air 2. We've included A8 and A8X performance numbers below as this should give us some idea of how the 2015 Apple TV - a direct competitor to Nvidia's box - will compare. Apple's box is using the A8 processor, lacking the raw horsepower of the A8X, but there is the outside chance that the company will boost clocks since there are no battery life concerns.
Also fascinating are comparisons with the beautifully insane Razer Edge Windows gaming tablet, which featured a second-gen Core i7 mobile chip combined with a Kepler-level GT 640M LE discrete graphics processor. Now, bearing in mind that Crysis 3 is perfectly playable at 1360x768 on a mixture of low and medium settings, the fact that Tegra X1 is significantly more powerful is clearly quite remarkable.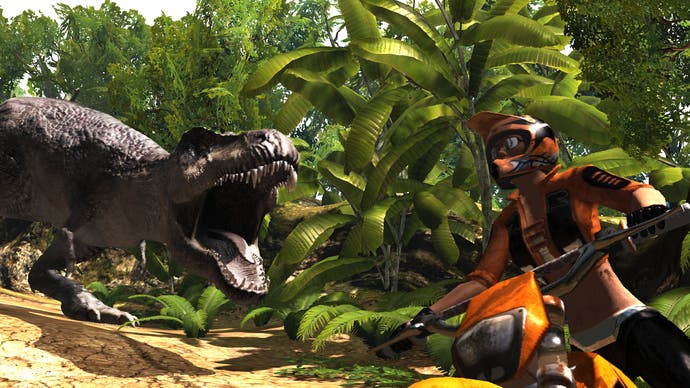 | | iPad Air 2 | iPhone 6 Plus | Shield Tablet | MS Surface Pro 2 | Razer Edge | Shield Android TV |
| --- | --- | --- | --- | --- | --- | --- |
| Geekbench Single-Core | 1819 | 1557 | 1123 | 2504 | 2440 | 1532 |
| Geekbench Multi-Core | 4510 | 2800 | 3479 | 4762 | 4994 | 4623 |
| 3DMark Graphics | 31771 | 24067 | 35433 | 47841 | 56247 | 61824 |
| 3DMark Physics | 10371 | 9320 | 20250 | 30343 | 33704 | 26124 |
| 3DMark IceStorm Unlimited | 21776 | 17782 | 30372 | 42324 | 48968 | 47301 |
| GFXBench T-Rex | 70.5FPS | 44.6FPS | 64.4FPS | 63.0FPS | 96.0FPS | 124.1FPS |
| GFXBench Manhattan | 32.6FPS | 19.5FPS | 31.0FPS | - | - | 65.6FPS |
CPU power also gets a substantial bump but there's the sense that it's still somewhat unbalanced compared to the GPU. This is perhaps borne out by the way that games play on the new Shield device. Nvidia has been working behind the scenes in nurturing key Android developers to adopt their platform, and has even approached game-makers with a view to porting their games onto Shield, with varying levels of success. The roster of exclusive Android ports is growing, and there are more to come, with some big titles en route - Metal Gear Rising: Revengeance and Resident Evil 5, for example. We even saw a demo of Crysis 3 running on the hardware at GDC, but it was clearly very early, and since then, marketing has dried up somewhat.
In the here and now, we tested a bunch of Shield ports - Half-Life 2 runs at 1080p, just as it did on Shield Tablet, but performance is still highly variable. Half-Life 2 Episode 2 has a significantly higher GPU burden, but still has a similar performance profile, varying between 30 to 60fps. Again, we're looking at full HD rendering, albeit with no anti-aliasing. Star of the Shield Tablet launch - Trine 2 - gets a Tegra X1 make-over: it's now running at full 1080p, compared to its previous 720p, and it looks beautiful, albeit with the same frame-pacing issues and 30fps cap.
War Thunder is ported across from PC and looks really impressive bearing in mind that it's running on a mobile chipset, marred only somewhat inconsistent performance. The best game by far is Doom 3 BFG Edition - a virtually flawless 1080p60 port of the PC game - with better visuals and more consistent performance than the Xbox 360 and PlayStation 3 versions released a while back. It looks like Brian Harris - now at Nvidia, ex-id Software - had a hand in this one, having produced the remarkable 1080p60 Quake 2 port for Xbox 360, before the Microsoft console even supported full HD at 60Hz.
Elsewhere, other Android titles are something of a mixed bag - you'll have no problem running the likes of PacMan 256 or Crossy Road flawlessly, but pushing the envelope can lead to disappointment. Asphalt 8 - possibly the most sub-optimal mobile game we've played in recent memory - still manages to run like a dog at 720p, even while hosted by the most powerful mobile processor around.
More frustrating is that Android TV appears to operate as a sub-set of the Google ecosystem, meaning that games not flagged for the off-shoot OS are not available to download from Google Play. So the likes of GTA San Andreas, Sonic the Hedgehog 4 aren't available, for example. Indeed, vast swathes of Android games with controller support that would work just fine on Shield simply aren't available to download. This means that you're left with the prospect of dumping APKs of games you own and then going through the convoluted side-loading process. Again, this is not Nvidia's fault - just more evidence that the Android TV platform is being somewhat overlooked at the moment.
Overall, Android gaming is a mixed bag, and there are few games that have the consistency you get from console gaming. Perhaps the CPU is the issue: there are areas in Half-Life 2 where frame-rate is just fine until we move into a more geometrically intense area - more draw calls for the CPU to push, and frame-rates drop noticeably. Similarly, intense physics-driven scenes also suffer. The arrival of the DX12-like Vulkan API could really make difference here - but probably not on ports of existing games using old graphics APIs.
The Shield Android TV does have another gaming element in its arsenal though - and it is a true technological marvel. We're talking about GeForce Grid cloud streaming, now rebranded GeForce Now. It's built on the same principles as OnLive, Gaikai and PlayStation Now: servers host the games remotely, with the console acting as a dumb client, receiving and decoding video and sending control inputs back to the cloud. It's safe to say that we have a long history of scepticism about these systems in terms of image quality and latency, but a lot can change in six years. Internet infrastructure has improved while server-side lag-reduction techniques are a quantum leap beyond what OnLive was doing back in the day.
We hope to return to GeForce Now in future with a more in-depth article, but first impressions are impressive. With a Sky Fibre 40mbps connection, we enjoyed 1080p60 gameplay on a range of PC titles, with latency that felt similar to a 30fps console game. Image quality isn't perfect - even with a 25mbps stream - but it's perfectly fine in the living room environment and stratospherically improved over OnLive. In the video above, you'll get an idea of how the games play and how good they look, but suffice to say that this technology is now viable. The question is whether the subscription model ($9.99/€9.99/£7.49 per month) will work, and also on the amount of GPU and CPU power dedicated to each connection on more taxing games like The Witcher 3.
We played Borderlands, Strider, Trine 3 and Ultra Street Fighter 4 with just the odd hitch in performance. Trine 3 in particular was virtually flawless during our testing. However, Batman Arkham City had a poor performance profile, while The Witcher 3 sees Nvidia drop its 60fps target and seemingly attempt to lock at 30fps instead. The resultant impact to latency and frame delivery isn't pretty and we can't recommend that experience. Now, the main problem here is that Nvidia is charging full price for the game on GeForce Now, in addition to the subscription to access it. This presents fundamental issues when 60fps is so important to the experience, and when so many games deliver it without issue. Paying full price for a tangibly worse experience isn't really acceptable - the only saving grace being that you do get a digital code of the game for your PC too, a strategy that Nvidia is encouraging all publishers to take-up, with seemingly mixed fortunes.
Outside of GeForce Now, it would be remiss of us not to point out that the Shield Android TV console imports all of the exclusive features found in previous Shield products. So the new device is fully armed and operational for in-home game streaming from your PC, while the advanced encode/decode media features of the GeForce-class hardware allow you stream gameplay to Twitch and to save off gameplay footage with its ShadowPlay implementation.
In fact, the more you dig into the settings, the more functionality you find. While media support isn't everything it could be out of the box, the Shield console also has full Chromecast capabilities, meaning that you can stream virtually any content you want across to the device. While it seems that functionality is limited to certain apps such as Plex, it also looks as though the Shield can dynamically adjust its HDMI output on the fly - so if you're watching a 24fps movie or a 25fps video, the hardware has the means to match the display's refresh, meaning no more judder.
However, the more we play with Shield Android TV, the more we find that this premium hardware is not really ready yet to replace the low-end boxes like the Rokus or the bargain basement Now TV equivalent. The content just isn't there and the potentially brilliant interface just doesn't integrate well enough with the media services that are supported. However, as a purist's media player, its capabilities are second-to-none: if you run your own media servers and you're looking for a best-in-class, future-proof player, this is easily the best choice right now.
Shield Android TV - the Digital Foundry verdict
As with all of the Shield devices released to date, Nvidia has once again released a brilliant, state-of-the-art piece of hardware that's full of potential, but similarly, just like the Shield Tablet, there's the sense that the software isn't there to make the most of it. Android TV appears to offer up much the same OS functionality as that showcased at Apple's recent keynote, but the support from media providers in getting the most out of it falls short. Targeted as a mainstream device, the bottom line is that - from a UK perspective, certainly - much cheaper boxes provide more content. Even a £15 NowTV box offers all the other major UK catch-up services.
From a gaming perspective, Nvidia continues to pursue Android as its platform of choice. There's a growing array of good games, but little in the way of actual showcases that really show what the technology is capable of - we'd like to see quality along the lines of Doom 3 BFG Edition as the norm, rather than the exception. Other top-tier titles still seem to suffer from somewhat wobbly performance, with unlocked, inconsistent frame-rates. Juxtaposed with this is GeForce Now, by far and away the most most technologically advanced cloud streaming system on the market right now - brilliant in its niche, but with a rather limited games selection based on mostly old titles, a reliance on a high-end internet connection for best results, and a promising 'buy cloud/get digital' business model that could work, but only if enough publishers buy into it.
Overall, Nvidia, Apple and Amazon have a clear strategy here. They want to revolutionise the way we interact with television, and they want to provide 'capable enough' games machines that appeal to the mainstream too. Nvidia is going one step further - it's looking to attract core gamers on top of that with its Shield platform and GeForce functionality. But without all of the required media options properly in place and completely integrated into the highly promising interface, what we're left with is an enthusiasts' machine where only the core can really put the excellent hardware through its paces.