Digital Foundry: Hands-on with Rise of the Tomb Raider
Analysis and impressions of work-in-progress Xbox One code.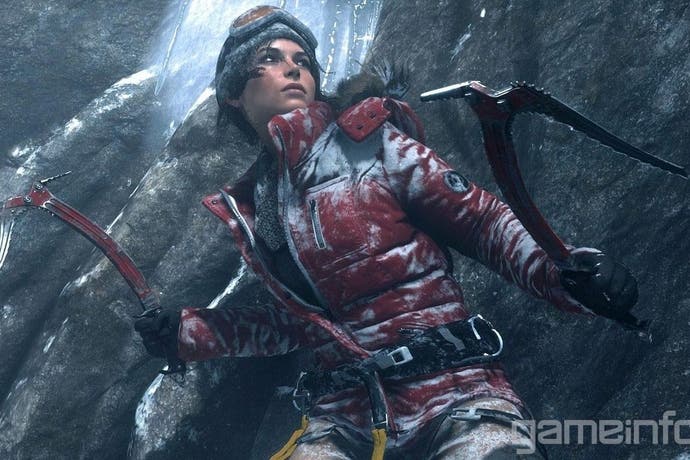 Direct access to Rise of the Tomb Raider has been somewhat limited thus far, so the chance to go hands-on with Microsoft's exclusive at a recent London event wasn't one to miss. The good news is that Crystal Dynamics' latest is looking very impressive; Lara has never been more convincingly rendered, while this preview takes us to a vivid, varied spread of locales. From the Siberian glaciers at its start (as seen at E3) to a war-torn Syrian border on the hunt for a prophet's tomb, each spot is detailed with great artistic precision. However, it's also fair to say certain technical aspects in this preview build fall short of its lofty goals right now.
Take, for example, the Soviet Installation Hub area that appears within the game's first two hour of play - a level we were permitted to capture that follows on from the E3 and Gamescom demo areas. Here Lara broaches a military base nestled between mountains, terrain dotted with conifer trees, and covered with snow and ice. The demo kicks off with us perched atop a rocky precipice, where the engine gives us a great overview of the landscape with little pop-in as we zip-line down.
Lara herself is a particular point of renewed focus this time around, with increased detail evident across the model. Skin shaders are more natural than before, with snowflakes accumulating gradually on her clothing. The real standout point is her expressional range, with her eyes gazing realistically into the distance with a nice parallax effect helping to provide real depth. As the wind blows across the valley, we also see updated version of TressFX that deftly handles her hair as it whips around behind her. Even her mountaineering tools bounce around realistically as she runs - an effect first seen in Tomb Raider Definitive Edition.
Stepping back a moment and looking at the broader picture, image quality is based on a full 1080p presentation - something confirmed by game director Brian Horton for the E3 demo at least - but there are some points that compromise the quality of the overall presentation.
Throughout the latest demo, there are visible edges that appear lower in resolution than the rest of the image. These manifest in the form of thick, pixelated edges along a wide variety of surfaces, such as crates and cement structures. It doesn't seem as if the resolution is actually reduced, as single pixel-width edges remain visible throughout the image, but the issue is puzzling nonetheless. Perhaps a post-processing artefact of some sort?
Also, while we aren't able to include cut-scene footage in our analysis, it should be noted that these sequences give the appearance of operating at a resolution lower than 1080p - not unlike the Xbox One version of Tomb Raider Definitive Edition. There's also texture filtering to consider and that's something else where we hope to see some improvement in the final product. A relatively low level of anisotropic filtering is used, leaving many surfaces looking rather blurry at normal gameplay angles. This issue manifests primarily when exploring building interiors with lots of flat surfaces. Regular readers will know that this seems to be a really common issue on a great many current-gen titles and certainly isn't restricted to Rise of the Tomb Raider, or indeed Xbox One.
This is combined with a sub-optimal post-process anti-aliasing solution that produces plenty of shimmering and sub-pixel break-up. The frozen wilderness is a challenging scenario here, thanks in part to the simulation of ice frozen on tree branches that shimmers throughout the demo. More positively, we really like the implementation of motion blur used in Rise of the Tomb Raider. Encompassing both camera and objects, the effect brings a tremendous amount of visual panache to the experience. This really helps accentuate some of Lara's animations and brings a level of fluidity to the experience that you won't normally get at 30fps. The Definitive Edition didn't feature this effect so prominently, so the overall fluidity of the experience does feel like a definite upgrade over the last game.
Lighting and materials are a bit of a mixed bag. We're not certain how the game's assets were authored, but it does not appear as if a physically-based approach to materials is in place. While specular effects help to produce some attractive surfaces in sunlight, shadowy regions appear flat by comparison. Physically-based rendering can transform the simplest of objects, adding a great deal of realism in how light plays across their surfaces - but Rise of the Tomb Raider falls more into line with the Definitive Edition here.
On the other hand, ambient occlusion and shadows are handled extremely well in the new game. An in-house SSAO implementation, called broad temporal ambient obscurance provides quality on par or better than HBAO with a lower performance cost. Shadow quality is also excellent throughout without any noticeable artefacts detracting from the presentation. Rise of the Tomb Raider also makes use asynchronous compute to produce some impressive volumetric effects. This is used both for light shafts and patches of fog. In addition, compute shaders and tessellation are also put to use in rendering the deformable snow, which plays a significant role in icy levels like this one.
As far as frame-rate is concerned, this is an area where there is still work to do. Crystal Dynamics is targeting 30 frames per second with Rise of the Tomb Raider, and while overall performance is pretty close to the target, there are areas where frame-rate dips beneath, revealing tearing via an adaptive v-sync solution. When render times slip over budget, we see torn frames introduced along the upper portion of the image. Performance certainly isn't poor in this demo and it's a good starting point for an optimisation effort, but the areas where the game does falter are fairly small-scale in nature.
If a minor encounter in a courtyard with just a handful of enemies requires optimisation at this point, what about larger shoot-outs in busier woodland areas? Torn frames also crop up when standing alone atop the opening ridge without any action happening around the player - so Rise of the Tomb Raider can look quite beautiful, but we really want those great looks matched by a solid, consistent frame-rate.
We've only had access to a tiny sliver of gameplay on what we're told is early code, but the indications are that Rise of the Tomb Raider is shaping up as a very solid entry in the franchise. Visually, the game looks impressive, but it's safe to say that this latest level didn't quite have the same impact for us as previous materials, most notably the spectacular Gamescom demo. The bottom line is that we can't help but feel that the game has much more to give.
Based on what we've seen in our limited hands-on, our take is that much of the engineering effort poured into the creation of the previous game has clearly been put to use with this sequel, so what we're looking at here is a refined improvement over the Definitive Edition but maybe not the generational leap we might have hoped for. Still, the addition of snow deformation, improved TressFX, volumetric lighting, and various other features clearly makes for a more impressive looking game overall - and previous sequences promise so much more. Either way, we'll be sure to cover the game in more depth when it launches this November.