Can last-gen consoles handle Metal Gear Solid 5?
Digital Foundry on the highs and lows of MGS5 on PlayStation 3 and Xbox 360.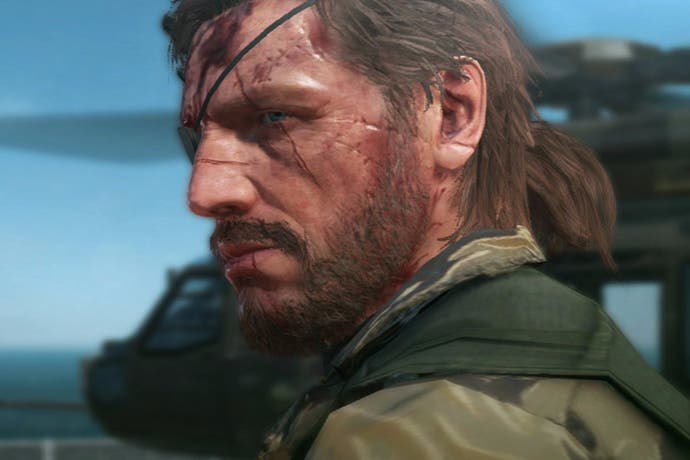 Does the arrival of Metal Gear Solid 5 finally close out the cross-gen era of console gaming? While the pre-launch focus on the game has centred almost exclusively on PlayStation 4, Hideo Kojima's swan-song launches this week on four console platforms, including the stalwart PS3 and Xbox 360 - a development and publishing choice made years ago, based on genuine fears that gamers would not upgrade to the latest generation of hardware. Cross-gen production was commonplace as we transitioned across to PS4 and Xbox One, and for good reason - game-makers needed to hedge their bets financially when tens of millions of dollars were sunk into individual titles.
With that economic outlook in mind, MGS5's Fox Engine was designed around the need to support multiple levels of hardware spanning generations, a state of affairs that caused Kojima to explain in advance that the game may look a little behind efforts from competing studios, but the end result is actually in line with our expectations: both PlayStation 4 and Xbox One hand in a highly polished, beautiful presentation, while perhaps unsurprisingly, their last-gen counterparts fall a little short. On the one hand, some might say that the fact that these versions exist at all in a feature-complete, playable state is a miracle - but on the other, it's clear that Xbox 360 and PS3 are being dragged kicking and screaming to their limits.
That might seem at odds with the image comparisons released by Konami a couple of weeks back, where Xbox 360 and PS3 appeared to hand in a very close approximation of their next-gen brethren. However, with both versions of the game in hand, what we are looking at is an amplification of the cross-gen divide seen in Metal Gear Solid 5: Ground Zeroes.
For the most part, the reduction in quality is well-judged. Resolution drops to something in the region of 992x720 on both older consoles with a rough-looking FXAA implementation in place. In turn this is matched by pared-back textures, normal maps and effects-work. For example, particle effects are reduced, while motion blur only seems active on engine-driven cut-scenes (though a very mild, pared-back effect may be in play during Xbox 360 gameplay), whereas it's a staple of the complete presentation on current-gen. Shadows are also cut back, with unique implementations for PS3 and Xbox 360 that best suit the hardware. However, one the most noticeable differences comes in level-of-detail (LOD) scaling, which sees far more aggressive pop-in manifest on the older platforms - a key reason why The Phantom Pain holds up a lot better in still images.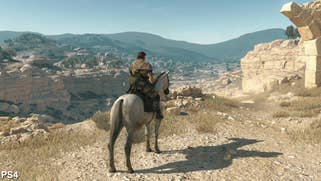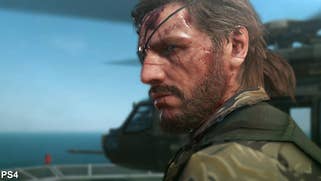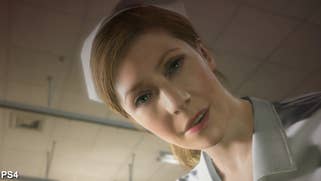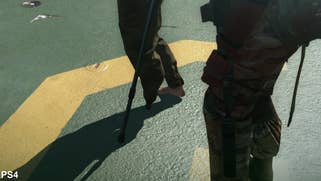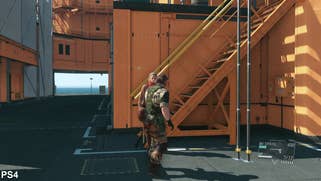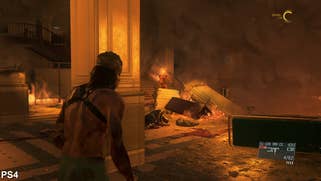 So far, so Ground Zeroes, but what seems evident is that the transition from the 'sampler' level of MGS5 to the full game sees the engine stressed more comprehensively, with an inevitable impact on frame-rate - and from there, the feel of the gameplay itself. Performance was somewhat wobbly to begin with on Ground Zeroes on Xbox 360 and PlayStation 3, with 20fps drops in cut-scenes and gameplay fairly commonplace, but the push to a larger, more ambitious open world in the full game seems to make the hit to performance more impactful. The Phantom Pain aims for 30fps on both last-gen consoles, but it's clearly Xbox 360 that takes point in like-for-like scenes. Outside, in the open world, the difference is harder to track, but it's safe to say that the overall turn-out hardly flattering to either console - a state of affairs we need to weigh up against the ambition in Kojima Productions' design, where current-gen rendering techniques battle hard to operate on ten-year-old hardware.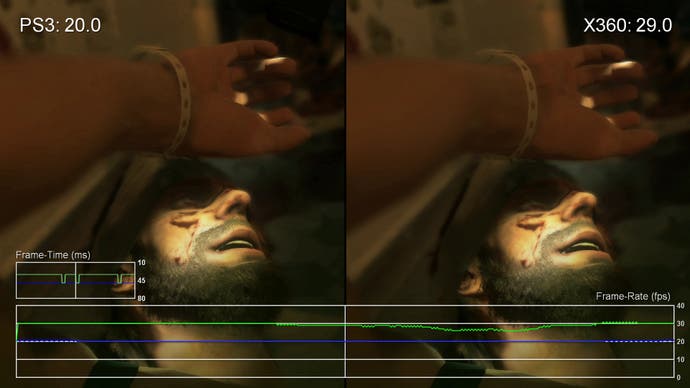 So let's take a look at how the last-gen versions of Metal Gear Solid 5 perform across a range of scenarios. In an attempt to keep things as spoiler-free as we can, we're abiding by the rules set by Konami on video content and omitting it for now. Full video will be available at launch, but right now, shots from our analysis are still revealing. In some like-for-like settings, Xbox 360 shows a clear performance advantage over its PlayStation 3 counterpart.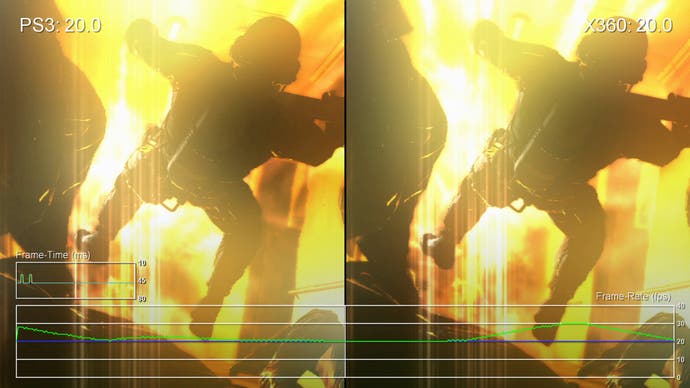 However, performance is highly volatile on both platforms, and it's easy to find scenes where both last-gen consoles bottom out at 20fps, and sometimes that frame-rate is sustained. MGS5 uses double-buffer v-sync - it'll try to hit 30fps, but if the rendering load is too high, it'll drop down to 20fps. Next step after that is 15fps, but thankfully that is rare.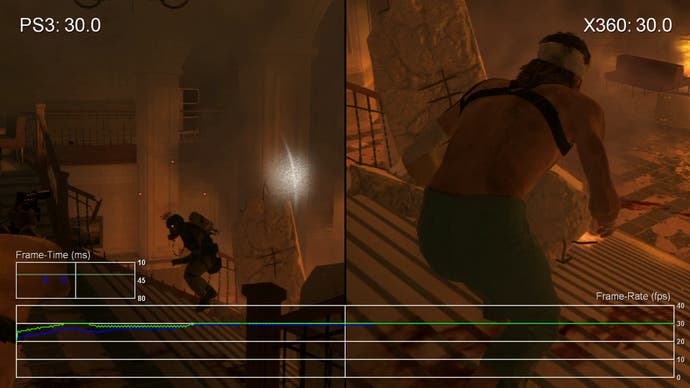 But those are cut-scenes, how about gameplay? In this early shoot-out, the enclosed environments do allow MGS5 to hit a decent, sustained frame-rate. However, it's entirely fair to say that scenes like this are quite rare and we are far more likely to spend a lot of time beneath the 30fps threshold.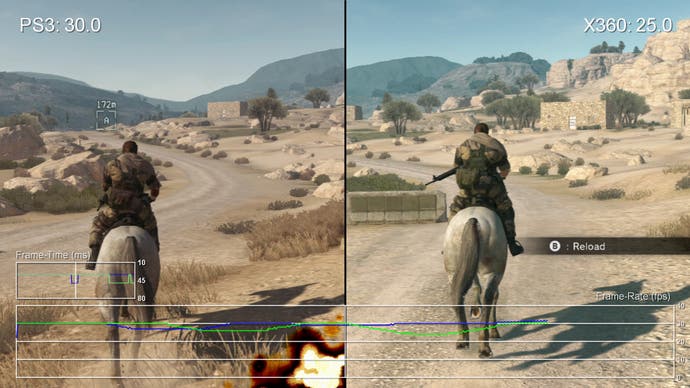 Navigating through Afghanistan - our first sampling of the open world offered in Metal Gear Solid 5. You'll note that even in basic traversal there is some stutter, and that the Xbox 360 advantage we saw earlier can vanish. It's at this point that the two versions start to feel very similar.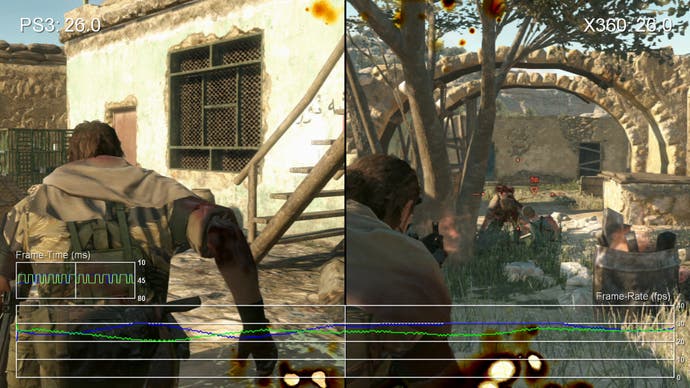 Performance in action scenes wobbles in the mid-20s, but it's the frame-times that are actually more enlightening. From frame to frame, we jump between images on-screen persisting at either 33ms or 50ms, producing a very noticeable stuttering effect. Kojima Productions faced a tough choice here - lock to vertical refresh with highly variable performance, or adopt the adaptive v-sync approach, which would have seen the game accompanied by an almost constant tearing, but would have made for a more responsive game. It's a tough choice that we would not have liked to make...
So, it may well be the case that Metal Gear Solid 5: The Phantom Pain is the last true cross-gen triple-A title. Sure, we can expect cash-cows like FIFA and Call of Duty to continue to appear on Xbox 360 and PlayStation 3 for at least another year, but there is a fundamental difference between releases like those and The Phantom Pain - namely, that very different engines are in play between one generation and the next, while the same Fox Engine code powers all versions of Metal Gear Solid 5. That's both a good and a bad thing. In our last-gen Face-Offs we ran last December, it was Call of Duty Advanced Warfare - operating on the older engine - that arguably produced the best facsimile of the current-gen gameplay experience, just shorn of the new rendering tech. Titles like Shadow of Mordor and Far Cry 4, using savagely cut-back engines, didn't make the grade.
So with all due caveats in place, The Phantom Pain on last-gen is a remarkable example of raw, technological ambition. The open world, mission structure and feature-set are all present and correct. It is one of the very few last-gen games to operate with the physically-based lighting technology used so prolifically in the current-gen rendering era, and it works. Despite its performance shortcomings (perhaps not so much of an issue if you adapted to MGS4's lacklustre, variable update), as a package it remains an event the like of which PlayStation 3 and Xbox 360 haven't seen for a long, long time. Some might even suggest that it could well be the last hurrah for those platforms - and by extension, it may well be the case that the need to support last-gen paved the way for the virtually flawless 60fps gameplay seen on PS4 and Xbox One. With last-gen as the low-spec base platform, the new consoles had the graphics capabilities, processing power and memory to spare in aiming for the top level in performance, while at the same time significantly improving overall quality in all visual areas.
It's a fascinating result overall - at once, Metal Gear Solid 5 pushes last-gen boundaries but at the same time, comparisons with the latest consoles are hardly flattering. For some, the last big hurrah for Xbox 360 and PS3 release may well be the catalyst that inspires a next-gen upgrade.