Gaming on the Big Screen: Optoma GT1080 projector review
Digital Foundry on the pros and cons of the cinematic gaming experience.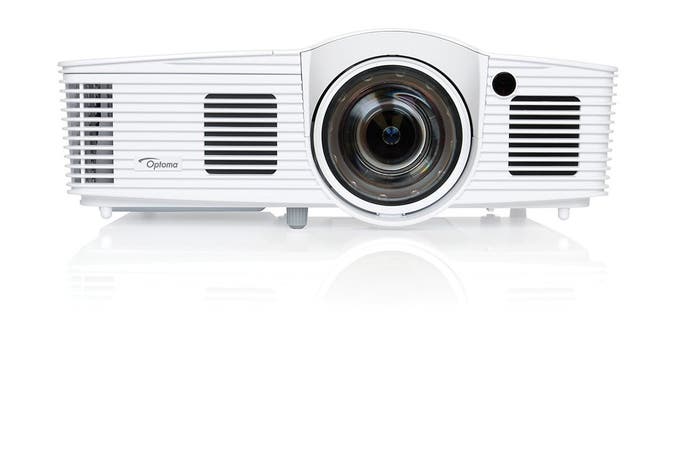 There was a time when the notion of a 40 or 50-inch living room display was the stuff of dreams, but now it is commonplace, delivering an immersive gameplay experience through large, pin-sharp imagery - but what if we want to go bigger and really replicate the epic, cinematic feel that many triple-A titles are striving for? We could sit closer to the display or adopt a desktop set-up to help bring us closer to the action, but this still falls short of replicating the true big-screen experience at home. HDTVs can't really deliver, but projectors can, offering up mammoth 100-inch images for the cost of a conventional living room flat-screen display.
When choosing a projector for gaming in the average living room, there are several things to look out for: low input lag, fast panel response to reduce motion smearing, and a high level of brightness to give images enough pop to work in lighter coloured environments. Throw ratio and distance are also important, as these determine how far away the projector needs to be from the screen in order to produce a large image. If you are planning to fire up massive images in a small room with only two to three metres' clearance from one end to the other at best, a short throw projector is probably the best option.
With that in mind, the Optoma GT1080 caught our eye as it covers several of our requirements. Marketed as a short throw projector aimed specifically at big screen gaming in small rooms, it retails for around £650 and can produce a 100-inch image from just under a metre away. Featuring low input lag and a whopping 2800 lumens brightness, the projector sounds like it could be a good choice for gamers looking to enjoy a big screen experience in less than ideal viewing conditions.
But how well does the GT1080 really perform in the average living rooms, where light-coloured walls and light reflections could significantly affect picture quality? Are the massive screen sizes made possible by using a projector enough to provide an immersive cinematic experience at home over a traditional HDTV or desktop set-up? And are there any downsides to playing games on mammoth screens, especially when native 1080p resolutions are not set in stone for PS4 and Xbox One?
Unlike the large and imposing home theatre projectors by the likes of Sony, JVC, and Panasonic, the GT1080 is remarkably small and lightweight, weighing in at just 2.65kg and measuring 315x224x114mm. The compact design makes the unit easy to pack up and move around without too much fuss, and it comes packaged inside a handy travel bag, which has enough space to hold a few accessories - such as HDMI cables and 3D glasses. In terms of connections, the GT1080 only has two HDMI inputs, with other ports on the unit reserved for hooking up a wireless emitter for the 3D glasses, connecting external speakers, and a 12v trigger to that can be used to control a motorised screen. Conveniently, the GT1080 also has a built in speaker that is capable of producing loud and clear sound without distortion, though there is a distinct lack of bass.
Initially, setting up the GT1080 can be a little fiddly: the projector has to be manually lined up with the screen in order to produce a straight image. There's no lens shift or optical zoom to help position and resize the picture to fit your chosen screen size (although there is a limited digital image shift), while focusing is done by manually adjusting a control on the top of the unit. In our case we placed the unit on a small coffee table and slowly moved it forward until the image filled our screen, before focusing. Depending on position you might have to either raise of lower the projector or the screen in order to get the image at the desired height - a pull-up or pull-down screen with different pre-determined positions makes this process easier, as do the three adjustable feet on the projector.
To help set-up further, the GT1080 does have a vertical keystone correction option to help you get a perfect rectangular picture, but this digitally warps the image and causes noticeable degradation in quality. We found it best to use the adjustable feet on the bottom of the projector to help get things straight. However, even with these limitations we were fully up and running within half an hour after unboxing, filling the supplied pull-up screen with a near pin-sharp 84-inch 16:9 image from just 88cm (34.5 inches) away. Due to the short throw design, it's possible to project a 120-inch image from just 1.30m, so the GT1080 is well equipped to work in small rooms.
Once fully up and running we are presented with a bright, punchy picture that initially holds up fairly well in our light-coloured room. Images on the GT1080 appear smoother than those produced by similarly sized LCD or plasma displays, and without a hint of screen-door effect from our seating distance of 3m (around three image heights). This aspect will obviously vary between projectors and screen sizes, but by comparison the pixel structure appears more distinct on larger 70-inch plus 1080p HDTVs when viewing from only a few feet away. This leaves the picture looking more 'digital' in nature on massive flat panels, although this is less of an issue on smaller, 50" and below HDTVs. Text and HUD elements only start to appear coarse on the GT1080 from around the 2.4m mark, but we don't actually start seeing pixels until standing 2m from the screen, and at this point the artefacts are still quite subtle.
While you'd expect native 1080p content to show up as a sea of easily identifiable pixels on a gigantic screen, that isn't necessarily the case; it depends entirely on the projector and how much - if any - zoom you use. For example, DLP panels have a higher pixel fill than LCD and Plasma displays and this helps to reduce the pixel structure so you can sit closer to the screen, or project an even larger image without compromising picture quality. Furthermore, the 1080p resolution standard we have at home is only slightly fewer pixels than the 2K presentations found in commercial theatres, and these venues project far larger images than the GT1080 produces without any visible screen-door effect from similar viewing distances.
With an image measuring 84 inches diagonal (limited by the supplied screen) the GT1080 manages to provide large, cinematic images that not only comfortably fill your field of view, but also deliver a sense of scale to objects on screen that regular HDTVs cannot recreate - and this only gets better with larger screen sizes. Firing up the PS4 on a projector for the first time, the impact when gaming is impressive: playing the likes of Metal Gear Solid 5: Ground Zeroes and The Last of Us on the big screen immediately delivers a distinctly epic feel that helps to draw us in more closely to the action. The added sense of scale brings extra weight to images due to their sheer size, and this helps to make key moments much more impactful - more cinematic, if you will.
Bombastic combat sequences like those in Call of Duty: Ghosts and Wolfenstein: The New Order also have a much greater presence compared to playing on a smaller flat panel display. When engrossed in hectic firefights, we begin to get a sense of genuinely looking into the game world from our sofa, with particle effects, explosions, and enemies almost surrounding us. We found that sitting 2.5 image heights away from the screen works best for us in delivering the maximum amount of immersion without feeling like we were eyeballing a gigantic display. Sitting further back still gave us an excellent cinematic experience, but we didn't feel quite as intensely involved with the action. Alternatively, simply projecting a larger image without changing your seating position also does the trick, if you have the space to do so.
Due to the modest-sized screen provided by Optoma, the experience doesn't quite manage to replicate that found at a small commercial theatre, but it certainly obliterates any 50 to 60-inch HDTV in terms of the raw sense of scale. Projecting over the screen and onto the surrounding wall finally delivers an all-encompassing 100-inch image that really begins to deliver a cinema-like feel in the confines of our home.
The increased sense of spectacle provided by projected images is all for nothing if we have to deal with heavy controls and delayed inputs due to input lag, but thankfully this isn't an issue on the GT1080, where button presses and turns of the analogue stick feel fast and responsive, and this makes the projector suitable for those who play twitch-based shooters and fighting games online. We measured 34ms of latency in 1080p using our Leo Bodner LagTest (16ms measured via the CRT camera method). That's a lower level of input lag than is present on many of the latest HDTVs - and we didn't notice any obvious reductions in controller response when playing native 720p games upscaled by the projector.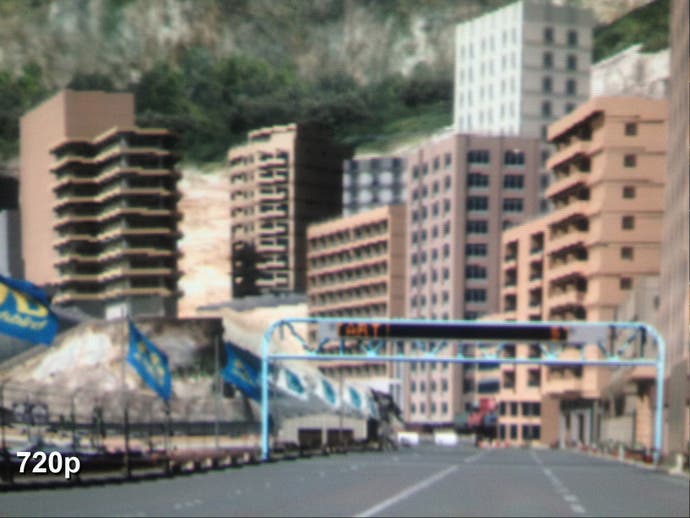 Scaling quality of 720p sources is somewhat mixed: additional jaggies are kept to a bare minimum, but the resulting images appear very soft and lacking in finer detail. This means that sub-HD titles on the last generation of consoles are best avoided on the GT1080 due to the double scale (first on console, then on the projector) degrading image quality. Well anti-aliased games should fare a little better, but expect to see some very soft images. Of course, for those that are happy to accept this compromise, playing these games on a projector still delivers a decent gameplay experience with big-screen impact, albeit with less visual appeal than when viewed on a smaller HDTV.
When viewing gigantic images, the quality of the scaling is more important than it is on a comparatively small 50-inch HDTV. Despite the promise of native 1080p on the latest consoles, there are still many titles that fall short of hitting these targets. Right now this is more of an issue on the Xbox One due to its weaker GPU, but the PS4 is also affected to a lesser degree. On 84 to 100-inch screens, the impact of upscaling sub-1080p buffers is more substantial than on a HDTV that is half the size. Soft-looking titles such as Battlefield 4 come across looking a little blurrier than we'd like to see on the big screen, while jaggies are easier to pick out on 900p games that use sharper scaling algorithms (Assassin's Creed 4 comes to mind), resulting in image quality that is compromised by an element of roughness in the picture compared to native 1080p titles. In comparison, smoothly scaled games like Plants vs Zombies and Ryse on the Xbox One fare much better, where the difference between native 1080p and scaled 900p are barely visible up close - artefacts are easier to spot from regular viewing distances on a 100-inch screen, but overall the resulting images still appear smooth and pretty refined, just lacking the extra bit of pin-sharp kick provided by native 1080p.
Motion hanging is also a concern when using a projector since any artefacts are likely to be far more noticeable blown up on a big screen that completely fills your field of view. We initially chose a DLP projector since the technology is known for avoiding the smearing more common on LCD and LCOS alternatives, and on first impressions motion handling on the GT1080 is decent and free of the usual smearing present on LCD displays, with the DLP panel resolving roughly 750 lines of resolution without resorting to any frame-interpolation tricks. However, there are also a few distracting side-effects that could make or break the experience for some people. In particular, fast-moving scenes suffer from double image ghosting that is easily visible when turning the camera or quickly aiming in third and first person games, and this is joined by occasional colour flashes (the DLP rainbow effect). We weren't particularly sensitive to the latter, but the ghosting made the projected images fatiguing to look at after a few hours.
It's worth bearing in mind that not everyone is susceptible to DLP motion artefacts, so we'd recommend getting a demo of the GT1080 (or another DLP projector) before you take the plunge. That said, three-chip LCD and LCOS (liquid crystal on silicon) projectors don't suffer from the phenomenon at all, so those technologies will probably better suit those sensitive to motion issues than DLP. The compromise is that traditional smearing is present on most LCD projectors (300 lines motion resolution, just like an LCD HDTV) without some form of frame interpolation. And while LCOS delivers better performance in this area, high-quality projectors using the tech retail upward of £1800 - a substantial jump in price over single-chip DLP machine, although you get much better colour accuracy and contrast. Most of Sony's models feature low levels of input lag, making them ideal candidates for gaming.
So far, the GT1080 proves that projectors can deliver large images that appear crisp and clear with native 1080p resolution sources, but there are a number of things to consider with this kind of display technology. Most projectors need to be used in a light-controlled environment to produce the best possible viewing experience: brightly coloured walls, carpets and ceilings send light bouncing around the room and back into the screen, thus washing out the picture and often creating a dim-looking image due to the viewing environment being too bright. In comparison, both LCD and Plasma HDTVs can be viewed without any issues during the day in bright rooms - the latter can appear slightly dim and a little washed-out with cheaper models, but the impact doesn't degrade picture quality anywhere near as much compared to a projected image; it's more of an inconvenience that can be fixed by closing the curtains or keeping the display positioned away from direct light sources.
The lack of light output isn't something you need to worry about with the Optoma GT1080 - DLP projectors in general are mostly likely to provide a high level of brightness for a low cost - although it's worth bearing in mind that reflected light onto the screen still severely washes out the picture compared to a HDTV. Even when using Eco lamp mode (the lowest setting of two) there's plenty of brightness on offer to provide a watchable image in a standard living room at night time with white coloured walls and limited light control. Meanwhile, high lamp mode should be more than sufficient to compensate for the brightness loss in 3D mode caused by the LCD shutter glasses. We weren't able to test this out as Optoma didn't supply us with the 3D kit to do so - when buying the GT1080, it must be purchased as an optional extra.
In our light-coloured room at night time, we find that dimly-lit scenes feature a modest level of depth on the GT1080 despite less than ideal viewing conditions, although black levels still appear washed out, and the picture lacks the same level of three-dimensional punch compared to a Plasma or LCD in a similar environment. In particular, images with both light and dark elements regularly appear compromised to some degree, while blacks appear a milky shade of grey at best (0.1088 cdm2) and degrade significantly when light is heavily reflected back on the screen (0.7130 cdm2).
Ultimately, with any projector, you really need a dark room in order to get the best performance. If it is not possible to achieve such a set-up, a grey screen certainly helps to improve contrast and depth, but light reflections in bright scenes still negatively impact upon the picture. A low cost HDTV still offers vastly superior performance in these room conditions compared to a budget projector, and if you spend most of your time gaming in daylight hours, a large flat panel display is a more sensible investment - picture quality is simply more stable from scene to scene.
Optoma GT1080 - the Digital Foundry verdict
It's fair to say that gaming on a 100-inch screen is incredible! And even at 84 inches, it provides considerably more impact than sitting closer to a large HDTV - it's simply more epic and immersive. While we doubt people would turn their noses up at such a satisfying experience at home, viewing environment, gaming habits and picture quality expectations are all things to consider when deciding on whether to go for a projector to complement that 50-inch HDTV. For those who mostly play games and watch movies at night, some projectors can certainly work well in bright-coloured rooms while providing sharp pictures that do 1080p material justice, but the compromise comes in the form of low contrast ratios and flat-looking scenes when light is reflected back into the screen.
To get a balanced image from any projector requires a decent level of light control - even if there is plenty of brightness on offer - and if possible, dark-coloured walls or a dedicated theatre room are still the best ways to go for those really serious about investing in this type of display technology. In comparison, a decent 50 to 60-inch flat panel allows for excellent picture quality at any time of day, delivering depth to light and dark images without needing any special viewing conditions. The experience isn't anywhere near as epic in scale, but the trade-off comes in the form of greater flexibility - you can use the HDTV at any time and still get outstanding picture quality. We'd suggest breaking out the big screen experience for extended play sessions at night or in the evening, and using a standard flat panel display for anytime viewing. This way the big screen experience stays memorable, and any compromises to picture quality across the day-to-day viewing experience are kept to a minimum.
Of course, gaming on a projector is still an eye-opening experience regardless of viewing environment, and if you are willing to accept some sacrifices in picture quality, it represents the most immersive way to play. And for those on a budget we think lower-end DLP or LCD projectors would be well suited as a companion to a modest-sized HDTV. The BenQ W1080ST and Optoma HD50 are two lower-end projectors worth considering. Meanwhile, for those able to accommodate a more dedicated set-up at home and looking for a more high-end experience equally suited to both gaming and Blu-ray viewing, the Sony VPL-HW40ES should definitely be checked out. At £1800 it's considerably more expensive than most entry-level DLP and LCD projectors, but for the price, nothing else comes close in terms of performance.
For around £650, Optoma has produced a projector that certainly punches above its weight for the price, despite stumbling in a few areas. If you desire strong colour accuracy and deep contrast levels, the GT1080 won't be for you, but as an affordable way to fill a large screen with sharp and bright images that work well in normal living rooms, this projector is a good choice. The short throw also means that it's perfectly suited to small rooms where space comes at a premium, while the low amount of input lag and minimal motion smearing makes the GT1080 a solid choice for gamers on a budget. However, it is definitely worth getting a demo beforehand to check if you are susceptible to the colour flashes and double image ghosting associated with single-chip DLP projection, because these artefacts can be very distracting if you see them.