New lighting tech debunks moon landing conspiracy theories
Illuminating the truth behind one of Apollo 11's most iconic images.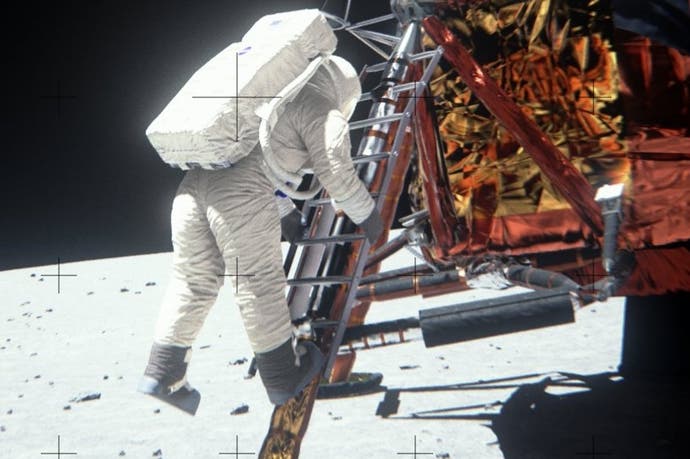 Nvidia's new real-time global illumination system has been utilised in a fascinating new demo created using Unreal Engine 4, accurately replicating one of the most iconic images of the Apollo 11 lunar mission - and in the process disproving a slew of baseless conspiracy theories that have surrounded the moon landings over the last few years.
In effect, Nvidia has created a fully 3D real-time simulation of the moment Edwin 'Buzz' Aldrin began his descent from the lunar module, accurately mapping the astronaut, the LM itself along with the lunar surface. Every light-source present in the scene has been replicated in the demo, and the tweakables available within the demo help to explain some of the peculiar properties in the photo that some - rather sadly - believe to have been faked back in 1969.
For example, the lack of stars in the photo raised the suspicion of many, when the simple truth is that the lighting on the moon is so harsh that the camera's exposure was very quick - so fleeting in fact that the light from the stars didn't affect the film. In the demo, the exposure level can be increased, whiting out most of the image, but revealing the accurately-mapped stars in the sky.
Additionally, doubters have wondered how come Aldrin himself is illuminated so clearly, despite being in the shadow of the lunar module. The demo demonstrates that reflected lighting from the space suit of the photographer - Neil Armstrong - was acting as a light source, casting light onto his colleague.
So what's the secret behind the demo's technical fidelity? Well, for some years now, rendering specialists have been chasing the dream of real-time global illumination. The next-gen consoles have taken us one step closer to more realistic lighting via the utilisation of physically-based rendering - a process where the scene is lit according to how light reacts with the materials of the objects present in the scene.
Nvidia's new technology - dubbed VXGI - goes one step further in that direct lighting is joined with accurately mapped indirect light bounces, calculated using voxels. It's a resource-intensive procedure that is boosted with hardware acceleration within Nvidia's new Maxwell architecture found in the GTX 980 and 970 graphics cards revealed earlier today.
The firm has just posted a video explaining the whole story - it's embedded above and well worth a watch. And as a special bonus featuring a more robust response to some of the allegations surrounding the moon landings, here's a short video showing Buzz Aldrin punching a conspiracy theorist in the face.