MSI Nightblade review
Why wait for a Steam Machine? High-end mini gaming PCs are invading the living room now.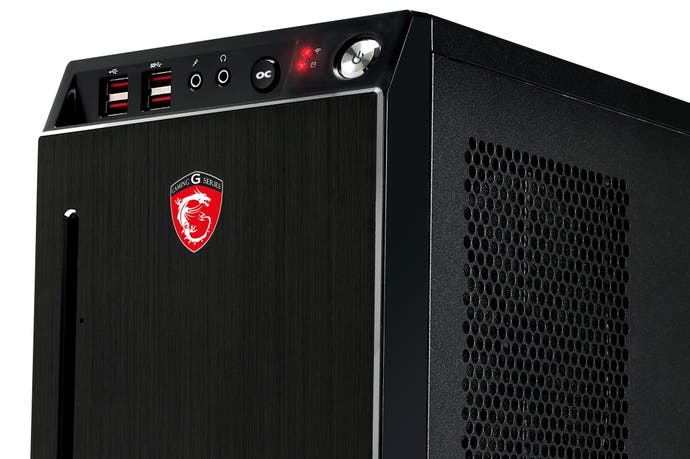 PC gaming is reaching out and expanding beyond its traditional desktop domain, and while Valve's lounge-friendly Steam Machines have been delayed until next year, there are still plenty of options available right now for replacing or supplementing your console with a high-end, small form factor gaming PC. MSI's Nightblade is one such machine, combining the company's bespoke 35x27x17.5cm chassis with its accomplished Z87I Gaming motherboard and a meaty 600W power supply.
The days of hot, loud, small form factor PCs with limited support for high-end gaming kit are over - in common with many small form factor units on the market today, the Nightblade comfortably houses most of the high-end gaming CPUs and graphics cards on the market. On top of that, Intel and Nvidia's focus on performance per watt not only makes SFF PCs an entirely viable option for a relatively discrete living room games machine - there's plenty of overclocking potential too.
So let's talk pricing: the Nightblade unit isn't cheap, currently retailing for around £370. For that you get a premium case, PSU and a feature-rich mini-ITX mobo. As for the rest of the parts - CPU, RAM, storage and graphics - that's left up to you. However, online retailers such as Cyberpower sell pre-configured units for an additional cost; our review sample came equipped with an Intel i5-4670K processor (with closed loop water cooling), a GTX 760 graphics card, a slot-loading DVD-RW drive, a 120GB mSATA SSD and 1TB HDD. At a sum total of £999 as of this writing, this is obviously a substantial down-payment for these specs on paper - meaning the Nightblade needs to deliver on more than just performance to justify its cost.
Aesthetics and a premium finish play a huge part in its appeal of course. At 17.7cm, it's over double the width of the PS4 in its vertical configuration, but its length and height are comparable, making it similarly living room friendly. It's ruggedly built from mostly metal parts too, with a brushed aluminium front-plate leading down to a rubberised handle. Fully equipped with components, the Nightblade weighs in at 9.5kg - that's a haul to transport one-handed, but it's still easily transportable for those on the LAN gaming scene.
The Nightblade's handle serves another purpose though, which is to prop up the front end, giving the bottom of the unit about one centimetre of clearance. It's a smart design choice that allows air to route through a removable gauzed dust filter at the bottom of the unit, giving direct access to the GPU. Sliding the Nightblade case open reveals a very odd arrangement of parts too, with a side-mounted CPU fan needing to be displaced before we can access the usual parts. From here, we see the 600W PSU strapped to the front end, leaving just enough room to its side for the GPU to slot beneath. There's over 32 centimetres of space to use up here - more than enough wiggle room to install even monstrously long cards, such as the GTX 780.
Turning the Nightblade on, we see red LEDs alight near the front grill and around its unique overclock button on the front panel - designed to offer up an instant, hassle-free 15 per cent boost to CPU and RAM clocks. Alas, this Cyberpower-built version only uses this button for switching the LEDs on and off - our unit instead relying on BIOS access for more nuanced controls of the multiplier, with MSI's OC Genie set to ramp CPU core frequencies up to a max turbo of 4GHz. This is a stable tweak kept in place for all tests going forward - though given that the standard CPU speeds were already more than adequate for gaming, this boost has little effect on our benchmarks.
In a bid to cram so much into such a tiny space, heat is obviously a big concern for mini-ITX machines. At idle, both the CPU and GPU hold at 40 degrees Celsius - no doubt helped by the giant 12cm fan to the case's side. In full swing with the Metro: Last Light benchmark running at very high settings on loop at 1080p, the installed GTX 760 hits a peak of 83 degrees Celsius, while the hottest CPU core counts in at 60 degrees (a touch high for liquid cooling perhaps, but impressive nonetheless for such a tightly integrated design).
Fortunately, the Nightblade's ventilation does well to make sure these figures don't rise any further. The only downside is the amount of noise the unit produces while idle; a rush of air being audible from across the living room, and certainly during use inside an office. That said, both the PS4 and Xbox One's fans do kick into a higher gear when pressed by games like Call of Duty: Ghosts, whereas the Nightblade holds at roughly the same noise levels regardless. In this sense, it's something of a success - especially considering that fan speeds can be tweaked to more conservative values via the BIOS settings.
"The GTX 760 runs hot at 83 degrees Celsius, but the Nightblade's 12cm side-mounted fan capably keeps thermals tightly under control."
Performance is inevitably the strong suit of the Nightblade when compared to console, and rightly so given the disparity in pricing. Battlefield 4 is once again a sterling way to stress-test both the PS4 and Xbox One in direct comparison, with our play-through of the South China Sea stage dipping to just 55fps on the GTX 760, while both next-gen platforms languish within the 40fps range. At a full 1920x1080 on PC, as compared to the diminished native resolutions on console, it's a convincing victory on PC in the visual sense too, and one that flatters a full-HD TV setup.
We also tested Battlefield 4 at ultra settings (including deferred 4x MSAA) in our scripted benchmark suite - where results are perhaps less impressive. It's a rougher 40-50fps read-out during the same scripted set-piece, involving the aircraft carrier being ripped apart. Nevertheless, games like BioShock Infinite and Tomb Raider play at closer to an average 60fps mark during actual gameplay, the latter helped by disabling the taxing TressFX hair simulation.
Rounding out our tests, Crysis 3 ranks among the most GPU-intensive games on our list, though even at very high settings the game holds strong at 45fps average during an on-rails shootout. Unfortunately, solid results in a game like Thief are harder to come by. With all settings maxed out, including tessellation and parallax occlusion mapping, there are significant frame-pacing issues during the scripted tour through The City. The end 40fps average isn't conducive to a smooth playing experience, but even dropping its settings to lower presets doesn't smooth out the controls entirely - hiccups are still a big issue when moving between areas. It's par for the course with this game's unusual rendering setup, and an issue we experienced on PS4 and Xbox One too.
"Performance is the strong suit of the Nightblade when compared to console, and rightly so given the pricing."
| 1920x1080 | GTX 760 | GTX 780 |
| --- | --- | --- |
| Battlefield 4: Ultra, 4xMSAA | 42.2fps | 68.1fps |
| Metro Last Light: Very High, SSAA | 26.4fps | 40.4fps |
| Thief: Very High, SSAA, POM, Tessellation | 40.3fps | 61.2fps |
| Tomb Raider: Ultimate, TressFX, FXAA | 48.9fps | 74.3fps |
| BioShock Infinite: Ultra, DDOF | 68.6fps | 99.4fps |
| Crysis 3: Very High, Very High Textures, 2x SMAA | 40.2fps | 58.7fps |
Overall though, in operation the Nightblade set-up delivers exactly what we would expect from the quality components chosen: enthusiast gaming performance in a small form factor, with enough power and heat dissipation available to accommodate sane levels of CPU overclocking. You'll note that we've also tried out the system with a considerably more powerful GTX 780 integrated into the system. We noticed no perceivable increase in system volume, while our Metro Last Light stress test saw maximum GPU temperatures hit 82 degrees Celsius - in the same ballpark as the GTX 760. In a nutshell, that's the validation we were after - the freedom to integrate whatever high-end components we would want in a lounge-friendly form factor.
MSI Nightblade small form-factor PC: the Digital Foundry verdict
The days of compromised small form factor gaming are over. The Nightblade chassis may be double the width of the PlayStation 4 in a vertical position, but it should fit comfortably - and discreetly - to the side of most living room HDTVs. In terms of noise and heat throughput, MSI's side-mounted fan is a touch heavy-handed with its velocity at idle temperatures, but rarely ramps up to the same decibel levels as the PS4 at its peak. Crucially, in terms of performance, we're expectedly looking at genuine desktop PC returns; with a GTX 760 equipped, this machine is capable playing the likes of Battlefield 4 at 1080p with settings within the 50-60fps range, which handily betters the PS4 and Xbox One's visuals and frame-rate - while the freedom is there to upgrade to higher quality parts with no impact on noise or thermals.
But the £999 price-tag of this setup is going to be an issue for many. Given that the power supply, case, fan and motherboard included in the Nightblade barebones unit costs £370 in total, it begs the question how value-conscious this fully-equipped package actually is. Shopping around at eBuyer, Amazon or Scan UK, you can buy similar components for around £560. When tallied up with the barebones unit, you save less than £100. That may be worth it if you know what you're doing, but the additional premium isn't bad for a pre-built unit with a warranty..
"MSI's Nightblade is a premium product with a price point to match - but a number of cheaper options are available."
However, even the base £370 for the Nightblade chassis is a considerable sum bearing in mind that only case, motherboard and PSU are provided - but that's the price you pay in the PC market for a premium product. Obviously, cheaper hardware is available - while not nearly as stylish or as well-built as MSI's Nightblade aluminium case, the Coolermaster Elite 130 chassis is a sturdy alternative that supports the mini-ITX standard, and also handily includes an 80mm side fan, plus a modular 550W PSU at £65. In terms of power throughput, this is enough to handle anything up to a GTX 780 too. From here, MSI's Z87I Gaming motherboard - as used in the Nightblade - is available for £100, which tallied with the other parts achieves the same performance shown above for around £685.
On top of that, Alienware's X51 R2 is still available, though limited CPU and GPU choices are a genuine issue here - currently, only the top-end £1200 option gives you a graphics card that competes with the Nightblade configuration reviewed here. Taiwan firm Shuttle continues to make its own range of gaming cube barebones too, which don't quite have the premium finish or cooling prowess of the Nightblade, but do have the advantage of being smaller - closer to the size of a toaster, yet still able to run an i7 and GTX 780.
In short, there are plenty of small form factor options, depending on how much research and building you're willing to put in yourself, but it can't be denied that the barebones Nightblade forms a stylish, accessible bedrock for any PC builder intent on constructing a console-beater for the living room space.