Intel Core i7 5960X review
The new eight-core Extreme Edition is the most powerful consumer-level CPU ever made.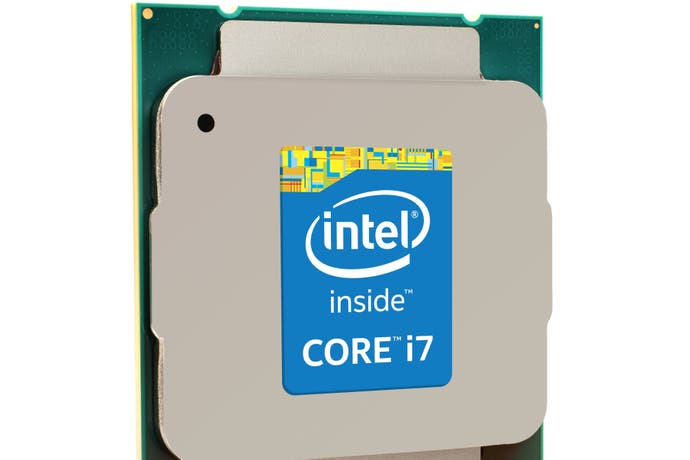 Advances in cutting-edge processing technology have been minimal in recent years. AMD has concentrated resources on its APU chips, combining CPU and GPU in one, while Intel's primary focus has been on efficiency rather than increased performance. The exception that proves the rule was the release of the six-core Sandy Bridge-E processors back in 2011. Three years on, we finally have another substantial leap in CPU power: the Core i7 5960X, star of the show in the latest enthusiast line, packs eight full cores - with hyper-threading - onto one chip. Performance-wise, it is a colossus.
Haswell-E (E for enthusiast if you hadn't guessed) debuts on a fresh platform, based on the new Intel X99 chipset. This brings a range of modern features to the enthusiast line, including full support for PCI Express-based SSDs and the debut of next-gen DDR4 RAM. This new memory standard effectively picks up where the top-end DDR3 modules left off - speeds start at 2133MHz, with the spec ramping up to 4000MHz (taking us into low-end GDDR5 bandwidth territory). DDR4 does everything its predecessor does at significantly lower voltages, and while its advantages won't impact gaming so much, it's a different story should you use your PC for demanding media creation or productivity tasks. There's no backwards compatibility though - DDR3 modules won't fit into DDR4 slots - so those looking to upgrade won't be able to carry over the existing RAM, meaning additional expense.
The most noteworthy aspect about Haswell-E is that it marks out its own patch, separate and distinct from the mainstream platform. The standard Haswell tops out with the Devil's Canyon Core i7 4790K - a highly-clocked quad-core part with hyper-threading. The entry-level Haswell E processor - the Core i7 5820K - features six full Intel cores (with HT) and is fully unlocked, costing just $50 more than the 4790K. Indeed, Intel's top-end enthusiast line no longer supports quad-core processors at all - and even the 'bargain basement' offering is a substantial leap over the mainstream platform. The 5820K is joined by the marginally faster - and substantially more expensive - 5930K, distinguished by its support for 40 PCI Express lanes rather than 28 in the cheaper part (this effectively limits the 5820K to dual GPU support).
[UPDATE 30/8/14 13:22 - Anandtech's review suggests that the 5820K allocates eight PCI Express lanes per GPU on a three-way GPU set-up, meaning that our concerns here are unfounded, making the 5820K even more interesting.]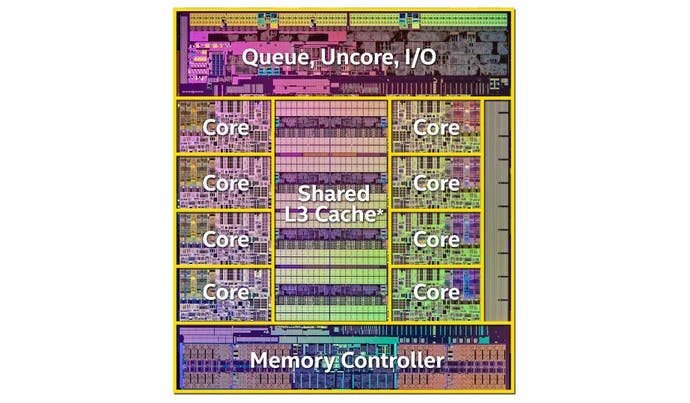 | | Intel Core i7 5960X | Intel Core i7 5930K | Intel Core i7 5820K | Intel Core i7 4970K | Intel Core i5 4690K |
| --- | --- | --- | --- | --- | --- |
| Base Clock | 3.0GHz | 3.5GHz | 3.3GHz | 4.0GHz | 3.5GHz |
| Max Turbo | 3.5GHz | 3.7GHz | 3.6GHz | 4.4GHz | 3.9GHz |
| Cores/Threads | 8/16 | 6/12 | 6/12 | 4/8 | 4/4 |
| Cache | 20MB | 15MB | 15MB | 8MB | 6MB |
| Memory Support | 4 Channels, DDR4-2133 | 4 Channels, DDR4-2133 | 4 Channels, DDR4-2133 | 2 Channels, DDR3-1600 | 2 Channels, DDR3-1600 |
| TDP | 140W | 140W | 140W | 88W | 88W |
| Tray Price (USD) | $999 | $583 | $389 | $339 | $242 |
At the top end sits the subject of our review, the eight-core 5960X, a worthy product for Intel's Extreme Edition brand. The most recent EE processors were effectively faster versions of the cheaper six-core CPUs that could easily be overclocked to match the top-end offering. By introducing an eight-core chip, Intel has added some degree of value to the Extreme Edition brand. The price premium is suitably 'extreme' but there's a clear performance benefit that overclocking a cheaper part can't compensate for.
If we're going to be testing a premium processor, we need a suitably powerful set of surrounding equipment to match. Our motherboard is the Asus Rampage V Extreme. As befits a top-end enthusiast board, we have a surfeit of PCI Express ports (quad-SLI should be no problem here), support for M2 and SATA Express for ultra-bandwidth solid state utilisation, top-end audio and networking (including WiFi) plus a number of other interesting features, including its exclusive 'OC Socket'. Asus says that it powers the CPU via all available pins, allowing for more stable extreme overclocking, also claiming the OC Socket can boost DDR4 frequencies up to 4000MHz.
The overall sense is of a premium product as extreme as the processor we'll be running on it. Whether it's the supplied OC Panel attachment, or even the LED traces embedded into the board, this is a striking - and sometimes bizarre - mixture of extreme aesthetics and raw functionality built on community feedback, right down to the smallest features. The inclusion of a 'ReTry' switch for easy access to the BIOS in the event of a failed overclock (without wiping your settings) is one example of a board tailored to an ultra-niche audience looking to extract every last ounce of performance from their kit. If you're going to drop a thousand dollars on a processor, why not go the whole hog with a platform to match?
Accompanying the Asus motherboard, Corsair steps in to help out with power supply, RAM and cooling requirements of our X99 rig. An 'ultra-quiet' RM1000 PSU supplies the juice, while an H105 closed-loop water cooler is attached to the board to manage processor temperatures. Corsair also supplies the RAM - Vengeance LPX-branded DIMMs running at 2666MHz. We have four modules here to accommodate the quad-channel motherboard, so in theory we have more raw speed than the mainstream platforms and twice as much bandwidth (standard Haswell only supports dual-channel RAM).
So, what can this system actually deliver? Going into our testing, we had one significant worry about the eight-core 5960X - its tangibly lower clocks compared to the mainstream Devil's Canyon chip, and indeed the cheaper six-core chips. We have a 3.0GHz frequency, with turbo up to 3.5GHz - that's a whole lot of performance in multi-threaded applications, but to what extent would single-core throughput suffer?
To begin with, we ran the chip through our existing range of CPU benchmarks - the idea being to gauge the new Extreme Edition against the range of existing data we have available. We've recently tested the Devil's Canyon i7 4790K, and internally we use the old Sandy Bridge-E six-core i7 3930K (three years old, but still a phenomenal piece of silicon) on our main workstation. Since the new six-core chips weren't available for review, these are our main points of comparison. The data - including 5960X overclocking results - is revealing:
| | Intel Core i7 4790K | Intel Core i7 4790K/4.6GHz | Intel Core i7 3930K | Intel Core i7 3930K/4.4GHz | Intel Core i7 5960X | Intel Core i7 5960X/4.4GHz |
| --- | --- | --- | --- | --- | --- | --- |
| 3DMark 11 Physics | 10480 | 10766 | 11703 | 13585 | 13438 | 15644 |
| 3DMark Physics | 12180 | 12880 | 13640 | 15510 | 16433 | 19998 |
| CineBench Multi-Core | 9.62 | 10.07 | 11.03 | 12.48 | 15.08 | 18.68 |
| CineBench Single-Core | 1.97 | 2.0 | 1.53 | 1.71 | 1.54 | 1.97 |
| x264 (fps) | 19.07 | 19.92 | 20.56 | 23.94 | 29.00 | 35.73 |
| Aida64 CPU Queen | 56204 | 58790 | 65585 | 75926 | 78668 | 98708 |
Single-thread performance at stock clock-speeds - as rated by CineBench - is pegged with the two-generations-old Sandy Bridge-E, a state of affairs presumably brought about by the lower clock-speeds. Certain benchmarks also see an overclocked 3930K draw rather close to the stock 5960X. However, tests that aggressively target multiple cores see impressive boosts. Intel isn't making any specific claims about gaming performance - instead it is asking us to consider the 5960X as the ultimate workstation chip on a consumer-level platform. The more extreme the workload - the firm cites working with 4K video as a key example - the faster the result overall. You can see why in the x264 test above. Even at stock speeds, the processor runs away from the competition. At the 4.4GHz overclock, we are effectively matching the quad-core Devil's Canyon point-for-point but with twice as many cores, resulting in an 87 per cent improvement in performance. At stock speeds, that advantage diminishes to just 52 per cent - not a million miles away from what we could reasonably expect an overclocked six-core Haswell chip to achieve.
So, just how easy is the 5960X to overclock? And does Asus' much-vaunted OC Socket deliver? Well, the problem in testing this is that ideally we'd have another X99 board available to compare results - and unfortunately, we don't. What we can say is that the Rampage V Extreme made the process of overclocking relatively simple. A built-in BIOS wizard quizzes you on how you want to use the system, what your cooling set-up is, and adjusts the system automatically to match. This didn't work for us, but the other auto-settings within the BIOS combined with minimal manual tweaking allowed us to hit a stable 4.5GHz within the hour.
However, Asus' AI Suite monitoring tools produce some alarming results at this level - even with the liquid cooler, temperatures exceed eighty degrees Celsius, voltage moves beyond 1.4v while power consumption is an astonishing 308W. Minor tweaks to the multiplier and base clock speeds of the processor take us down to 4.4GHz, power draw drops dramatically to 240W (42W idle), while voltage required stabilises at 1.3v. Those all-important temperatures also drop too - down to 62 degrees Celsius. Overclocking will always wipe out power efficiency (stock frequencies won't exceed 140W) but there comes a point where the minuscule, incremental 100MHz performance increases simply aren't worth the amount of power required to sustain them, and to be honest, we're not particularly comfortable running a thousand-dollar piece of silicon at uncomfortably high temperatures.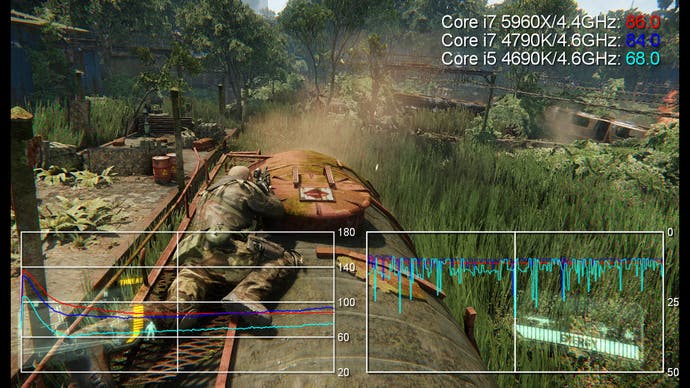 So are the new Haswell-E processors worthwhile for gaming? Just how much processing power do we need for a modern era where the GPU is taking point? Well, there's been an argument for a while now that even the six-core CPUs are overkill for gaming - a state of affairs we might have taken issue with until the arrival of Devil's Canyon, which plays Crysis 3 with fewer hitches than our overclocked Ivy Bridge-era Core i7 3770K.
However, what's clear is that if you are looking to run one of the new Haswell-E processors with a single GPU, you're almost certainly wasting your time. Our existing CPU tests proved wholly inadequate for testing what this processor was truly capable of. Our typical approach is to run key titles at max settings at 720p, without utilising multi-sampling anti-aliasing. The idea is to make the CPU carry out all the work required in preparing an ultra-level scene, but reduce the GPU burden and attempt to remove it as a bottleneck.
Our testing with the 5960X demonstrates that even the fastest single-chip GPU - the GTX 780 Ti - is still the bottleneck here. Results on an overclocked 5960X are very, very similar to the stock Devil's Canyon 4790K. More pertinent than the meaningless frames-per-second results we got were our observations on CPU utilisation, found below. The 5960X laughs in the face of every gaming workload we could throw at it, tweaking the nose of habitual CPU-manglers like Crysis 3 and Battlefield 4.
| | Core i7 5960X/4.4GHz | Average CPU Utilisation | Max CPU Utilisation |
| --- | --- | --- | --- |
| Battlefield 4 | 149.3fps | 32% | 37% |
| Crysis 3 | 119.9fps | 37% | 49% |
| Metro Last Light | 120.0fps | 35% | 43% |
| Tomb Raider | 215.1fps | 15% | 17% |
| BioShock Infinite | 167.3fps | 15% | 18% |
So are the Haswell-E chips really of limited use for gamers? The utilisation stats suggest that cutting-edge titles push Devil's Canyon close to its limits, and that a six-core upgrade could yield dividends in future, certainly if you're running two (or more) high-end graphics cards in parallel - though the DirectX 12 era could see a diminishing need for ultra high-end horsepower. Regardless, the enthusiast line has already found favour with gamers looking to live-stream while they play. Dedicated Twitch streamers love the way that tools like Open Broadcaster Software in conjunction with a capture card allow them to get much better results in terms of picture quality using CPU-powered encoding with x264, compared to hardware-based encoders, for example.
Other gamers may want to run their titles at high settings in 3D, or at 120fps/144fps to match their high-end displays. As recent testing with the Oculus Rift DK2 also reveals (more on that on Sunday), running top-end PC titles in VR is also going to require an enormous boost in processing power to produce a truly compelling, glitch-free experience. A Devil's Canyon Core i7 is our pick for the enthusiast gamer running a traditional single GPU set-up but for those exploring the more exotic options, it's clear that more extreme levels of processing power are required. For the 5960X, this in turn, requires games to be more multi-core aware, but based on the way a quad i7 with hyper-threading outperforms a basic quad i5 on a number of modern titles, it's clear that the transition there is already well under way. However, games locked to four threads will perform worse than the 4790K, unless you overclock the 5960X. UPDATE 30/8/14 8:28am: We added to this paragraph to increase clarity on many-core titles.
High frame-rate gaming beyond the standard 60fps is something we aim to explore in more depth once we have the requisite SLI or CrossFire set-ups ready to go, but in the meantime, we'll leave you with this: a Core i7 5960X rig with both a GTX 780 Ti and a Radeon R9 290X installed, running Crysis 3 and Battlefield 4 at 1080p on suitably daunting settings. Simultaneously.

Intel Core i7 5960X: the Digital Foundry verdict
This isn't the first truly extreme processor that Intel has produced. Existing owners of the current enthusiast lines are probably aware of the monstrous 12-core, 24-thread chips that are available for their platform. However, these are server-grade Xeon processors with a price to match, weighing in at around $2,500 - and you can't overclock them much owing to the locked multiplier. The Core i7 5960X requires users to migrate onto a new platform, but delivers well over two-thirds of the performance at 40 per cent of the cost. That's not to say that the new Extreme Edition is cheap - this is a thousand dollar CPU - but based on the kind of scaling we're seeing compared to Devil's Canyon, Intel is clearly delivering the kind of performance we would expect from an eight-core processor.
By extension, the Haswell-E six-core processors - the 5820K and 5930K - should be great performers too, and in the case of the former, there's potentially excellent value there. The only downside is the X99 chipset's DDR4 support - of course, it's great to introduce cutting-edge RAM, but it's currently very, very expensive compared to DDR3, and that eliminates much of the saving the 5820K represents. Indeed, those looking to move beyond Intel's quad-core parts may well find themselves eyeing up used 3930K prices, depending on how Haswell-E six-core overclocking works out compared to the Sandy Bridge-E stalwart.
The beauty of the PC is that the platform scales to accommodate the specific wants and needs of the individual user. There will always be people out there who want that additional level of performance (be it for niche gaming, high-end video editing etc) and perhaps those enthusiasts were underwhelmed by the iterative improvements found since the arrival of the six-core Sandy Bridge-E back in 2011. The introduction of a native eight-core part clearly addresses that while at the same time returning a level of prestige to the Extreme Edition brand. Intel's first eight-core processor may well be beyond the finances of most gamers, but the moves made across the Haswell-E are generally welcome, and once DDR4 prices stabilise, we suspect that the six-core 5820K could well provide the price-to-performance ratio that makes sense.