Diablo Immortal is surprisingly good, what little consolation that may be
UPDATE: Lead designer delivers personal message, reiterates "multiple projects".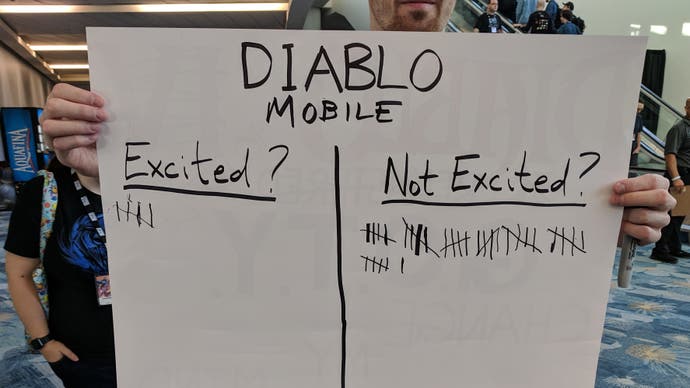 UPDATE 1AM GMT 4TH NOVEMBER: Wyatt Cheng, the lead designer of Diablo Immortal, just stepped on stage at BlizzCon 2018 and issued a personal message about the brouhaha surrounding the mobile game's announcement and Diablo 4 no-show. It was he who fended off some harsh questions on stage shortly after Immortal's reveal.
Speaking at the start of a Diablo worlds and Q&A panel, Cheng reiterated Immortal was just one of the Diablo projects in development at Blizzard. He said: "Before we get started I have a personal message I'd like to share with all of you. We love our community, and our Diablo community is a passionate one. Very passionate one. And we want to say that we hear you, and we have multiple projects - Diablo projects - being worked on by multiple teams. Diablo Immortal is one of those projects we're very excited about, but there are others."
ORIGINAL STORY 9.20PM GMT 3RD NOVEMBER: Oh Blizzard, why close your opening ceremony with Diablo Immortal, the mobile game? I know you tried to temper our expectations ahead of BlizzCon about Diablo 4, and not being ready to show everything yet, but you saved Diablo for last, for the big finish. You put it behind the Warcraft 3 remaster. You led us on.
It didn't have to be much, it could have just been a logo. You could have done a Bethesda and said yes we're working on this big new game but it's a long way away. But you saved the sacred slot at the end of the opening ceremony of BlizzCon 2018, in front of your most passionate fans, for a mobile game. You can't be too surprised about the backlash.
I sat in the BlizzCon audience when the announcement hit and the reaction was muted, and it's soured over time. This morning, entering the show, I saw a man taking votes on a handwritten sign to see which game people were more excited about: Diablo 4 or Diablo Immortal. It's a no-brainer.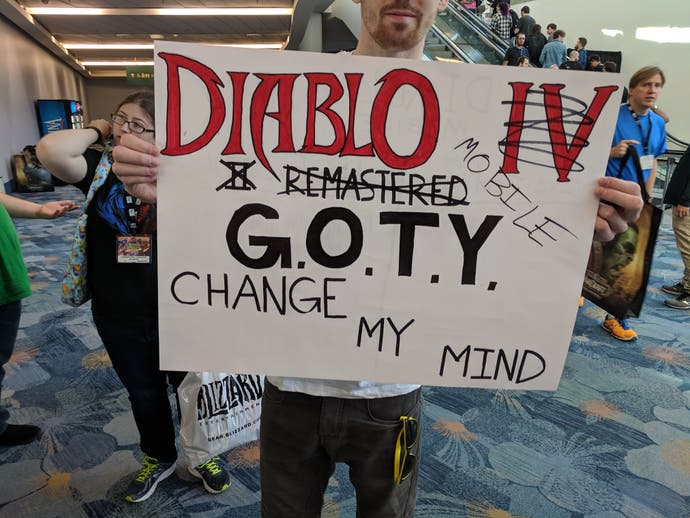 Thing is, Diablo Immortal is surprisingly good. I played through the BlizzCon demo and it feels like Diablo - and that's coming from someone who plays both on PC and console. There are caveats but I'll go into those further down, because I got the chance to speak to Blizzard about Diablo Immortal at BlizzCon.
Unfortunately, my appointment happened before the Diablo Immortal backlash had really taken hold, and I didn't have Wyatt Cheng to talk to - he was busy being harangued on stage by miffed fans. So I wasn't in the position I would like to have been to really put the issue to Blizzard. Nevertheless, I did ask.
"We know our fans are passionate," production director Dan Elggren told me, "we know they have certain things they're excited about, and as game developers we want to bring that great experience to them. We've also said multiple teams are working on multiple projects.
"We feel like Diablo Immortal can bring a lot of what they were hoping for. But they've got to play it, they've got to get their hands on it." (Which, to an extent, is true.)
I also wasn't aware of the similarities Diablo Immortal reportedly has to NetEase game Crusaders of Light, but I did ask about the nature of the NetEase collaboration.
How does the partnership work - who's making it?
Dan Elggren: It's definitely a co-developed experience.
It's 50/50?
Dan Elggren: 50/50 is... Who owns the different pieces? It's as hard as... We want to bring a Blizzard-developed game. And you have Wyatt Cheng, who's one of our amazing designers who has being doing Diablo experiences for years, leading the charge with this; Helen [Cheng, a senior game designer], who's been working for many years on World of Warcraft.
Diablo and Blizzard experience is at the table, and we are standing guard to make sure this ends up being a Blizzard experience.
Is Blizzard's role more than an overseer in this? Is there a team at Blizzard building this game?
Helen Cheng: It's a true partnership for sure. We definitely have a team which is very much co-developing the content of the game together with NetEase.
But NetEase is making it, in the sense they're putting it together?
Dan Elggren: Yeah, they have - a lot of the artists are absolutely there. We're not going to go, obviously, into specifics on the numbers but yeah, they're helping develop this game. It's hard to get into specifics without going too detailed, but I just want to make sure you're getting the point of Blizzard is at the table. We're co-developing it; it is truly a co-developed experience.
---
Diablo Immortal plays in landscape mode and handles movement with a virtual joystick on the left, and abilities with virtual buttons on the right. My thumb slipped off the virtual joystick from time to time, and it felt a little sluggish, but abilities fired reliably and the overall experience was, like I said, surprisingly good.
My monk had five abilities familiar to Diablo 3, and combat was pleasingly challenging - there's blue and yellow special enemies as in D3. You tap to loot and interact with the world, and can quick-equip from the UI.
But I don't know to what degree you can change your character build, which is one of the main elements of endgame Diablo 3. The menus were off-limits in the demo build. Helen Cheng told me there will be 12 skills, minimum, but I don't know whether there will be runes to alter them. I also don't know if there will be things like Rifts or Adventure Mode to jazz up the replayability of the game. These things either aren't known internally or they wouldn't say.
But it's worth bearing in mind Diablo Immortal isn't Diablo 3 ported. "We're not exactly copying every system from Diablo 3 and just porting it into this game," said Helen Cheng. "This is absolutely designed from scratch for mobile devices."
Notably, Diablo Immortal is massively-multiplayer. In outdoor zones and cities you will "run into other players all the time", said Elggren, although when you go into dungeon instances you'll group with up to four. He wouldn't say how many players massively-multiplayer constituted, but insisted it will be "lots" and live up to massively-multiplayer name.
There will be an in-game economy - ie. in-app purchases - but they wouldn't say what they will be. However, the problems Blizzard had with people buying equipment on the Real-Money Auction House in Diablo 3 are lessons not forgotten. "We definitely want players to play the game as a core part of the experience and the progression of their character," said Cheng. "It is very important to us that the core gameplay is true to Diablo."
But however entertaining Diablo Immortal turns out to be (it has no release date), it's no Diablo 4. Why Blizzard decided to close the opening ceremony with it I don't know - maybe a Diablo 4 reveal was pencilled in but removed in the run up to BlizzCon, or maybe NetEase has more influence than we realise - it was NetEase which brought WOW to China, don't forget, a move which ballooned the playerbase. Whatever the reason, the outcome is the same: disgruntled Diablo fans. How will Blizzard react? I'm here at BlizzCon but I'll have to wait and see.