Devil May Cry 5 multiplayer lets players make guest appearances in each other's games
Friends with benefits.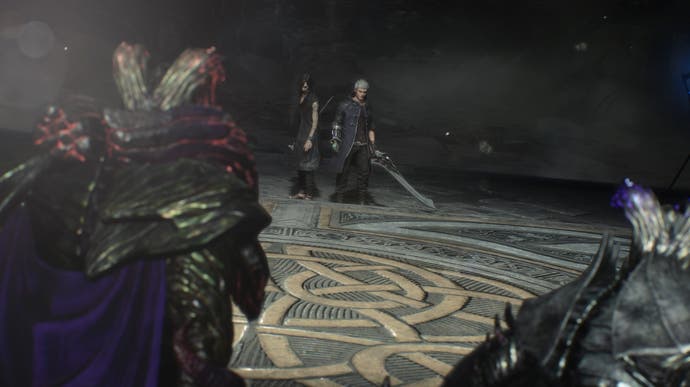 Devil May Cry 5 has a multiplayer mode that lets players make guest appearances in each other's games.
It's called the cameo system, and sees Nero, Dante and V fight alongside each other.
In a post on Capcom Unity, the company said Devil May Cry 5 is "primarily" a single-player experience, but wanted to have the three protagonists run into each other and work together from time to time.
Here's how it works: while connected to the internet, players will make guest cameo appearances in each other's games in real time, or through ghost data gameplay recordings. Depending on the mission, you'll see another player in the background, but in other cases, you'll actually be fighting side-by-side.
"Again, our focus is in providing a single-player experience like no other, so this cameo system also ensures the experience is always smooth as possible with no downtime," Capcom said.
When you finish a mission with a cameo appearance, you can rate the other players "stylish" if you reckon they've put on a good show. If you get a stylish rating from another player, you'll get rewards.
Capcom stressed some missions are single-player only. If the story doesn't have any characters crossing paths, you can't cameo. And if you play offline, you'll see ghost data gameplay recordings of the development team instead of other players.
Meanwhile, the Devil May Cry 5 demo launches today on Xbox One. You play Nero with his Red Queen sword and Blue Rose hand cannon, as well as the Overture and Gerbera Devil Breakers. You'll be able to play through nearly an entire mission, with the boss fight against Goliath at the end. The demo will be available from today, 7th December until 6th January 2019.
And finally, Bloody Palace returns, but it won't make the game's launch on 8th March 2019. Capcom expects to add it to the game as part of a free update in April 2019.