Developers say accessibility and difficulty options are no threat to artistic vision
After Sekiro sparks "easy mode" debate.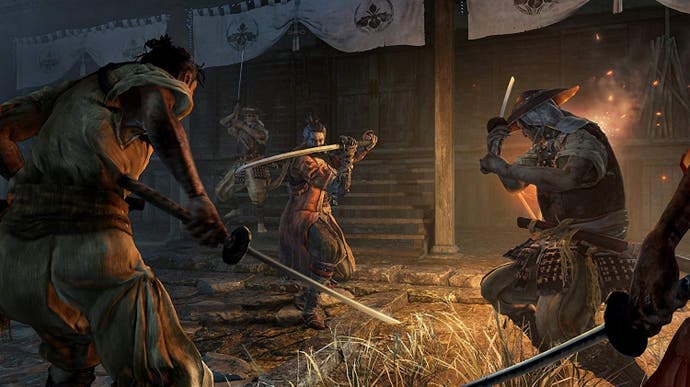 Accessibility and difficulty options are no threat to artistic vision, video game developers have said.
Responding to an ongoing debate about video game accessibility sparked by From Software's Sekiro, which most agree is a particularly challenging game, God of War director Cory Barlog tweeted: "Accessibility has never and will never be a compromise to my vision."
This tweet was picked up by many other video game developers who agreed with Barlog. JP Kellams, former creative producer at Platinum Games insisted Bayonetta's one-button mode "didn't ruin your experience".
Having a one-button mode (Easy Automatic) in Bayonetta didn't make getting Pure Platinum any easier. It didn't ruin your experience. It did make myself and others on the team receive many comments from new Bayonetta fans who could have never otherwise enjoyed the game.

— JP Kellams (@synaesthesiajp) April 4, 2019
Steve Spohn, COO of Able Gamers, praised video game developers' support of accessibility, fuelling a popular hashtag that spread on Twitter over the weekend.
Game devs from across the world are echoing @corybarlog's statement "Accessibility has never and will never be a compromise to my vision"

THIS is a beautiful. If you work in game development add your voice. Let gamers know that you support accessibility!https://t.co/lZsWOn6s7f

— Steven Spohn (Spawn) (@stevenspohn) April 7, 2019
The debate around Sekiro involves some who say adding accessibility and difficulty options to video games can compromise the vision of their creators. Sekiro, which does not have an easy mode or assists, has become the battleground for this debate, although it's been a point of contention with From Software's titles for years.
Matt Thorson, designer of Celeste, imagined a Celeste-style assist mode for Sekiro that would let you set combat speed, resurrections and invincibility, among other things.
A number of video games have been praised in recent years for their accessibility options. In Insomniac's Spider-Man PS4, for example, you can skip puzzles, enable big subtitles, QTE auto-complete and change button taps to holds.
Naughty Dog's Uncharted 4 also has an impressive suite of accessibility options, including holding down the Square button to have Nathan Drake keep on punching. Elsewhere, there's an option to have the camera snap to a target and face the direction of a target, making Uncharted 4 playable without the right thumbstick.
Naughty Dog designers were inspired in part by Disabled Accessibility for Gaming Entertainment Rating System (D.A.G.E.R.) editor-in-chief Josh Straub, who was frustrated by his inability to finish Uncharted 2 because near the end you have to tap buttons quickly in a QTE.
Let me say this one time very succinctly so that reporters and Reddit can quote it:

YOUR enjoyment of a single player game is not affected by how another person chooses to experience that same videogame.

— Steven Spohn (Spawn) (@stevenspohn) April 3, 2019